12 Beach Proposal Ideas for the Ultimate Romantic Moment
Whether you're hoping for a laid-back or a celeb-worthy proposal, popping the question at the beach will suit all styles.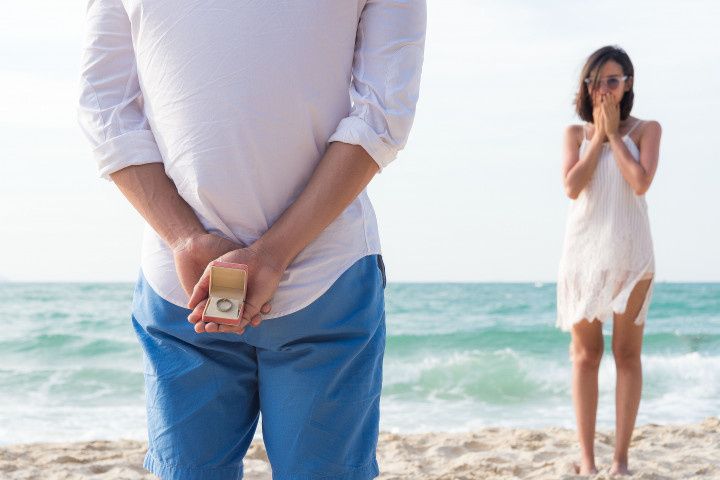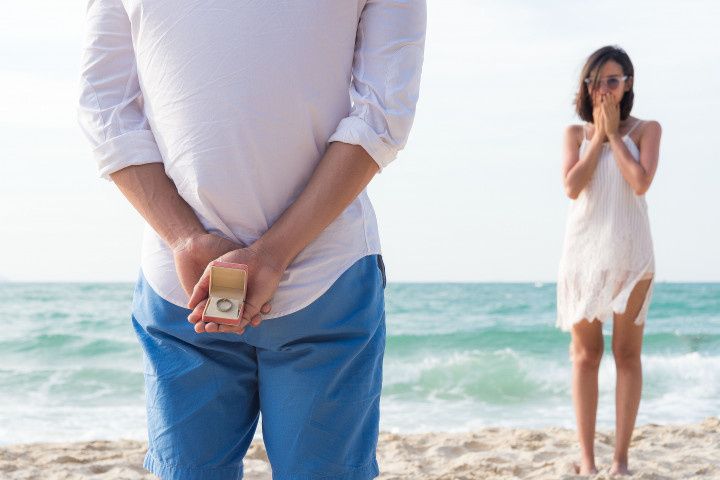 There are few places more romantic to pop the question than the beach. Between the salty air, the golden sand, and the ocean waves, there are so many beach proposal ideas to choose from and you can consider the scene set for a big moment you'll always remember. Plus, if you happen to have a photographer capturing the proposal, those photos will be completely frame-worthy with a stunning backdrop in place.
Think an oceanside engagement is in your near future? Take a look at our favorite beach proposal ideas to get you started.
Lantern Lit Boardwalk
Make a dramatic entrance by lining the beach boardwalk with glowing lanterns right around sunset. Your beloved will be on cloud nine as those lanterns lead to them to the surprise of a lifetime.
Oceanside Sweetheart Table
Surprise your love with an oceanside dinner and a beautiful table set for two. When the moment is just right, get down on bended knee and enjoy what's sure to be the most romantic meal ever.
Live Musician Serenade
For a celeb-worthy beach proposal idea, arrange for a group of musicians to meet you on the beach and play a beautiful love song during the proposal. For an added sentiment, make sure to use that same song during the first dance at your wedding.
Spell it Out in Sand
If you find yourself at a loss for words, spell out "will you marry me?" in the sand, making sure it's safely set away from the tide. Once your sand lettering is complete, casually stroll by with your love and let your words speak for themselves.
Seashell Ring Box
Skip the conventional velvet box and place the engagement ring inside a pretty white seashell hand-collected from the beach where you plan to propose. Be sure to hang on to the seashell as a memento you'll always cherish.
Message in a Bottle
A classic beach proposal idea, play up the ocean setting with a sneaky message in a bottle for your love to discover. This is an especially great opportunity to thoughtfully put your words on paper. Plus, it will serve as a treasured keepsake for both you and your partner.
Picnic on the Beach
Treat your sweetheart to a sunrise picnic breakfast on the beach in the wee hours of the morning. You'll likely have the beach to yourself in the early hours and can enjoy a lovely spread of baked goodies and mimosas to celebrate the happy occasion.
Sunset Sail
Take your proposal plans on the water with a sailboat adventure during a gorgeous sunset. Even if you consider yourself an experienced sailor, be sure to hire someone to operate the boat so you can minimize distractions and fully enjoy the moment.
Cliffside Question
Take your loved one's breath away with a beach proposal set cliffside. Just imagine the wind blowing your hair and the ocean waves crashing below for a "will you marry me?" moment that's straight out of a movie.
Say it With Signs
One of our favorite beach proposal ideas, plan ahead by placing a trail of handmade signs in the sand that express just how much you love your soon-to-be. Sentiments like "you are my forever" or "it was always you" are guaranteed to bring out the happy tears as your love makes their way to you waiting on bended knee.
Surprise Celebration
Just after you've popped the big question, arrange for your friends and family to swoop in and celebrate with all the party supplies in tow. Delegate tasks to different people who can help cover the food, music, and drinks. Once everyone has arrived, simply start a beach bonfire and enjoy the festivities late into the night.
Barefoot Stroll
For a simple but still sweet beach proposal idea, stroll hand-in-hand with the sand between your toes. Thanks to the stunning beach setting, you don't need more than some heartfelt words and one important question to create a moment to remember.