8 Things to Do If You Moved Your Wedding to 2021
Once you've nailed down a new wedding date, there are a few more decisions to make. Here, experts share their best advice on how to move forward.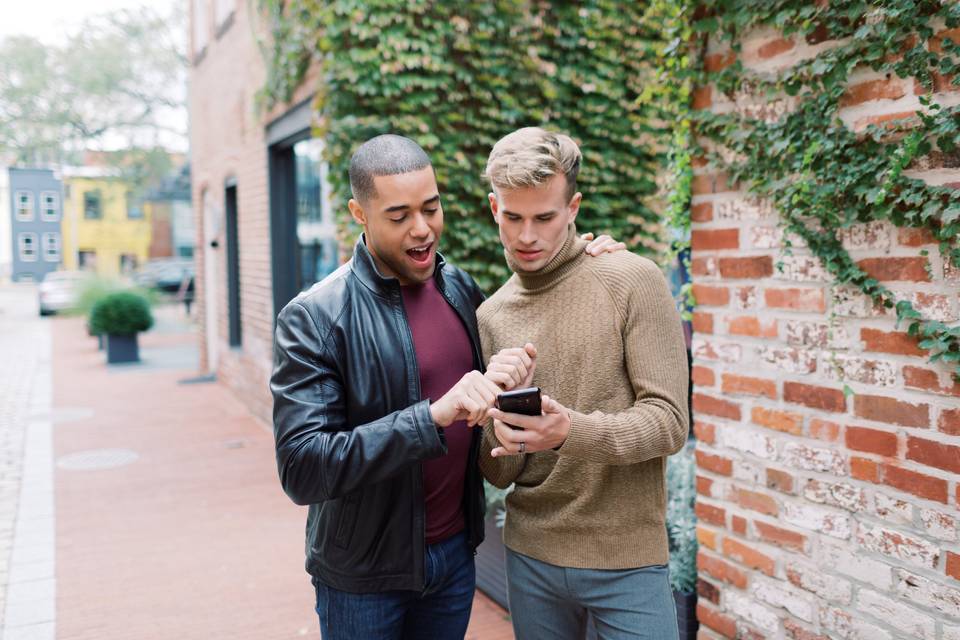 If you're one of the countless couple who've had to make the extremely difficult decision to move their wedding until 2021 or later as a result of the coronavirus pandemic, you've got a lot on your plate (and a lot weighing on your heart). It's more than understandable to be upset and disappointed, especially considering the fact this wasn't something that you could anticipate or prepare for.
Whether you were just about to get married, mid-way through planning or had yet to start the planning process, it's a difficult time to be planning a wedding. "It's harder than before because there is so much unknown that the decision to pick a date (for the first time or the second or third) and move forward or to cancel or to change plans completely is full of anxiety," says Jamie Chang, Founder and Wedding Planner at Mango Muse Events and Let's "I Do" this! "It's hard to know what the right choice is."
Depending on your situation, postponing may be a better solution than cancelling. Not only does it help you save the money that's already invested in your venue and vendors, but it also gives you the best chance of having those in-person moments at your wedding that you've dreamed of for so long.
Here's advice from wedding planners on how to best move forward with your wedding plans if you've moved your big day to 2021.
Consider the pros and cons of waiting to make your marriage official.
Every couple is different, as is their situation. There are many benefits to being legally married that you and your partner may want to consider, notes Chang—those in addition to the emotional desire as well. "It's a discussion worth having especially if you've been planning for a while now., because waiting another year also means you're waiting to be married," she says. "There's nothing wrong with celebrating twice especially given the circumstances."
Hire a wedding planner.
If there was ever a time to hire a wedding planner, it's now. "With all the unknowns and the constant changes, having a planner to guide you through the process and help you with everything from postponements to contracts to decisions to vendors going out of business, and not to mention all the normal wedding planning tasks, will make your life so much easier and your brain, body and spirit so much happier," says Chang. "Being able to lean on someone who has experience and understands the industry can help you tremendously during this tough time."
Be open-minded about potential dates.
Everyone is going to be vying for the same dates, especially weekends, so you may need to be more flexible about your new date. "There are only 52 Saturdays in a year, so your new date may not be in your desired season or month," says Kevin Dennis, owner of Fantasy Sound Event Services, in Livermore, California. After settling on a new date with your vendors, be sure to sign the amended contracts as soon as possible so that you can lock it in. "Not only are current 2020 clients moving in on 2021 dates, but 2021 clients are also in the booking process," says Kristen Gosselin, owner and creative director, KG Events and Design in Edgartown, Massachusetts. "Once a final decision is made, act on it."
Get an insurance policy (if you don't already have one).
It may not cover much related to the coronavirus pandemic, but a wedding insurance policy is still an important purchase, especially right now. "If there is anything 2020 has shown us it's that we don't know what the future will hold," says Janice Carnevale, owner of Bellwether Events in Falls Church, Virginia. "Insurance policies are there to protect us from those unknowns."
Notify your guests of the change.
How you choose to let your guests know is entirely up to you—be it a new invitation by mail or an electronic one sent via email—but do make sure to tell your guests as soon as you've sealed the deal. "Just as weddings in 2021 are booking up, guest's social calendars will be filling up as well," says Gosselin. "Sharing your new date with your guests will hopefully allow them to save the date before they commit to another wedding or event on the same day."
Take a look at your menu and make changes where necessary.
"The seafood you originally requested may be at a higher price for your updated date, and the vegetables you chose may no longer be in season," says Heather Jones, Catering Sales Director of Wente Vineyards, in Livermore, California. "Triple-check the availability of your ingredients, and be open to cost-effective suggestions from your caterer if needed."
Keep an open mind (and flexible budget) around your wedding flowers.
The international flower market place is very unstable, with foreign and domestic farms going under, explains Carnevale. "We don't know what supply will look like in 2021, and we definitely don't know what prices will look like," she says. "Floral designers may not know the cost of a rose until they place the order for your wedding, which is usually three weeks before your wedding date." If you want to have beautiful flowers at your wedding, that may mean giving your florist a bit more freedom to do their very best with whatever they have to work with.
Celebrate your original wedding date.
Your original wedding date is still something to be celebrated! Nora Sheils, co-founder of Rock Paper Coin and founder Bridal Bliss in Seattle, Washington, recommends cracking open a fancy bottle of champagne, ordering some cake and even planning a Zoom with your wedding party—or plan something special for just the two of you. "A fun (or fancy!) distraction from the disappointment is just what the doctor ordered," she says.