For many couples, a hotel ballroom or country club venue just won't do. If you're looking for unique wedding venues in Delaware, you're in luck, because there are a wide variety of out-of-the-box settings where you can host your special day. Whether you're an artsy couple dreaming of a museum wedding or lovers of Gatsby-esque Art Deco style, you'll certainly find an ideal space for your wedding in Delaware.
Check out these unique wedding venues in Delaware and start planning a wedding that suits your personality!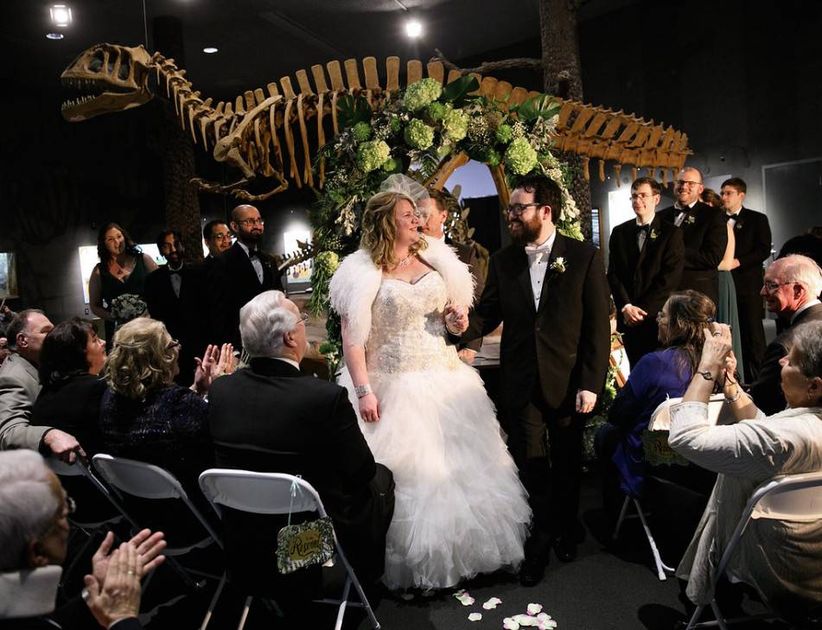 Delaware Museum of Natural History
Ever dreamed of exchanging vows with a dinosaur skeleton as your backdrop? Whether you and your partner are science buffs or are just looking for a unique wedding venue in Delaware, the Delaware Museum of Natural History in Wilmington, DE is sure to wow your guests. There are several spaces where events can be held, including the in-demand Ederic Exhibit Hall, which is only available for larger weddings of up to 200 guests for a few weekends each year. On other weekends, you can rent one of the other galleries in the museum for your ceremony and reception. Animal lovers can also include a live animal presentation or bird show as part of your special day, as well as museum tours. There's a highly-regarded caterer on premises to make your planning process even smoother.
Learn more about the Delaware Museum of Natural History »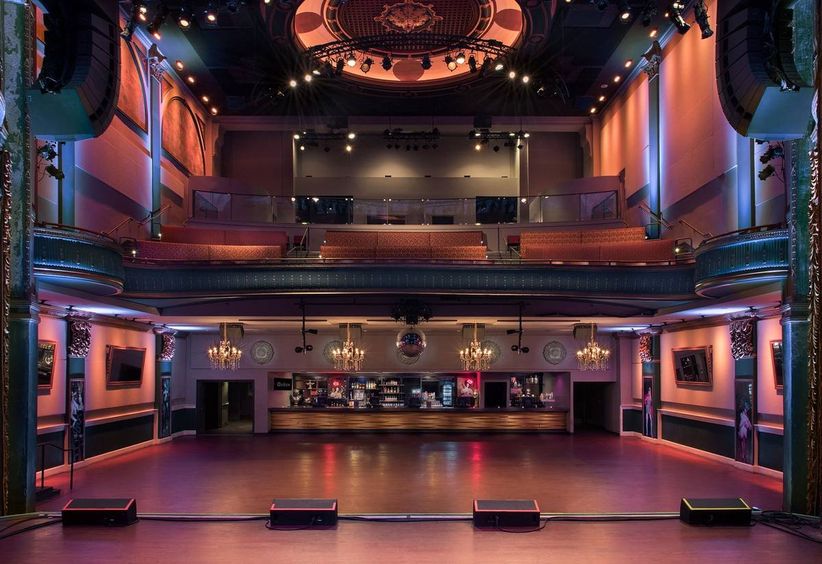 The Queen Wilmington
This performance space, first built in 1789, offers both a historic and an edgy vibe to any wedding celebration. If you have a flair for the dramatic, host your special day in the incredible Music Hall, where you can marry on stage. Smaller events can be hosted in the industrial-style Olympia Room, which features hardwood floors and unique arched windows letting in lots of natural light. All told, The Queen Wilmington can accommodate up to 600 guests (200 in the Olympia Room), and offers on-site catering and bartending.
Learn more about The Queen Wilmington »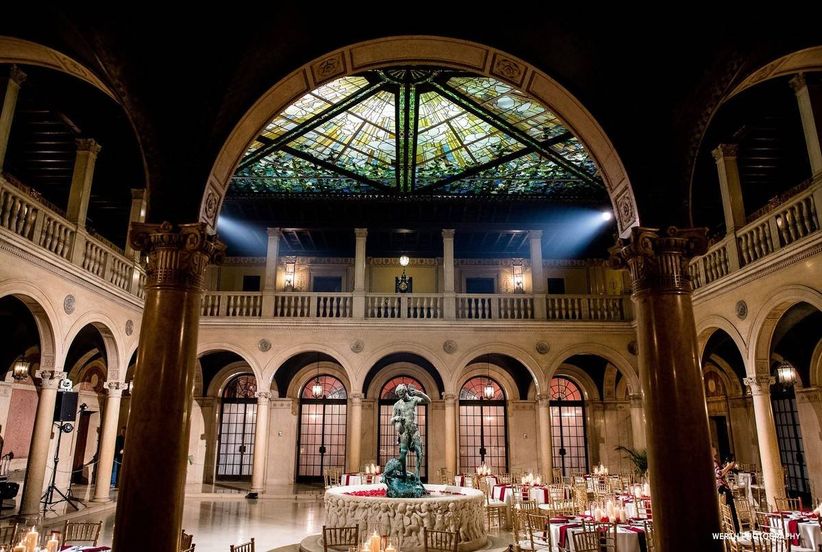 The Patio at Archmere Academy
Located in Claymont, just an hour away from Philadelphia, this Italian Renaissance-style building is ideal for vintage-inspired wedding receptions (the space does not host ceremonies). The centerpiece of this unique wedding venue in Delaware is the jaw-dropping stained glass ceiling. You can host your cocktail hour on the outdoor terrace, make your grand entrance by walking down the majestic grand staircase, and followed by dancing under that incredible ceiling. There's also an interior courtyard, featuring a beautiful fountain. The Patio at Archmere Academy can host weddings of up to 200 guests, and includes in-house catering from J.Scott Catering.
Learn more about The Patio at Archmere Academy »
Hagley Museum and Library
This Wilmington museum and library celebrating business and technology in America includes 235 acres along the Brandywine River, as well as restored mills and lush gardens. The main wedding venue is called The Soda House, which was first built in 1888 and features a rustic exterior paired with a modern interior. Host your ceremony in the E.I. du Pont Gardens, inside the Hagley Barn, or outside the Soda House. Your reception may be held inside the Soda House or in a tent on the property. Your photographer will love all of the beautiful backdrops for portraits around the venue, and your guests will love exploring this historic landmark. This venue can comfortably accommodate weddings of up to 200 guests.
Learn more about Hagley Museum and Library »
Hotel Du Pont
If you're dreaming of a wedding that feels like a one of Jay Gatsby's parties, there may be no better venue than the famed Hotel du Pont in Wilmington, one of our favorite Delaware wedding venues. This hotel features abundant glitz and glam, from the French Neoclassic Gold Ballroom, with its jaw-dropping chandeliers and bas-reliefs of famous women such as Cleopatra, to the popular du Barry Room, with its white pillars, parquet floors, and European chandeliers. This venue generally hosts weddings of up to 300 guests, and it's also an ideal place for your friends and family to stay to fully experience Delaware's vast history. You'll also enjoy the in-house catering and other services so you can enjoy your planning process without stress!
Learn more about Hotel Du Pont »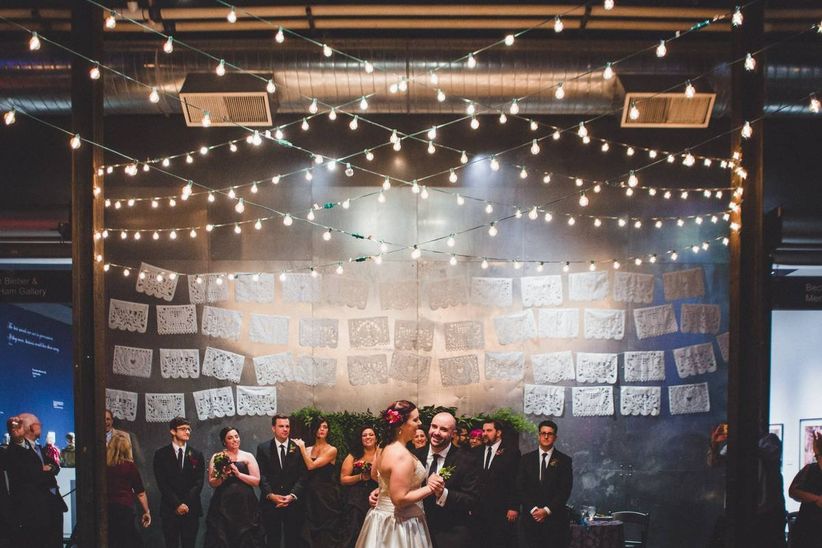 The Delaware Contemporary
Industrial-style wedding venues are so in right now, but they're not always the easiest to find. Fortunately, there's a fabulous unique wedding venue in Delaware that hits all the right notes. At The Delaware Contemporary in Wilmington, which was once a railroad car factory and is now an industrial museum, you'll find 33,000 square feet of space, including seven art galleries. There's room for up to 200 guests here, and you'll love the "blank slate" vibe that you can decorate in any style that suits your wedding theme. Ceremonies may be held in the Auditorium, with receptions in the Museum Lobby, which features exposed pipes and vaulted ceilings.
Learn more about The Delaware Contemporary »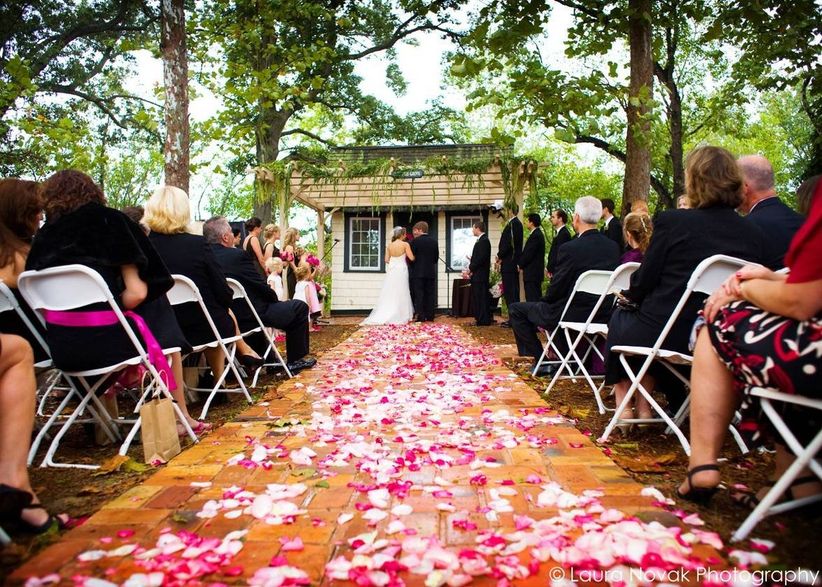 Nassau Valley Vineyards
While Delaware might be a country away from Napa Valley, there are still several vineyards to enjoy, including this gorgeous property in Lewes. There are five event spaces to choose from, including two outdoor ceremony locations: The Bacchus Grove, with its 40-year-old sycamore trees and views of the rolling hills, and popular The Tent Pad. For receptions, Grand Cru Hall is the largest space, with room for 450 guests. There's also the elegant Claret Hall with its brick arches and space for 175 people. Gallery One is a hip art gallery on the property, ideal for smaller events of up to 75 guests. Couples rave about the beautiful scenery and helpful staff at this in-demand venue.
Learn more about Nassau Valley Vineyards »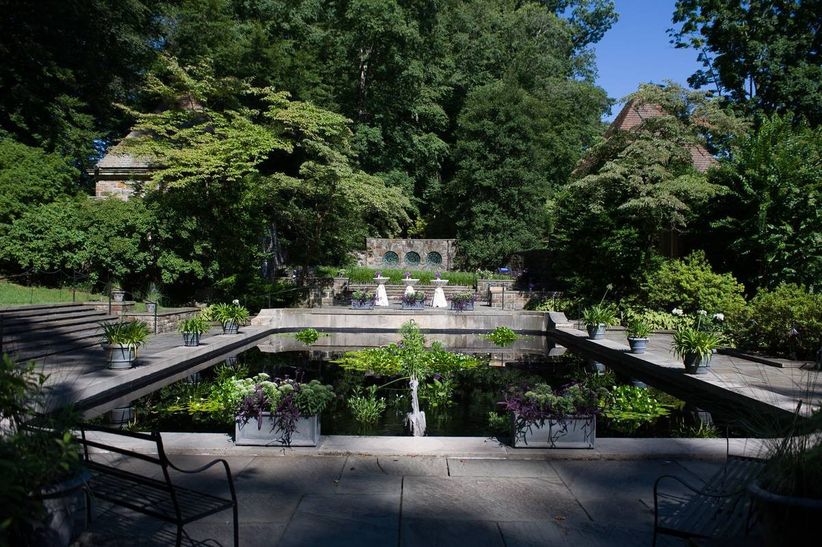 Winterthur Museum & Country Estate
There may be no better wedding venue in Delaware for a romantic garden event than this historic estate. This Delaware wedding venue is set on 1,000 lush acres in the Brandywine Valley, including rolling meadows and a 60-acre garden. There are 10 different indoor and outdoor spaces for weddings and events, including the reflecting pool, the Visitor Center Pavilion, the Galleries Reception Atrium, the Visitors Center Patio, the Clenny Run Lawn, the Peony Garden, the Period Rooms Suite, the Hawkes Conference Center, and the Brown Horticulture Center. There's space for up to 350 guests, as well as in-house catering for your convenience.
Learn more about Winterthur Museum & Country Estate »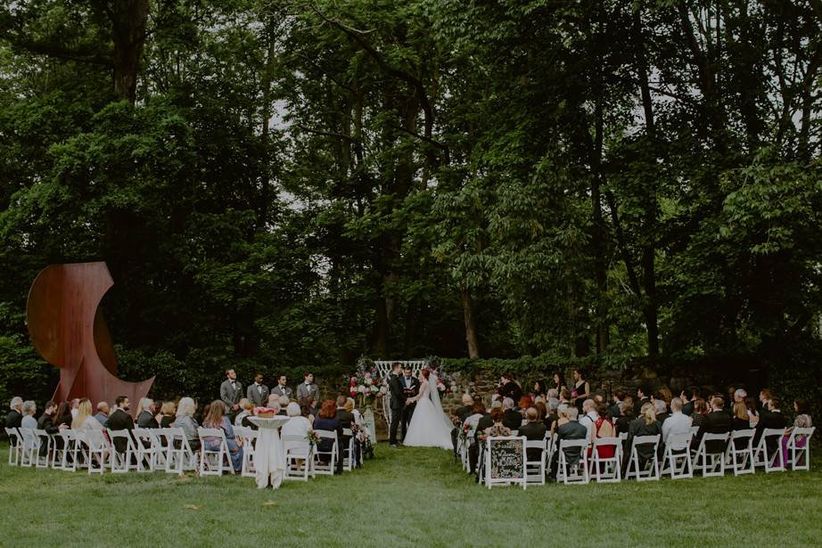 Delaware Art Museum
Art aficionados will absolutely swoon over this unique wedding venue in Delaware. Located in Wilmington, the Delaware Art Museum includes several event spaces to choose from, including the majestic Fusco Grand Hall, the contemporary East Court, and even an outdoor terrace and sculpture garden for tented events. If you're hosting a super-intimate event, we adore the Chihuly Bridge featuring the artist's famed glasswork (it also makes a colorful photo backdrop!). The Labyrinth is a stunning and the perfect spot for outdoor wedding ceremonies.
Learn more about the Delaware Art Museum »