Are you planning to wed in the Windy City and looking for the perfect place to exchange "I dos"? You're in luck! We've rounded up the best wedding venues in Chicago so you can throw an unforgettable event. Whether you're dreaming of a contemporary loft that provides sweeping views of Chi-town's skyline or are hoping find a venue that's on the water, these are the best Chicago wedding venues for any type of aesthetic.
See why these epic event spaces make our list of the best wedding venues in Chicago.
Bridgeport Art Center
Featuring two event spaces, The Skyline Loft and the Sculpture Garden, this Chicago wedding venue is an ideal setting for all types of weddings. The Skyline Loft is the larger of two venues, which gives couples 18,500 square feet of space to utilize for their big day. Along with being spacious, the loft provides gorgeous views of Chicago's skyline — hence the name (and it's spot on our roundup of Chicago's best wedding venues). It's located at the very top floor of the Bridgeport Art Center and includes an industrial-chic interior with the help of its exposed brick and wooden beams. If you're hoping to have an outdoor ceremony or reception, The Bridgeport's Sculpture Garden is a fabulous pick to host a garden-inspired wedding. The Sculpture Garden features an outside patio that has a stunning brick archway and is great for hosting ceremonies, receptions and cocktail hours. Two sets of floor-to-ceiling French doors lead to the outdoor area where you'll also be greeted with brick flooring and an ivy-filled garden.
Learn more about Bridgeport Art Center here »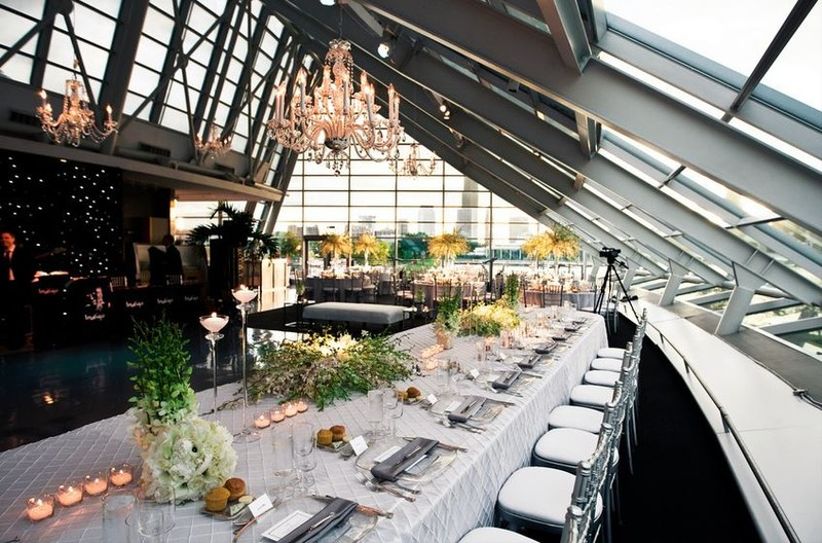 Adler Planetarium & Astronomy Museum
With the celestial trend taking over weddings, it's no surprise that one of the best wedding venues in Chicago right now is the Adler Planetarium & Astronomy Museum. The museum has up to 60,000 square feet of exhibits, which makes it a great pick for couples wanting a versatile and spacious venue. It also features a unique glass ceiling that provides a wow-worthy view of downtown Chicago. If you're looking for an event staff to help with seating arrangements or customizing menus, the museum even includes an experienced team to help take care of your big day. Whether you're hoping to host an intimate seated dinner or a large soiree, the Adler Planetarium & Astronomy Museum will literally make you and your guests feel like they are celebrating in the sky.
Learn more about Adler Planetarium & Astronomy Museum here »
The Newberry Library
Couples hoping to host their wedding at a historical venue should definitely check out The Newberry Library, one of Chicago's top wedding venues. Built back in 1893, the library is one of the best Chicago wedding venues, providing a vintage setting for celebrating. Filled with marble staircases, 20-foot floor-to-ceiling windows, rare books, and other unique details, The Newberry Library is truly a one-of-a-kind space. It can also hold up to 208 guests, since the library has two indoor event spaces to choose from. Both rooms include an Art Nouveau chandelier and other amenities, like reception tables and chairs to evoke a cozy and elegant aesthetic.
Learn more about The Newberry Library here »
Hotel Allegro
Nestled right in the heart of downtown Chicago, Hotel Allegro is a boutique hotel that provides a vibrant and luxe setting for weddings, which is why it's earned a spot on our list of the best wedding venues in Chicago. It has 14,000 square feet of event space including 15 different rooms that range in size — making it a great pick for small or larger scale weddings. The grand ballroom even made our roundup of our favorite banquet halls in the Windy City. The hotel's executive chef, Brian Millman will also work with you to create a customizable menu that will satisfy anyone's taste buds. From plated dinners to carving stations to buffets, Hotel Allegro's professional staff will ensure that your big day will be memorable and stress-free.
Learn more about Hotel Allegro here »
Chez
Couples who've been browsing modern wedding venues in Chicago should definitely add the Chez to their must-see list. Originally a famous nightclub where top artists like Louis Armstrong and Frank Sinatra would perform, Chez was transformed into a contemporary loft that's a perfect spot for celebrating the night away with friends and family. As soon as you enter the building you'll be greeted with all-white brick walls and columns and a spectacular glass staircase. Chez even offers couples the use of their furniture, such as modern ghost chairs, round tables and cocktail-style tables. With enough room to seat up to 180 guests and located just a few blocks from Chicago's Magnificent Mile, Chez is a great venue pick for any type of couple.
Chicago's First Lady Cruises
If you're hoping to get married overlooking the water and the city's skyline, we have one of Chicago's best wedding venues just for you. Chicago's First Lady Cruises offers couples a unique place to wed that will truly be an unforgettable experience. You and your guests can spend the day mixing and mingle while sailing along the Chicago River on a gorgeous yacht. With six different vessels to choose from, Chicago's First Lady Cruises can accommodate any type of wedding. Each vessel includes an open-air deck as well as a climate-controlled interior so you can have both an indoor and outdoor celebration, too!
Learn more about Chicago's First Lady Cruises here »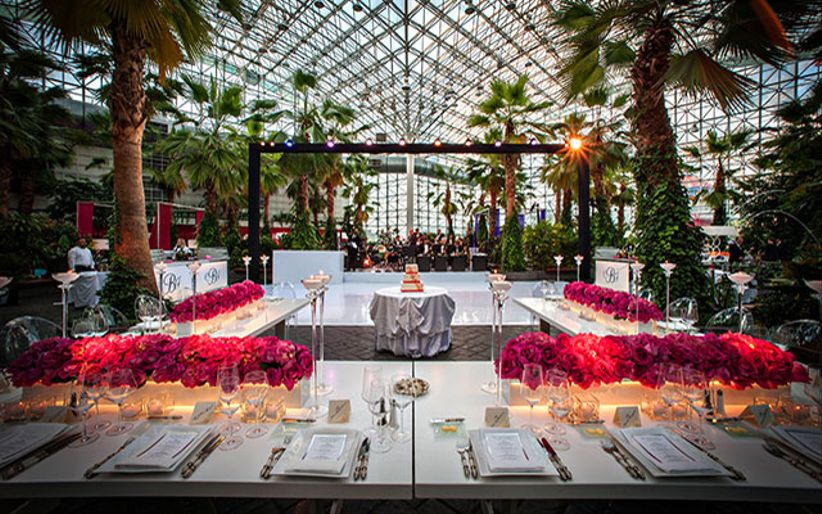 The Crystal Gardens
Located on Chicago's famous Navy Pier, The Crystal Gardens creates a stunning space for weddings and celebrations. Not only is it a six-story glass atrium with a 50-foot arched ceiling, the unique venue includes, live palm trees, string bistro lights and swoon-worthy fountains to evoke an ethereal outdoor setting. Along with its natural backdrop, the Crystal Gardens also provides views of Lake Michigan, Chicago's skyline and the Navy Pier's Dock Street, so you and your S.O. will have plenty of wow-worthy spots for portraits and more. With a maximum capacity of 500 guests, Crystal Gardens is a Chicago wedding venue that will leave a lasting impression on both you and your guests.
Learn more about The Crystal Gardens here »
City View Loft Chicago
With brick walls, exposed beams and high timber ceilings, The City View Loft is a fab choice for couples looking for an industrial-chic venue. The open floor plan allows couples to easily dress up and decorate the space into any wedding style while its skyrise location offers a stunning backdrop of the city. With a maximum capacity of 150 guests, The City View Loft also made our list of Chicago's top loft wedding venues.
Learn more about City View Loft Chicago here »
Stan Mansion
Built back in 1921, The Stan Mansions is glamorous Chicago wedding venue to host your big day. Located in one of the oldest neighborhoods in Chicago, Logan Square the Stan Mansion provides an elegant and historic place for vows and dancing the night away. The Mansion also has a variety of different locations to choose from, such as The Grand Ballroom, The Lower Level Ballroom and The Bar/Lounge. Whichever event space you decide, the Stan Mansion's experienced staff will help bring your wedding vision to life. From a small and intimate ceremony to a grand wedding of more than 300 guests, The Stan Mansion is completely customizable to suit any wedding style.
Learn more about Stan Mansion here »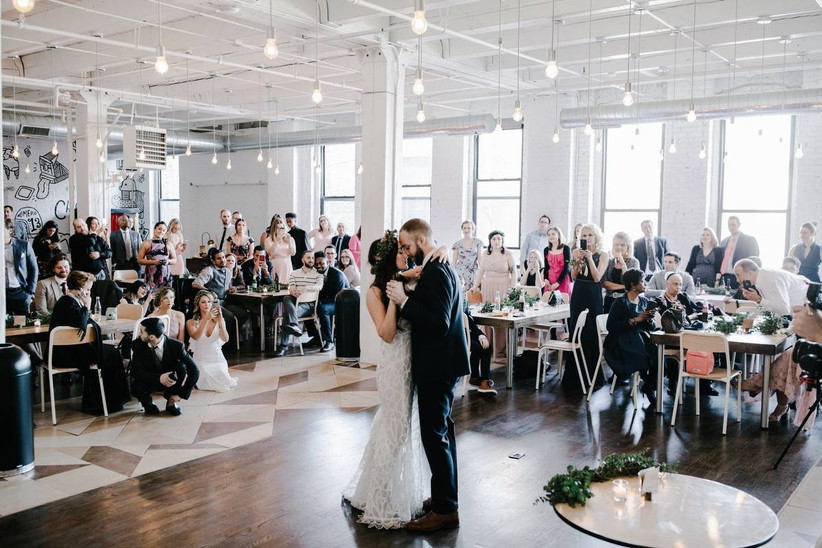 Low Res
Located in the heart of the West Loop, Low Res is one of those Chicago wedding venues with an undeniable cool factor. Part agency, part event space, this venue seeks to amplify creativity and build community with a sleek and light-filled loft space that even features a custom mural by Chicago-based artist, Kyle Steed. With the ability to host up to 150 guests for a seated dinner or 180 for a standing reception, this downtown Chicago wedding venue is a go-to choice for modern couples with keen eye for style.
Revolution Brewing
For a non-traditional venue with loads of personality, Revolution Brewing is just the ticket. This functioning brewery has become one of the most popular Chicago wedding venues thanks to its two dedicated event spaces and industrial-chic style. Couples can select from The Brewers' Lounge, located on the second floor of the original Revolution Brewing property, or The Tap Room, located in a secondary space just five minutes away. The rooms can host up to 114 and 250 guests, respectively, and are guaranteed to be a hit among any craft beer-enthusiast guests on your list.
Learn more about Revolution Brewing »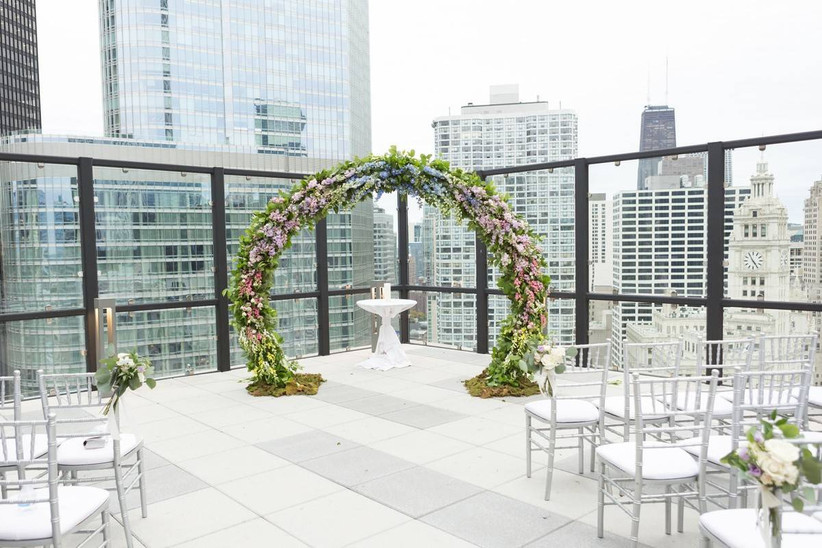 Royal Sonesta Chicago Riverfront
Another favorite of Chicago area couples, the Royal Sonesta Chicago Riverfront is a decidedly modern venue that's all about location. Just steps away from Michigan Avenue and Millennium Park, the Royal Sonesta offers the most dramatic skyline views and a sense of city romance. The Grand Ballroom, which is the largest events space on the property, can accommodate up to 330 guests and features a versatile palette of neutral color tones. For more intimate weddings, couples can also select the hotel's Penthouse Ballroom, which boasts floor-to-ceiling windows and includes access to the open-air Penthouse Terrace for cityscape views your guests will never forget.
Learn more about Royal Sonesta Chicago Riverfront »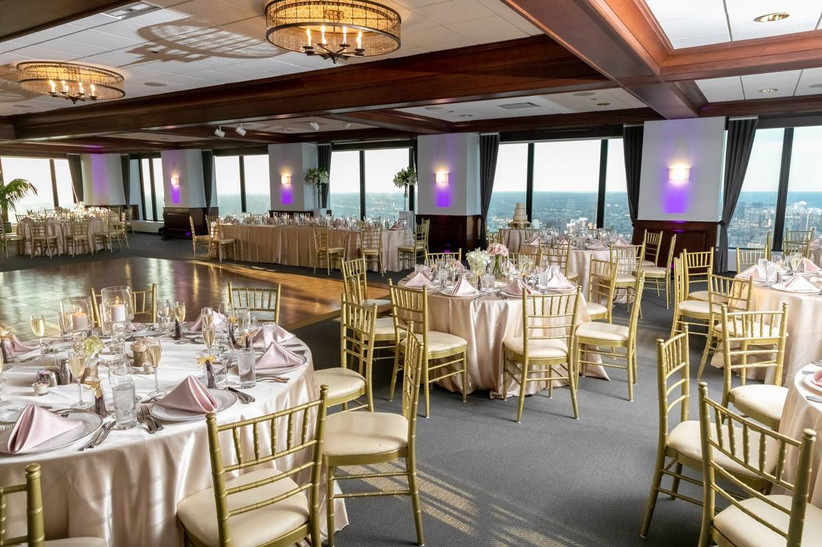 The Metropolitan
As one of Chicago's most iconic venues, The Metropolitan embodies elegance and style to perfection. Located on the 66th and 67th floors of Willis Tower, this top-rated venue space includes floor-to-ceiling windows for unobstructed views to take your breath away. Along with a distinctive location, you'll have access to a dedicated events staff, gourmet catering, and a private bar for the exclusive use of your guests.
Learn more about The Metropolitan »
The Ivy Room At Tree Studios
Set just two blocks off Magnificent Mile, The Ivy Room is a hidden gem among Chicago wedding venues. This versatile venue, which can host up to 180 guests, includes both indoor and outdoor space, with a ballroom, courtyard and lower-level lounge. Known as a modern oasis within the heart of River North, The Ivy Room lives up to its name with a stunning ivy-covered facade that only adds to its charm factor.
Learn more about The Ivy Room at Tree Studios »
The Murphy
As one of the most historic Chicago wedding venues, The Murphy is the ultimate setting for a European-inspired event. Featuring an impressive French Renaissance-style, this building dates back to 1926 and has been lovingly preserved as one of the city's most celebrated works of architecture. With distinctly vintage details, like its Tiffany-bronzed doors, mahogany wood floors, and marble staircase etched with gold leafing, this ornate space can host up to 200 guests for an unforgettable event.