Dreaming of hosting your wedding day in a downtown venue that you can easily dress up and also offers a full service staff? Banquet halls in downtown Chicago create the perfect setting for any wedding style because these venues are easy to personalize, decorate and can accommodate a large or smaller scale wedding. Whether you're going for a classic soiree or something more modern, banquet halls in Chicago provide brides and grooms with endless possibilities when it comes to dressing up your venue. The Windy City is also known for being a hotspot for weddings due to its vast amount of different wedding locations to choose from. There is so much to do (and so many great photo ops!), which makes checking out these banquet halls in downtown Chicago a must. If you have your heart set on a venue with scenic city views and isn't located in the suburbs, then browse through this roundup of our favorite banquet halls in Chicago. Trust us, these halls mean business when it comes to providing couples with an unforgettable venue.
Host your big day in the heart of Windy City at one of these luxe banquet halls in Chicago.
Hotel Allegro
Located in the heart of downtown Chicago, this hotel venue provides an iconic ballroom to use for your big day. Not only can you have both your ceremony and reception at the same place, but Allegro also provides couples with room blocks for their out-of-town guests. If you are looking for a banquet venue that provides you with customizable catering menus, Allegro doesn't disappoint either. Chef Brian Millman and the hotel's wedding specialists will work with you to ensure that your menu, ambiance, etc. is everything you've envisioned and more. Just check out this elegant Chicago banquet real wedding where the couple incorporated vintage details to help dress up the Walnut ballroom at Hotel Allegro.

Learn more about Hotel Allegro here »
Diamond Garden Banquet Hall
If you are looking for a super glam banquet hall in Chicago, then look no further than Diamond Garden Banquet Hall. This banquet hall offers a complete wedding reception package that includes a full service facility, private bridal suite, catering, rentals and more. The banquet hall can easily accommodate up to 268 guests and also provides the option for an outdoor setting in the Logan Square making it a great pick for both an outdoor and indoor wedding. The open space inside Diamond Garden can easily be decorated to evoke the wedding style you and your S.O. want. Uplighting packages with more than 15 colors to choose from are also provided for couples who want to add drama to their big day with the help of mood lighting.

Learn more about Diamond Garden Banquet Hall here »
Chez
Looking for a banquet hall that gives you the ability to easily transform your venue space into any wedding style? This contemporary loft allows for couples to do just that! With white-painted brick walls and a glass staircase, Chez gives couples the opportunity to host their special day in modern space. Situated just two blocks from Mag Mill, Chez can easily seat up to 180 guests. The Chez also includes five of the best caterers in Chicago that can help work with you on creating a menu that suits both you and your future-spouse's tastebuds.

Fun fact: before Chez was a renowned wedding venue, it used to be a famous night club where top artists Frank Sinatra, Nat King Cole and Louis Armstrong would perform.

Learn more about Chez here »
Salvatore's Wedding Venue
Salvatore's Wedding Venue is another banquet hall that should be added to your must-see venue list. The event space includes a scenic patio that is perfect for couple's portraits, an accommodating staff and a vendor recommendation list. Couples who prefer to have a venue that needs little decor will also fall in love with Salvatore's mahogany walls, French windows and majestic chandeliers. This banquet hall is truly a classic and timeless venue space that creates a breathtaking setting for any wedding. Salvatore also provides couples with a variety of food selections for a plated menu and even options for buffet stations, which gives couples the ability to plan a meal that's perfect for their reception. Located in Lincoln Park, Salvatore is a Chicago wedding venue that works well for either a small or larger scale wedding.

Learn more about Salvatore's Wedding Venue here »
Galleria Marchetti
Galleria Marchetti has been hosting weddings for more than 30 years and creates the ultimate elegant setting for any affair. This private, family-owned venue will cater to couples every need making sure the big day goes on without a hitch. Imagine you and your future-spouse exchanging vows surrounded by lush gardens out on the property's courtyard and then spending the evening celebrating inside the crystal chandelier filled Pavilion. If that doesn't have you hooked yet, Galleria Marchetti also provides couples with an open-air boutique venue that can seat up to 160 guests as well as two other indoor options. This venue really lets couples pick and choose what kind of wedding aesthetic they want to create by providing a space that exceeds expectations.

Learn more about Galleria Marchetti here »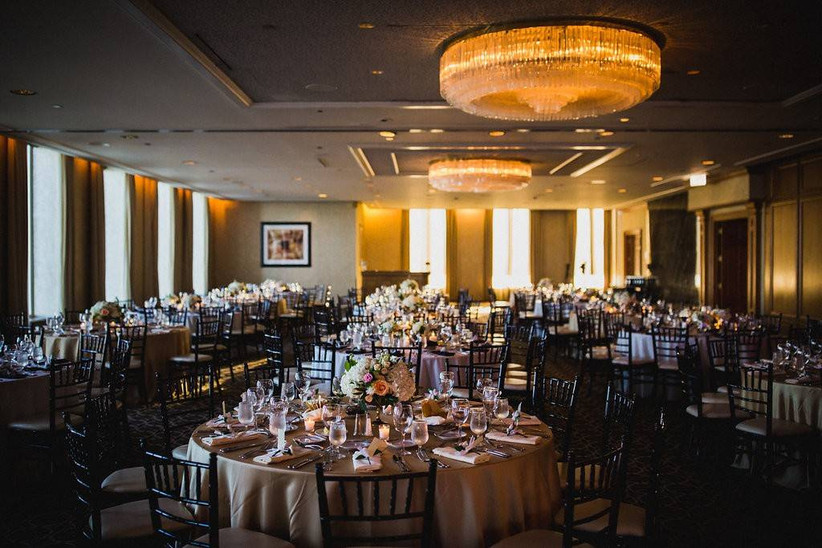 Mid-America Club
If you're looking for a banquet hall in Chicago with amazing views, then this space in the heart of the Windy City is definitely worth checking out. Located on the 80th floor of the Aon Building, the Burnham Ballroom features windows facing the south, east, and west, so you can view the city's parks, skyline, and Lake Michigan while celebrating your special day. And the adjoining cocktail space has gorgeous views of the John Hancock Building and Michigan Avenue. You'll also love that catering is included, and there are a variety of packages to choose from. This venue can host weddings of up to 500 guests.
Learn more about the Mid-America Club »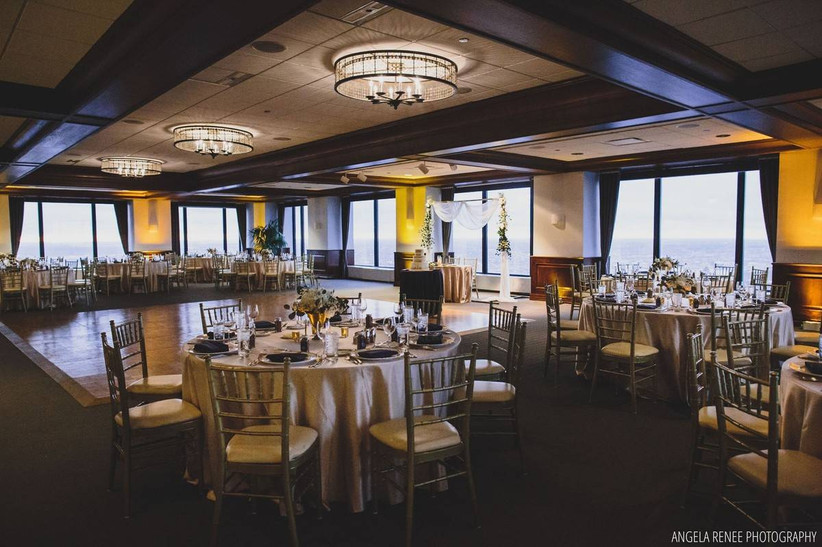 The Metropolitan
This Couples' Choice Award-winning banquet hall in Chicago is located on the 66th and 67th floors of the Willis Tower and features incredible views of the city and Lake Michigan. There are two ballrooms to choose from—the larger Oak Room, which can host 240 guests for a seated dinner, and the more intimate East Room, which can host weddings of up to 120 guests for a seated event. This is truly a one-stop-shop for wedding planning, as The Metropolitan offers catering, rentals, event coordination, and more.
Learn more about The Metropolitan »

South Branch
Looking for an outdoor, waterfront wedding in the heart of the city? It's totally possible at this banquet hall in Chicago. At South Branch, you can exchange vows overlooking the Chicago River, with a reception inside the modern and luxe Main Dining Room. This event space is ideal for more intimate weddings of up to 150 guests for a seated dinner. All-inclusive wedding packages are available.
Learn more about South Branch »
Lido Banquets & Events
This Chicago banquet hall has been serving couples for over 50 years, but was renovated in 2019. You'll love the clean and modern space that can be decorated in a variety of ways to fit your wedding's style and theme. This is an all-inclusive venue with a variety of customizable and affordable menus. Upgrades such as special lighting and video services are also available.
Learn more about Lido Banquets & Events »
Ovation Chicago
If you and your S.O. are opting for a modern banquet hall then we suggest looking into Ovation Chicago. This venue provides an open space for couples to use for both their ceremony and reception. The brick walls, vaulted ceilings and exposed beams create an industrial chic ambiance that can easily be decorated with twinkling lights, white fabric and other whimsical elements. Just check out how this Chicago couple the Ovation Chicago into a wedding venue of their dreams. I mean who doesn't love a venue that you can easily personalize and also accommodate a larger scale wedding?
Disclosure: This post contains affiliate links, some of which may be sponsored by paying vendors.