3 Things Bridesmaids Should Help With…and 3 Things They Shouldn't
Bridesmaids are responsible for many important tasks on and before the wedding day. Here are some important duties they should be prepared to take on, and a few they shouldn't.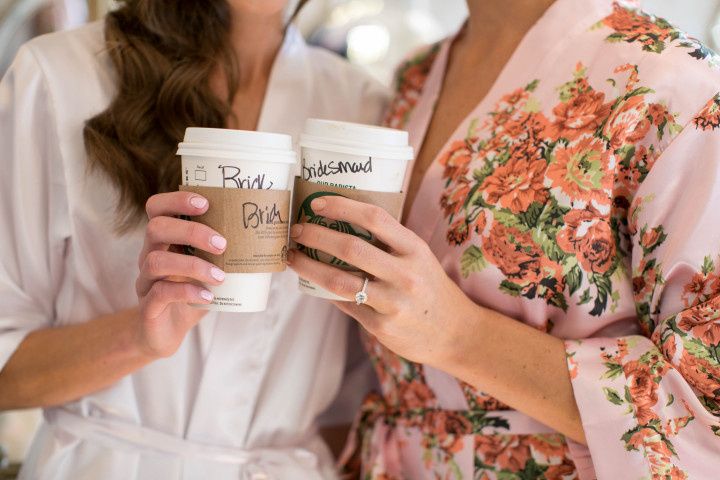 Being asked stand by a loved one's side on her wedding day is an incredible honor, but with that honor comes quite a few bridesmaid responsibilities. Depending on the needs of your bride, you may be asked to do a number of things during a number of different occasions for a number of reasons. While it goes without saying that some of those things you'll be doing are fun—the bachelorette party, for one, as well as helping the bride find her wedding gown—some are, well, a bit stressful, as much of wedding planning can be.
To help you know where your duties end, we asked top planners to share the dos and don'ts of bridesmaid responsibilities.
Bridesmaids should…plan the bachelorette party
While the shower is more commonly thrown by the mother of the bride, whereas back in the day it was thrown by the bridesmaids, the bachelorette party is still very much considered a bridesmaids-only event—and a major part of the bridesmaid responsibilities. "The maid of honor should lead this planning and figure out the squad's budget before making suggestions or planning anything," advises Danielle Rothweiler of Rothweiler Event Design in Verona, New Jersey. "It's important to take everyone's lifestyle into account because while jumping on a plane to Vegas might be possible for some, it's not possible for all."
Bridesmaids shouldn't…make big decisions
The wedding day is about two people—the engaged couple. While the bridesmaids are there to help support the bride in her decision-making, they should not be solely responsible for making big-ticket decisions, such as the date, venue, food, etc. Lindsey Sachs of COLLECTIVE/by Sachs in Boulder, Colorado and Minneapolis suggests setting these boundaries early-on if the bride starts asking for help with top-line decisions. "Brides need to remember that this is their wedding day and the result of their decisions will create a wedding that's truly authentic for them."
Bridesmaids should…participate in dress shopping and fittings
Most 'maids look forward to this bridesmaid responsibility, especially if it involves helping the bride choose her wedding gown. Assuming that the bride wants a full crew along with her as she tries on dress after dress, experts say bridesmaids should keep their schedule available for this all-important event. "Because bridesmaids know the bride so well, this honest feedback on her dress choices is truly invaluable, and she'll rely on it to make her final wedding dress selection," says Sachs. "If you're unable to attend one or all of the bride's dress appointments, be sure to be clear with her up front—she'll be grateful for the time you're able to give."
Bridesmaids shouldn't…act personal assistants
While it's totally acceptable for bridesmaids to help the bride in most of her wedding duties, and even attend various planning activities, it's not okay for the bride to treat one or more of them as personal assistants. Sachs suggests brides outline a specific list of items they could use help with and share this with their bridesmaids. "If anyone is available and willing to support, that's helpful, but it should not be an expectation," she says.
Bridesmaids should…be available to listen
The wedding process is an exciting one, but it's almost always a stressful one too. It's the job of a bridesmaid to be there to listen to bride's concerns and be there for moral support. "Remember—you are the bride's go-to when she needs to talk, vent, cry or simply celebrate this incredible milestone in her life," says Sachs. It's best to make yourself available, whether it's to grab a quick drink after a stressful day or work or planning or to talk on the phone to address her concerns.
Bridesmaids shouldn't...manage family drama
If the bride or the groom's family are a tad dysfunctional, it is not among the bridesmaid responsibilities to fan the family fire. "Bridesmaids should not be asked to manage difficult family conversations, or liaison between family members," says Sachs. "Doing so is only a band-aid to a much larger issue that should be addressed within the family head on prior to the wedding."