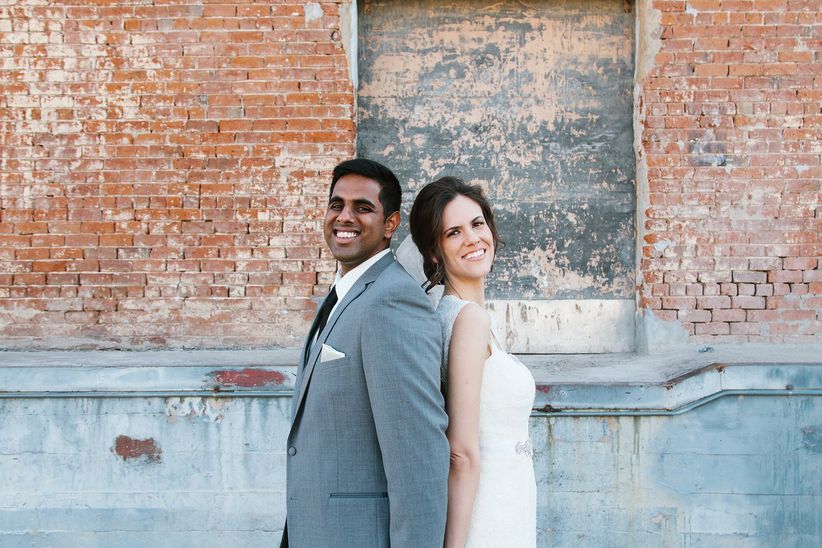 Photo: Suzy Goodrick Photography
If your head is spinning from hiring vendors, making a guest list, or picking the perfect linens, don't worry—you're not alone! Plenty of engaged couples have been in your shoes before, and they've shared great advice on how to keep your wedding planning stress to a minimum.


Keep reading to see our favorite ways to relieve wedding planning stress!
"Pick a handful of things that are most important for you as a couple and focus on bringing those to life. Remember that the day is about you and your significant other. Anything that goes wrong that day will be something to laugh about later on." —
Shauna & Andrew, married on June 14 in Washington, Pennsylvania
"When we decided to make the wedding a true reflection of us and not the industry standard, the planning and creating became fun! We let our imaginations run wild and had a complete blast." —
Jamie & Vincent, married on April 18 in Phoenix, Arizona
"If you can do it, pay cash for everything. Since we were paying for the wedding ourselves, our goal was to not start our marriage deep in debt from our wedding. In the end, we left for our honeymoon with everything completely paid for. Knowing it was all taken care of made our week at the beach so relaxing!" —
Jennifer & Carter, married on October 17 in Ada, Oklahoma
"If you are feeling overwhelmed and finding yourself focusing on minor details, go on YouTube and watch wedding videos of couples offering their vows to each other. This will help you re-center yourself and remind you of what brought you two together." —
Chie & Mori, married on October 25 in Woodcliffe Lake, New Jersey
"Have fun. Never again in your life will you get to go cake tasting, gown shopping
or] floral picking for your wedding. Soak up every minute of it, because it really is a blast." —[Megan & Taylor, married on September 13 in Birmingham, Alabama
"Utilize your wedding party. These people are your best friends and are usually eager to help. The whole point of having a wedding party is to not have to carry the burden of decision making, do-it-yourself creation, and box toting on your own." —
Kyle & Kaylan, married on November 22 in Washington, D.C.
"Red wine makes everything better, especially while discussing the
guest list
." —
Lauren & Dave, married on May 17 in Austin, Texas
"Figure out what you both like and make that part a game or activity. We made a fun weekend activity to procure our ginger jars. On Saturdays, we would go get a coffee and a muffin at one of our fave shops, then go to HomeGoods all over town and find ginger jars. Other weekends, we would go to consignment stores. When people asked how they could help, I'd ask them to keep an eye out for ginger jars. It was nice to see who found what where." —
Christina & Adam, married on January 31 in San Diego, California
"We used the
WeddingWire wedding checklist
to create a list of items to accomplish every month. It helped us to stay on track instead of becoming overwhelmed." —
Amanda & Ashwin, married on February 7 in Phoenix, Arizona
"Let the vendors do their job. You trusted them enough to hire them, and they should know your vision at that point. It will take away a huge amount of stress. If it doesn't go perfect, it just makes for a funny story to tell later!" —
Kelly & Sean, married on September 18 in Fredricksburg, Texas
"If someone asks if you need help with anything, take the help! Peter and I tried to cut costs every chance we could, and that meant doing a lot of things ourselves. We thought we could do it all and overwhelmed ourselves quite a bit. If it weren't for the assistance from our wedding party, parents and family, our day would not have been anywhere near as perfect as it was." —
Emily & Peter, married on October 4 in Philadelpha, Pennsylvania
"As a practical note, keep a folder
or] binder, however unorganized, with the contact info, receipts, paperwork, etc. of everything you do. It helps tremendously throughout the process." —[Kelsi & Chad, married on August 8 in Mars, Iowa
"The less you try to control, the less stress you'll feel on the big day. We didn't even know what our centerpieces were going to look like; I just said neutrals
and] baby's breath. This way, there's no chance to be disappointed when you walk in. Let the professionals do the work!" —[Alaina & Chad, married on November 29 in Howell, Michigan
"Plan as early as possible. Life likes to throw some curveballs at the busiest times. We dealt with a new job, a move to a new state, and the death of Steve's mother all within three months of the wedding. It was such a challenging time, and we weren't worried about the wedding because all of the planning was done." —
Samantha & Steven, married on May 24 in Charlotte, North Carolina
"We made up 'Wedding Wednesdays' as our day every week to sit and plan the wedding. I tried not to talk about wedding decisions any other day of the week. We always made it a date night and associated a fun dinner or activity with it, and those days are some of my best memories from our 1.5-year engagement. Instead of obsessing over the details every single day, we were able to soak up being engaged and all the love we felt from friends and family." —
Vanessa & Mike, married on June 27 in Ithaca, New York