30 Meaningful 9th Anniversary Gifts for Every Kind of Couple
Looking for a thoughtful nine-year anniversary gift? From traditional pottery to modern leather goods and more, these unique ideas are the best of the best.
We have included third party products to help you navigate and enjoy life's biggest moments. Purchases made through links on this page may earn us a commission.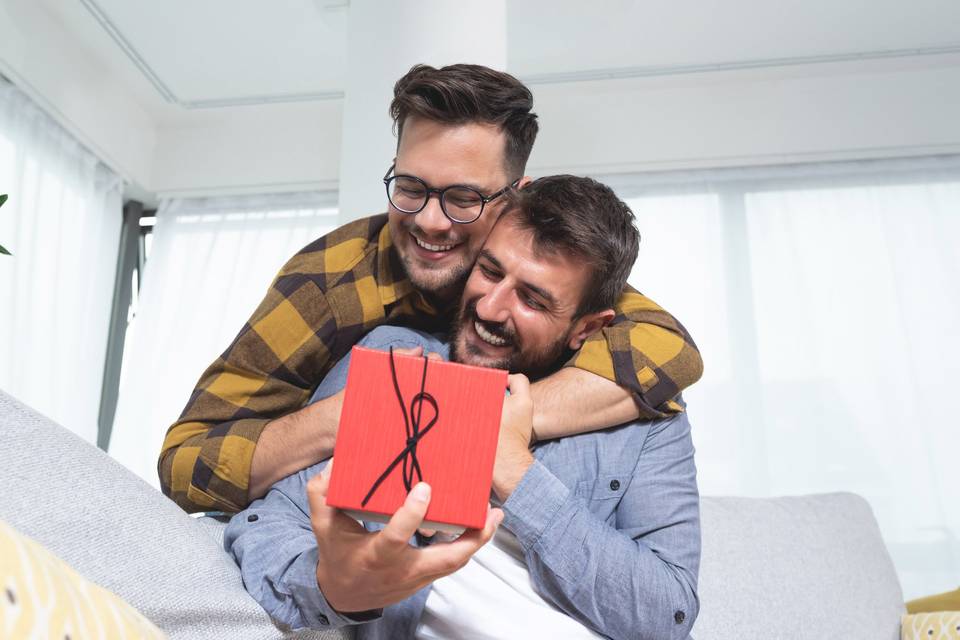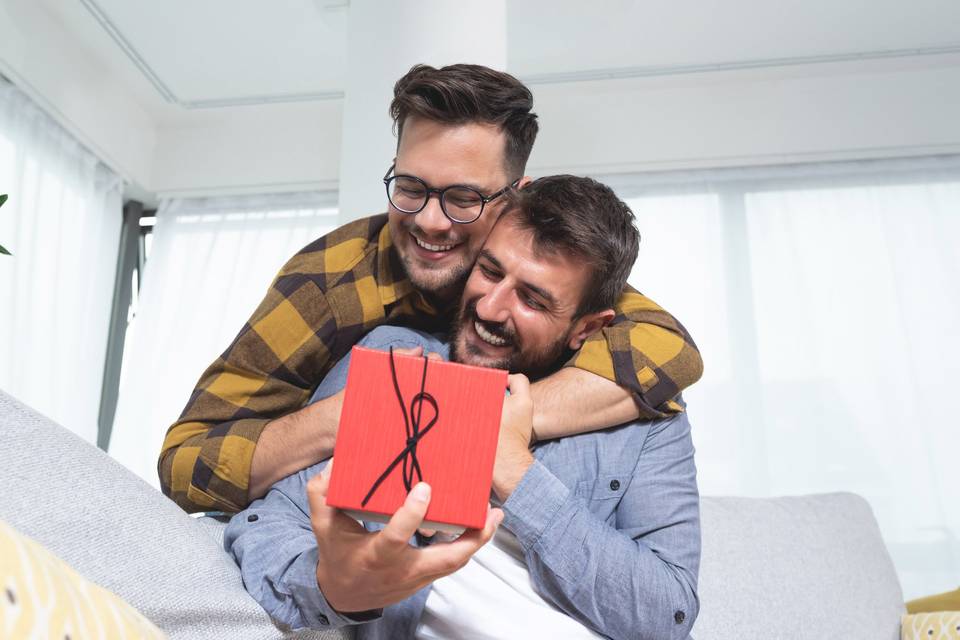 Celebrating nine years married to the love of your life is huge. You've stood by each other from the beginning—through all the ups, downs, and in-betweens—and now's your chance to show your spouse (or the happy couple) just how much you appreciate them. Looking for a meaningful nine-year anniversary gift worthy of the occasion? You've come to the right place. We've searched the web for the most thoughtful presents that'll help honor any relationship that's still going strong nine years on. From traditional earthenware vases to modern leather cuff links, one of these creative ninth wedding anniversary gifts is the perfect way to say "I love you" or "congratulations."
What is the traditional nine-year anniversary gift?
Before you dive headfirst into shopping, consider whether or not you want to go down the traditional ninth anniversary gift route. There are actually two traditional themes for this unique milestone: pottery and willow. Both of these natural materials reflect marriage in different ways. Pottery demonstrates how your relationship was molded over time into something remarkable, while willow represents a flexible bond that bends rather than breaks. If neither of these ideas spark joy, the modern nine-year anniversary gift is leather, indicative of protection and durability. From wallets to weekend bags, it's one of the easiest materials to work with when it comes to picking out an awesome present.
Alternatively, you could take inspiration from the ninth anniversary color, which is terracotta, or gemstone, which is lapis lazuli. Terracotta is a warm, earthy hue that gives a nod to the traditional pottery gift, while lapis lazuli is a deep blue stone (not unlike sapphire) known for its use in fine art throughout history. Any of these symbols will make for an incredibly unique present. That said, you don't have to turn to the traditional or modern ninth anniversary gifts if you don't want to. We've included some alternative picks that are just as meaningful.
The Best Nine-Year Anniversary Gifts
Not sure where to start? Don't worry, we've done the work for you and found some of the best traditional, modern, and alternative ninth anniversary gifts out there. These heartfelt presents are a lovely way to mark the occasion, whether you decide to stick with tradition or think outside the box.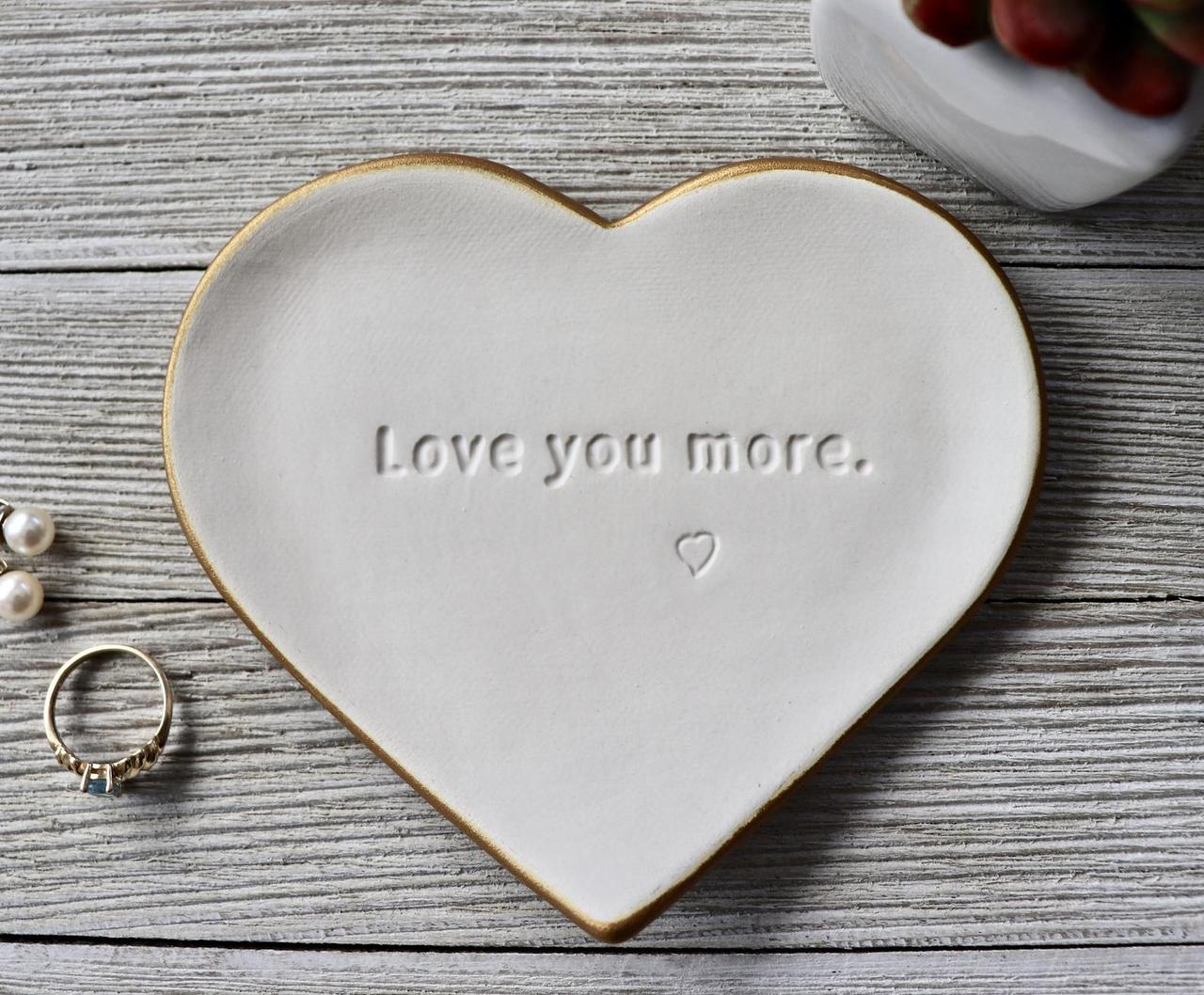 1. Romantic ring dish
It's been nine years since you both said "I do," meaning your other half might just need somewhere new to safely store their wedding ring. This clay trinket dish is easily one of our favorite pottery gifts. It comes in the shape of a heart stamped with the words "love you more."
Promise Pottery heart ring holder 9th anniversary gift, from $49, Etsy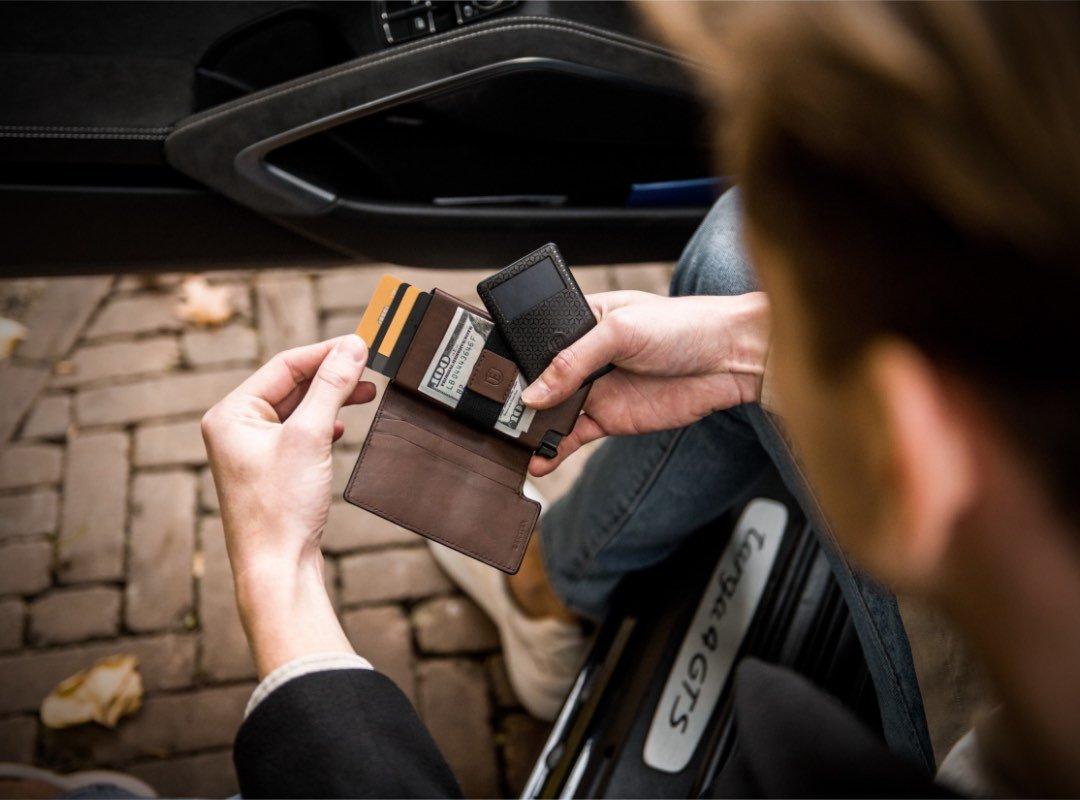 2. Smart leather wallet
If you've been looking for an opportunity to treat your spouse to a new wallet, now's your chance. This sleek option is slim, stylish, and has a clever ejectable card tray for easy access. Since leather is the modern ninth anniversary gift, it'll be all the more meaningful.
Ekster Parliament wallet, $89, Ekster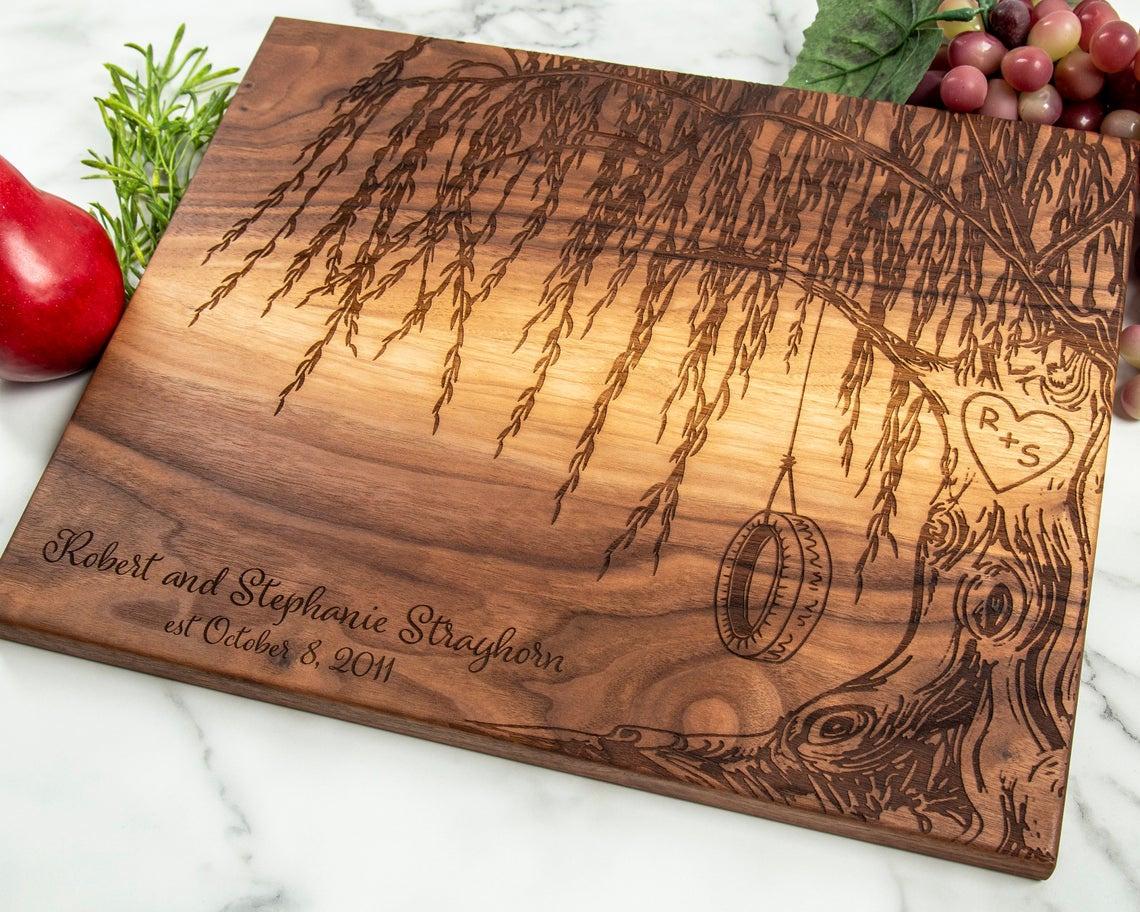 3. Beautiful serving board
This useful wooden serving board comes engraved with a beautiful willow tree featuring both of your initials carved inside a heart. It's a willow-themed anniversary gift that'll work for him or her.
Gava Shop willow tree cutting board, from $38, Etsy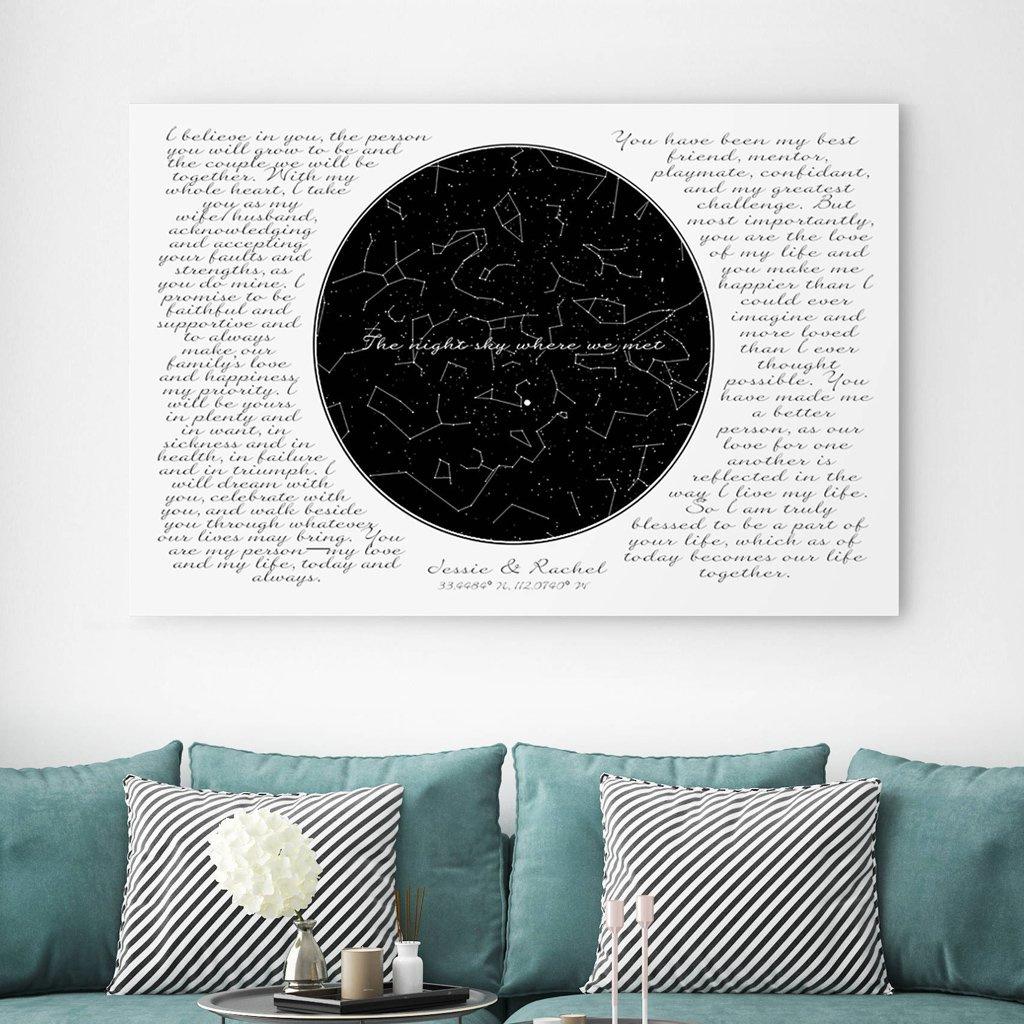 4. Meaningful star map
Remind your spouse you still do by gifting them a custom map of the stars from your wedding day alongside both of your vows. Have you ever seen a sweeter nine-year wedding anniversary gift? This sentimental keepsake doubles as home decor.
Canvas Vows custom star map, from $75, Canvas Vows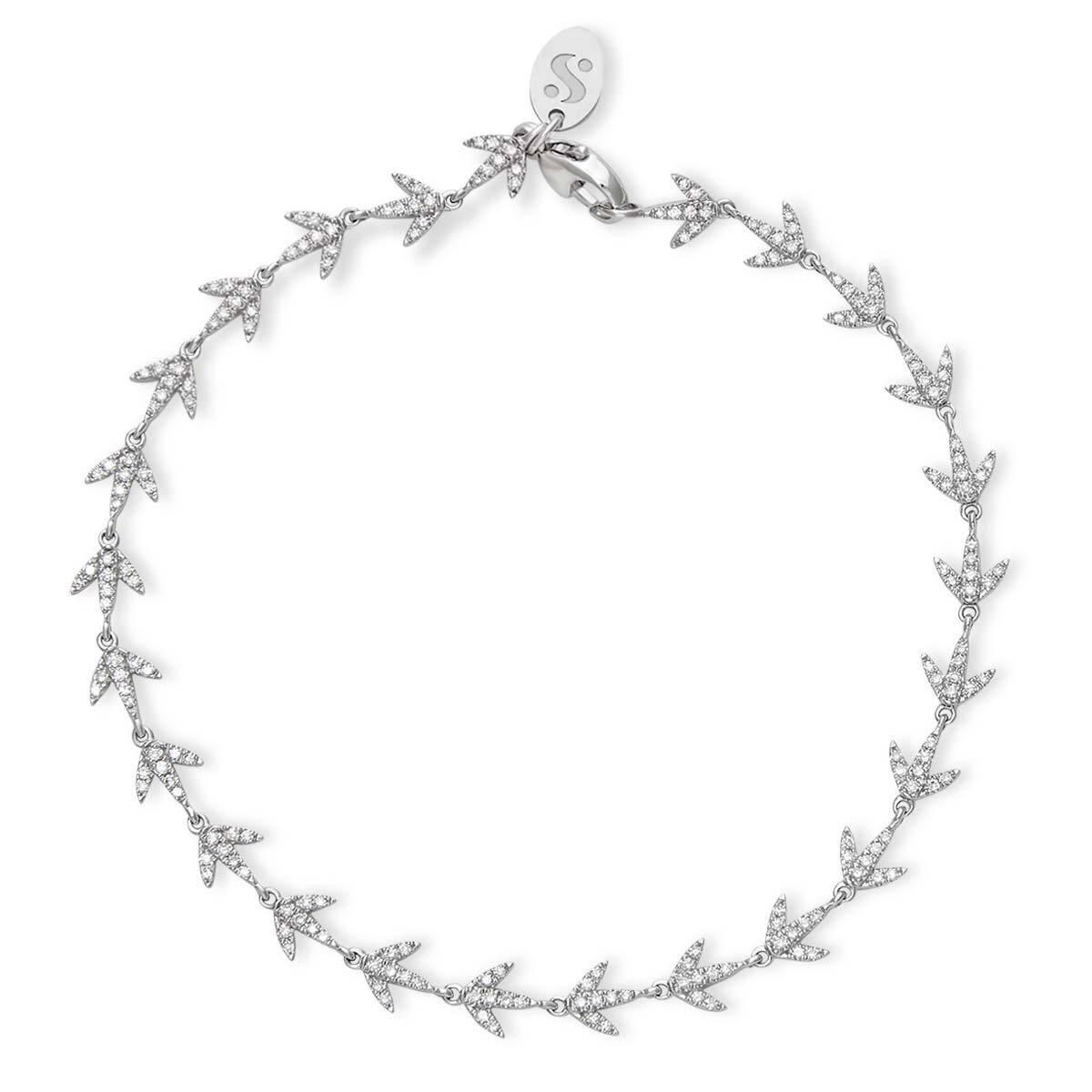 5. Elegant diamond bracelet
If there's anything you should know about anniversary presents, it's that diamonds aren't reserved for the 60-year milestone. This pretty bracelet is sparkly yet subtle, so it'll go with almost anything.
Serena Williams Jewelry diamond path bracelet, $950, Serena Williams Jewelry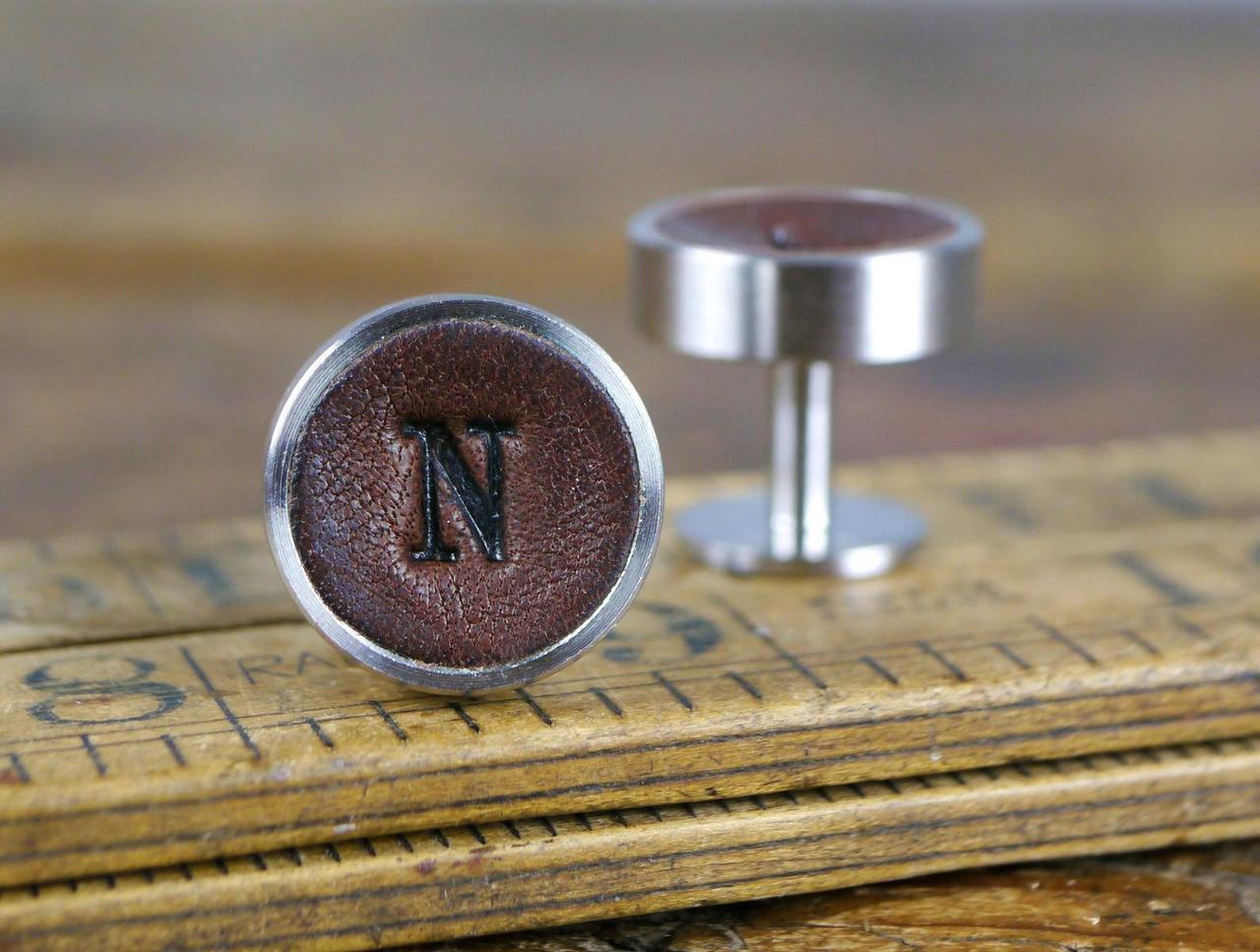 6. Sophisticated cuff links
Planning on dressing up for a fancy anniversary dinner? Gift your other half a set of leather cuff links adorned with their monogram or each of your initials—it's entirely up to you.
Kingsley Leather personalized cufflinks leather anniversary gift, $74, Etsy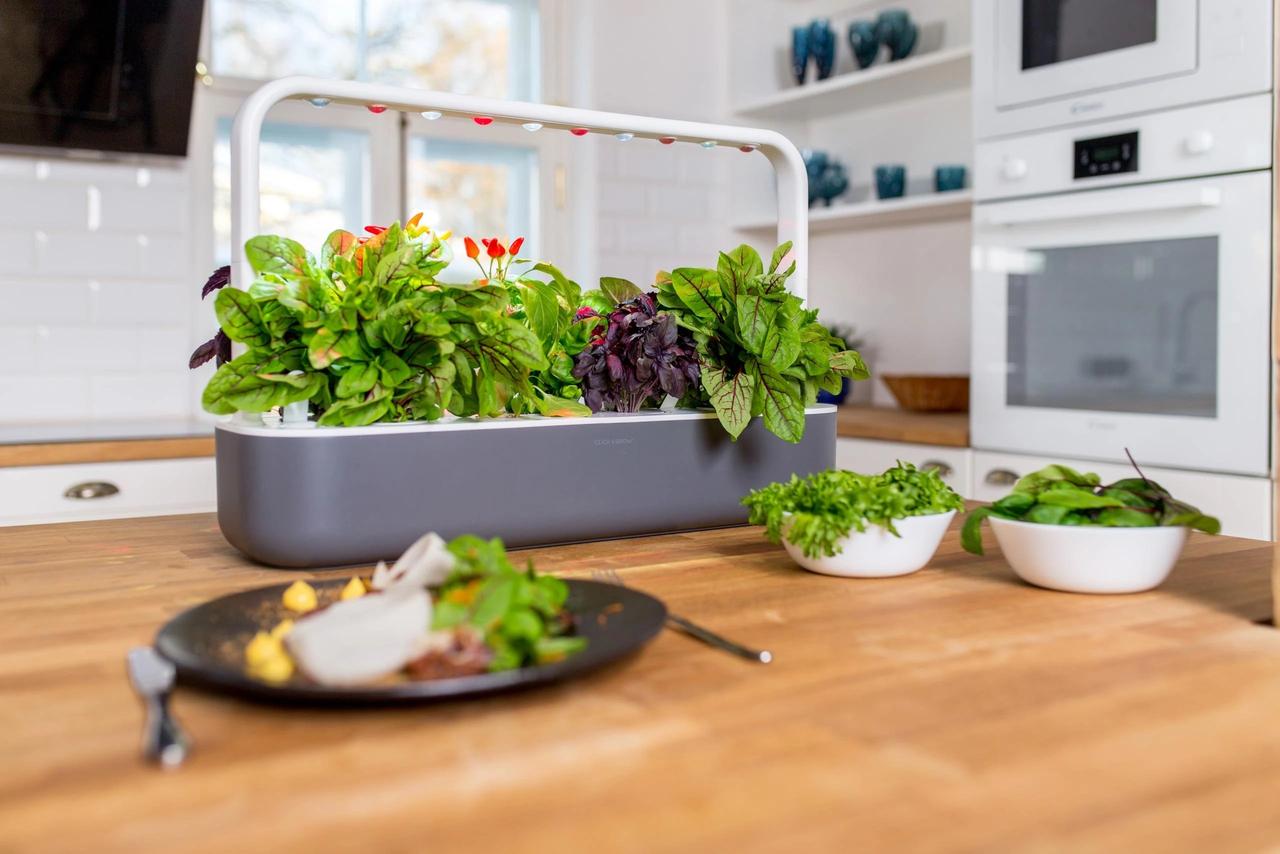 7. Smart indoor garden
An indoor garden is the perfect gift idea for anyone who loves to cook with fresh produce. This clever device will provide just the right amount of light, water, and nutrients for their greens to thrive, with minimal effort required on their end. It's a thoughtful nine-year anniversary gift for your spouse or loved ones.
Click & Grow The Smart Garden 9, $200, Click & Grow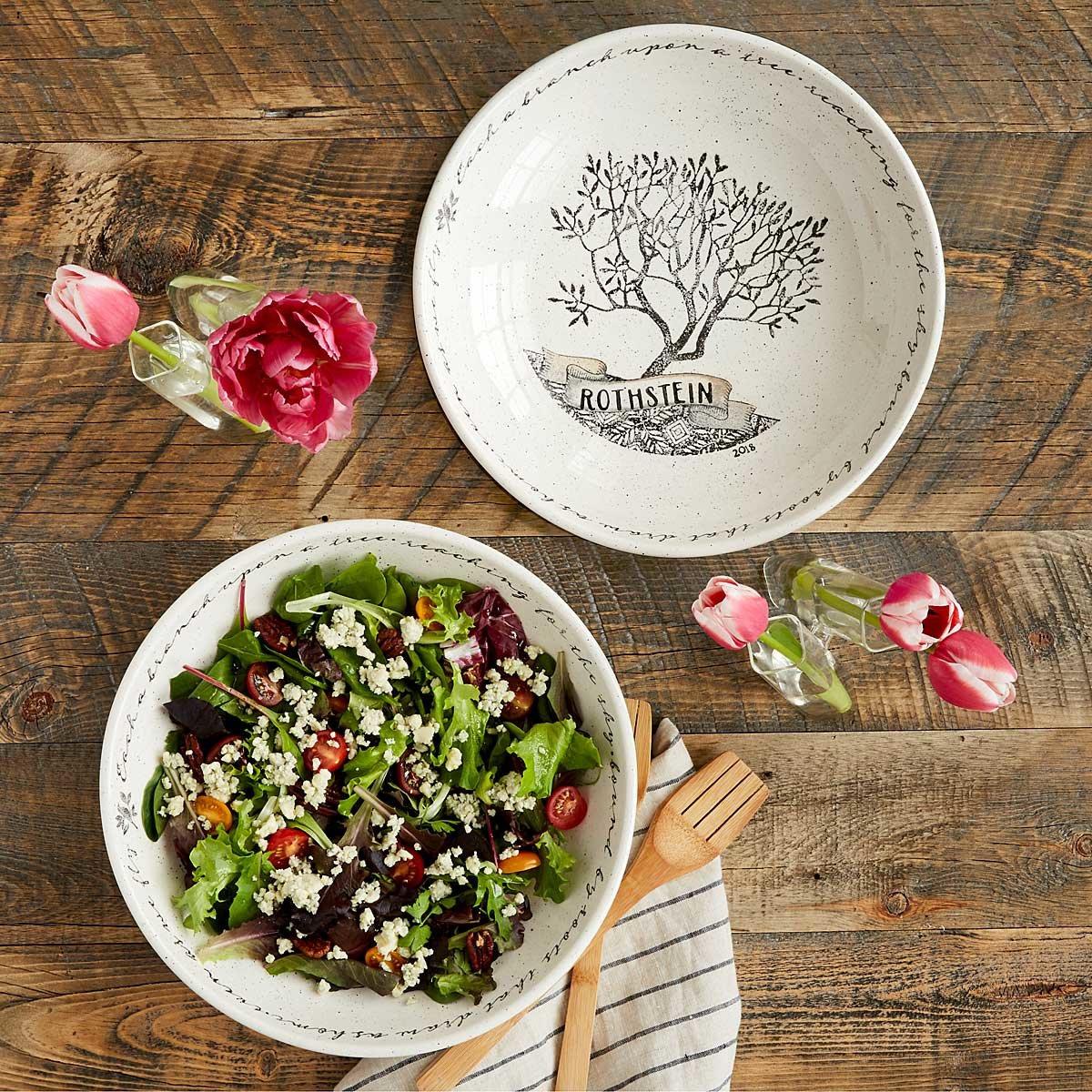 8. Sentimental serving bowl
There are actually lots of meaningful pottery anniversary gifts out there—you just have to know where to look. This personalized earthenware bowl is a lovely present for the couple celebrating nine years together.
Sheree Burlington personalized family tree serving bowl, $150, Uncommon Goods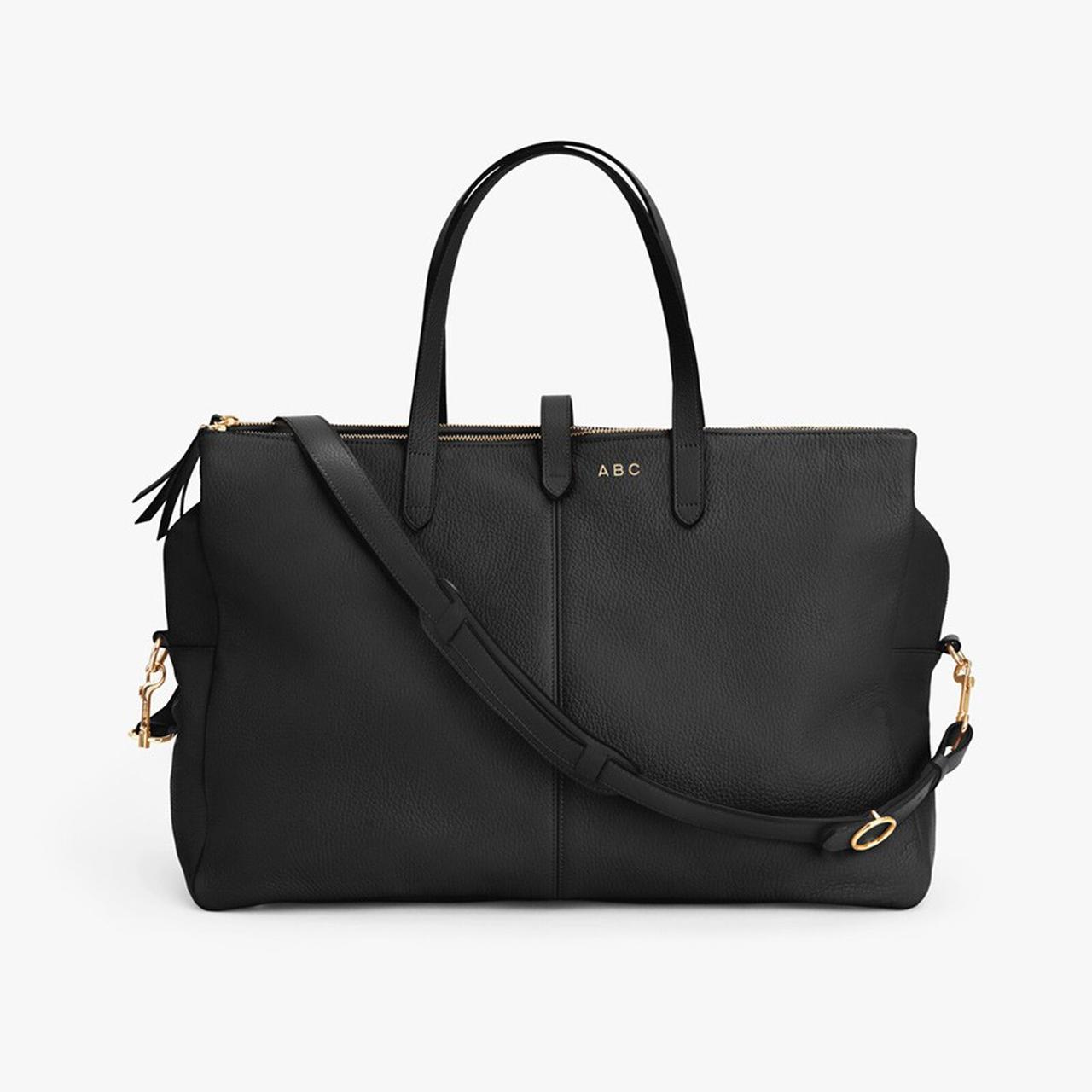 9. Monogram weekend bag
If your S.O. would prefer something practical, this Italian leather weekender is just the ticket. It's stylish, roomy, and there are compartments for practically everything, from their shoes to their laptop. If that's not enough to persuade you, it can also be personalized with a monogram.
Cuyana leather triple zipper weekender, from $395, Cuyana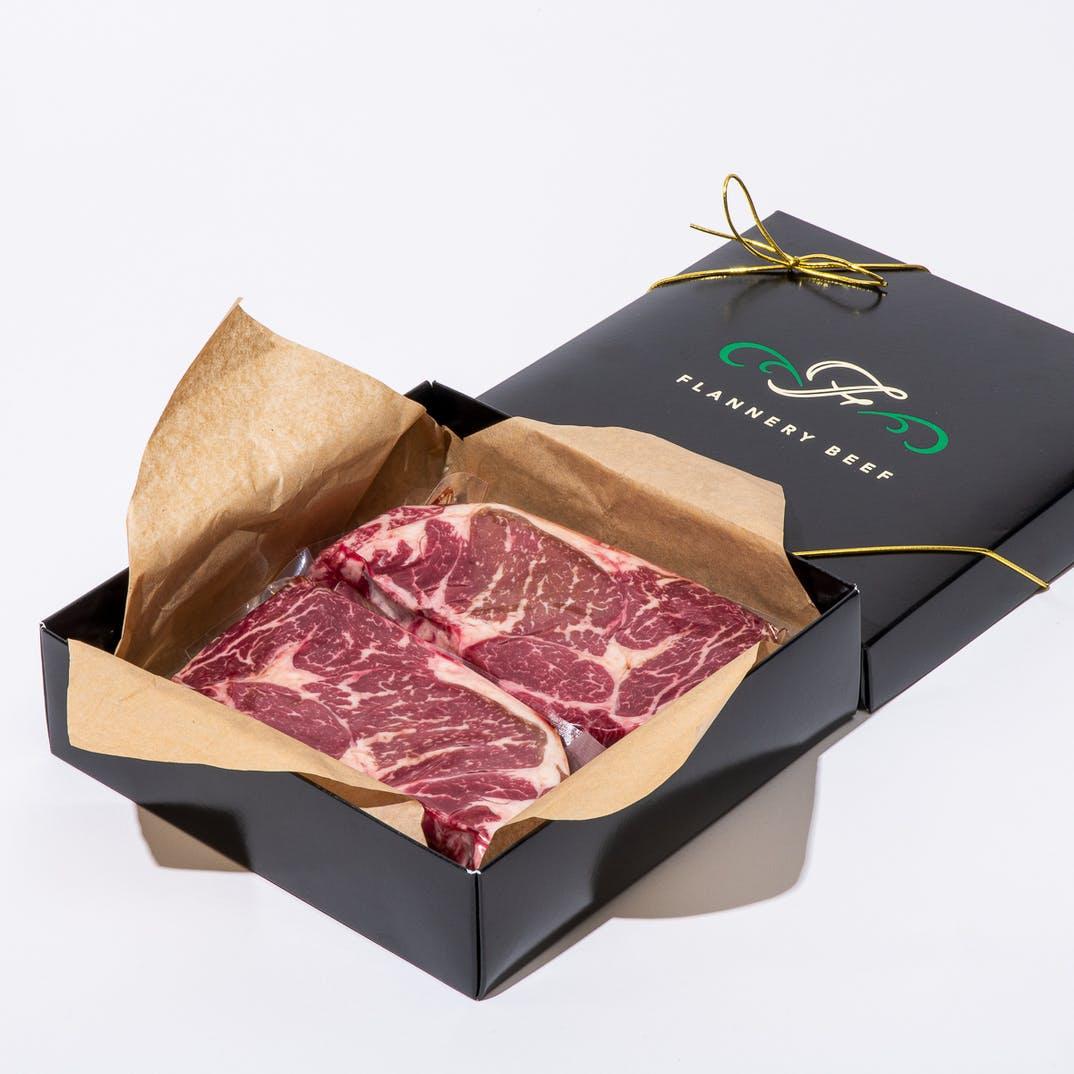 10. Fancy at-home dinner
On the hunt for nine-year anniversary gift ideas for a couple? Consider some of their favorite foods, like a delivery of premium steak they can enjoy as part of a celebratory meal. It'll be a memorable end to a special day.
Flannery Beef California Reserve ribeye steaks gift box, $99, Goldbelly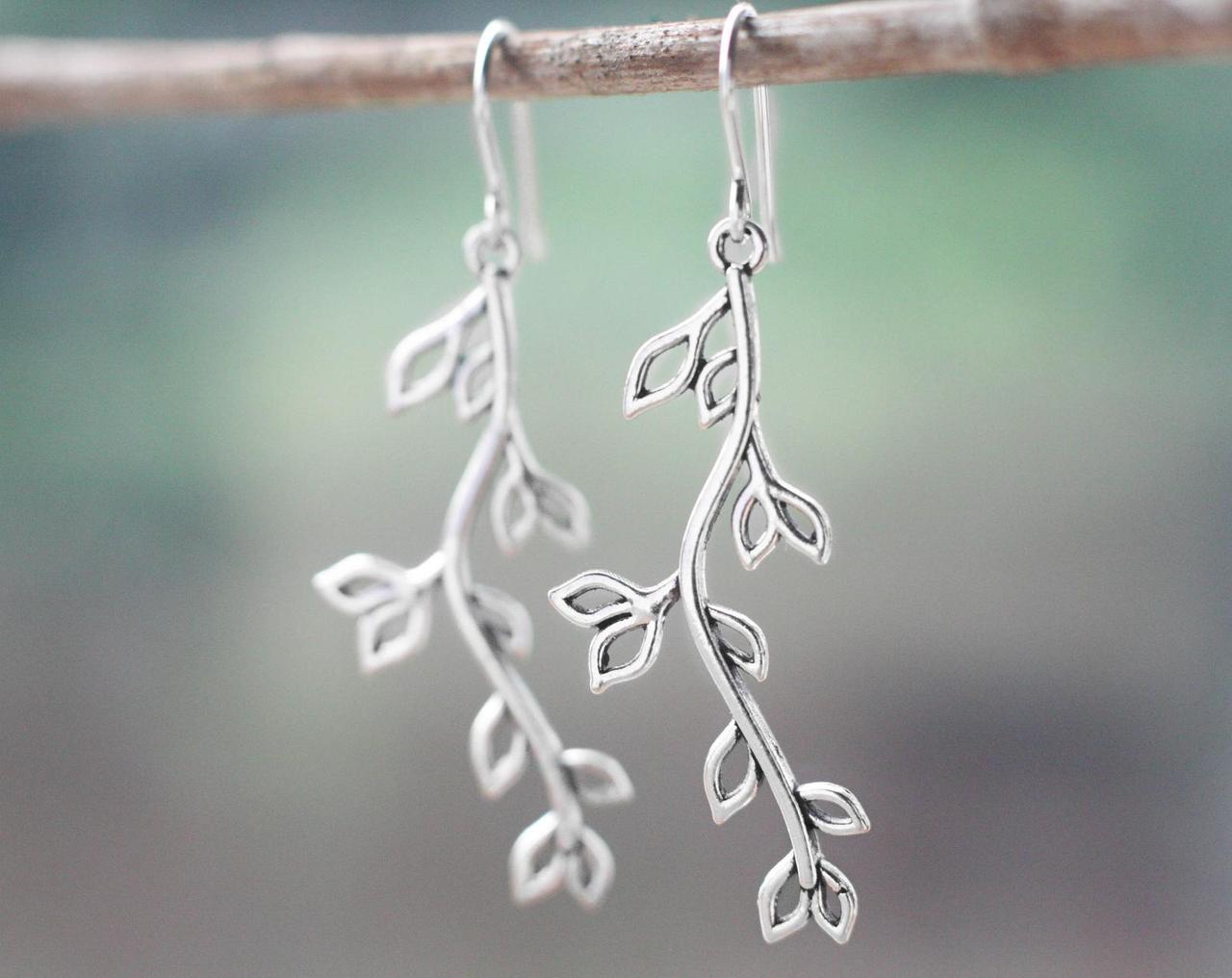 11. Pretty willow earrings
These boho earrings give a subtle nod to the traditional ninth anniversary gift thanks to their unique willow-branch design.
Silven Oak antique silver willow earrings, from $33, Etsy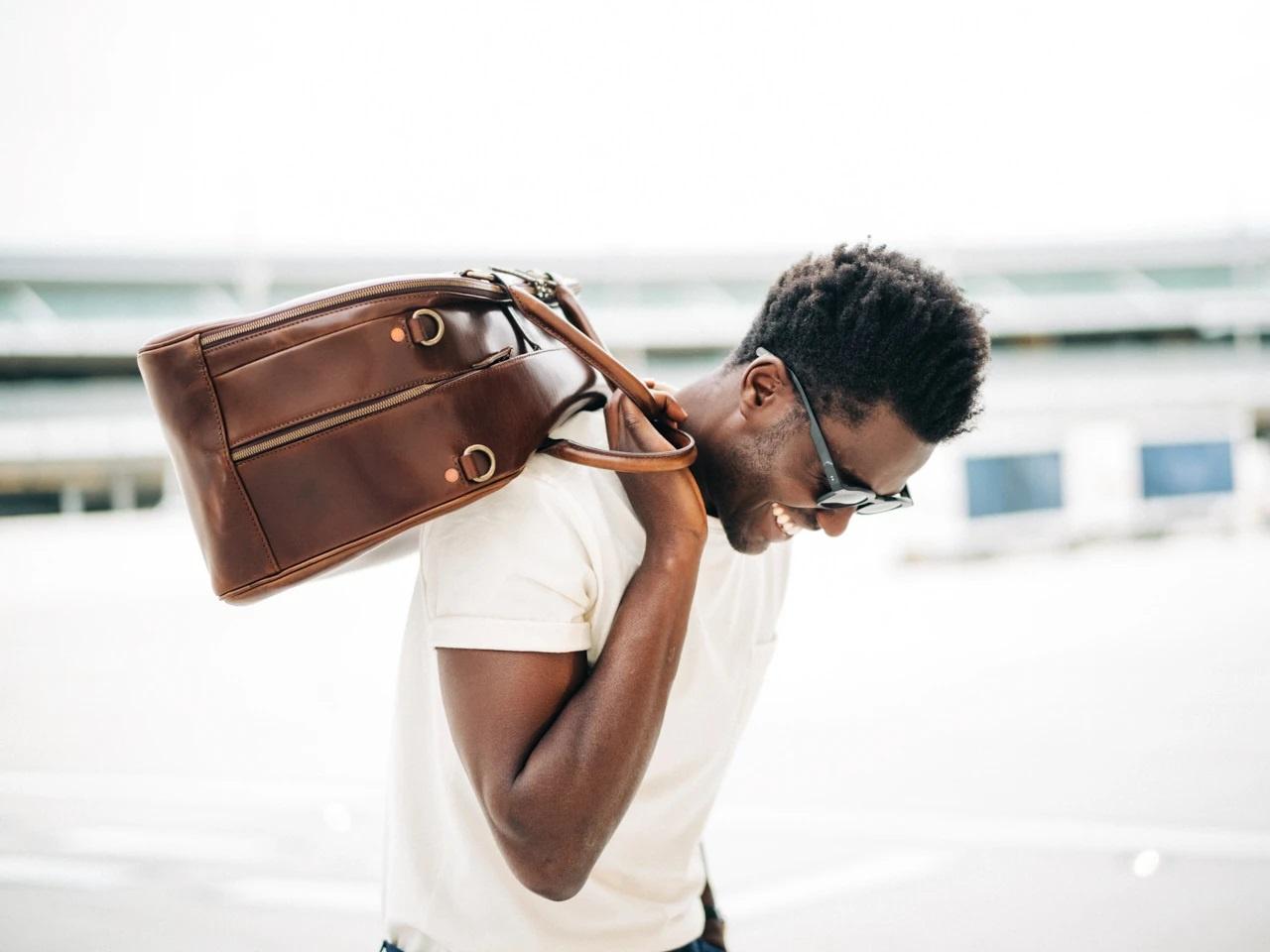 12. Luxury leather bag
Here's another stylish travel bag perfect for the jet-setter or commuter in your life. A suede interior lining and antique brass hardware add the finishing touches for a truly luxurious leather gift.
Satchel & Page carry all, $555, Satchel & Page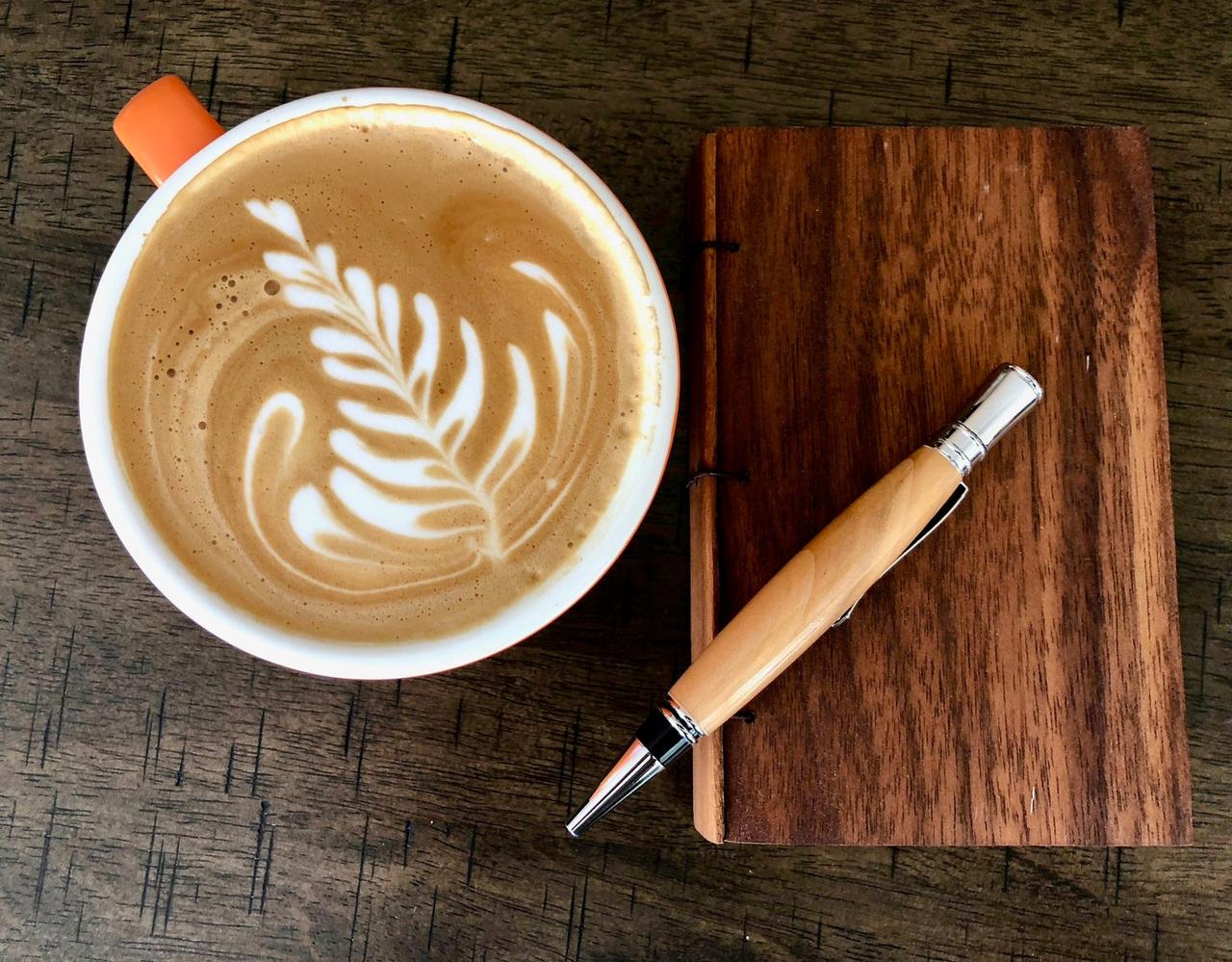 13. Handcrafted writing pen
If you'd rather stick with one of the traditional nine-year wedding anniversary gifts, a pen crafted out of willow wood is a practical and meaningful present—especially if you're shopping for a writer.
Elder Pens willow wood pen 9-year anniversary gift, $30, Etsy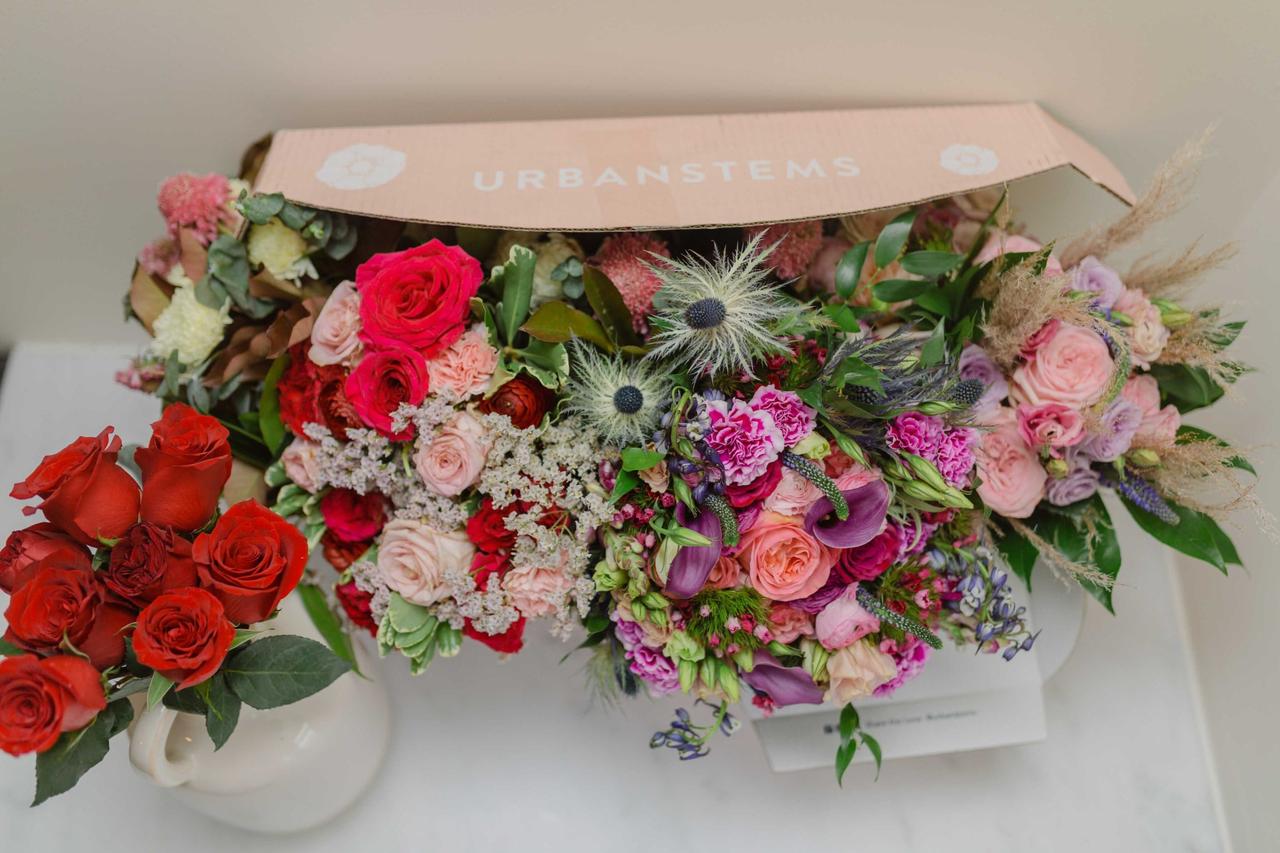 14. Fresh flower subscription
Flowers are another versatile present that transcends specific milestones. But instead of giving your bae their usual bouquet this year, why not sign them up for a gift subscription? Every month, they'll get to enjoy a new selection of fresh blooms.
UrbanStems gift subscription, from $55 per delivery, UrbanStems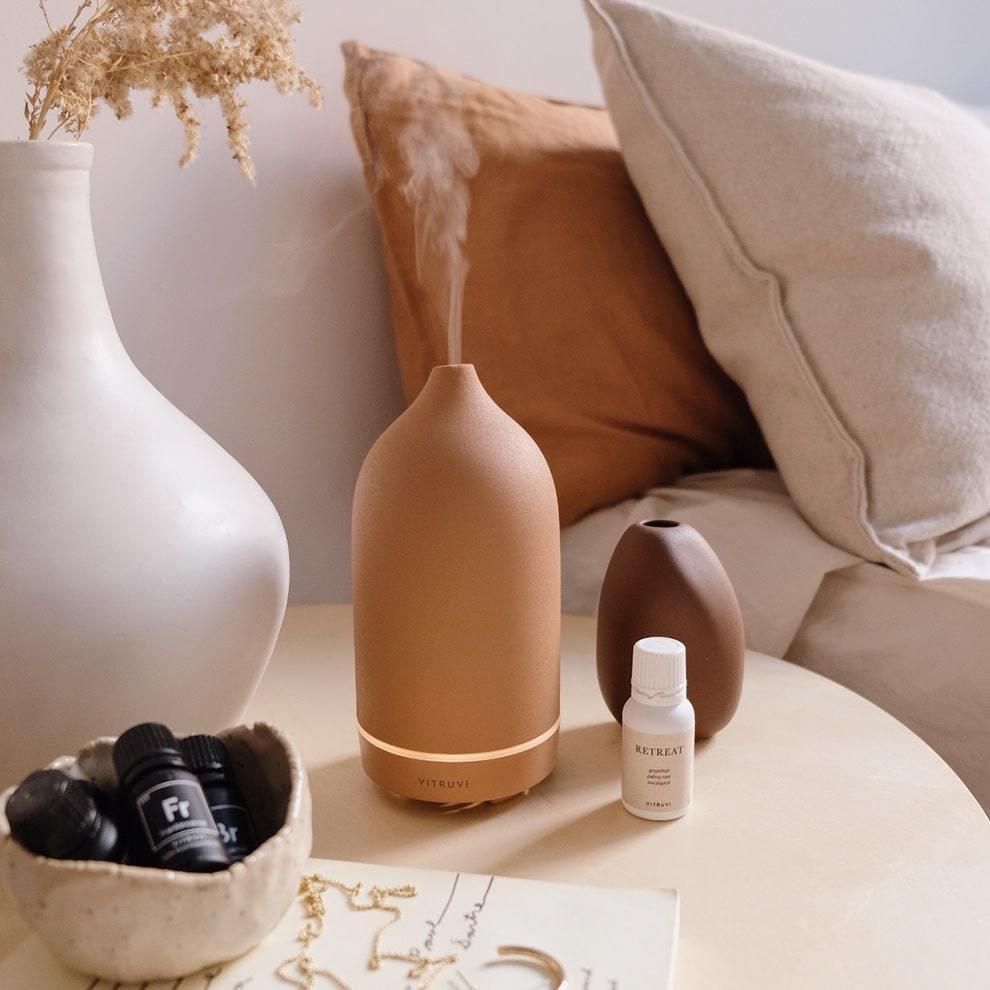 15. Chic ceramic diffuser
Terracotta is the unique color associated with the ninth year of marriage, which is why this decorative diffuser is an excellent gift idea. Who doesn't want to fill their home with soothing essential oils?
Vitruvi stone diffuser in Terracotta, $119, Vitruvi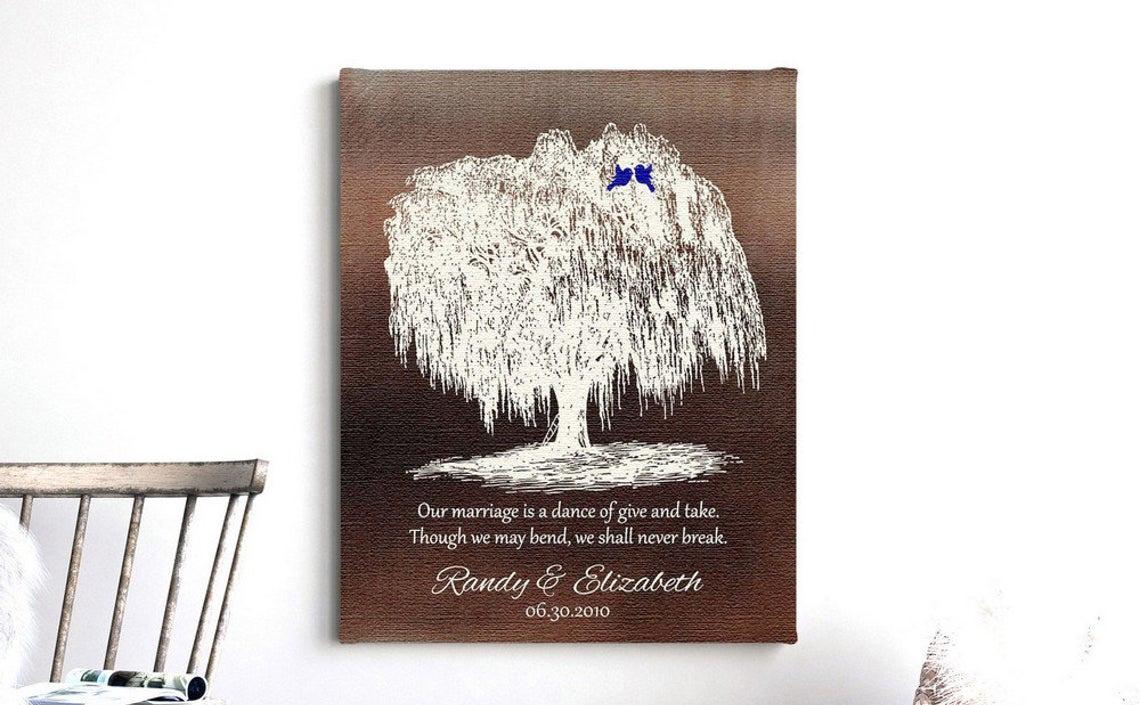 16. On-theme art print
Willow anniversary gifts don't necessarily have to be crafted out of wood. This sentimental print shows two lovebirds in a willow tree alongside the quote: "Our marriage is a dance of give and take, though we may bend, we shall never break." Choose between paper, metal, or canvas to suit your style and budget.
Lucky Tusk 9th year anniversary gift personalized willow tree, from $28, Etsy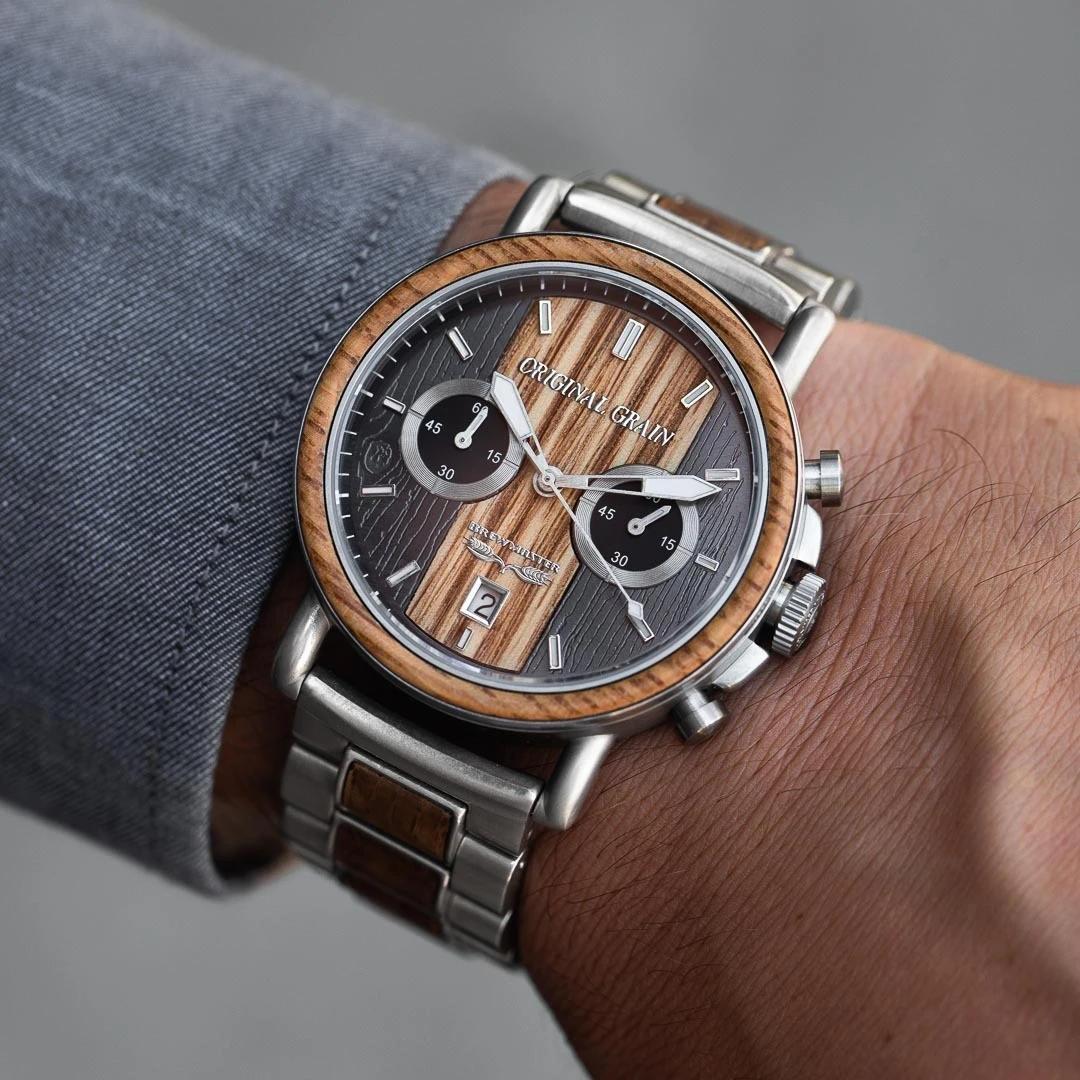 17. Unique wooden watch
Crafted from reclaimed German oak beer barrels, this watch has a lot of character. Sapphire crystal glass and stainless steel make it (almost) as durable as your marriage.
Original Grain Alterra Chrono 44mm in Brewmaster, $379, Original Grain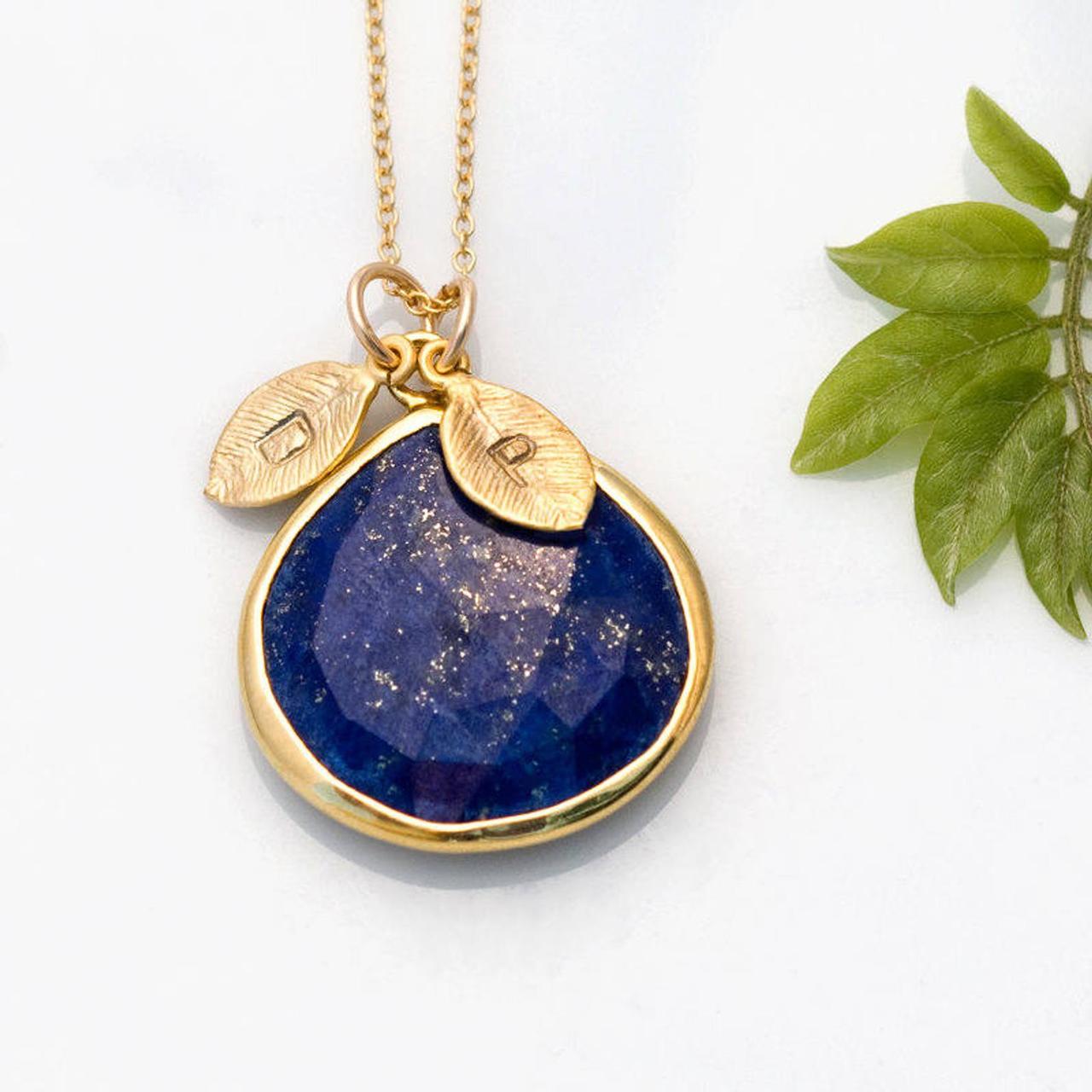 18. Stunning gemstone necklace
Want to know what makes this mesmerizing necklace so significant? It's made from the ninth anniversary stone, lapis lazuli. Choose between a gold or silver chain depending on your spouse's style. You can also add up to four pretty gold leaves stamped with the initials of your choosing.
Delezhen lapis lazuli necklace, from $52, Etsy
19. Tropical flower delivery
If jewelry isn't their thing, don't worry. There are other cool gift ideas unique to the nine-year anniversary, such as the vibrant bird of paradise flower. This bright bouquet features a selection of stunning tropical blooms, including birds of paradise.
Bloomsybox Tropical Treasure bouquet, $50, Bloomsybox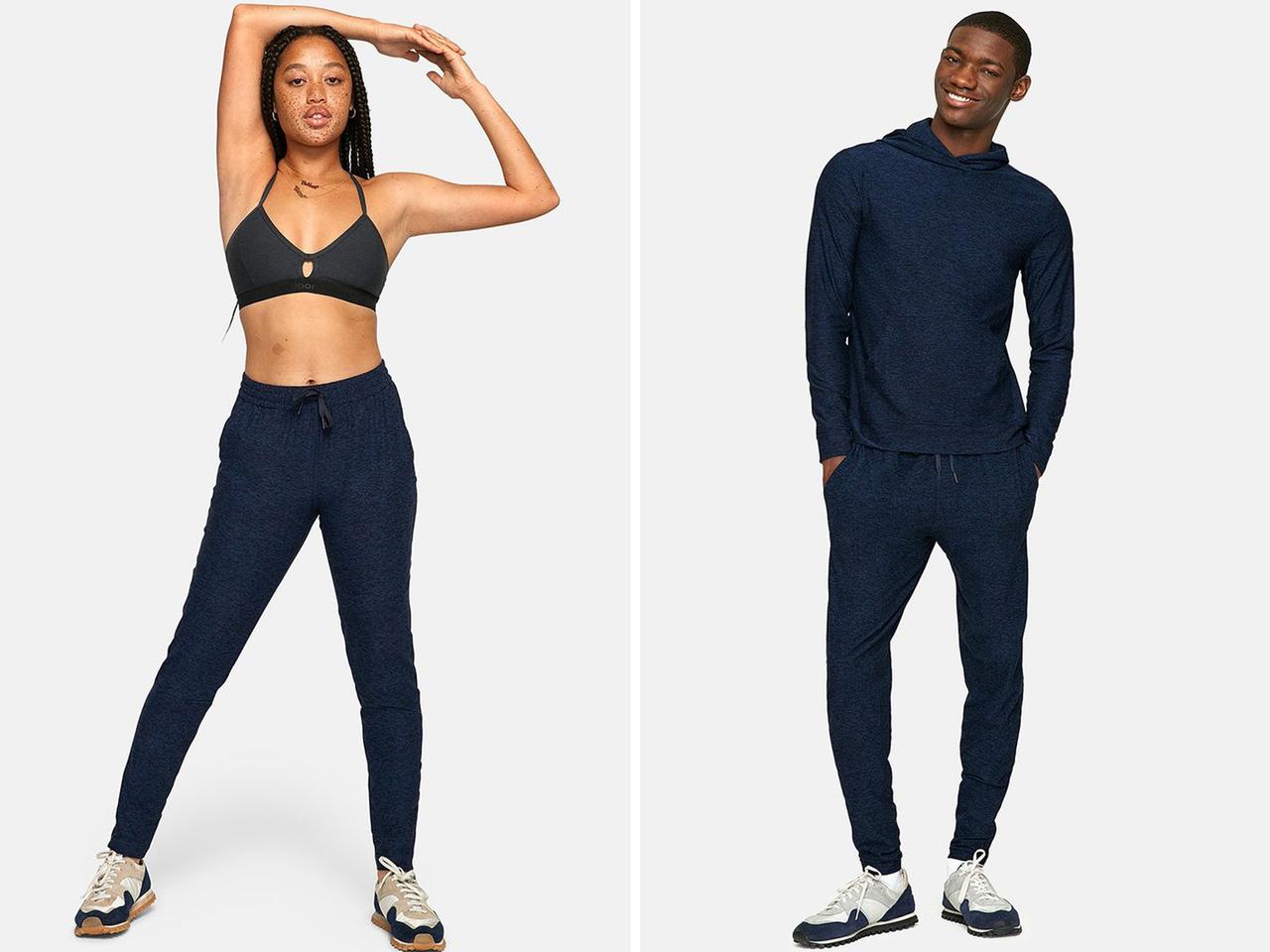 20. Unbelievably soft sweatpants
Having good loungewear is more important than ever. Made with super-soft fabric, these snug sweats were designed specifically for all-day comfort. They're a thoughtful nine-year anniversary gift for your husband or wife.
Outdoor Voices women's All Day sweatpant, $88, Outdoor Voices; Outdoor Voices men's All Day sweatpant, $88, Outdoor Voices
21. Map passport cover
You don't have to break the bank to get your other half a nice leather anniversary gift. If you both love to explore, give them a practical passport cover they can use to keep track of their travels. Trust us, they'll really appreciate the sentiment.
Chasing Threads Stitch-Your-Travels leather passport cover, $35, The Grommet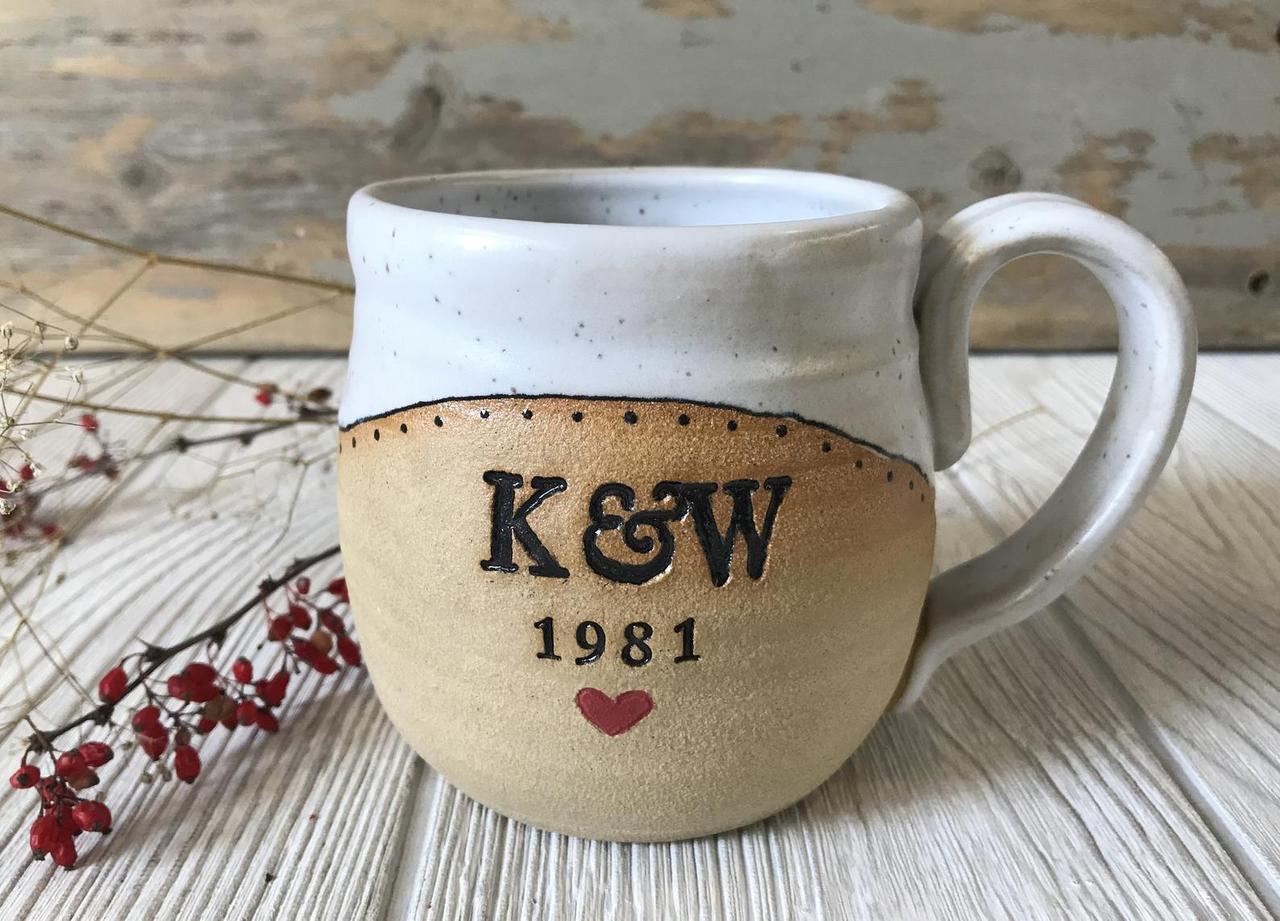 22. Handmade anniversary mug
When it comes to pottery gifts for your ninth anniversary, don't be afraid to keep things simple. Have this gorgeous handmade mug personalized with your initials and the year you tied the knot for a sweet and unfussy gift your partner will use every day.
Laura Lynn Pottery personalized pottery mug, $46, Etsy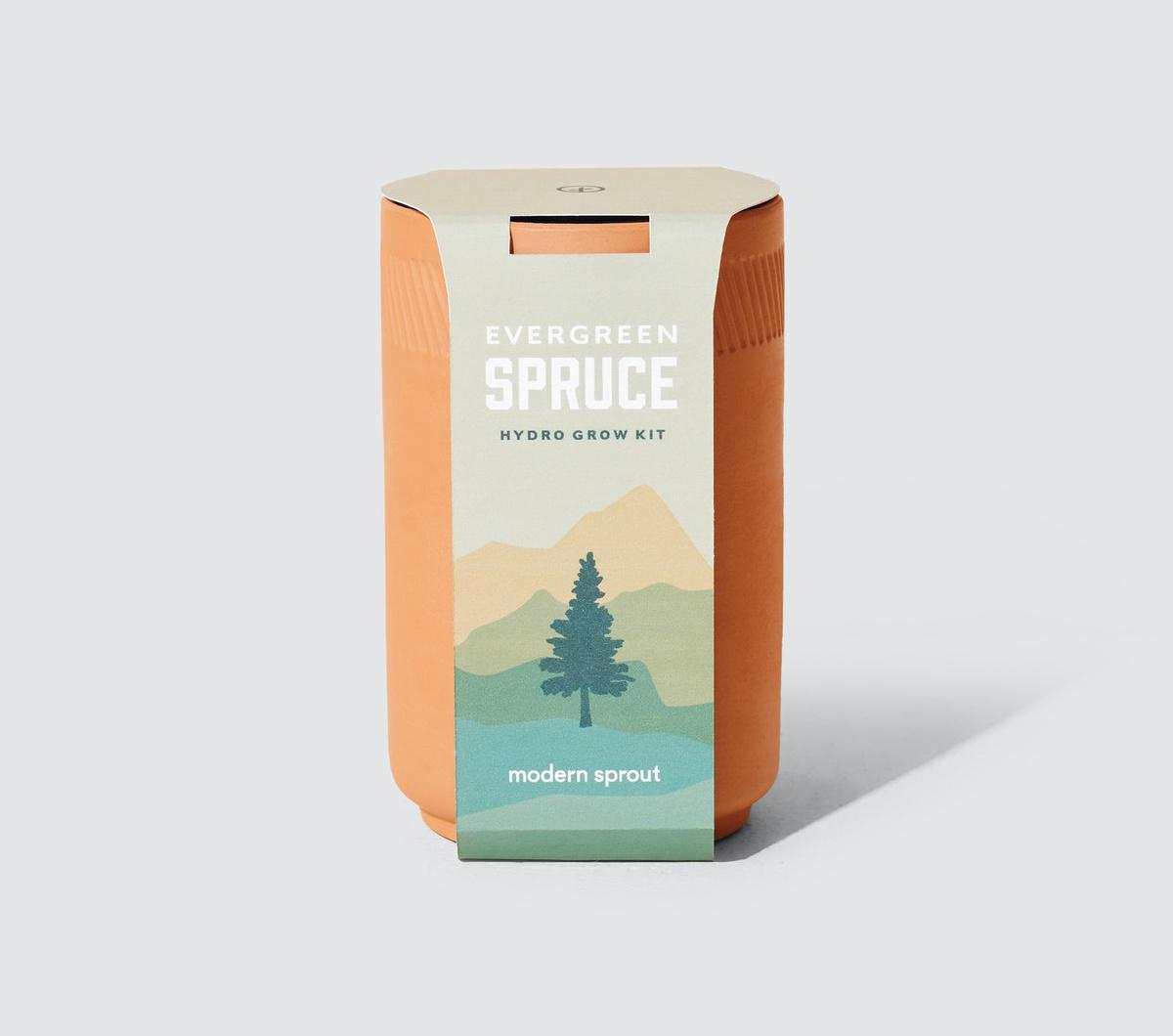 23. Evergreen grow kit
This affordable gift idea is a lovely tribute to the couple's relationship: The terracotta planter honors the nine-year anniversary color, and just like their love, the spruce tree will be evergreen.
Modern Sprout evergreen spruce terracotta grow kit, $19, Verishop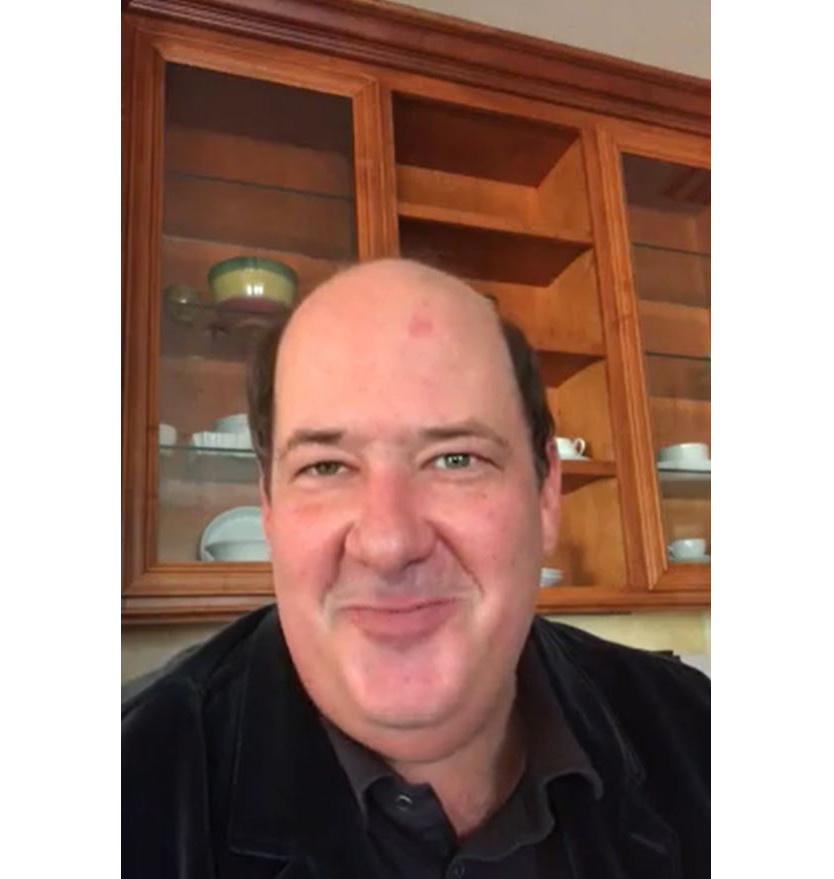 24. Celebrity video message
Of all the people your S.O. wants to hear "happy anniversary" from, you're top of the list—but that's not to say they wouldn't appreciate a congratulatory message from one of their favorite celebs. Why not choose someone from a TV show you love to watch together? We're big fans of anyone from The Office.
Cameo celebrity video message, rates vary, Cameo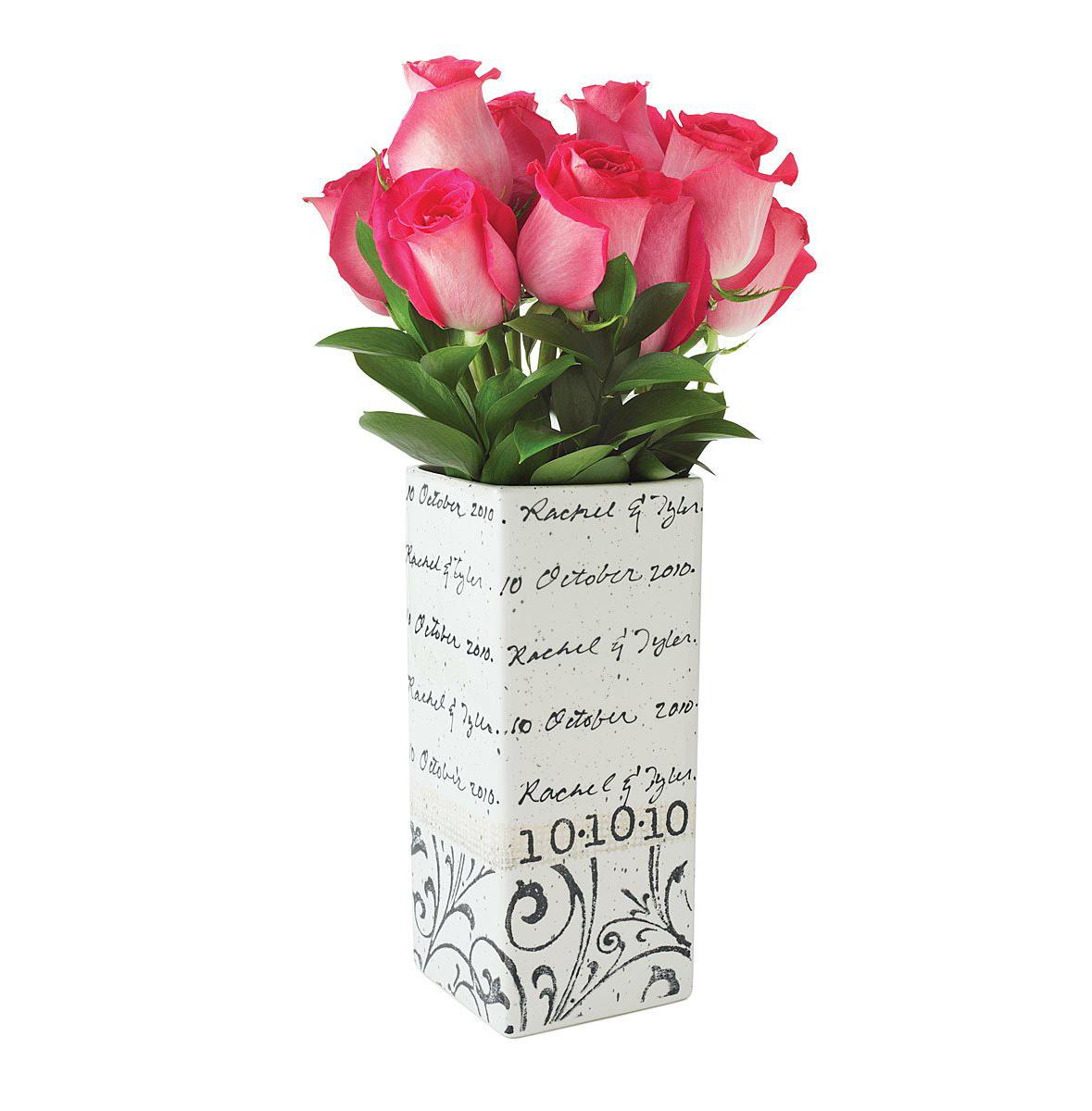 25. Commemorative wedding vase
Have you ever seen anything like this pretty earthenware vase? It comes personalized with your names and the date of your nuptials in elegant cursive lettering. Don't forget to add the flowers!
Sheree Burlington personalized cursive wedding vase, $150, Uncommon Goods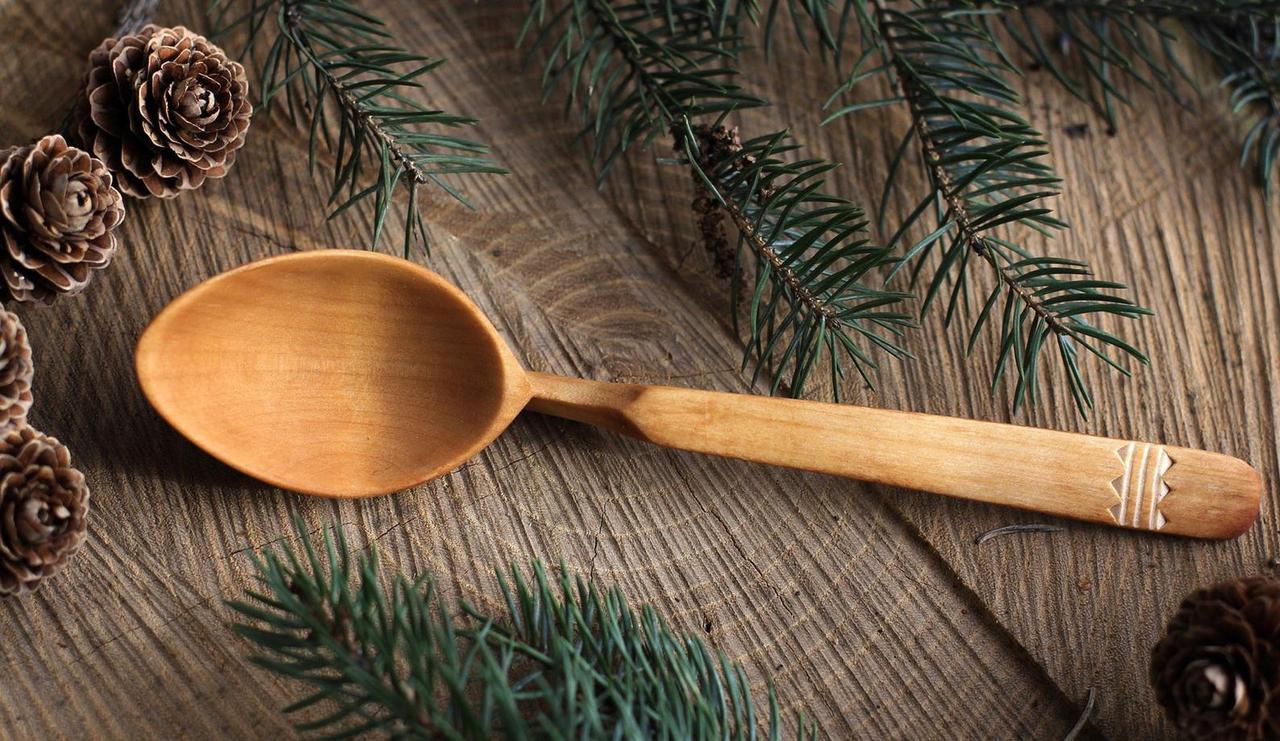 26. Handcrafted willow spoon
Anniversary gifts made of willow are undeniably unique. A handmade serving spoon is a great present for anyone who loves to cook or host. For an extra-special surprise, have the back engraved with a sweet note like "happy anniversary."
Manvarina Spoon hand carved wooden spoon 9th anniversary willow gift, $47, Etsy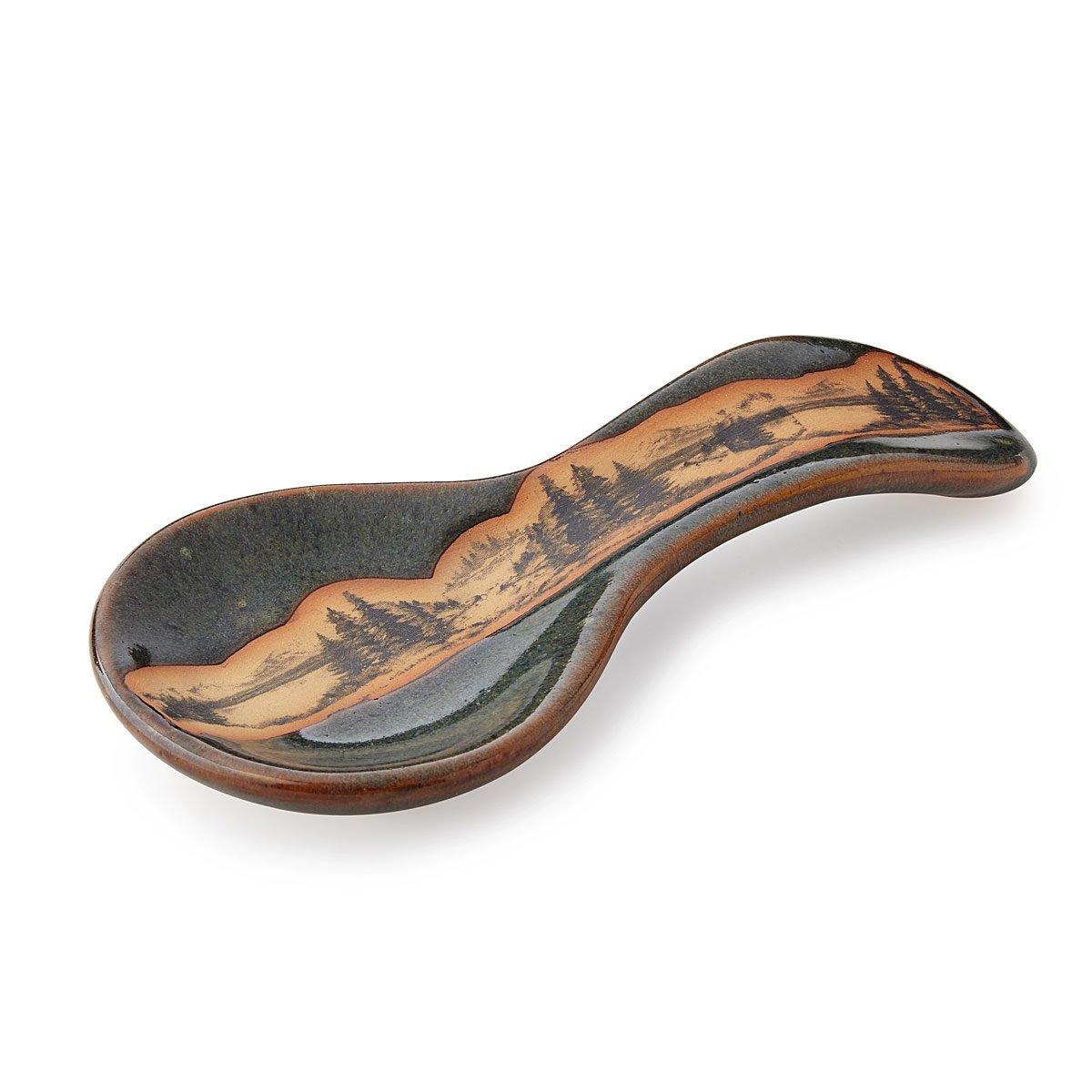 27. Stoneware spoon rest
How about a traditional pottery spoon rest to go with that willow serving spoon? You'll tick the boxes for both of the traditional nine-year anniversary gifts with two coordinating presents.
Alan Yarmark stoneware mountain scene spoon rest, $20, Uncommon Goods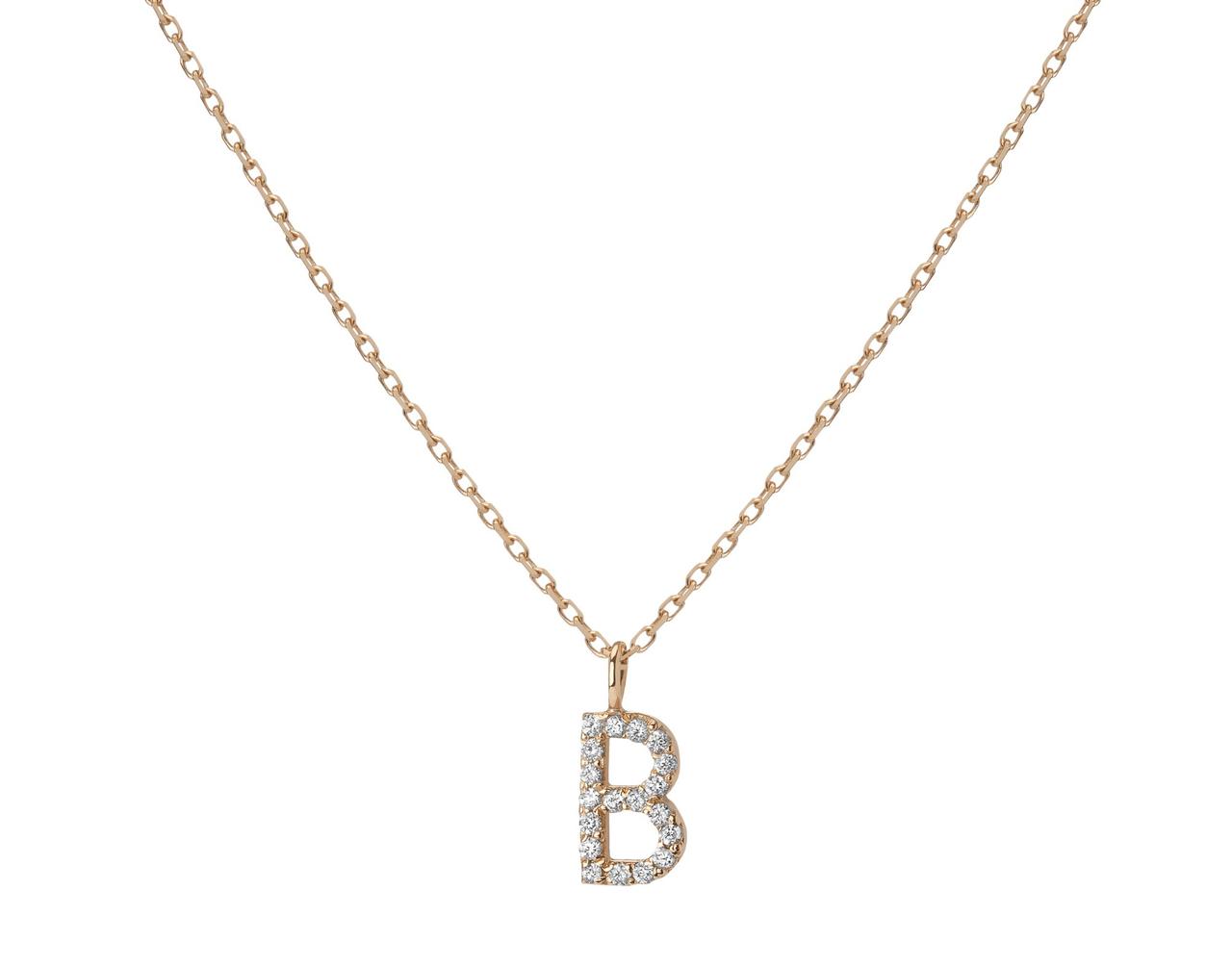 28. Initial charm necklace
While willow and pottery gifts are definitely unique, some of the best ninth anniversary gifts don't follow traditional rules. A pavé diamond pendant in white, yellow, or rose gold is effortlessly chic. For an even more romantic present, choose your own initial so they can wear it close to their heart.
Aurate mini letter charm pendant with white diamonds, from $560, Aurate New York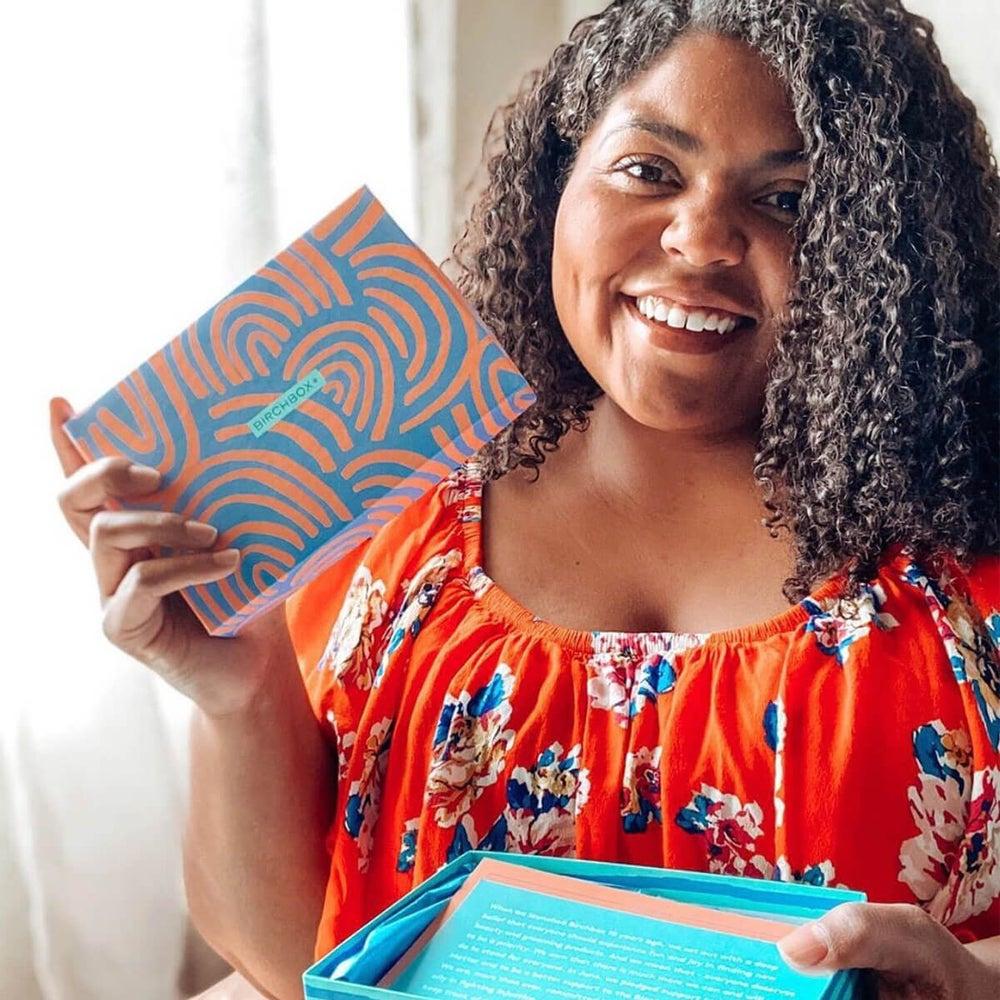 29. Monthly beauty subscription
A subscription is a gift that keeps on giving, and if your S.O. is always on the lookout for the coolest new beauty products, Birchbox is the one for them. (Psst, there's also a grooming subscription box if that's more up your partner's alley.)
Birchbox monthly subscription, from $13 per month, Birchbox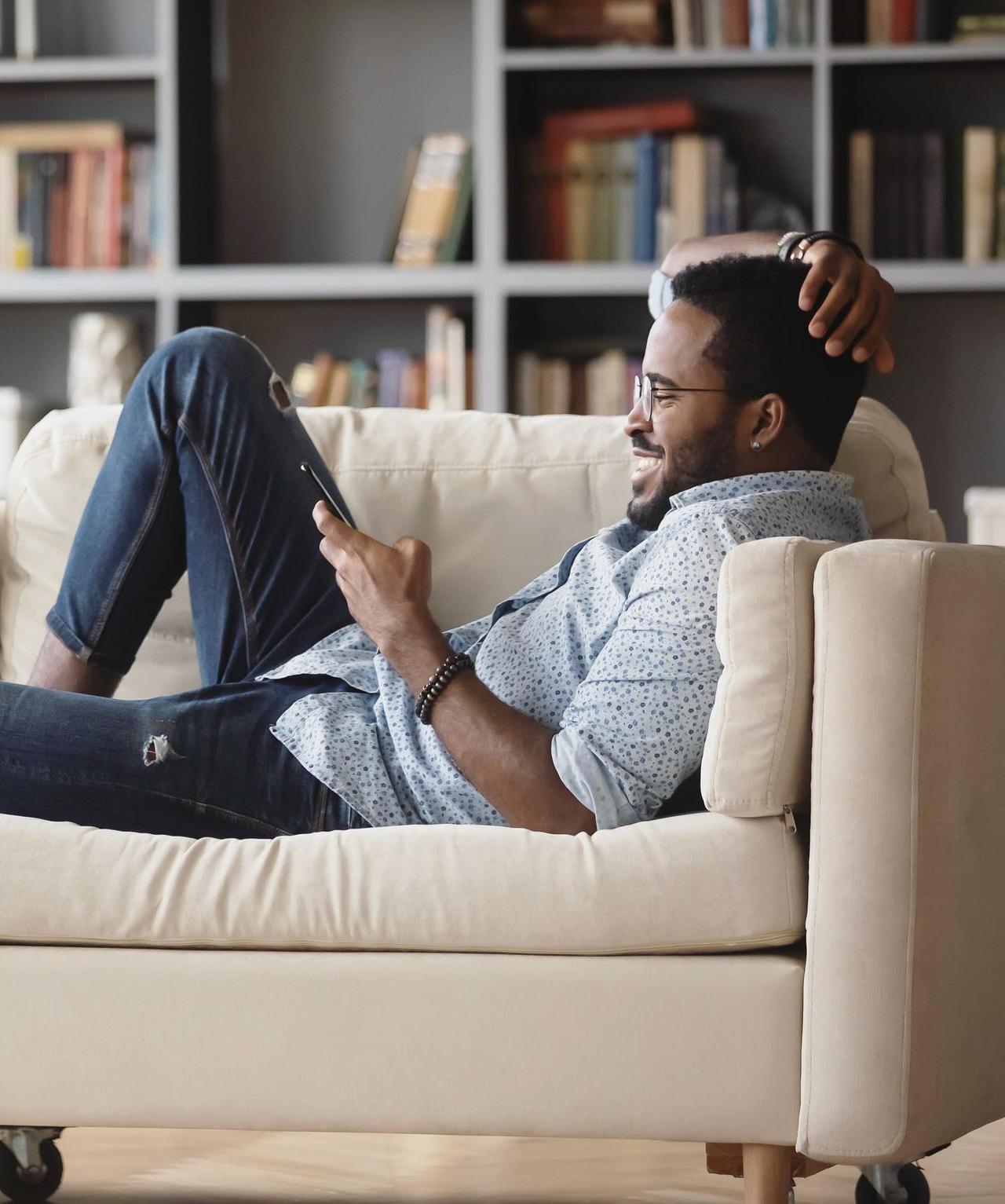 30. Blue light-blocking glasses
If your spouse just isn't the sentimental type, don't discount practical ninth wedding anniversary gifts. A pair of blue light-blocking glasses is something they'll really appreciate, whether they're working, playing video games, or scrolling through Instagram. LensDirect has a selection of stylish frames available with or without a prescription. Just make sure to select the BluDefend lenses.
LensDirect gaming glasses, from $92, LensDirect