The 13 Parts of a Tuxedo to Know Before You Shop
Tuxedos are different from your average suit. This glossary explains all the parts of a tuxedo if you're thinking of wearing one for your wedding day.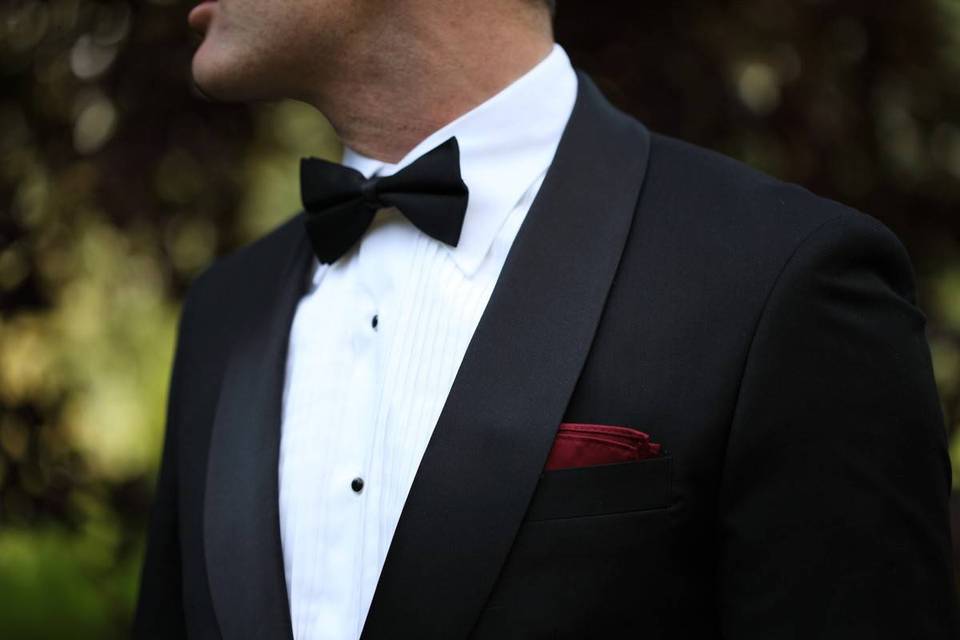 It's not every day that you wear a tuxedo, so it's totally normal to feel a little uninformed about all of the pieces and accessories that go along with such a formal ensemble. There are more parts of a tuxedo compared to a two-piece or three-piece suit, which is why we're breaking down all of the details right here to help you get up to speed. Whether you're shopping for your tuxedo online or headed to a local formalwear retailer, you'll feel much more at ease and prepared to find your wedding day look once you know the basics.
Here are the most important parts of a tuxedo to know—plus some optional add-ons you can use to customize your look.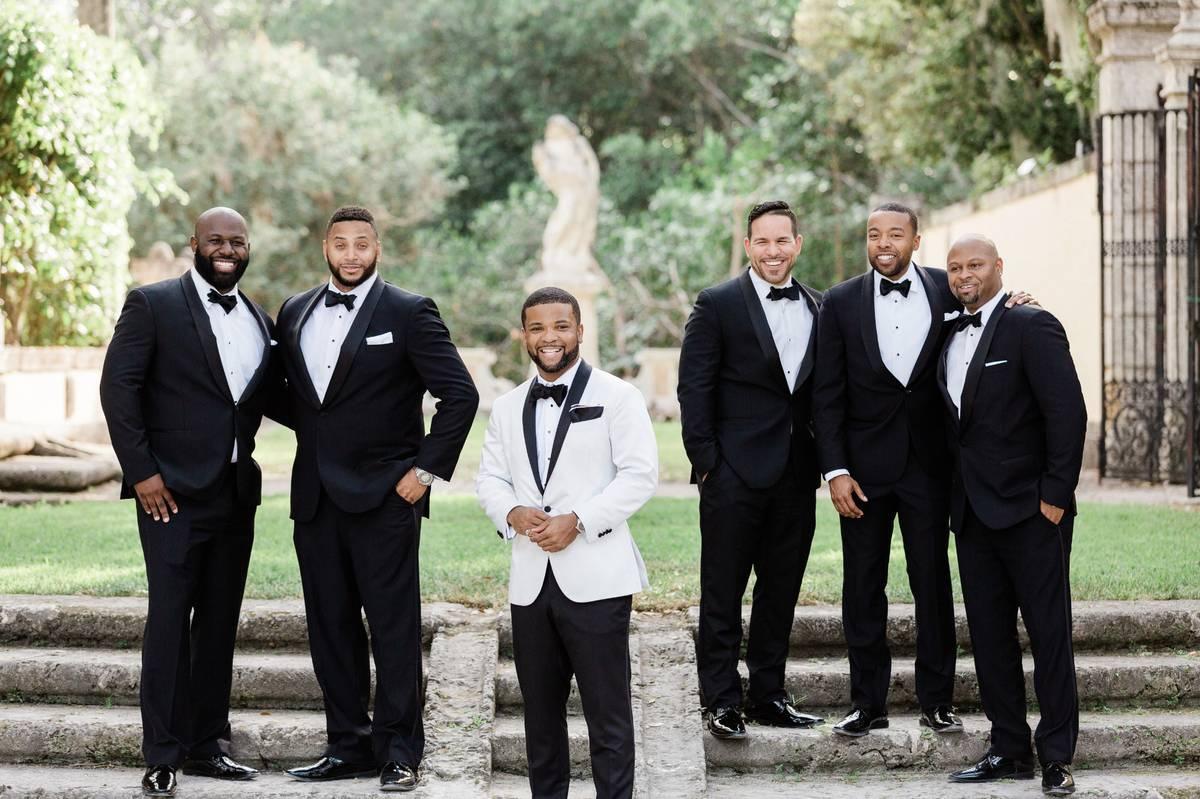 Jacket
The jacket is the finishing piece of your tuxedo, and it's where you'll notice one of the biggest differences from the average suit. The lapel and breast/waist pockets on a tuxedo jacket are trimmed with satin, which creates a subtle contrast from the rest of the fabric. You'll also notice satin on the buttons along the cuffs and at the waist.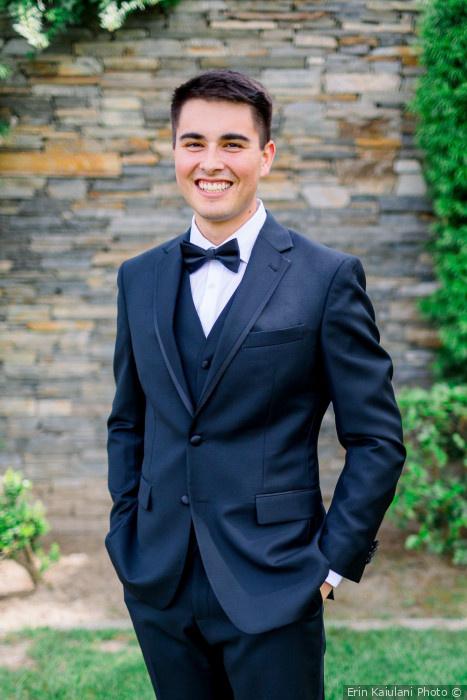 Notch lapel
There are several different types of lapels a tuxedo can have. Ultimately, choosing one comes down to your personal preference—as long as the lapel is trimmed with satin, it's considered formal. The notch lapel has an opening about two-thirds up, right below your shoulders.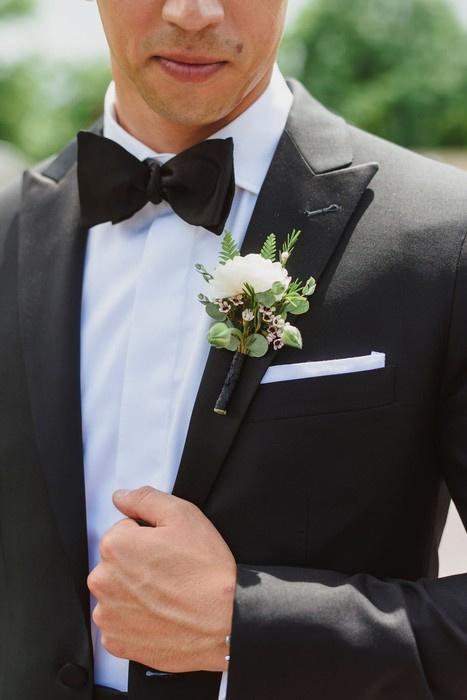 Peak lapel
If you're set on upholding tradition when it comes to attire, the peak lapel is the way to go as it's considered the king of all lapels. It's clear why this is a popular lapel style: It gives the illusion of broader shoulders and the deep v-shaped lines create the appearance of a narrower waist.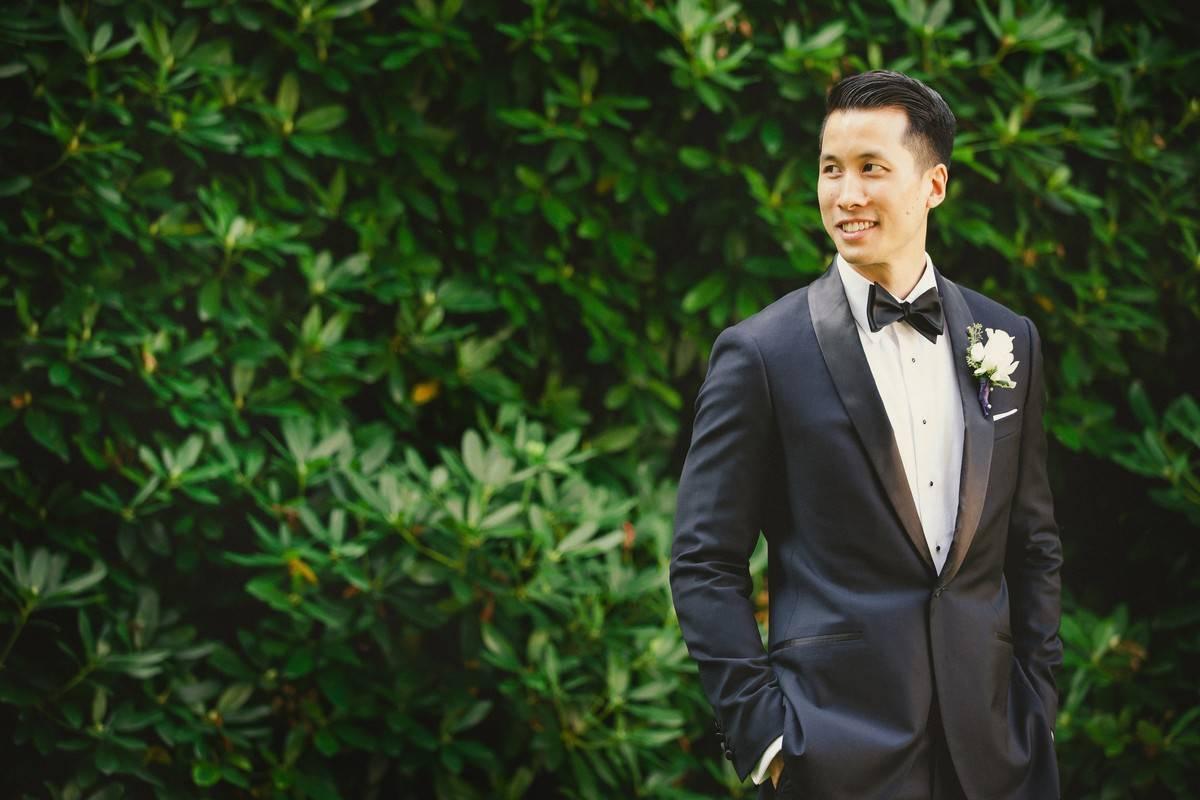 Shawl lapel
If the theme of the evening is fashion-forward or glamorous, a shawl lapel is your best bet. This lapel style is smooth and rounded, which creates a more modern look compared to other jacket styles.

Bow tie
The most formal ensemble also requires the most formal accessories. While you can wear a straight necktie with a tuxedo, bow ties are the preferred choice if you're going for a highly sophisticated look. The tie should be made from silk or satin in a plain color. Black is the standard option, but you can consider a dark blue or dark green color for a trendier effect.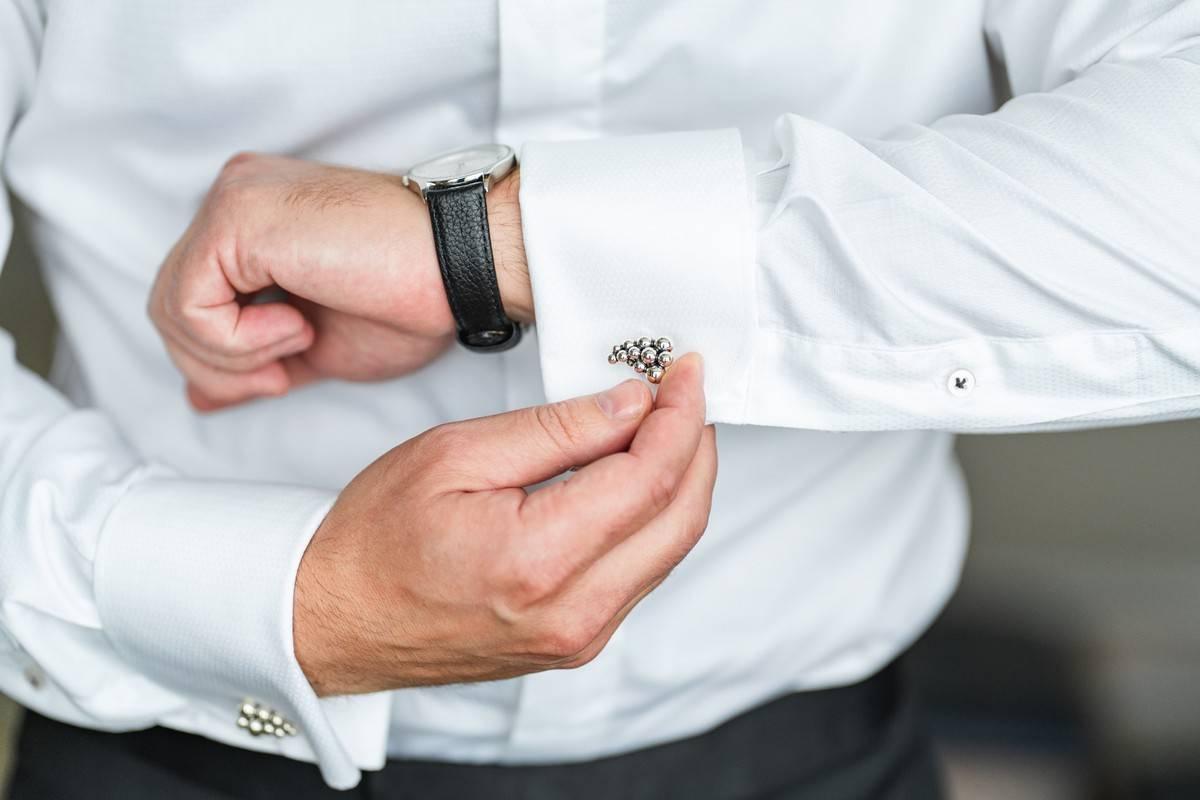 Cufflinks
You're probably already familiar with these accessories, but they're one of the most important parts of a tuxedo. Not only do cufflinks secure the cuffs on your dress shirt together (tuxedo shirts often include removable buttons), they're a way to show off your personality. Consider buying a special pair of cufflinks for your wedding day—you'll enjoy re-wearing them again for special occasions in the future.

Studs
Wear these if you want to swap out the plain buttons on your tuxedo shirt for something with more formality and flair.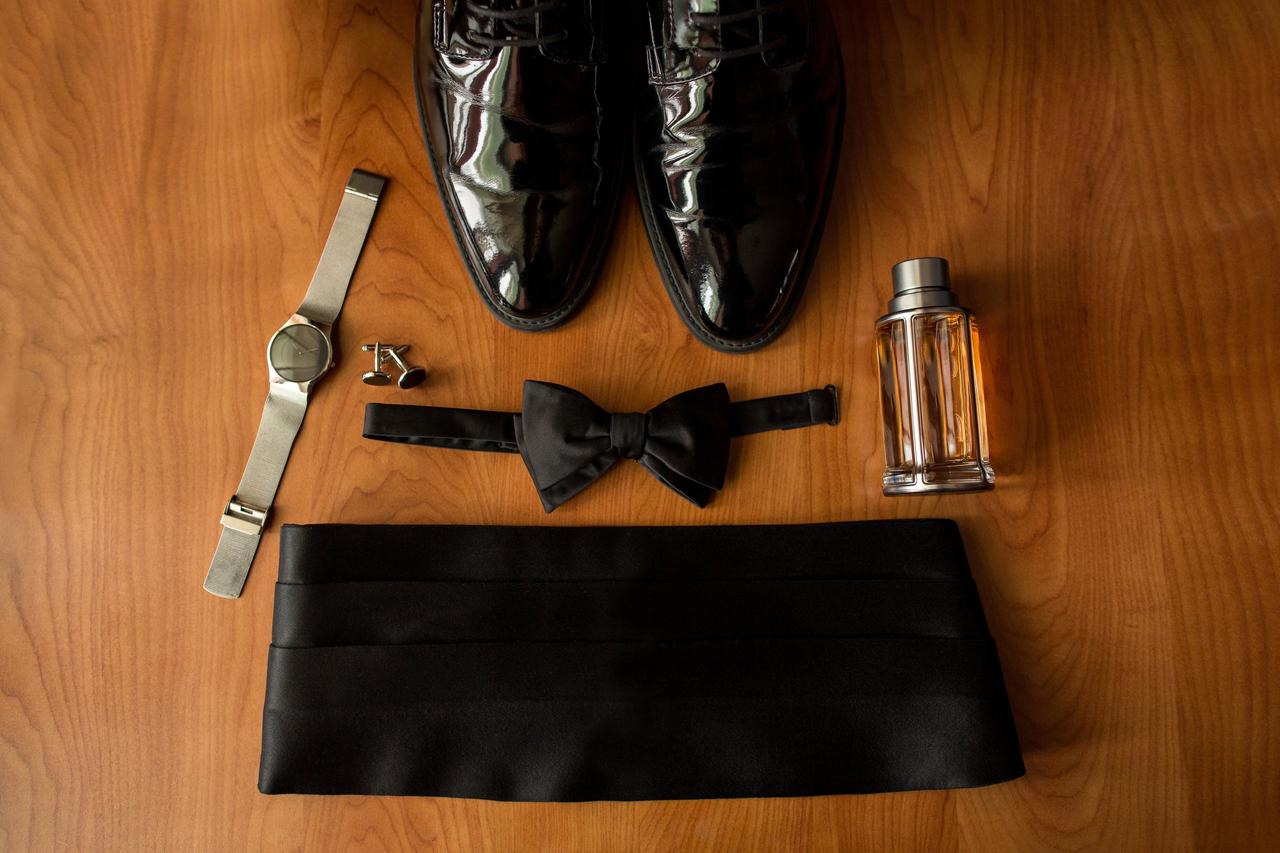 Cummerbund
This is a satin sash that goes across your waist to cover the waistband of your trousers and suspender loops if you're wearing them. A cummerbund is typically paired with a bow tie, but never a straight tie or a vest.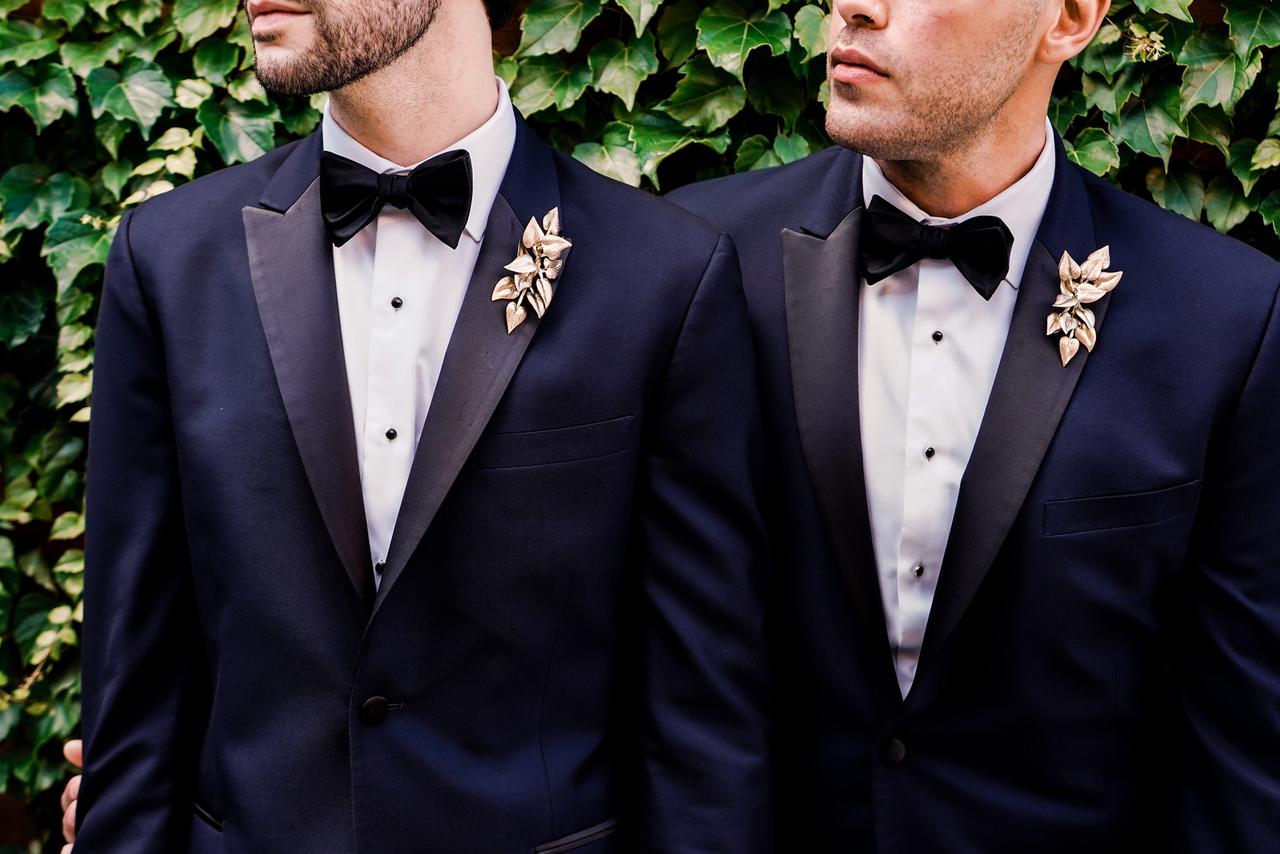 Lapel pin
While floral boutonnieres are most often worn with tuxedos, you can choose to wear a decorative lapel pin instead. They are often made from fabric or paper—although the pins pictured here are hand-crafted metal vines—and they're an easy way to personalize your look with a pop of color or pattern.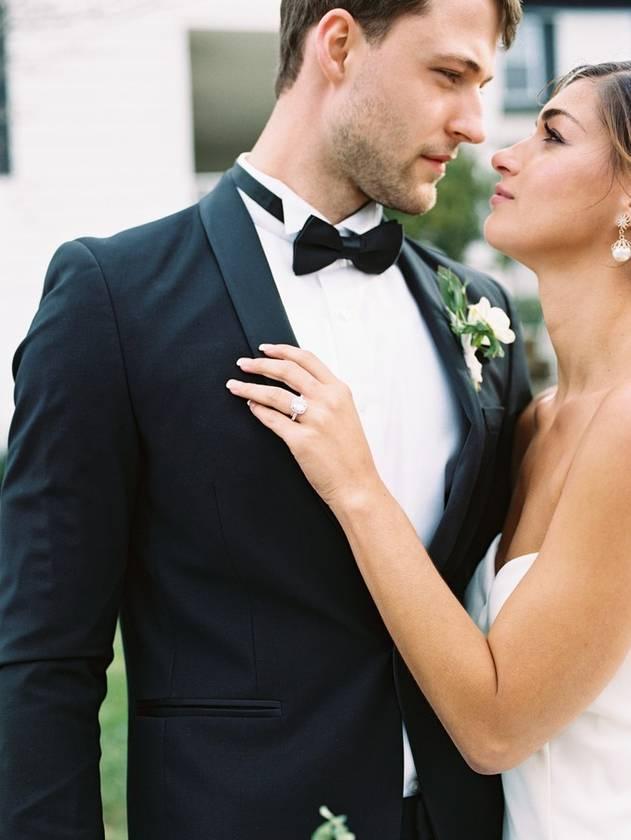 Wingtip collar
Due to its extra flair, bow ties are best paired with a wingtip collar, which extends up and over the tie itself. This pairing creates a sharp, crisp edge and marks the formality of your big day.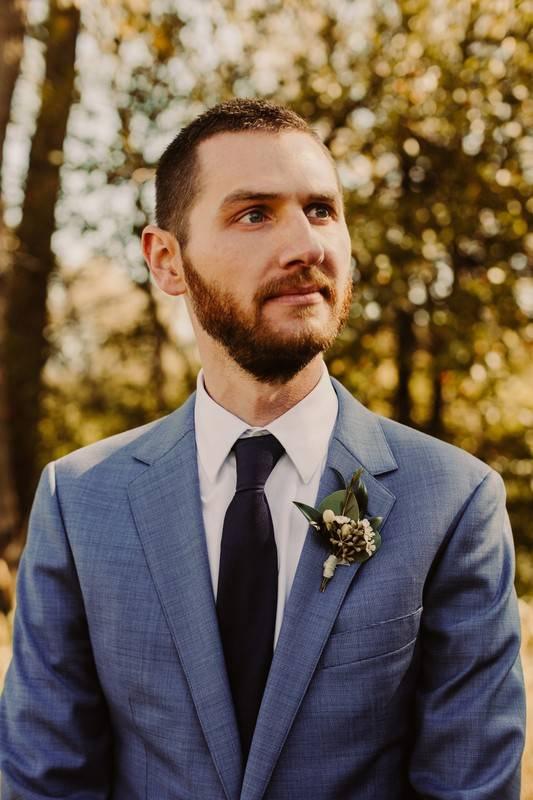 Point collar
Another popular shirt collar style is the spread collar. This style features exaggerated downward points at the front of the shirt collar with only a few inches of space in between. It's a good option if you prefer a straight tie rather than a bow tie.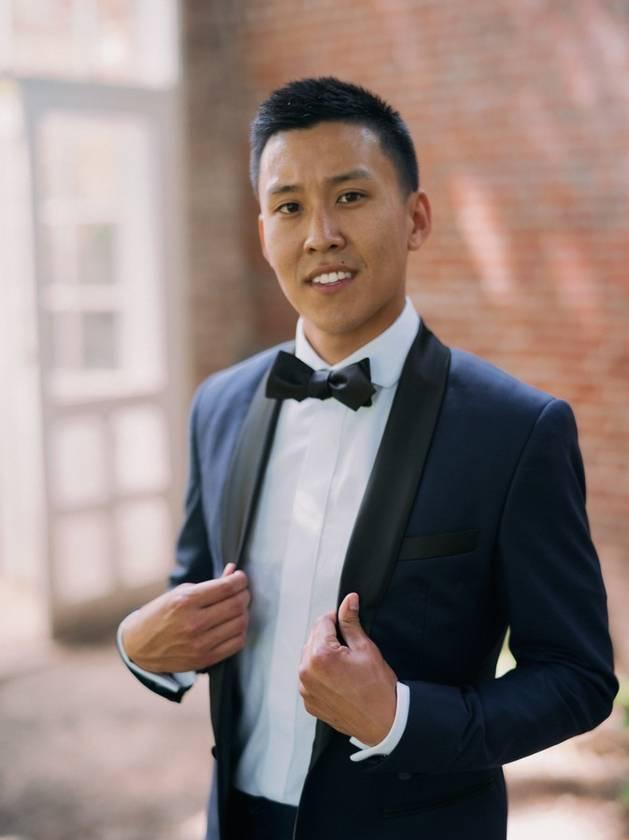 Spread collar
The points on this collar are much more separated and extend in opposite directions. This gives you plenty of space to show off a fancy bow tie or intricate knots, and it also creates a more modern finish.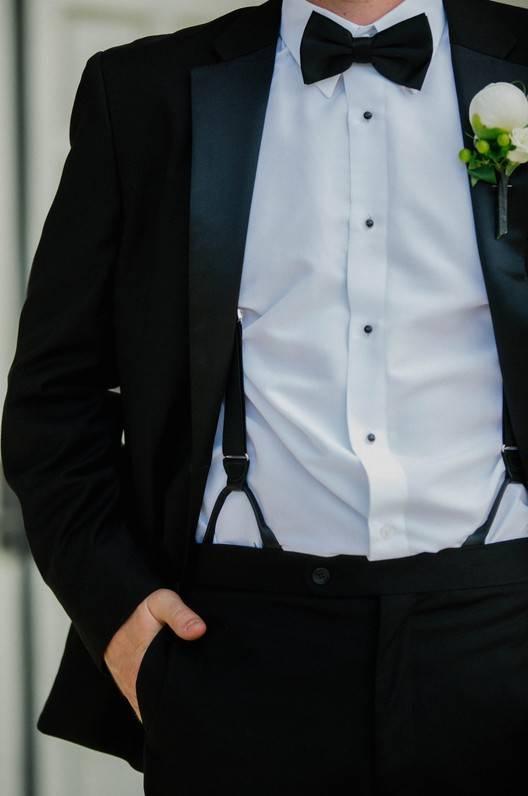 Suspenders
Did you know that most tuxedo pants don't actually have belt loops? That's why suspenders are some of the most important parts of a tuxedo—they'll keep your pants in place while also eliminating the need for a bulky belt. When wearing suspenders, tuxedo etiquette dictates that they are covered with either a vest or a cummerbund, although many people choose to skip this rule.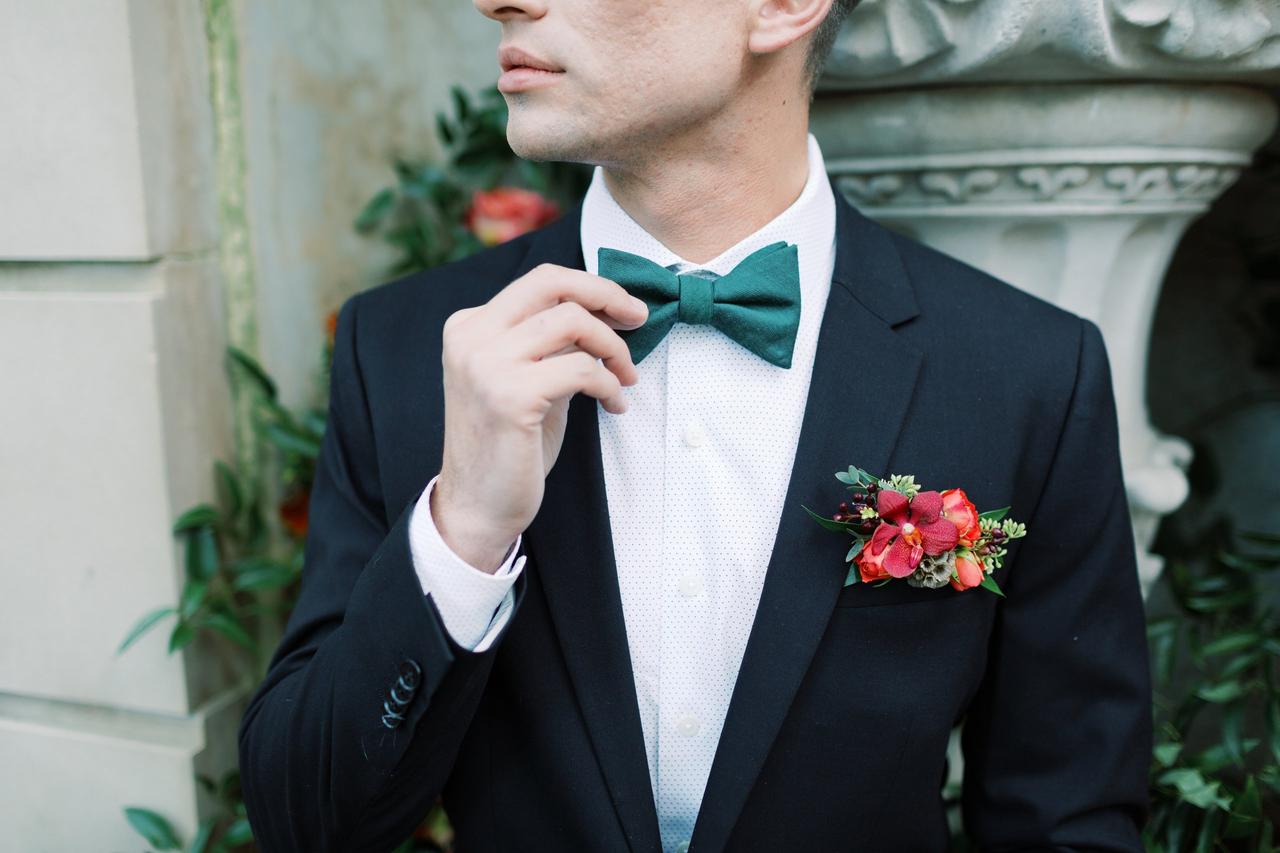 Pocket square
Traditionally, the pocket square is a colorful piece of fabric, like silk or polyester, that has been folded into a triangle and tucked into the breast pocket. It's a decorative accessory—and one of the few ways to incorporate a color or print into your ensemble—but the pocket square also comes in handy for wiping happy tears or reception dinner crumbs from your face. For a completely unexpected detail, skip the fabric pocket square and ask your wedding florist to create a floral one instead.