13 Must-See Wedding Venues in Oregon, From the Coast to the Cascades
No matter where you are in the state, there are beautiful wedding venues in Oregon to be found. Bookmark these locations for your big day in the PNW.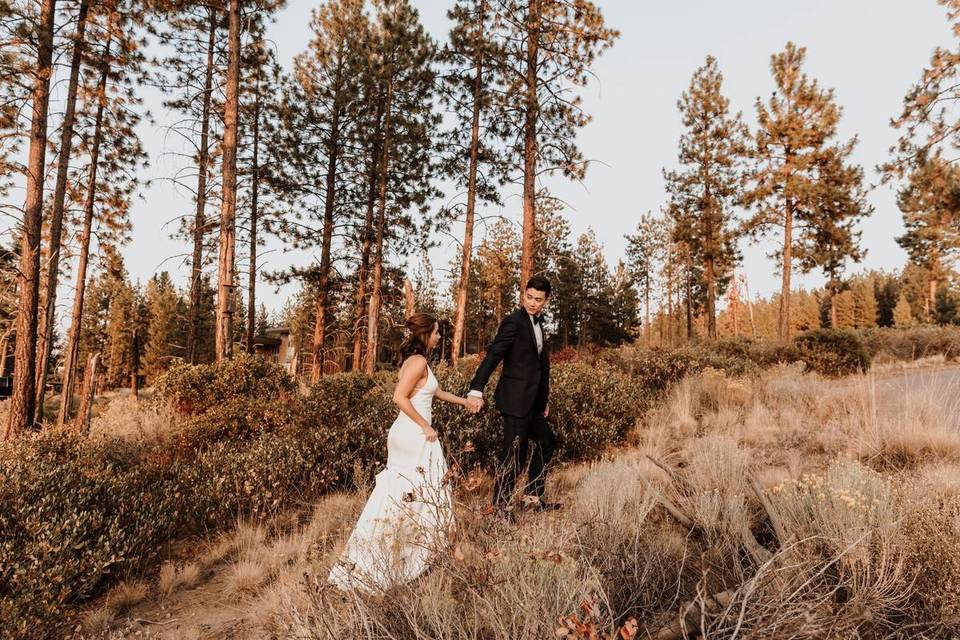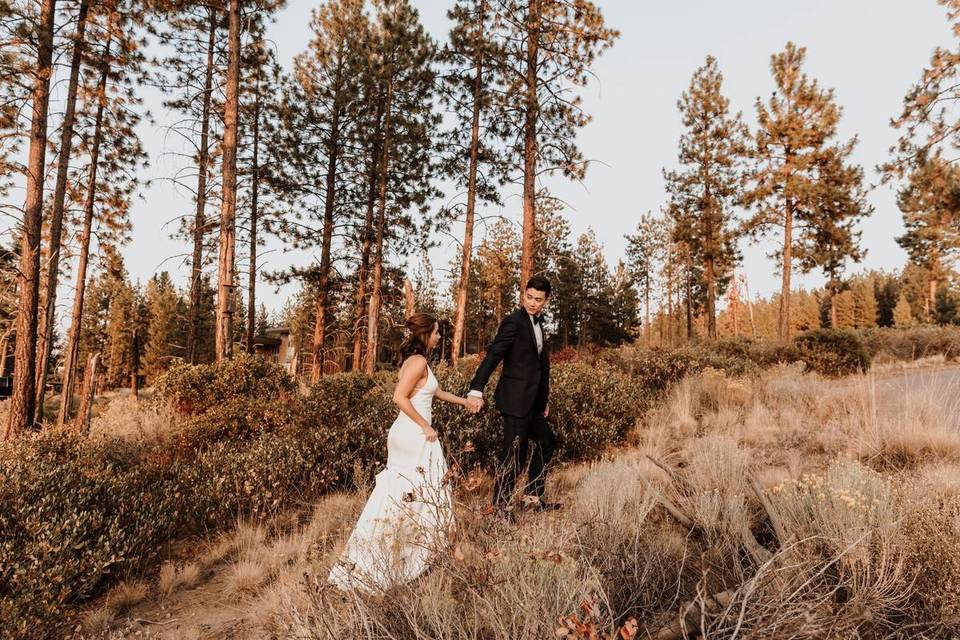 From the east side of Portland to Bend, Cannon Beach, and beyond, the list of must-see wedding venues in Oregon is a long one. If you're planning a wedding in the Beaver State, you're in luck, because you won't have to travel very far before you come across a wedding venue with amazing scenery, unique features, or mountain views. But if you're wondering where to start, check out some of our favorite Oregon wedding venues and what we love about them below.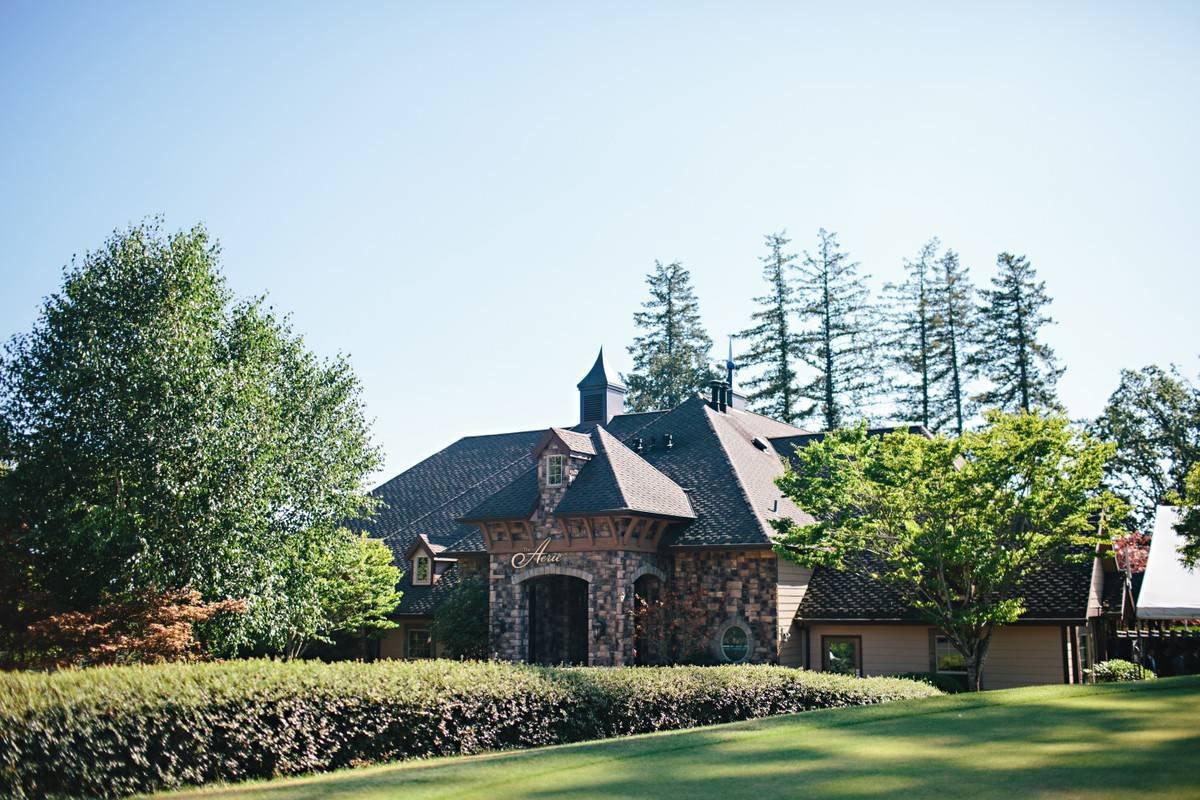 The Aerie at Eagle Landing
​Happy Valley, Oregon
If you're dreaming of a classic wedding venue that also embodies all of Oregon's natural beauty, visit The Aerie at Eagle Landing, located atop Mt. Scott on the Eagle Landing Golf Course. This elegant event space features a French chateau-style building called the "clubhouse" that's home to a modern ballroom and adjoining garden. This wedding venue in the Willamette Valley also has several outdoor options, including a wooded area decorated with twinkle lights and a waterfront dock that's perfect for an elopement or small wedding ceremony.
Learn more about The Aerie at Eagle Landing »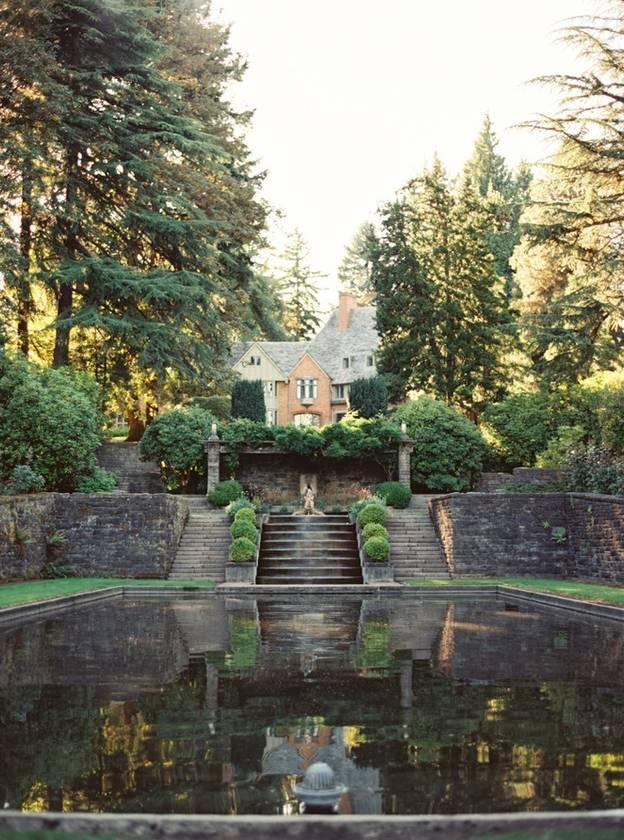 Lewis & Clark College
Portland, Oregon
Like something out of a fairytale, this wedding venue in Oregon is known (and loved) for its stunning sunken garden. The garden, which features a cascading fountain leading down a set of steps to a reflecting pool, is bordered by green lawns and fern-covered walls. Located only six miles from downtown Portland, it's an incredibly romantic spot for a classic wedding and will make you feel like you've been transported to a historical English estate. A chapel and two indoor wedding reception spaces are also on the campus.
Learn more about Lewis & Clark College »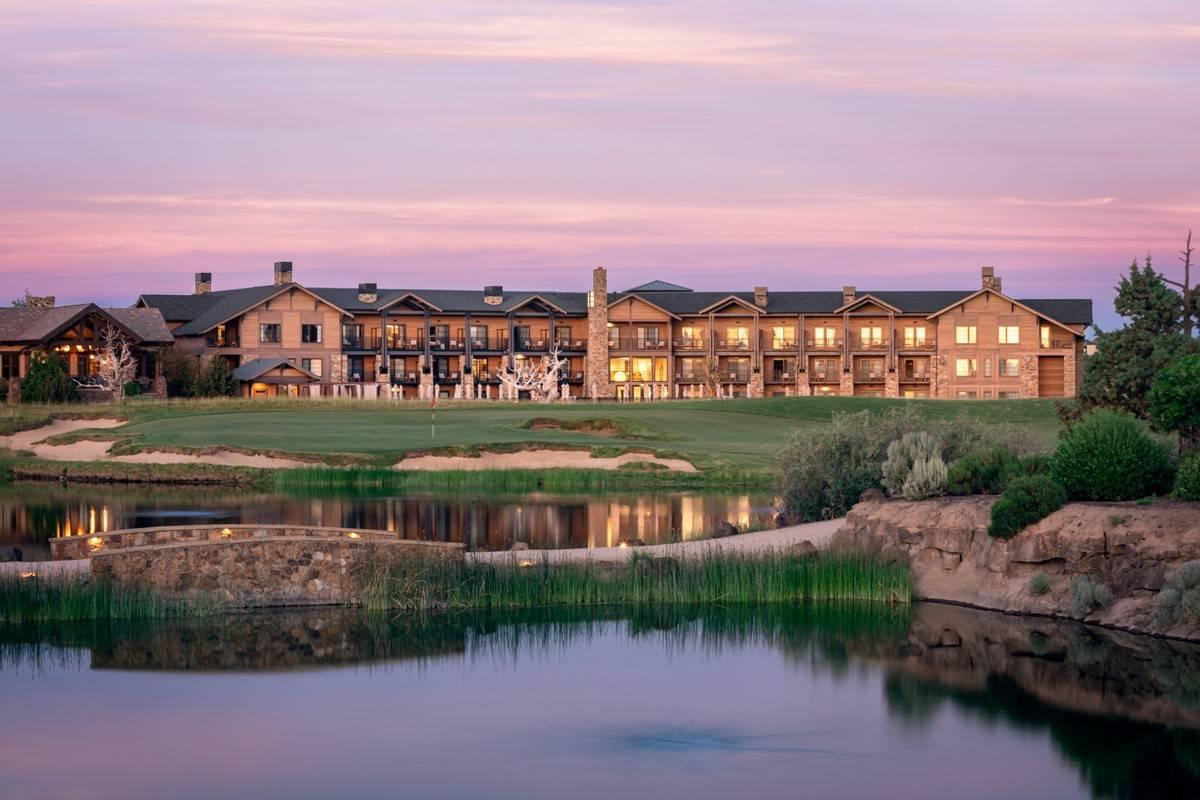 Pronghorn Resort
Bend, Oregon
Surrounded by the Cascade Mountains, this Oregon wedding venue is the perfect spot if you're looking for an all-inclusive experience or wedding weekend escape. Pronghorn Resort has three main event spaces to choose from, including beautiful outdoor venues like a private "event island" and lawn or a stately ballroom. The venue provides in-house catering, bartending, and a team of experienced staff who will help you coordinate every detail of your special day.
Learn more about Pronghorn Resort »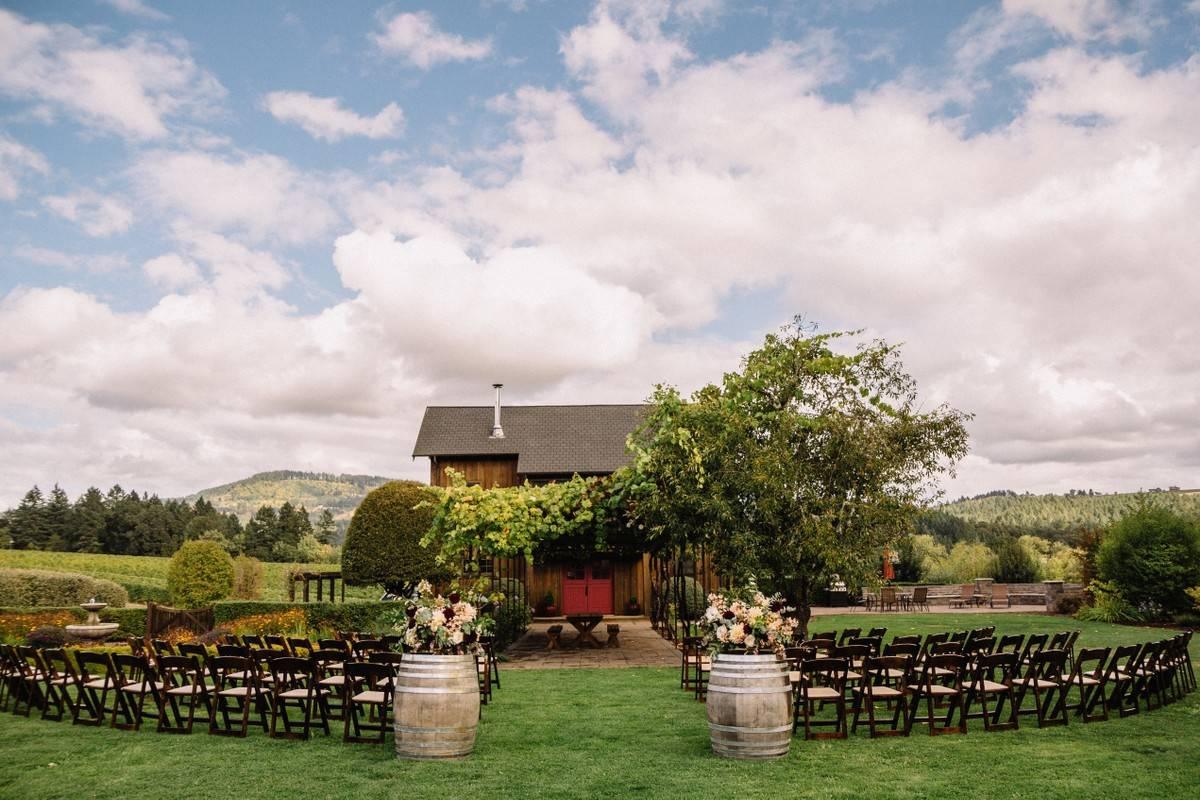 Beacon Hill Winery & Vineyard
Gaston, Oregon
Some of the views in Oregon's wine country are second-to-none, making it a beautiful place to host your wedding. Beacon Hill Winery & Vineyard is a 45-acre property in Gaston, just 30 miles from downtown Portland. This scenic outdoor wedding venue has several indoor and outdoor locations you can use on your wedding day, including the estate garden, shown here.
Learn more about Beacon Hill Winery & Vineyard »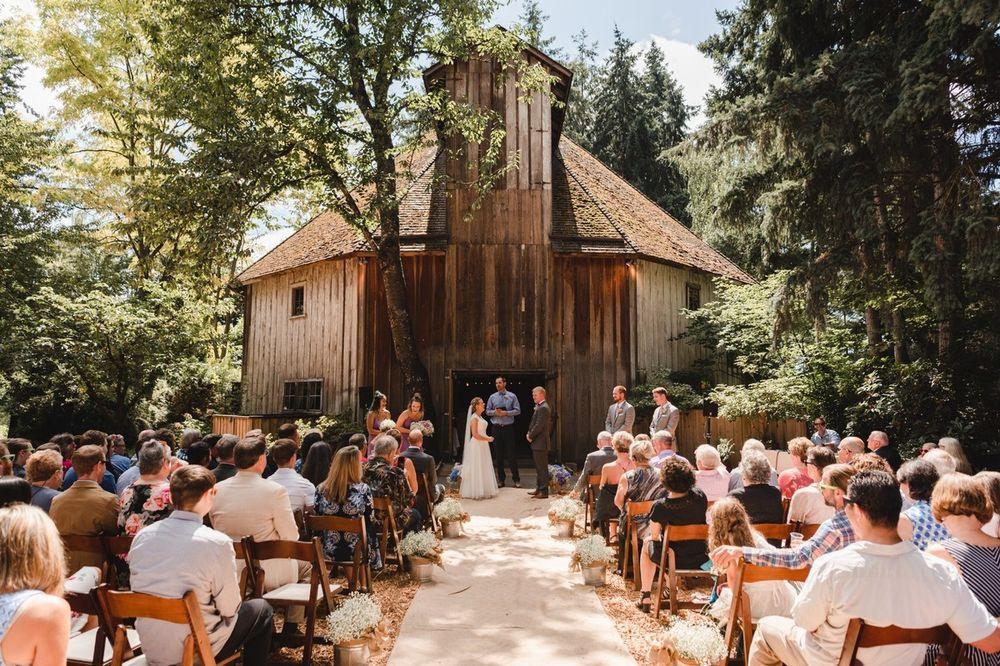 McMenamins Cornelius Pass Roadhouse
Hillsboro, Oregon
Another wedding venue in Oregon that winos and craft beer enthusiasts will love is the McMenamins Cornelius Pass Roadhouse. This brewery offers a handful of unique backdrops for your ceremony and reception, including an octagonal barn, a historic Victorian farmhouse, and a distillery. Along with in-house catering and bar services, the venue's wedding packages include basic event setup and rental items.
Learn more about McMenamins Kennedy School »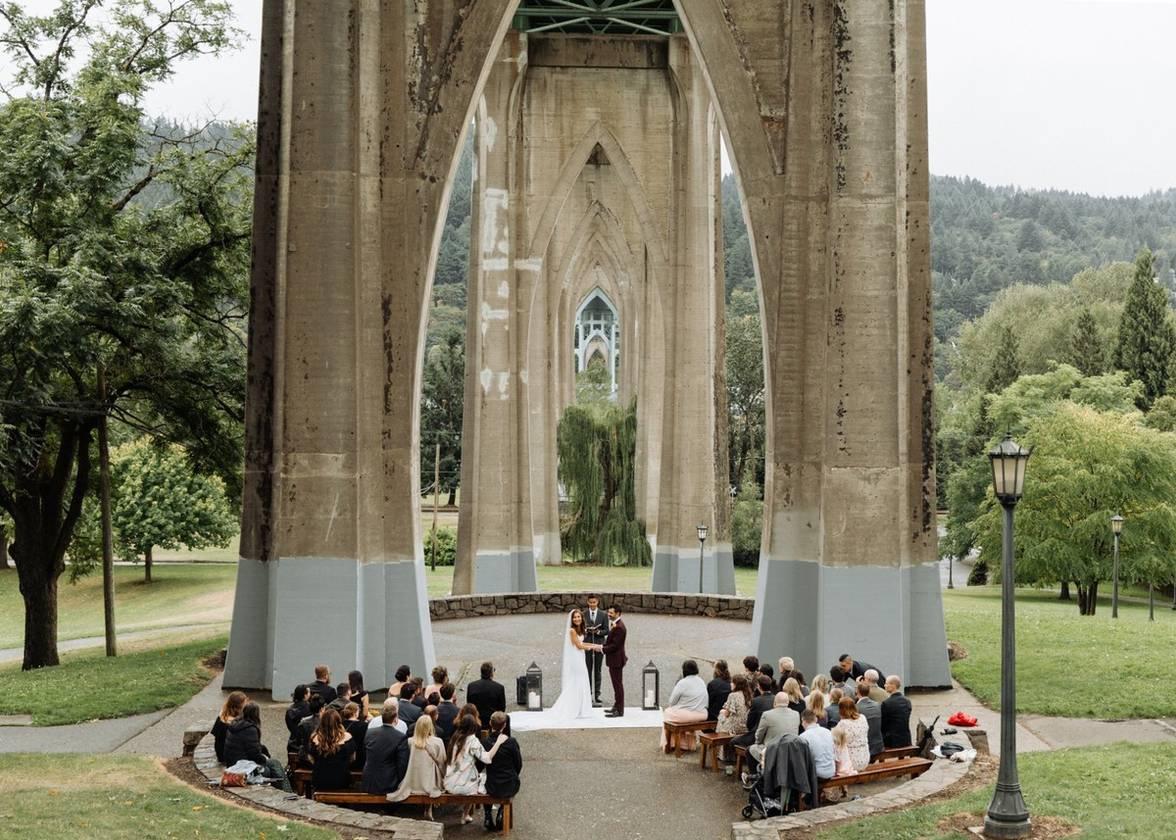 Cathedral Park Amphitheater
Portland, Oregon
The Cathedral Park Amphitheater, located underneath St. Johns Bridge, is one of Portland's most recognizable wedding venues. With space for up to 100 people, the stairs beneath the bridge are ideal for elopements, minimonies, and small groups, while the nearby amphitheater has a capacity of 500. The Cathedral Park Amphitheater is managed by Portland Parks & Recreation and can be reserved by applying for a park permit.
Learn more about Cathedral Park Amphitheater »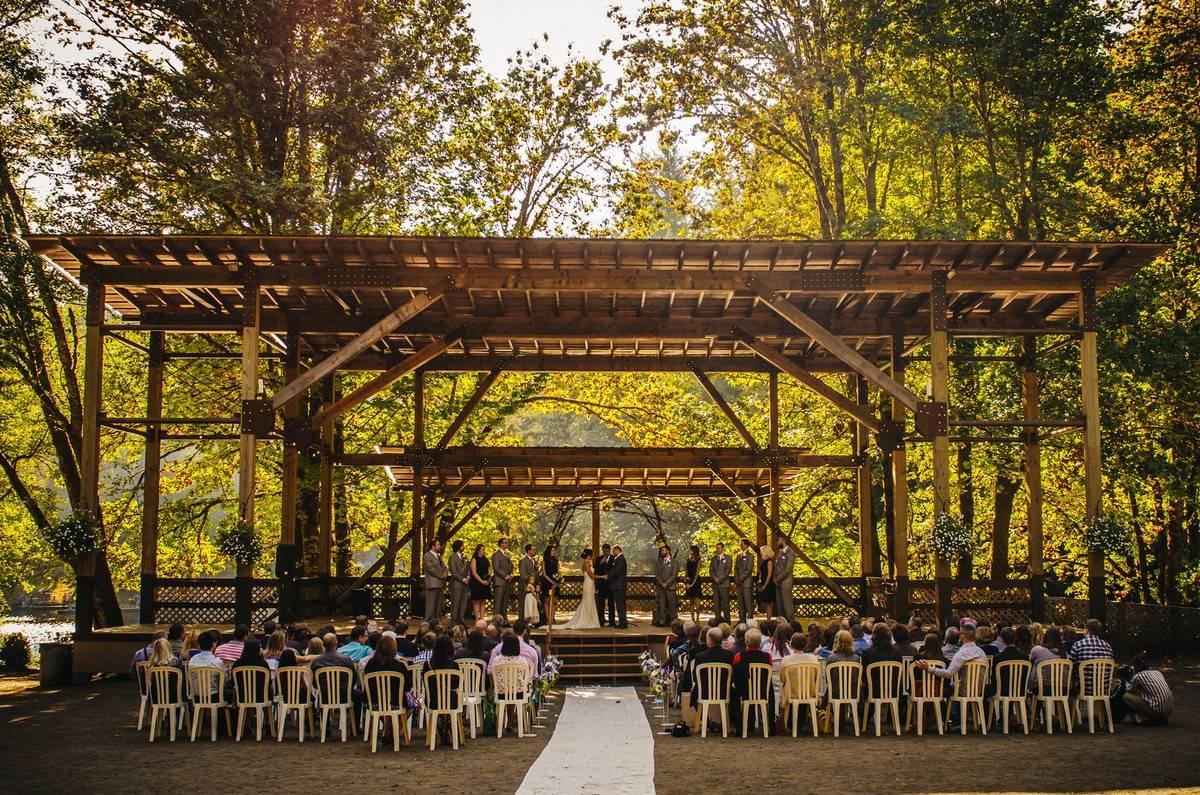 Horning's Hideout
North Plains, Oregon
If you dream of getting married in the forest, this outdoor wedding venue in northwest Oregon will bring your woodland wedding vision to life. The wooden stage, pictured here, is only one of the three stunning backdrops at Horning's Hideout—the property also has a creekside event space and a lakeside area. Rental pricing starts at $3,050, making this one of the more affordable wedding venues in Oregon.
Learn more about Horning's Hideout »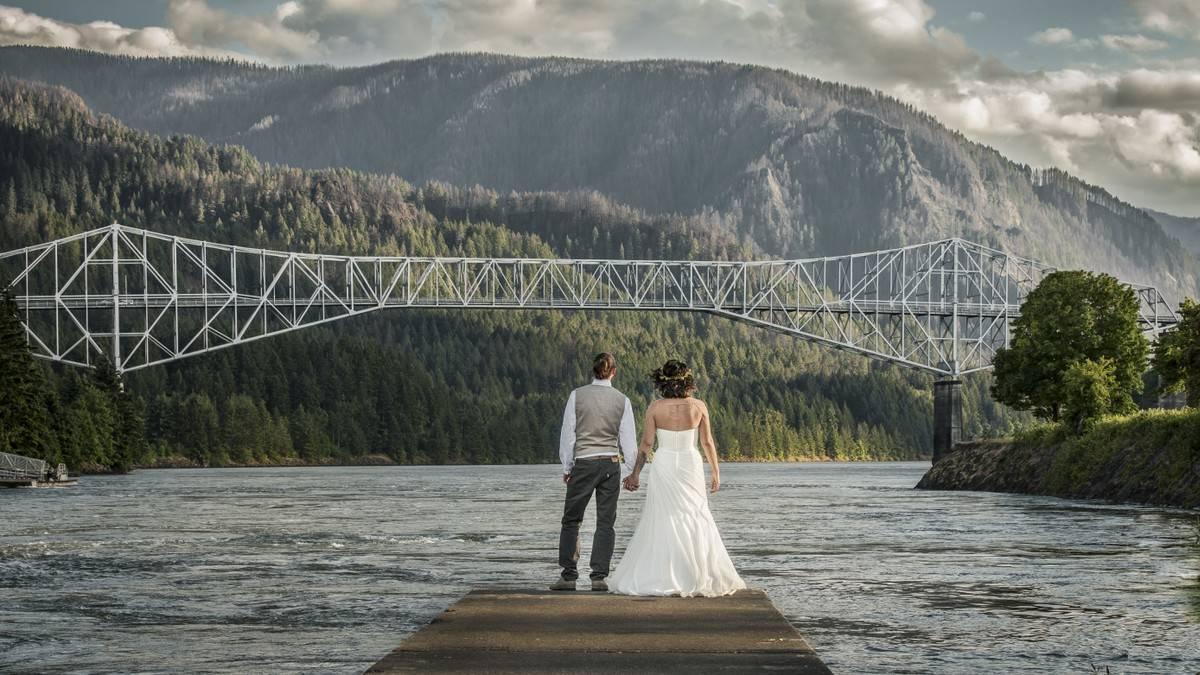 Marine Park at Port of Cascade Locks
Cascade Locks, Oregon
Located along the Columbia River Gorge and Washington Border, the Marine Park at Port of Cascade Locks is one of the most beautiful lakeside wedding venues in Oregon. Thunder Island (pictured here) overlooks the Bridge of the Gods connecting the two states. Just a short walk from the ceremony site, you'll find a reception pavilion and a charming cottage, which can seat up to 200 or 40 people respectively.
Learn more about Marine Park at Port of Cascade Locks »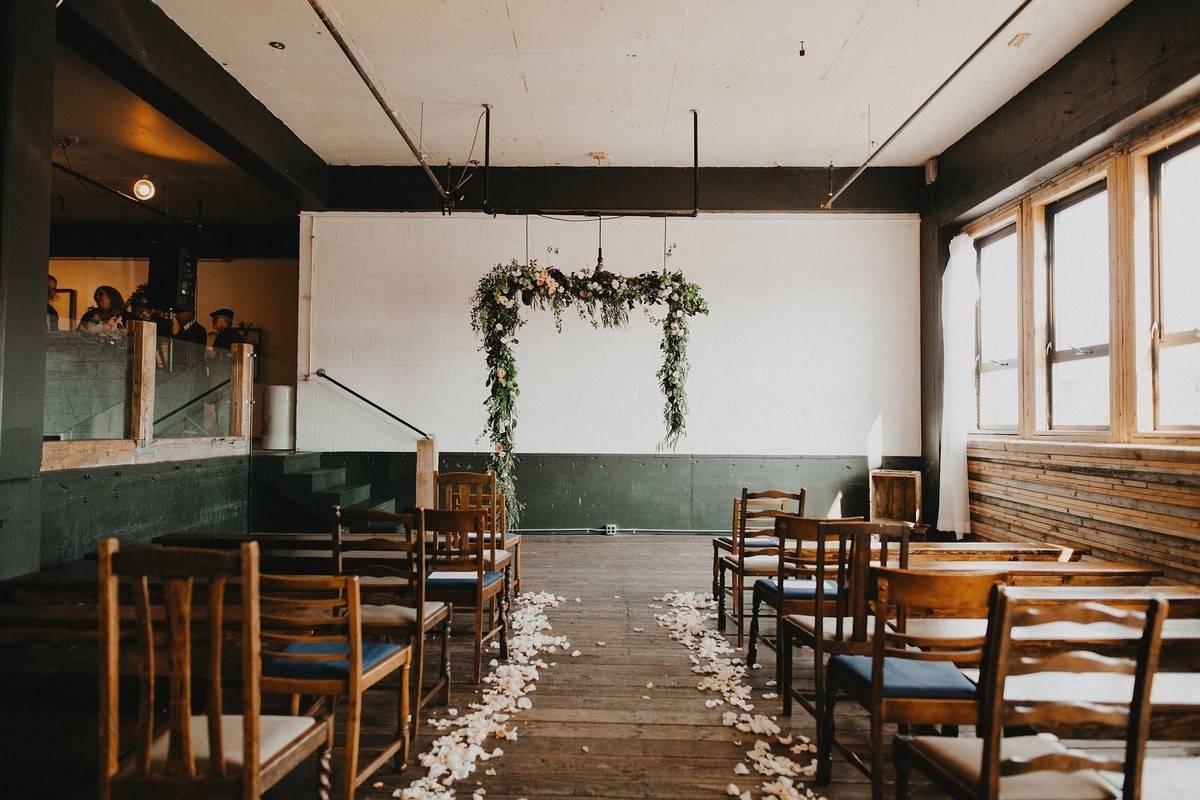 Union/Pine
Portland, Oregon
If you're into modern, minimalist style, don't miss this northeast Portland wedding venue. Union/Pine is a cozy, understated space accented with charming finishes, like hardwood floors, exposed pipes, and large windows that fill the main event space with natural light. The flexible layout means you can design the space exactly how you want—or for smaller events with 40 or fewer guests, check out the upstairs loft for a more intimate setting.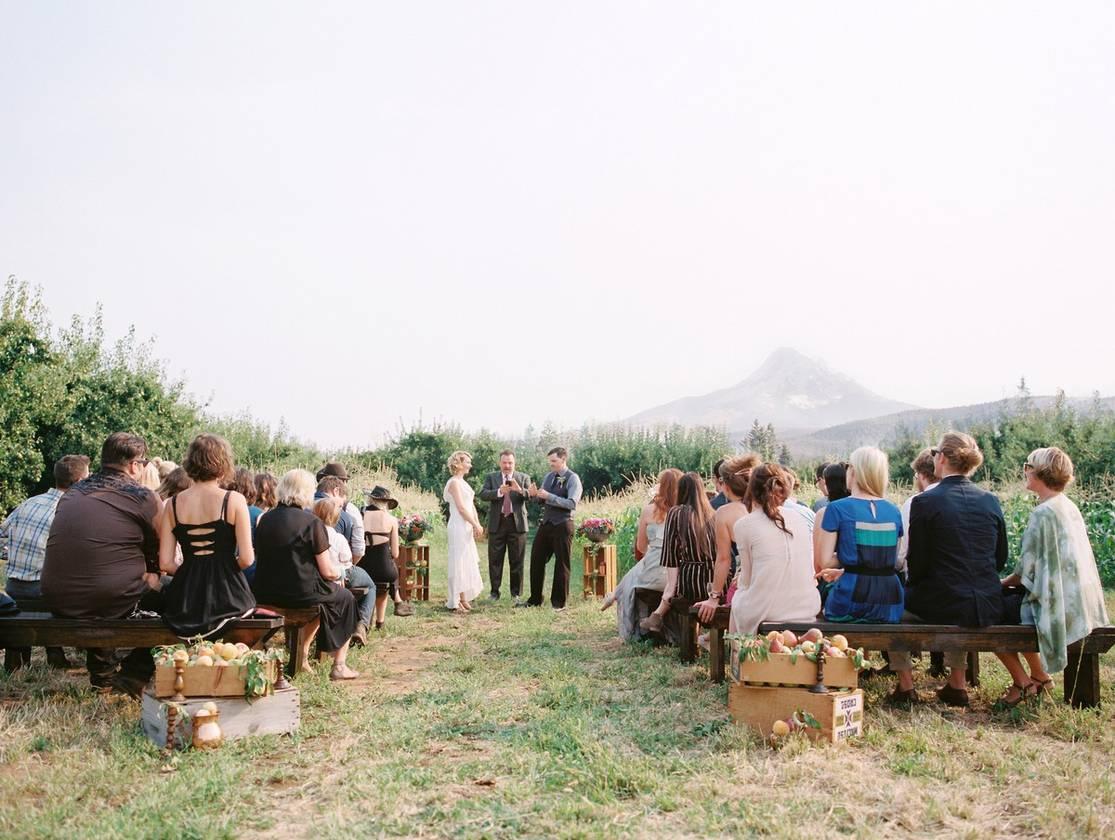 Mt. View Orchards Weddings
Parkdale, Oregon
With majestic views of Mt. Hood and the Hood River Valley, along with acres of fruit trees, Mt. View Orchards has plenty of scenery and photo ops to go around on your wedding day. An existing 2,400-square-foot tent at the venue ensures that your wedding goes off rain or shine, and the venue also provides wooden tables, chairs, benches, and a dance floor. One more perk of getting married at this farm-to-table wedding venue: your caterers will have plenty of fresh fruit to incorporate into your menu, including pears, apples, peaches, cherries, and blueberries.
Learn more about Mt. View Orchards Weddings »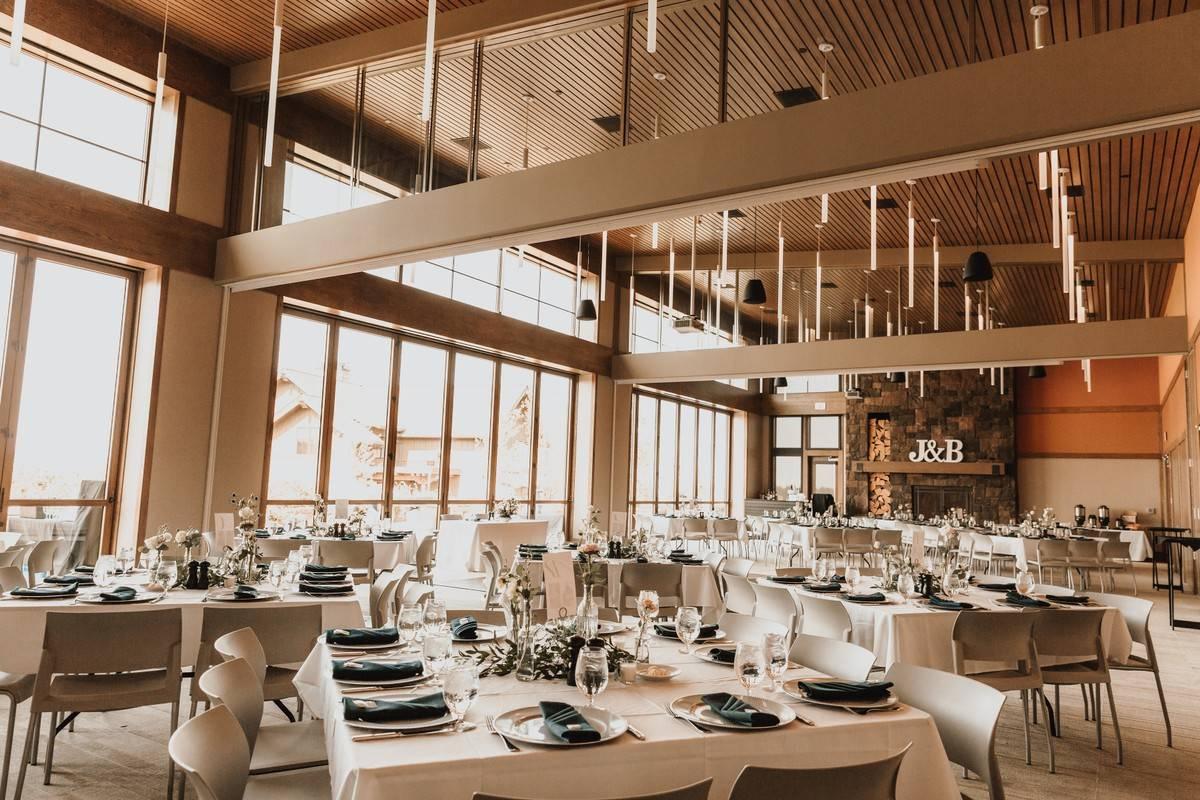 Tetherow
Bend, Oregon
This modern-meets-rustic Oregon wedding venue offers year-round views and ambience for your special day. With multiple outdoor and indoor spaces, you'll have plenty of ways to personalize your wedding at Tetherow, which is located just seven minutes from downtown Bend. The outdoor ceremony lawn overlooks the resort's golf course, with the Cascades and Deschutes National forest in the distance. Inside the venue's event pavilion, there's a gorgeous ballroom featuring modern chandeliers, retractable glass doors, and an adjoining terrace for an indoor-outdoor experience.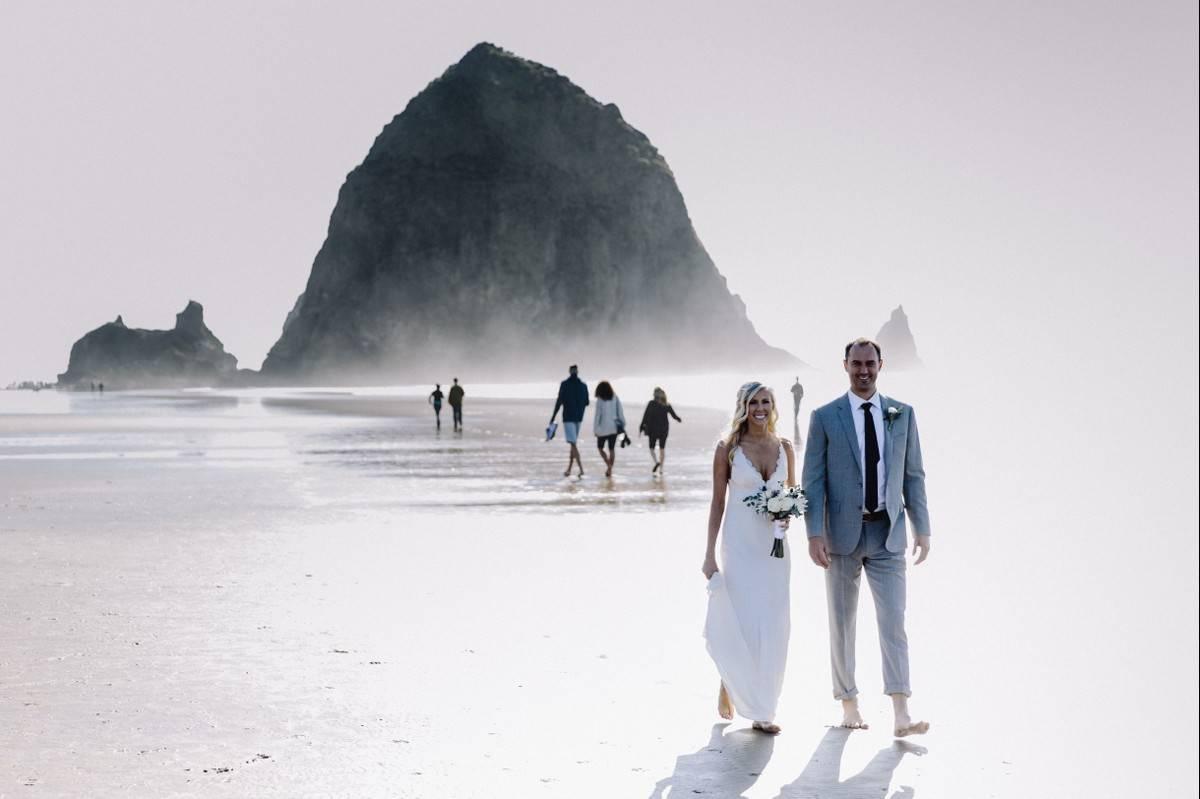 Surfsand Resort
Cannon Beach, Oregon
Ideal for an intimate wedding or elopement, this welcoming venue along the Oregon coast is a must-see if you've always dreamed of a beach ceremony. You can get married on the beach with a view of the iconic Haystack Rock and Tillamook Lighthouse, or choose the venue's garden or ocean-view ballroom instead. In-house catering and event coordination are provided by the venue, and with 95 guest rooms, a swimming pool, spa, and a restaurant all onsite, there are plenty of ways for you and your guests to relax during your stay.
Learn more about Surfsand Resort »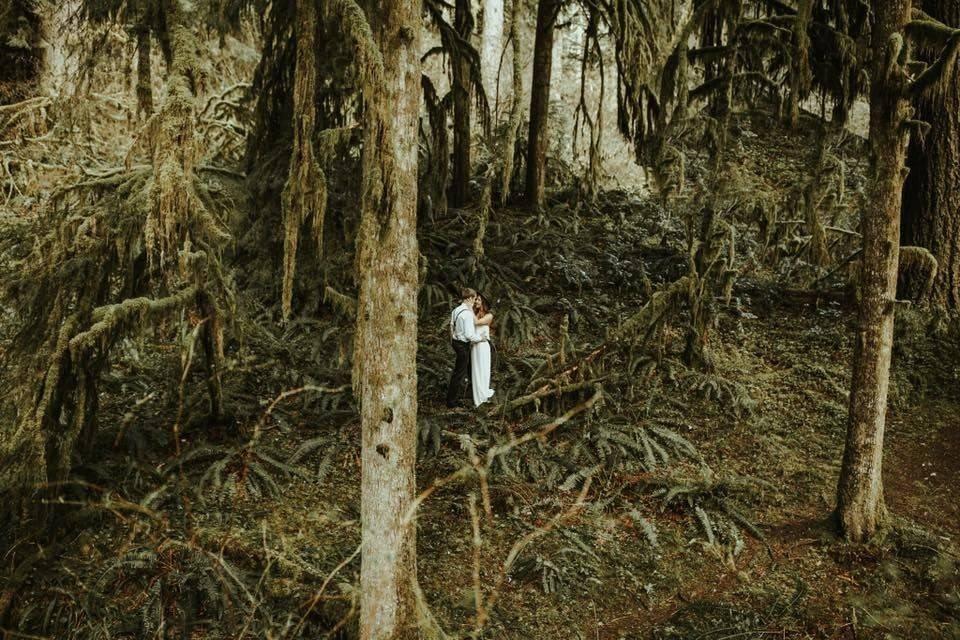 Silver Falls Lodge & Conference Center
Sublimity, Oregon
How does the idea of getting married in front of a waterfall sound? Or in a secluded forest clearing, surrounded by greenery and old growth trees? The Silver Falls Lodge & Conference Center, located in Silver Falls State Park just 24 miles east of Salem, is an unbeatable wedding venue in Oregon for nature lovers. Complete your wedding day by renting one of the park's charming cabins for an overnight stay.