What is a Venue Walk-Through?
We asked venue managers from across the country to explain what you should expect, why you should get a walk-through on your calendar, and what you need to know before you show up.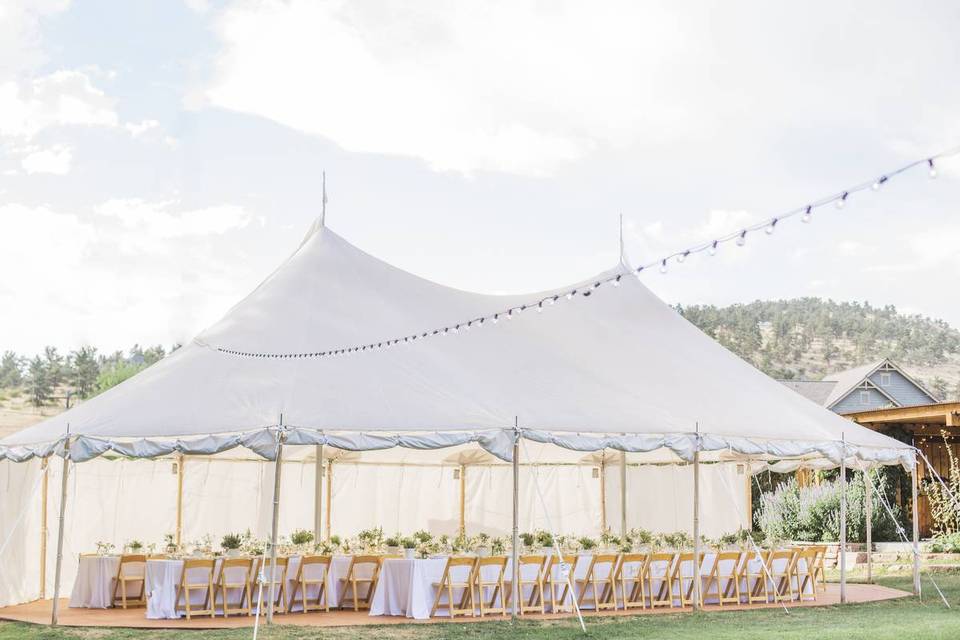 All quests for the perfect wedding venue start the same way: With a venue walk-through! Most couples prefer to see the space in person before signing on the dotted line, so scheduling a venue walk-through is a great way to get a tour, ask questions, and even meet some of the staff who might be working on your wedding day. So what exactly is a venue walk-through?
From choosing your venue to confirming final details, here's everything you need to know about venue walk-throughs.
Why is a venue walk-through important?
Here's one major reason: To make sure your venue is as advertised! Says Abbey Chingren of Loose Mansion in Kansas City, Missouri, "Not all venues are exactly what they seem to be. Some might not be beautiful (or even safe!) in person, while others might just have misleading details, such as inconvenient parking or a single beautiful space surrounded by a property that isn't well-cared-for." Chingren also stresses the importance of meeting the team that will be orchestrating your wedding day, to make sure they really know what they're doing.
What should a couple expect when attending a venue walk-through?
"Couples should expect to see all of the venue's options on a tour tailored to what they are looking for," says Rebekah Moser of Castle Farms in Charlevoix, Michigan. "The tour will give you an insight into all of the inclusions and policies of the venue. You'll also have a chance to ask about the local area and vendors the venue recommends. And if you're ready, you'll be able to reserve your space and date!"
What will be covered during a venue walk-through?
"You'll get a thorough overview of the venue and its offerings," says Jeannette Bell of Flying Cloud in Petaluma, California. "You'll go over how the site may be used, the hours that the site is available, the details of access for set-up and break-down, pricing, policies, preferred vendors, and a description of on-site services." You'll also cover similar information when you have a walk-through closer to your wedding day, after you've booked the venue. "In addition to the details of set-up and break-down, we use that final meeting before the event to review the timeline, floor plan, expectations for each vendor, and any décor elements that will be brought into the space," says Stephanie Walter of Mile High Station in Denver, Colorado.
When should a venue walk-through be scheduled?
"My suggestion is to narrow down your list of possible venues to just those you are very interested in visiting before scheduling a walk-through," says Janina Pineiro of Calistoga Ranch, An Auberge Resort in Calistoga, California. "You should submit a request to the venue and receive preliminary information regarding their wedding services before scheduling a visit to the property." But don't wait too long! Says Bell, "Schedule your tour as soon as possible after you're engaged. Many venues book up a year or more in advance, especially for Saturday evenings during the busy season." And for your final visit before your big day, aim for about 30 days in advance. "At this point, you'll have a good idea of your guest count, which impacts the floor plan, but have enough time to make changes if needed," Walter explains.
Do you need to do a walk-through before booking your venue?
This varies from venue to venue, but all recommend it. "The majority of our couples tour with us before making their reservation – and many of them reserve with us during their visit! It's the perfect opportunity to get your questions answered, check availability, and go over the details of a contract," says Moser. For Bell and Flying Cloud, it's required. "I want our couples to really understand the venue before they book," she says.
What about an additional venue walk-through during the planning process?
The number of visits you make will depend on your comfort level, but again, it's highly recommended. Says Pineiro, "I recommend at least two walk-throughs of your wedding venue during the planning process. The first walk-through should be with your newly selected wedding professionals, including your wedding planner and wedding logistic partners. This will help address any questions before you start signing contracts with your wedding vendors. I also recommend a final wedding walk-through with a review of the finalized menu, entire wedding timeline, and guest movement."
Who should be at your venue walk-through?
"Before you sign a contract, bring only the people who are instrumental in helping you make your venue decision," says Moser. That could be your partner, your wedding planner, your mother, or your in-the-know maid of honor. "We recommend the couple, along with any other decision makers for the event. Sometimes multiple visits are needed to have everyone see the space, or we can use FaceTime to give out-of-town decision makers a tour. If parents are helping with costs, ask them how they want to be involved in the final decision, and invite them to the walk-through if they so desire," says Chingren. For that month-out tour, Walter says that ideally all vendors should be present. "If they can't all make it, your planner, caterer, and venue rep are the most important attendees," she adds.
What do you already need to know when scheduling your venue walk-through?
There are four major things to know when scheduling your venue walk-through: Your ideal date range, your estimated guest count, your estimated budget, and your vision. "These details will all help your venue provide the most accurate pricing estimate," says Chingren. For example, fees may vary depending on whether your wedding is on a weekend or weekday, during the daytime or in the evening, or during a slow or busy season. "It is important to know your estimated guest count so you can understand the venue's capacities. If the venue provides your food and beverage, this will also assist in an estimated food and beverage minimum," Pineiro continues. And when it comes to your vision, an idea of the type of event and setting you're seeking will immediately help you know if a venue has the right space for you. "That means thinking about whether you want a formal or informal celebration, if you're dreaming of being indoors or out, etc.," Bell explains.
But most importantly, don't forget to ask questions. "It's always great when couples come with a list of questions they would like answered during their visit," says Moser. Of course you'll have plenty of time to get into the nitty gritty details after you book, but think about the aspects that are important to the big picture. Says Chingren, "Ask how many staff members will be working at your event, whether a planning company is required, and for a detailed list of included items [think plates and flatware, tables and chairs, or A/V services]." And of course, take your time reviewing the contract and return to the venue with any questions that come up before you sign!