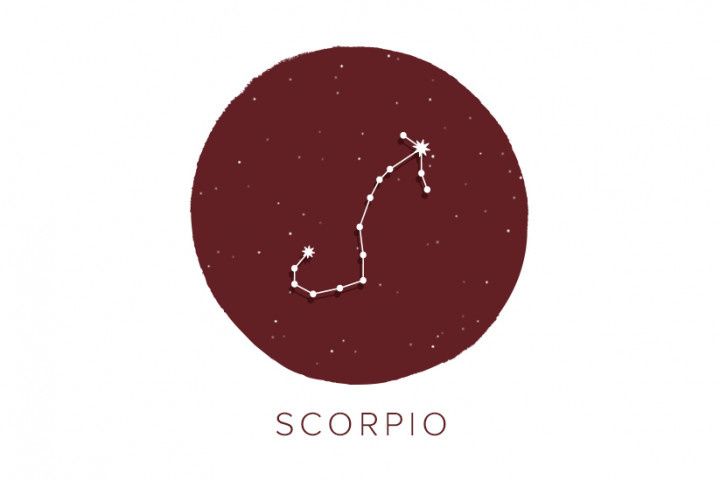 Sultry, magnetic and mysterious Scorpio, you know that you belong to one of the most misunderstood astrological signs — and that's A-OK with you. Intensely private, you're busy pondering life's biggest mysteries and don't have much time (or patience) for the small-minded, the mundane or the uninspiring. Your Scorpio horoscope for your wedding planning year will see you channeling your moody emotional waters into an intimate and stylish ceremony and reception for those lucky enough to be invited.
Your Scorpio traits may be misunderstood, but there's some truth to your reputation as a vengeful scorpion. Ruled by Pluto, the Roman god with dominion over everything beneath the earth's surface — from the dead to precious metals — you're not afraid to kill what doesn't serve you and start over, but you may want to stifle that instinct for wedding planning. You're not big on compromise and it can be difficult for you to open up to strangers, but you'll need to do a lot of both of those things as you hire wedding vendors and make big decisions.
Here's your Scorpio horoscope (for those with birthdays between Oct. 23-Nov. 21) for your upcoming wedding, from when you know you've found the best partner to where you should head for your honeymoon.
You already know that your sign is associated with smoldering sensuality and deep-down Scorpios love being the zodiac's resident flirt. It can be hard for your partners to keep you interested, though, so your Scorpio horoscope for finding the perfect partner will see you happily becoming monogamous with your sweetie.
You're famously private, and it's one of your Scorpio traits that will play out most prominently once you get engaged. Your inner circle will be privy to this update, but let's hope the masses aren't waiting with bated breath on your big engagement announcement.
Sometimes your association with dangerous critters (both scorpions and serpents represent your sign, after all) belies the fact that you are still an emotional and romantic water sign, along with Cancer and Pisces. You'll want to feel your most intuitive self on the big day, so a romantic gown with feminine touches, like an off-the-shoulder neckline, will be your best bet.
You're most comfortable dwelling in the deepest, darkest wells of human emotion, and your Scorpio engagement ring horoscope will reflect this. Go for a black diamond or onyx engagement ring to match your alluring and sometimes mysterious demeanor.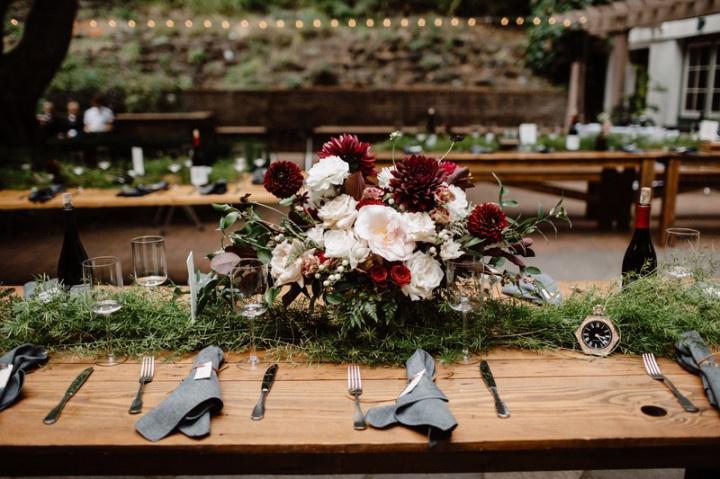 While many associate Scorpios with vapid darkness and a sense of being above it all, the truth — which only you and your inner circle will know — is that you actually feel everything. If you appear to be calm and collected, it's only you protecting your highly sensitive instinct and intuition. A wedding color palette with rich, moody hues like plum, dark burgundy and black will be a sophisticated reflection of your inner depths.
Your Scorpio horoscope will lead you to wedding venues that must be two things: intimate and chic. You're not one for grand shows, and your wedding is your chance to spend time with your treasured inner circle. A restaurant with cutting-edge takes on fusion or fun dishes with the modern décor to match will suit you well.
Look, Scorpio, you're decadent and far from traditional, so don't even think about a plain white wedding cake. A semi-naked chocolate cake will perfectly suit your Scorpio traits that insist on only revealing small bits of your inner nature at a time. Accented with a caramel drip glaze and fresh flowers, your cake will be as sensual as you.
One thing that seriously separates you Scorpions from your water sign brethren is your natural ability to be very calculated and strategic in your every move. Nothing is frivolous for you, so your Scorpio horoscope will see you choosing a sleek bun without a hair out of place for your wedding day. You might choose to top it off with a stylish veil, but you definitely won't want any trendy baby hairs or tendrils peeking out.
Look for brooding scents with deep, fragrant resin notes, like those of amber, myrrh and frankincense.
Try this: Prada's Amber Eau de Parfum
Living well has never been a problem for you, Scorpio, but everyone needs some time to kickback and recharge. Head to Oahu, where the sandy beaches and lux resorts will definitely beckon your spirit.