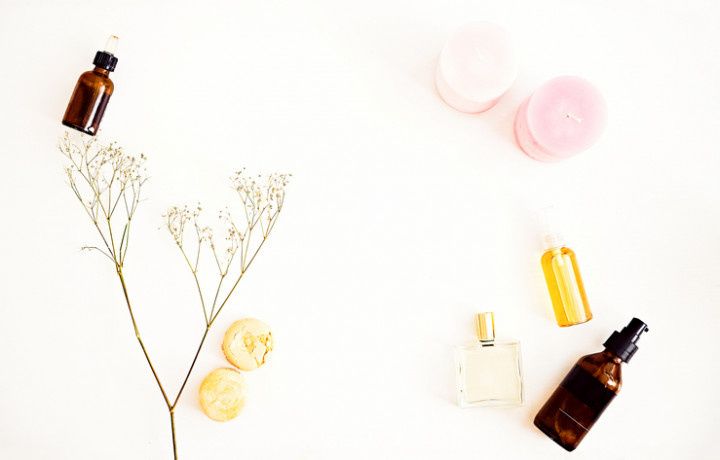 More than any other scent, your wedding fragrance should feel like you. It's a small detail, but the perfume you wear down the aisle will linger in more ways than one. The world's fragrances are commonly grouped into 14 categories on a fragrance wheel based on their aromatic properties (think, woody, floral, etc.), so we've assigned each of the 12 zodiac signs a scent category. If you're stuck on which wedding fragrance is best, find your sign and see if the suggested scent category resonates with you.
Find your astrological sign and discover your perfect wedding fragrance.
Aries (Mar 21-Apr 19): Youthful, fruity notes
Headstrong, often impulsive Aries is the first sign of the zodiac, and according to some astrologers, the temperamental "baby" of all the signs. Tap into your eternal youth with a fruity scent for your wedding fragrance.
Try this: Versace's Bright Crystal
Taurus (Apr 20-May 20): Rich amber notes
As purveyors of all things luxurious, elegant and earthy, soft Oriental scents will appeal to the Taurean sensibility. Look for a wedding fragrance with notes of incense or amber to match your classic wedding venue.
Try this: Armani Prive Oud Royal
Gemini (May 21-June 20): Fresh mossy wood notes
Geminis are marked by their intellectual and communicative, but practical, nature. If you were born under the twin constellation, you'll identify with mossy wood scents like the vanilla and cedarwood.
Try this: Kiehl's Aromatic Blends Fragrance
Cancer (June 21-July 22): Watery sea notes
Ruled by the watery moon and represented by ocean-dwelling crabs, Cancers are the ultimate water sign. Like your wedding details, you don't shy away from the sentimental. Celebrate your depths with a wedding fragrance that includes marine aquatic notes.
Try this: Jo Malone's Wood Sage & Sea Salt Cologne
Leo (July 23-Aug 22): Warm, spicy notes
Imbibed with fiery charm that attracts everyone around you to your warmth, Leos aren't afraid of attention. For a wedding fragrance that will match your personality, try the floral Oriental category of scents, which include familiar spices like cinnamon.
Try this: Maison Louis Marie's No. 03 L'Etang Noir Perfume Oil
Virgo (Aug 23-Sep 22): Crisp, hard-working green notes
Equal parts earthy nurturer and diligent taskmaster, Virgos need a wedding fragrance that works as hard as they do. Go for scents in the green family, like geranium, which will make garden-loving Virgo feel like she's in her natural habitat.
Try this: Gucci's Bloom Acqua di Fiori Eau de Toilette
Libra (Sep 23-Oct 22): Free-spirited herbal notes
It's no wonder that the word "libra," and its Latin ancestors, share some similarities to English words like "liberty." Those born under the sign of the scales are some of the most free-spirited in the zodiac, making aromatic herbs like lavender a refreshing, complementary wedding fragrance for Libras.
Try this: Yves Saint Laurent Parisienne Eau de Parfum
Scorpio (Oct 23-Nov 21): Intense Oriental resins
For all of your intensity and deep sense of privacy, you're still a water sign, Scorpio. That means you feel all the things, even if you don't show it. When choosing your wedding fragrance, you'll appreciate the brooding scents of ancient fragrant resins like amber, myrrh, frankincense and fir.
Try this: Prada's Amber Eau de Parfum
Sagittarius (Nov 22-Dec 21): Optimistic citrus notes
Like your fellow fire signs, Aries and Leo, you're full of fiery energy. You stand out from them in your unassailable sense of sunny optimism — no doubt one of the things that made your future spouse fall head over heels in love with you. Citrus blends with clementine, grapefruit or orange notes will go well with your disposition.
Try this: Bond No. 9 New York 'Little Italy' Fragrance
Capricorn (Dec 22-Jan 19): No-nonsense dry wood notes
Ok, you're not here to mess around, Capricorn. Like your astrological sigil, the goat, your life is completing strenuous tasks with little regard for frills or nonsense. You'll swat away scents that feel too frivolous, so stick to things in the dry wood category of the fragrance wheel.
Try this: Tory Burch's Eau de Parfum Spray
Aquarius (Jan 20-Feb 18): Untraditional floral notes
You're the zodiac's futuristic mad scientist. As such, you might even be used to whipping up your own signature scents as yet another creative outlet for your super-active mind. You don't need that kind of pressure on your wedding day, though, so look for scents in the floral category with unique blends.
Try this: Viktor & Rolf's Flowerbomb Eau de Parfum Spray
Pisces (Feb 19-Mar 20): Ultra-feminine soft, floral notes
Unlike other signs, you don't have anything to prove, Pisces. You revel in the girly, the precious and the sweet. You want to smell your most delicate on your wedding day, so go for a wedding fragrance with soft notes from rose, mimosa or jasmine flowers.
Try this: Calypso St. Barth Eau de Parfum