If you just started planning a Louisiana wedding in Shreveport, Bossier City, Monroe, or any of the surrounding areas, don't do anything else without browsing this list of North Louisiana wedding venues first. Beautiful weather in the spring and fall, plus the scenery in this part of the Bayou State mean that outdoor wedding venues in Shreveport, Louisiana and the nearby region are in good supply, but there are plenty of breathtaking indoor spaces, too. From grandiose estates and romantic gardens to modern farmhouses and country clubs, see which Louisiana wedding venues made the cut.
Check out some of our favorite North Louisiana wedding venues for couples in the 318.
Honey Brake Lodge
Take advantage of the lakes and rivers in northern Louisiana by getting married at a waterfront wedding venue. Honey Brake Lodge, located in Jonesville, sits on the shore of Larto Lake and offers a quintessentially Southern setting. With moss-covered oak trees, rustic cabins, and lakefront observation decks throughout the property, this North Louisiana wedding venue is like paradise for outdoorsy couples. It's also an excellent choice if you're looking for an all-inclusive venue, since catering, event coordination, day-of setup/cleanup, and overnight accommodations are all provided in-house.
Learn more about Honey Brake Lodge »
Cypress Bend Resort
The Cypress Bend Resort is another stunning option if you're looking for waterfront North Louisiana wedding venues. It's located along the Toledo Bend Lake on the Louisiana-Texas border about an hour and a half south of Shreveport. A secluded hilltop terrace with water views is a perfect spot for an outdoor ceremony, and the venue has two reception spaces: a formal ballroom with room for up to 250 guests and a screened pavilion overlooking the lake. Wedding packages include in-house catering and event staff, with the option to add overnight accommodations, spa/beauty services, or other pre-wedding activities like golfing, fishing, and bird watching.
Learn more about Cypress Bend Resort »
The American Rose Center
Is there anything more idyllic than getting married at the country's largest rose garden? We don't think so. The American Rose Center, located in Shreveport, is the national headquarters for the American Rose Society and has 20,000 rosebushes on site. The venue has five unique event spaces you can choose from for your wedding, ranging from traditional banquet halls to dreamy rose-covered pergolas. Basic event rentals, like tables, chairs, and linens are provided in-house, and the venue has a maximum capacity of 300 guests.
Learn more about The American Rose Center »
601 Spring
You'd never know one of the most luxurious North Louisiana wedding venues was once an antique car museum. Appropriately named for its location in downtown Shreveport, 601 Spring is a 20th century stunner with good bones—hand-carved woodwork, wooden cathedral doors, inlaid stoneware, and metallic chandeliers were all added to the building nearly a century ago. Yet another renovation and 601 Spring is enjoying life as a premier wedding venue for couples in Shreveport, Bossier City, and Monroe. For your wedding day, choose from two ballrooms at the venue: Bishop Ballroom holds 250 guests and is striking with lots of dark wood work against white walls, while the Grand Ballroom can accommodate 500 guests and features a contemporary industrial feel with a cement floor and exposed pipes.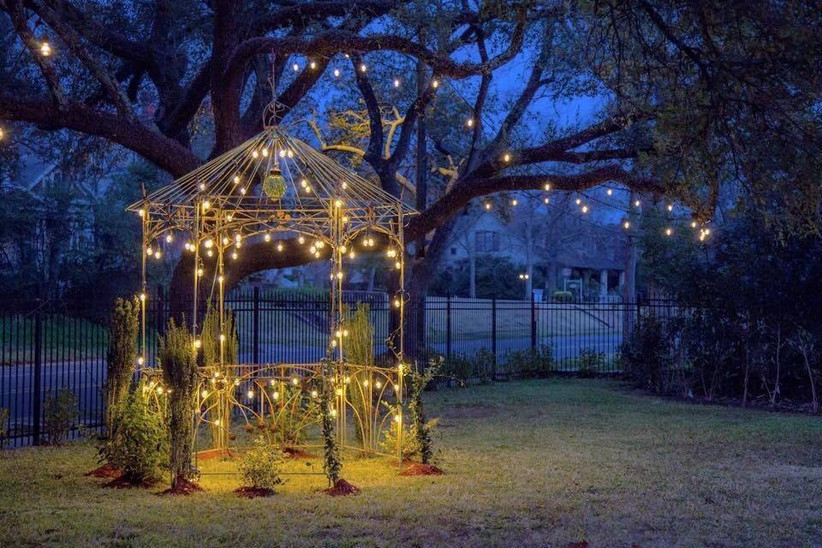 Fairfield Manor Bed and Breakfast
This quaint bed and breakfast is ideal for couples planning an intimate, romantic affair with a focus on food. Nestled in Shreveport's Fairfield Historic District, a stay at the nearly 150-year-old Fairfield Manor is like taking a peek into Louisiana's past. The property, which dates to 1870, is extremely charming and features mature trees, a cottage-style manor house, an elegant courtyard, and even a swimming pool. Chef John Cariere owns and operates this wedding venue, ensuring that the venue's in-house catering is some of the best around. Fairfield Manor can host weddings for up to 200 people.
Learn more about Fairfield Manor Bed and Breakfast »
Sainte Terre
If you're looking for rustic North Louisiana wedding venues, you'll definitely want to check out Sainte Terre. French for "holy earth," Sainte Terre lives up to its name with a modern farmhouse aesthetic that's perfect for anyone in search of a country chic setting. Inside the 3,000-square-foot farmhouse, you'll find a stunning contrast of dark wood beams and finishings against light walls and high ceilings that create an airy feel. Located in Benton, Louisiana and butting up against Cypress Bayou, Sainte Terre has 17 acres of space for your wedding day, including a roomy terrace right off the farmhouse and a cozy white chapel. The all-inclusive venue takes care of everything (seriously, everything) leading up to the big day, so you can focus on being excited—not stressed—throughout your engagement! Sainte Terre provides in-house event coordination, decor rentals, photography, floral design, catering, entertainment, and even your wedding cake.
Learn more about Sainte Terre »
Shreveport Aquarium
Couples searching for quirky or unique North Louisiana wedding venues will immediately fall in love with the Shreveport Aquarium. Outfitted with 20,000 square feet of event space complete with botanical and aquatic elements, you and your guests will be totally charmed by this venue. Conveniently located in downtown Shreveport, the aquarium offers great views of the city skyline and the riverfront. While many of the venue's spaces are great for hosting outdoor weddings, there's a gorgeous restored arboretum (pictured above) that serves as an impressive indoor reception location. Take a stroll through the aquarium with your spouse and wedding party for fun photo ops (like the shark tunnel!). Shreveport Aquarium provides in-house catering, bartending, and day-of wedding coordination.
Learn more about Shreveport Aquarium »
Calvert Crossing Golf Club
With four distinct event settings to choose from, the Calvert Crossing Golf Club in Calhoun is ideal for couples who want multiple spaces at one venue. The largest and most traditional space is the venue's ballroom, which has a full-size dance floor, natural light, and a wood-burning fireplace. Just off the ballroom is a smaller event space called the Grill Room, featuring a more casual setup and a full bar. There's also an open-air pavilion overlooking the golf course, or you can choose to host your ceremony or reception on the actual fairway. Along with overnight accommodations, the Calvert Crossing Golf Club offers in-house catering, event setup/breakdown, and basic rental items such as tables, chairs, glassware, china, and linens.
Learn more about Calvert Crossing Golf Club »