Whether you're looking for a traditional ballroom, a romantic vineyard, or a scenic outdoor space with mountain views, there are all types of amazing wedding venues in Albuquerque. Finding your dream venue is one of the first (and most important) things to tackle when planning your wedding day, and these Albuquerque venues are a great place to kick off your search. From budget-friendly all-inclusive venues to picturesque lavender farms, here are the event centers in Albuquerque we're loving right now—and we hope you like them too!
Check out these must-see wedding venues in Albuquerque.
Hotel Albuquerque at Old Town
You don't have to head to the countryside to find a gorgeous garden for your wedding day—in fact, there's one right in the center of Old Town. Located along Rio Grande Boulevard, Hotel Albuquerque at Old Town puts you in the heart of the city for your big day. This venue has more than 62,000 square feet of property (that's 10 different event spaces!), including a non-denominational chapel, a garden pavilion, and two ballrooms. Hotel Albuquerque at Old Town is also one of the largest wedding venues in Albuquerque in terms of guest list size, since the venue can host events for up to 600 people.
Learn more about Hotel Albuquerque at Old Town »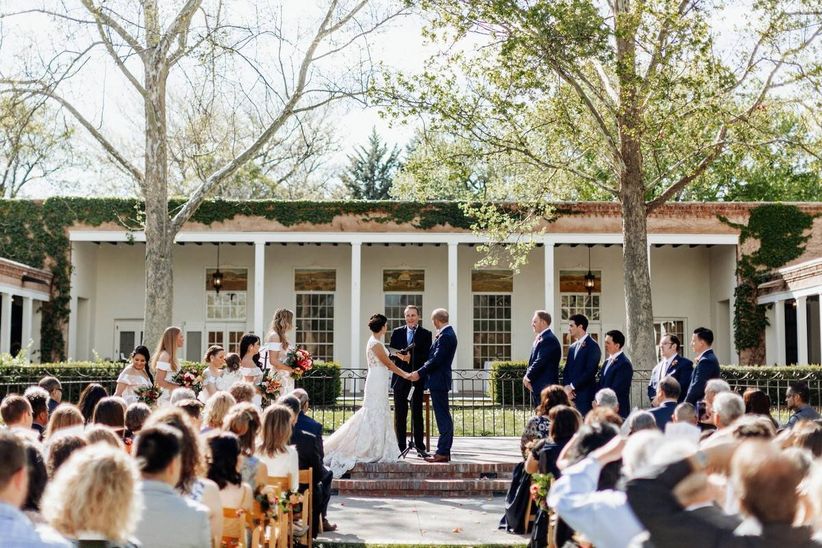 Los Poblanos Historic Inn & Organic Farm
Say hello to one of the dreamiest wedding venues in all of New Mexico. We're not exaggerating when we say that Los Poblanos Albuquerque is like a little slice of heaven—the venue is set on 25 acres of lavender fields and has 10 unique event spaces, ranging from a ballroom decorated with colorful Spanish tile to an open air portico with views of the Sandia Mountains. In other words, imagine an estate in the south of France with a Southwestern twist. Los Poblanos Albuquerque provides organic, farm-to-table catering for your wedding, along with seasonal flower arrangements, artisan cocktails, and luxury accommodations. You can even treat your guests to handmade wedding favors infused with the venue's own lavender, such as cookies, sachets, and lip salve.
Learn more about Los Poblanos Historic Inn & Organic Farm »
Casa Rondena Winery
New Mexico is filled with stunning wineries and vineyards, and they just so happen to make amazing wedding venues. Casa Rondena Winery, located in the North Valley, is one of our top picks if you're looking to get married at a winery. The venue has three event spaces to choose from, including a great hall with adjoining garden, a rotunda room (which is connected to the winery's barrel room), and the member's club. Essential wedding day amenities are included with your rental fee, such as on-site event staff, setup and cleanup, and prep time in the venue's wedding suite. Casa Rondena Winery also provides chairs, tables, barware/glassware, and alcohol.
Learn more about Casa Rondena Winery »
Hyatt Regency Albuquerque
If you're looking for wedding venues in Albuquerque that offer everything you'll need for your event in one place, hotel venues are an excellent option. The Hyatt Regency Albuquerque offers all-inclusive wedding packages in a modern, updated space. This venue has five stylish backdrops to choose from for your big day, including three ballrooms, a rooftop space overlooking downtown Albuquerque, and a chic, all-white room. Customizable wedding packages include everything from event planning and catering to floral design, beverage packages, discounted room rates, and lighting enhancements.
Learn more about Hyatt Regency Albuquerque »
Las Puertas
This cozy wedding venue in Albuquerque combines edgy industrial style with historical New Mexico charm. The interior walls are decorated with a collection of antique Eastern Indian doors, giving the space an eclectic, one-of-a-kind look, while string lights provide a romantic glow. Las Puertas can host weddings for up to 300 people, and event rental fees start at $2,800 (price includes 12 hours of rental time, tables, chairs, setup/teardown, and post-event cleaning).
Learn more about Las Puertas »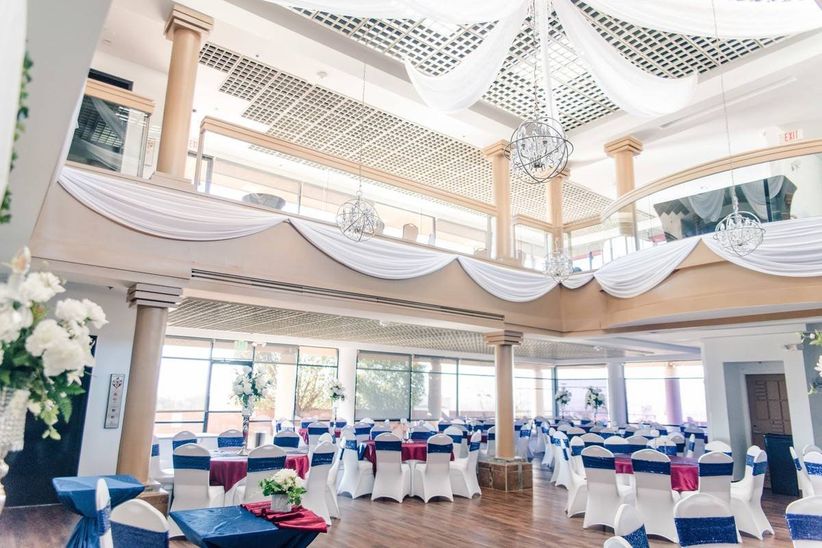 The View Event Center
Another all-inclusive wedding venue in Albuquerque is The View Event Center, located near Embudo Canyon. The two-story building has indoor and outdoor event spaces, including a huge wraparound balcony that's perfect for taking in views of the city. The View's professional in-house wedding planner will help you coordinate every detail of your day from start to finish, and the venue also provides all of the essentials that you'll need for an unforgettable event. Packages include getting ready suites, in-house catering and bar service, lighting/sound, setup, cleanup, parking, shuttles, and decor rentals (chairs, tables, dance floor, aisle runners, altars, linens, and more).
Learn more about The View Event Center »
Sandia Resort and Casino
Located less than 12 miles north of downtown Albuquerque, Sandia Resort and Casino combines elegant event spaces with breathtaking New Mexico scenery. Views of the Sandia Mountains and pueblo-style buildings throughout the resort provide a picturesque setting for your big day, while this venue's all-inclusive packages make finishing your pre-wedding to-do list a breeze. Sandia Resort and Casino has 10 different event areas, including a 50,000-square-foot ballroom, a mountain view terrace, and a lawn space that holds up to 500 people. Catering, setup/cleanup, barware, linens, and a wedding suite are all included with your rental fee. Out-of-town guests can stay at the resort while enjoying their downtime at the venue's casino, golf course, or spa.
Learn more about Sandia Resort and Casino »
Hotel Andaluz
This boutique hotel in downtown Albuquerque is stylish and convenient. Hotel Andaluz, part of Hilton's Curio Collection, has all of the contemporary amenities you could want, without sacrificing the Southwestern character that Albuquerque is famous for. The Spanish-style details—think dark beamed wood ceilings, white plaster walls, and arched doorways—create a warm vibe throughout Hotel Andaluz, which has five separate wedding spaces. In-house catering, decor rentals, room blocks, and event planning are all offered by the venue.
Learn more about Hotel Andaluz »
Disclosure: This post contains affiliate links, some of which may be sponsored by paying vendors.