Whoever said everything's bigger in Texas just hadn't been introduced to these just-the-right-size, small wedding venues in Houston. While the city is definitely home to some large and in-charge wedding venues in Houston, you can definitely find smaller venues that cap out at about 150 guests or less in Houston and surrounding areas. For couples planning an intimate Houston wedding, you'll definitely want to peruse this list of small wedding venues for inspiration.
Check out our favorite small wedding venues in Houston.
River Oaks Garden Club: Forum of Civics
It's hard to believe this magical garden forum is in the middle of the nation's fourth largest city. River Oaks Garden Club's Forum of Civics is an idyllic Houston wedding venue exploding in greenery, from the ivy-covered archways that welcome guests to neat garden canopied by Live Oak trees. Located on Westheimer, the Forum was established in 1910 and has long served as a botanical inspiration for Houstonians, including being the site of a World War II Victory Garden, which encouraged locals to plant their own veggies to support the war effort.
Learn more about River Oaks Garden Club: Forum of the Civics »
Station 3
Station 3 is among the most diverse of small wedding venues in Houston. Perfect for intimate celebrations that wouldn't be a fit for a hotel wedding, it's a wedding venue that has quite a few past lives, first as storage for horse-drawn carriages then as a fire station. (There's even a working fireman's pole to prove it.) Featuring quite a bit of outdoor and event space, Station 3's industrial chic accents — exposed brick walls, floor-to-ceiling windows and a rustic brick facade — make the space feel intimate. Just a hop, skip and a jump north of downtown Houston, Station 3 is a also a historical landmark for the City of Houston.
The Houston Museum of Natural Science
Now, this is a massive museum, for sure. But, the great thing about the Houston Museum of Natural Science and its 12 unique event spaces, is they are variously sized and some are perfectly suited for more intimate gatherings. Whether you're looking for a galactic affair under the stars at Burke Baker Planetarium Theatre or you'd rather exchange vows near the reconstructed bones of T-Rex, there's likely a gallery or hall at this Houston wedding venue to fit your needs.
Learn more about The Houston Museum of Natural Science »
Bernhardt Winery
Bring a bit of Hill Country coolness to the Houston area with one of the most gorgeous small wedding venues in Houston. Bernhardt Winery, in nearby Plantersville, is a sprawling vineyard, but the wedding event spaces are intimate and ideal for small weddings. Outdoors, there's a covered wedding ceremony space with a cherry wood canopy, a stone fireplace flanked with lanterns and a stone tile floor. For receptions, the ballroom feels like a high-end Italian restaurant with low lights, stone archways and modern chandeliers.
Learn more about Bernhardt Winery »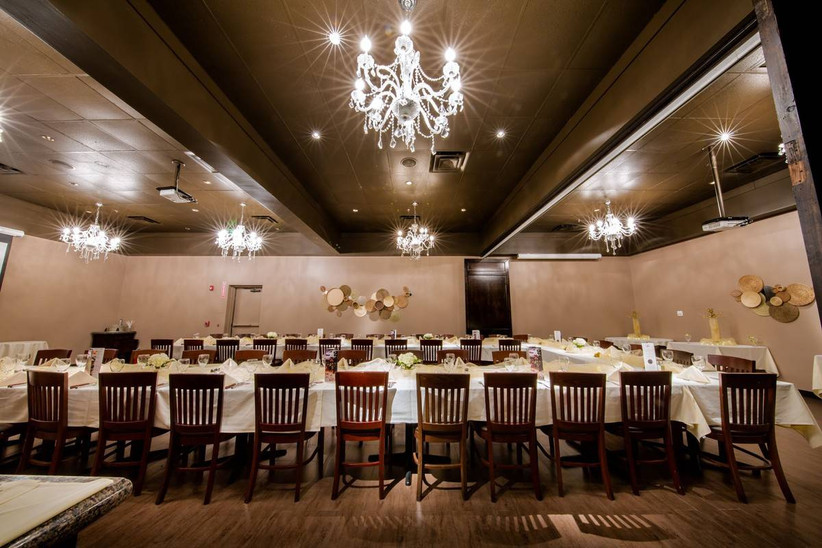 Avenida Brazil Churrascaria Steakhouse
This Stafford restaurant doubles as a popular wedding venue for couples wanting easy access to Southwest Houston and Sugarland. Capping out at 100 wedding guests, Avenida Brazil prides itself on an intimate atmosphere and caters to couples planning small weddings. This indoor venue has a sultry, Old World decorative aesthetic with rich-hued carpets, ornate chandeliers and fabric drapes.
Learn more about Avenida Brazil Churrascaria Steakhouse »
The Grove
One of the small wedding venues in Houston in the downtown core, the Grove an elegant restaurant in Discovery Green Park that also hosts weddings and receptions. The full beauty of downtown Houston is on display at this modern, glass-walled structure including the downtown skyline. Owned and operated by the Schiller-Del Grande Restaurant Group, one undeniable perk of booking this wedding venue is access to the veteran restaurant's delectable menu featuring modern Texas-style cuisine with local catch seafood and local produce.
Ouisie's Table
With the room to fit up to 300 guests into its Uptown location, Ouisie's Table (pronounced "wee-zees") isn't exactly small, but it certainly feels intimate. This restaurant has fed hungry Houstonians traditional Southern and Cajun cuisine since the 1960s and doubles as a sought-after wedding venue. Part of the small wedding feel at Ouisie's Table comes from the cottage-style architecture and the inviting, twinkling lights that greet guests. The rustic vintage decor that borrows from vineyard aesthetics also creates an atmosphere that's as cozy as can be.
Learn more about Ouisie's Table »
The Dunlavy
Ever dreamed of getting married in a treehouse? This intimate wedding venue in Houston is a glass-enclosed space that is surrounded by nature and full of charm. The Dunlavy features gorgeous views of the banks of Buffalo Bayou and Lost Lake, plus the variety of crystal chandeliers gives it a unique vintage-meets-glam vibe. The restaurant offers several wedding menus to choose from, and there's space for up to 110 for a seated event indoors, or 50 on the venue's outdoor patio.
Learn more about The Dunlavy »
Ella's Garden
There's something so magical about exchanging your vows in a garden, and this small wedding venue is Tomball has that romantic vibe. You'll love the convenience of the all-inclusive packages here, plus the vintage-style white gazebo, ideal for outdoor ceremonies. Indoors, the open-plan banquet hall features hardwood floors and space for up to 150 guests. The wedding packages not only feature catering, but also wedding cake, DJ, rentals, décor, and more.
Learn more about Ella's Garden »