If you're planning a wedding in the Houston area, we're here to help you build your vendor team. These Black-owned wedding businesses in Houston have received among the most glowing reviews of any wedding professionals on WeddingWire, and many of them have received multiple Couples' Choice Awards over the years. Of course, this is just a small group of the many extremely talented Black-owned wedding businesses in the Houston area who can turn your dreams into reality—be sure to visit WeddingWire to find other creative and wonderful pros. And with the WeddingWire Vendor Directory's new Diversity filter, underrepresented wedding pros now have the option to identify their businesses as Black-owned, as well as Asian-owned, Hispanic or Latinx-owned, LGBTQ+-owned, Native American-owned, Veteran-owned and Woman-owned, so you can more easily find these vendors. Learn more about these top Black-owned wedding businesses in the Houston area, and start planning your big day.
Barett Henry started CivicPhotos with his wife Yorlin shortly after their wedding in 2009 (yes, CivicPhotos is named after Barett's beloved Honda Civic!). As a multicultural couple themselves (Barett is from the Caribbean, Yorlin from El Salvador), the Henrys have worked with couples from many different backgrounds, and love capturing traditions from around the world.
"We really focus on capturing diversity, because Houston is such a diverse city," says Barett. "We want couples to see themselves reflected in our work."
Barett and Yorlin focus on giving their all to each and every one of their couples, and encourage couples to be open-minded about the pros they're hiring. "What really matters is the quality of work that they do," Barett says.
Erica Christine first gravitated toward event planning while attending a conference for her sorority in college. "There was one lady in the back with a bluetooth, three cell phones, a binder—she was just killing it," Erica recalls. "I watched her plan the conference for the rest of the week. She just owned it and that really piqued my interest in event planning."
Erica first created her company, Elite Eventz, as a project for an entrepreneurship class, and it took off from there. Elite Eventz has won seven Couples' Choice Awards, been featured in numerous magazines, and appears on the preferred vendor lists of the top venues in the Houston area. Erica uses her extensive knowledge of the industry to help guide couples as they plan their weddings, from creating a budget to booking the right vendors, even handling event design, using "old school" colored pencils to sketch out beautiful design plans for her couples.
"I get married every weekend," Erica says with a laugh. "I'm here to assist and guide my couples, to give them all of the options…I want everyone's experience with me to feel amazing and luxurious."
For Tammy Allen, cake design combines her myriad passions—baking, of course, but also art, fashion, music, and more. Her goal is always to create cakes that "not only look beautiful but also have an exquisitely delicious taste." She utilizes her own custom cake flours and blends of extracts to ensure all of her cakes are fresh, moist, and scrumptious.
"My goal is to always listen carefully to each couple's vision, then advise them without stifling their ideas," says Tammy. "Ultimately we want to bring their cake and wedding dreams to reality. We work and work until we arrive at the right concept...We try to create timeless cake designs and lasting memories."
Michael B. Graham got his start in the poetry world, but after receiving praise for emceeing a wedding he created his company, Signature Eventx. Michael and his team provide both a DJ and an emcee for each wedding to ensure a truly amazing atmosphere and entertainment for couples and their guests.
"Our DJs focus solely on the music, and our emcees focus solely on the people and the flow of the event," Michael says. "There are absolutely no two parties that are the same even if some of the same music is played the vibe is always different and you have to be able to read that energy. We have a group of guys that genuinely just love to make people happy. We play all styles of music because we love music and research it constantly. It literally is the one thing that connects all us no matter where you are in the world."
From an early age, Alaina Saulsberry has always loved makeup, often doing friends' makeup for events. In college, she started her own side business, Color Du Jour, which shortly became a full-time endeavor. In 2015, Alaina opened her first studio, with a team of six makeup artists and two hairstylists, as well as portrait and wedding photography. There's even space for brides and their 'maids to use as a bridal suite to get prepped for their big day.
"I like to provide my brides with a relaxing, stress-free, and opulent experience from beginning to end," says Alaina. "I always provide services where I stay for touch ups with my bride throughout their ceremony and some of their reception so that allows them to relax knowing that if they cry or sweat, it will be taken care of through touch ups."
After experiencing difficulty trying on wedding dresses, Nicole Derrick was inspired to open Olivia's Bridal House, Houston's first luxury bridal boutique catered exclusively to curvy and plus-size brides, in 2016. "Since we carry sample sizes 14 to 34, we make sure curvy and plus-size brides have the opportunity to try on the bridal gown of their dreams," Nicole says. "It brings us so much joy when a curvy bride can actually see how she will look on her most special day."
Nicole and her team love getting to know each bride they work with, ensuring that she feels confident and gorgeous for her big day. "We definitely like to let brides know that we are not your average bridal boutique," Nicole says. "We love that styling a bride rather than helping a bride shop sets us apart from other salons. When our brides come to see us, we spend time really understanding their vision, guiding them, and making it come to life!"
Shelli Mathews, with three friends from the Moores School of Music at the University of Houston, created Divisi Strings in 2006. What started out as a string quartet soon became an organization of 40 musicians ranging from violinists to harpists to trumpeters. Their ensembles can play over 700 songs (and counting!), including their own exclusive arrangements.
"We want to take the stuffiness out of the perception of classical musicians," Shelli, the owner of Divisi Strings, says. "The diversity we promote is a reflection of our diverse clientele. It is rare to see the same program at two different events. Some clients will pick an entire Kanye set, while others pick all Beatles music. pop, rock, Afro-pop, K-pop, country, game music, movie and TV music—we can satisfy a wide range of musical tastes. And our clients never let us down by creating a ceremony and cocktail programs that are a reflection of them."
"Our goal is to make every experience/exchange enjoyable, simple, and a reflection of their personal style," Shelli says. "Weddings are stressful! Our 15 years performing weddings as Divisi, performing weddings for almost a decade before Divisi and countless hours practicing our instruments, gives us unique insight into the many different scenarios a couple might encounter.We take that experience and help each couple or client mold their music entertainment around their aesthetic and our knowledge. But our goals don't start and stop with our clients. We also want every musician that we collaborate with to have a similar experience; and we want them to be proud to represent Divisi."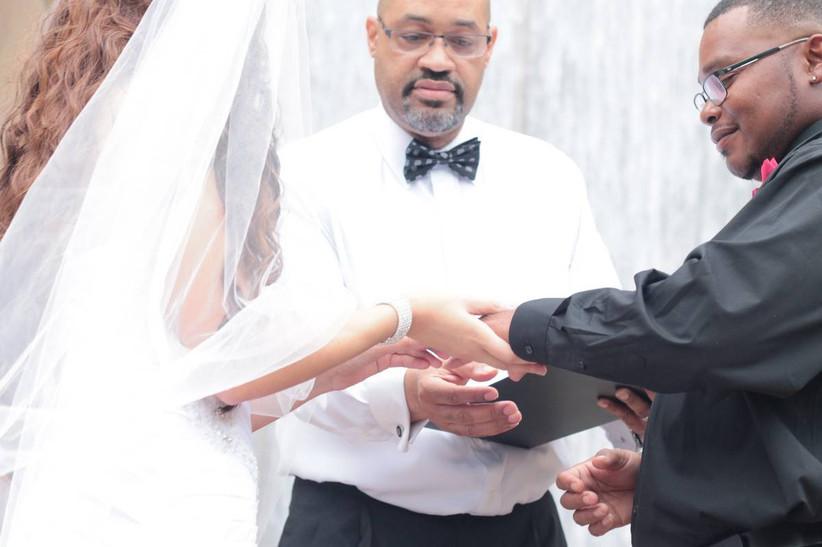 Charles Jackson and his team create meaningful and personalized ceremonies for their couples. He performs a wide variety of ceremonies, including civil, religious, non-denominational, interfaith, LGBTQ, and multicultural, as well as commitment ceremonies and vow renewals. Whether you're looking to use traditional vows or write your own, include unique rituals or host a more traditional ceremony, Charles and his team are among the most sought-after officiants in the Houston area.
"If you are looking for a personal ceremony catered to your style as a couple, choose Charles," says a recent client. "He's the best in Houston, and our guests raved about him for ages. I can't thank him enough for being the backbone of our ceremony. Everything came together perfectly with his help."
Keisha Ervin and her team create lush and luxurious floral arrangements for weddings and events. Keisha's Kreations is known for elegant and unique style, and has created designs for events both in the Houston area and internationally.
According to one past client, "To say that my flowers were stunning would be an understatement. Keisha's Kreations was professional from start to finish. She saw my vision and put her creative touch to make everything spectacular."
Husband-and-wife team Desmond and Kristy Scott started Meant to Be Films shortly after their own wedding. Their goal is to tell each couple's unique love story with an artistic and stunningly-created wedding film that's sure to evoke laughter and tears.
Says one recent couple: "We had high expectations and we were blown away with the results. Desmond and Kristy were able to capture all the small details that you easily forget with the craziness of the big day and put it into a production that is so seamless and breathtaking that we will cherish it forever. Thank you for capturing our day in such an artistic and unique way."