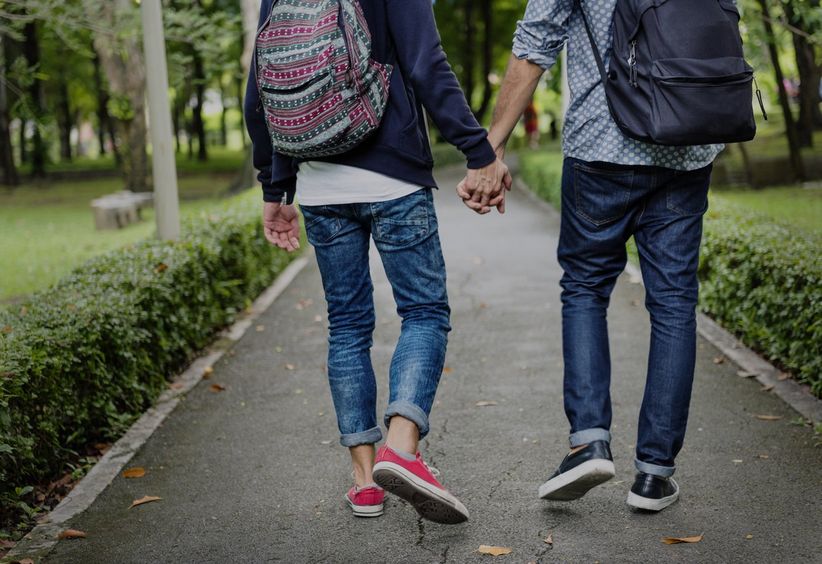 So you've been tasked with planning a gay bachelor party, and you're not sure where to start? You might be wondering, first of all, is this fling-before-the-ring any different than the ones I've planned and attended for my straight friends? And, if so, how? Is there a secret code that I'm supposed to crack to please my bestie who happens to be a gay dude, or what?
Rest easy, friend. Planning a gay bachelor party isn't an obstacle course, but it can be a bit of a puzzle.
Scroll through this essential guide to gay bachelor party planning for best men, best women, groomsmen, and groomsladies!
Get the green light from the groom-to-be, first.
Before you start a groomsmen group chat or book a flight to Vegas, ask your friend what they want from his bachelor party. As his right-hand person, it's your job to give him what he wants — not what you want. If he hasn't thought about it, give him a few prompts by asking key questions. Do you want to leave the city or stay local? Who were you thinking of inviting? Did you have a specific activity or theme in mind?
Once you get a general feel for what he's thinking, you can start to fill in the rest with what you know about his personality.
Destinations: Where should you go for your gay bachelor party?
The odds that your best bro wants his bachelor party to be a weekend-long event instead of just one night are pretty high. If he mentions that he'd like to get away for the bash, you have a lot of great bachelor party destinations to consider.
If you have a theme, like fishing or golfing, that'll narrow down the destinations and make the choice easier. If you only have a vague idea of what you'll be doing, check out a couple cities then ask the groom if he's partial to one or the other.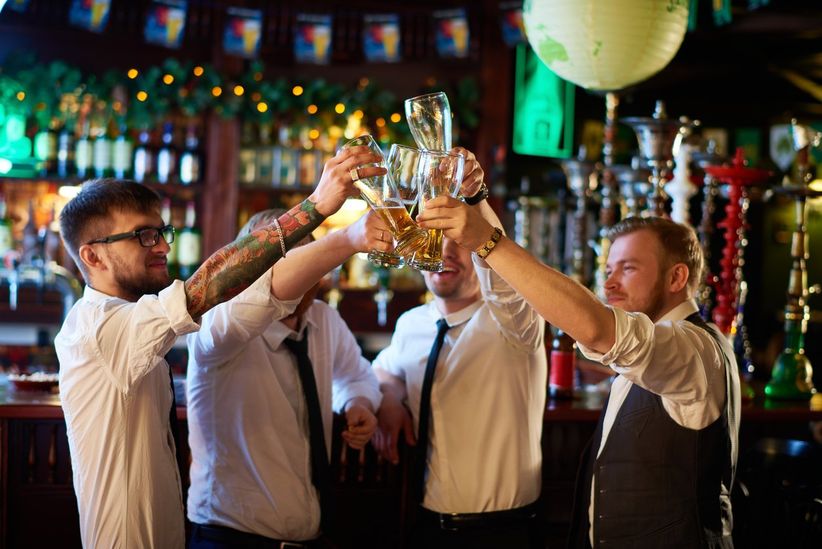 The guest list: Are both grooms invited to a gay bachelor party?
This is the million dollar question leading up to a two-groom wedding. The answer is it depends, but if we're thinking of a bachelor party in the traditional sense, probably not.
As this is one of the last times it'll be perfectly acceptable to leave the old man at home and jet off for a weekend of single-like fun, inviting the soon-to-be husband kind of defeats the purpose, right? Additionally, your buddy might appreciate a chance to just hang with his core friend group, without having to integrate his partner's crew into the mix.
If you're really unsure, though, just ask your friend. Chances are, he's probably expecting it to just be his bachelor party, but you won't know until you send that text.
Beyond the fiancé, make sure you have a good idea of the people in his inner circle he wants to invite. There's a chance men and women will be on the invite list. About 10 percent of couples with two males have a mixed-gender wedding party, according to WeddingWire data.
Logistics: Picking a date, setting a budget, and making reservations
Now's the time in your bachelor party planning to really get down to business! With your friend's wishes and a guest list in hand, begin to flesh out the plan. Here's what you'll need to take care of next.
Location: Either a destination gay bachelor party, or stay-at-home, make this decision early.
Date: You might do this by giving the groom two or three options, then finding out which one works best for him.
Communicate to the guests: It's a nice courtesy to let guests know they've been invited to a bachelor party you're planning. Whatever details you have, send them, but also let them know you'll have more specifics later and that you're the contact person for questions or suggestions.
Reservations: Flights, hotels, fancy restaurants — they all require a little pre-planning. If you're wrangling a larger guest list, this will take a lot of back-and-forth, so give yourself lots of buffer time. Also, have back-up options for each, if you can. If you miss one opportunity because you're waiting on responses from other people, it's nice to have an ace-in-the-hole you can rely on, if needed.
Activities: How do you celebrate a gay bachelor party?
Bachelor parties have a pretty raucous reputation, thanks to movies like The Hangover. The reality is that most bachelor parties, for gay or straight grooms, aren't quite that hedonistic, anyway. For your friend's party, plan something that he'll enjoy, but also choose activities that doesn't make anyone in the party really uncomfortable.
If your friend really loves sports and the outdoors, a camping, golfing, hiking, or other movement-focused activity should be the centerpiece of the bachelor party. If he's really into theatre and musicals, maybe a trip to New York to see a show on Broadway is the star of the party. Hardcore partiers will love Las Vegas or New Orleans to indulge all of their shot-fueled instincts.
The point is really to let your friend, and his friends (including you!), dictate how wild and crazy the bachelor party will be.