16 Denver Wedding Venues for Every Kind of Couple
Whether your style is rustic or romantic, modern or classic, there's a Denver wedding venue for you.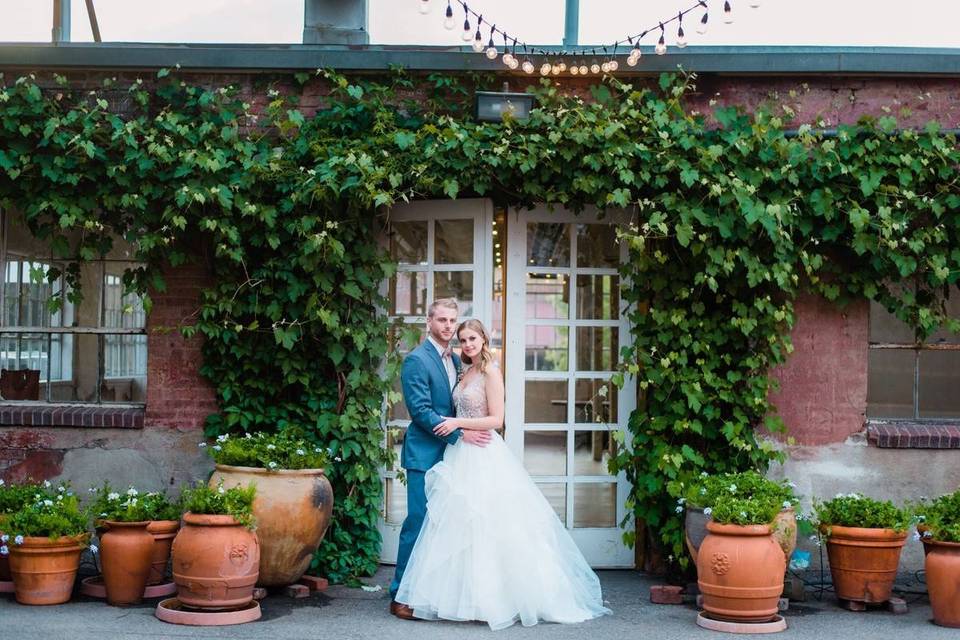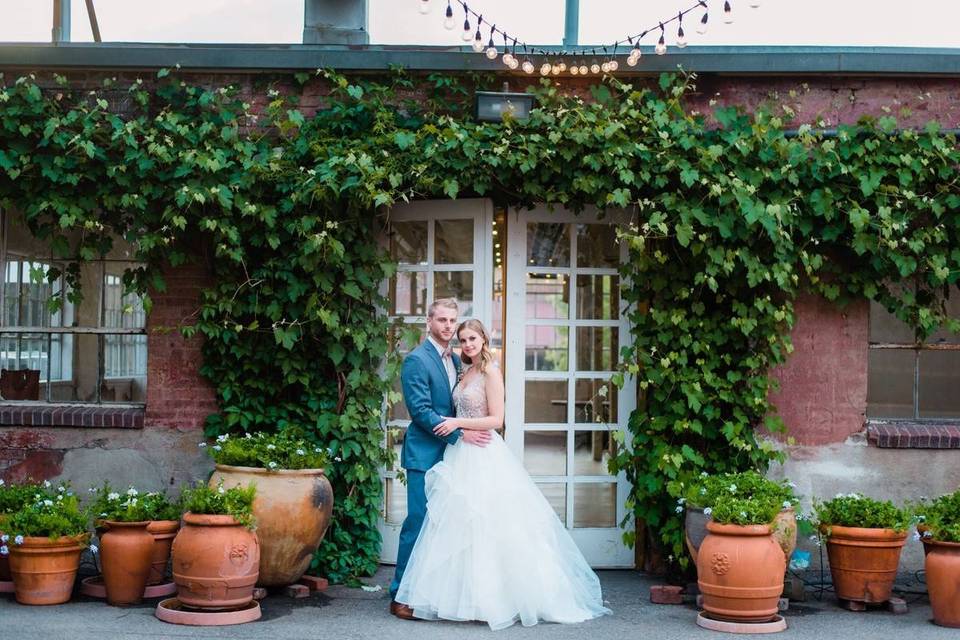 When it comes to Denver wedding venues, the options are endless. The Colorado capital seamlessly transitions from relaxed and rustic to sleek and modern, meaning there's a venue for every kind of couple and every kind of wedding. You'll definitely want to tour a few Denver wedding venues before making a decision, but browsing a bunch online is a great place to start.
As you're searching for the perfect Denver wedding venue for your nuptials, here are eight options that would be the perfect setting for your dream wedding day.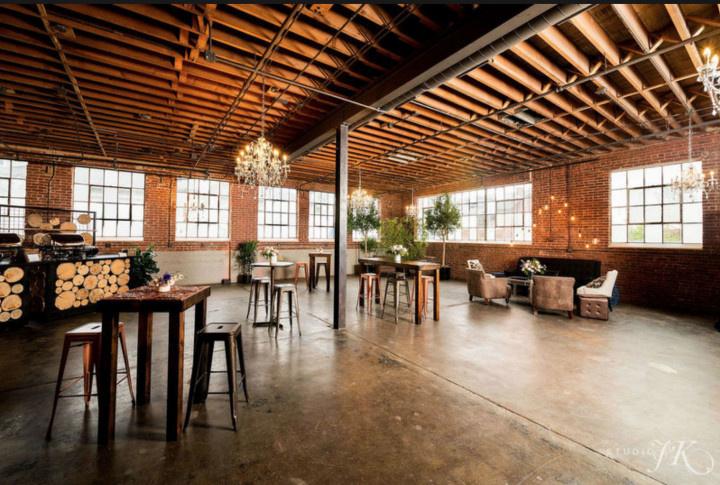 For the Edgy Couple: Moss Denver
If industrial-style details like exposed brick, warn wood, and concrete floors make your heart go pitter-patter, you'll adore Moss Denver. The former factory space has lots of personality, from the aptly named Chandelier Room with crystal overhead to the Edison Room, where Edison bulbs glow against impressive moss walls. Invite 200 guests to join you as you enjoy the seamless flow and airy options that abound behind warm brick walls, and make the most of Denver's iconic Santa Fe Arts District.
Learn more about Moss Denver »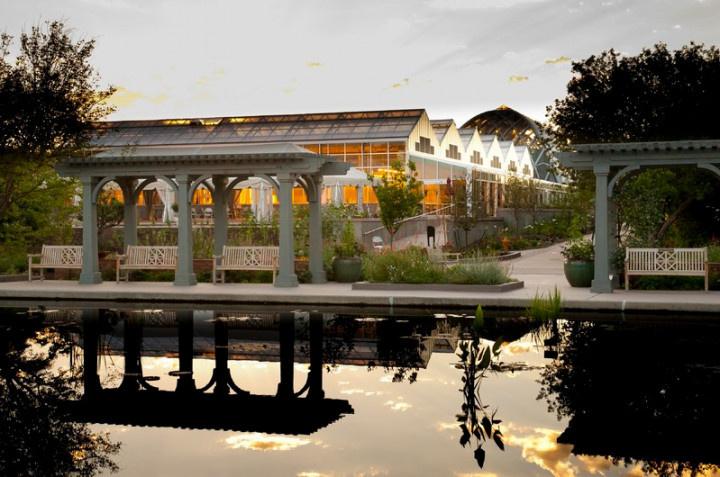 For the Nature-Loving Couple: Denver Botanic Gardens
This urban oasis is an ideal downtown Denver wedding venue, providing a natural respite from the bustle of the city. Take your pick of verdant settings for an outdoor ceremony, then dine amongst the flowers or head inside to Mitchell Hall to dance beneath the sculpted ceiling. Or head just outside the city to Chatfield Farms in Littleton, where historic structures offer rustic mountain charm in the foothills of the Rockies - all a short drive from downtown.
Learn more about Denver Botanic Gardens »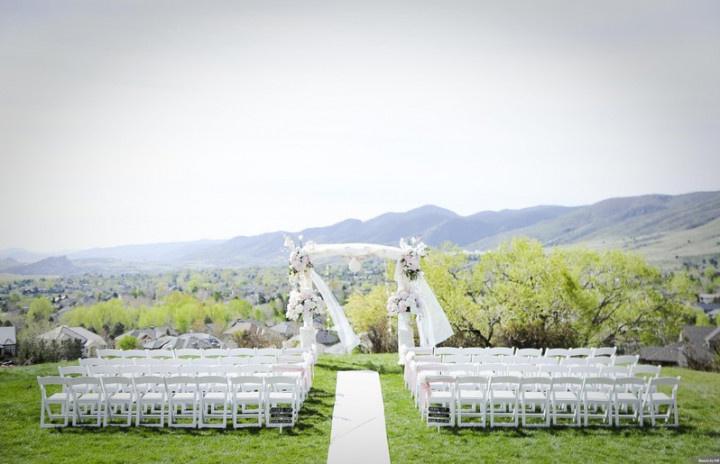 For the Vintage Couple: The Manor House
Built in 1914, The Manor House is full of American history. Built by the same architect who designed the Brown Palace and the Oxford Hotel in Denver, the 20-room home has hosted the likes of Theodore Roosevelt and William Taft - and is now available for you and your 250 guests. Whether you tie the knot in an intimate ceremony in front of one of the gorgeous fireplaces, dance all night in the elegant ballroom, or sip cocktails on the lawn with Dry Creek Canyon in the background, this spectacular home will take you back in time.
Learn more about The Manor House »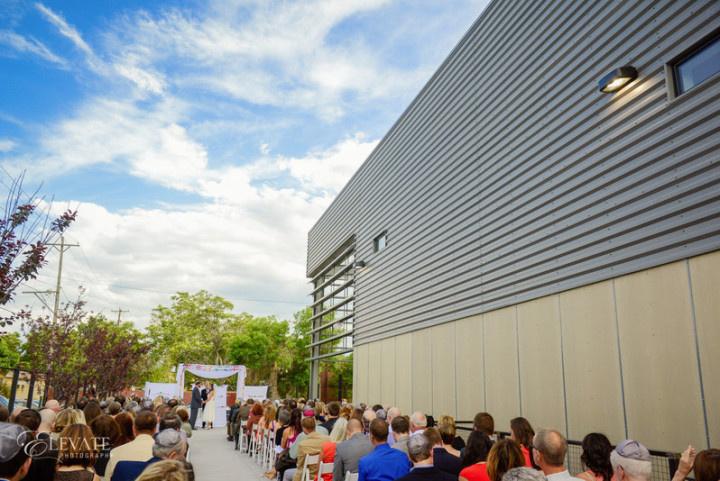 For the Artsy Couple: Space Gallery
Surround yourselves and your guests with contemporary fine art in a sleek, spacious Denver wedding venue. Clean lines and modern design create a blank canvas for your celebration, while Space Gallery's schedule of spectacular exhibitions will add excitement and color to your big day. Don't forget to head outside to the Sculpture Garden for cocktails or twilight photos so your guests can get a feel for what Denver is all about!
Learn more about Space Gallery »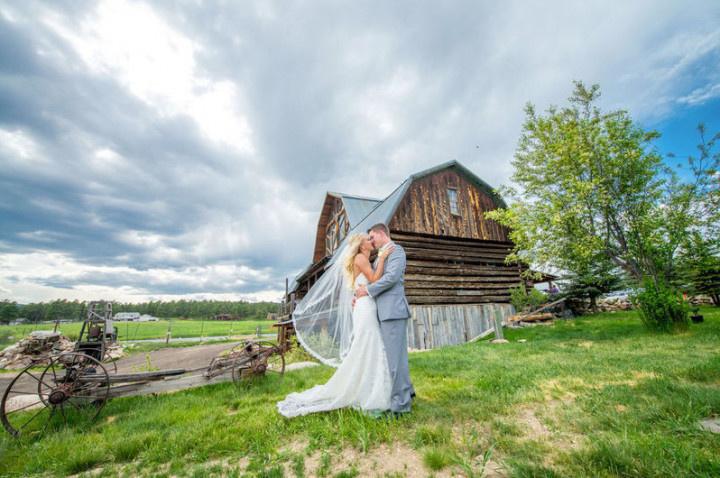 For the Rustic Couple: The Barn at Evergreen Memorial Park
Set in the foothills just west of Denver, this 100-acre park is perfect for a Colorado couple. The charming Barn Chapel is filled with history, as the structure itself was built from the remnants of five weathered barns and an historic church gathered from across Colorado. Log beams frame towering stained glass windows, and three interior levels can accommodate up to 235 guests. Exchange vows in front of the reclaimed windows, or tie the knot in the meadow before retreating inside for dinner and dancing. Enjoy panoramic views, historic accents, and an accommodating staff that will help create your dream wedding day.
Learn more about The Barn at Evergreen Memorial Park »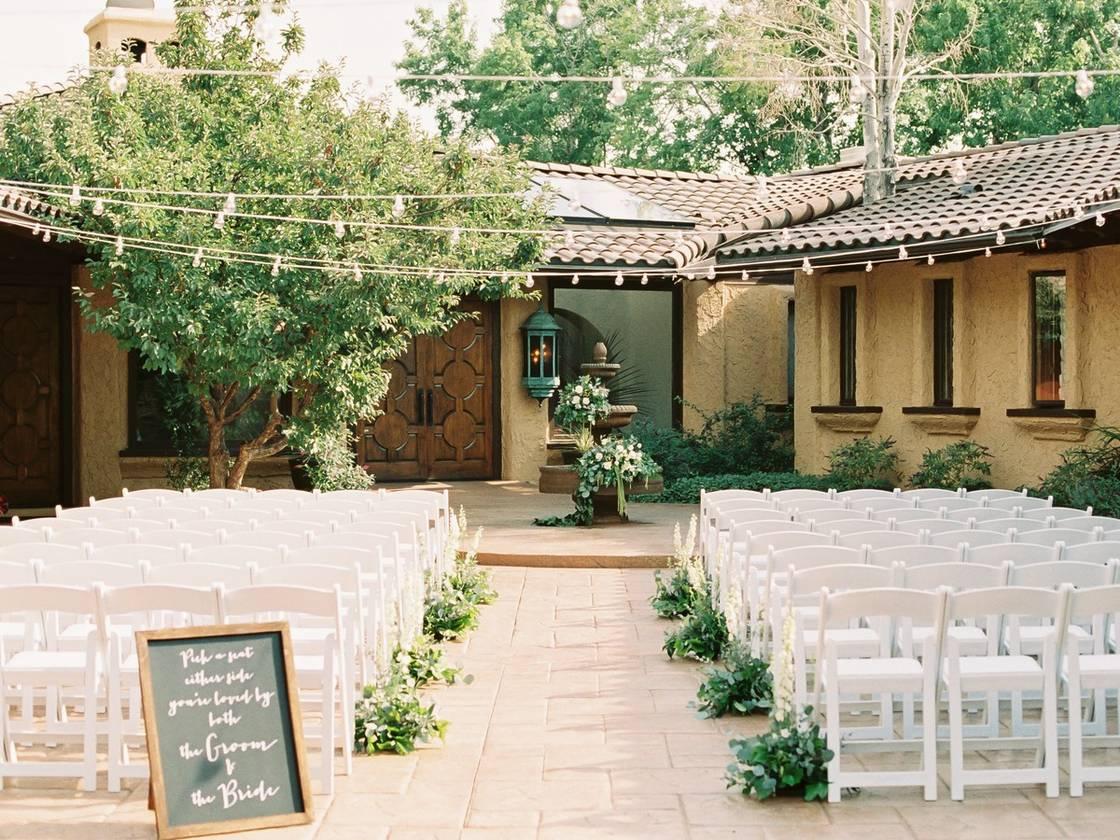 For the Old World Couple: Villa Parker
Want to transport your guests to a European oasis without leaving Colorado? Head to Villa Parker. This Tuscan-style estate is situated southeast of Denver but feels a world away. Covered walkways and meandering paths edge the lush gardens, while towering trees dramatically frame the manicured ceremony lawn. A Mediterranean-style terra cotta roof covers the ballroom, where floor-to-ceiling windows invite the outdoors in. Or you can dance all night under the stars on the garden terrace, surrounded by Old World charm.
Learn more about Villa Parker »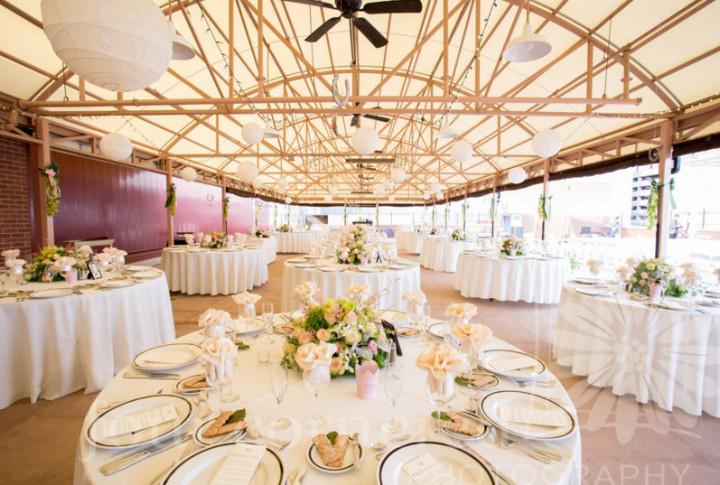 For the Downtown Couple: The Denver Athletic Club
This private club is a sophisticated choice for any Denver couple, with room to host up to 400 guests in the heart of the city. Shimmering chandeliers light high ceilings of the the newly-renovated ballroom, a classic setting for a downtown celebration. But it's the rooftop that really shines, where the sprawling Sundeck lets you celebrate surrounded by Denver's skyline. As the evening winds down, head to the club's eight-lane bowling alley for an after-party your guests are sure to remember.
Learn more about The Denver Athletic Club »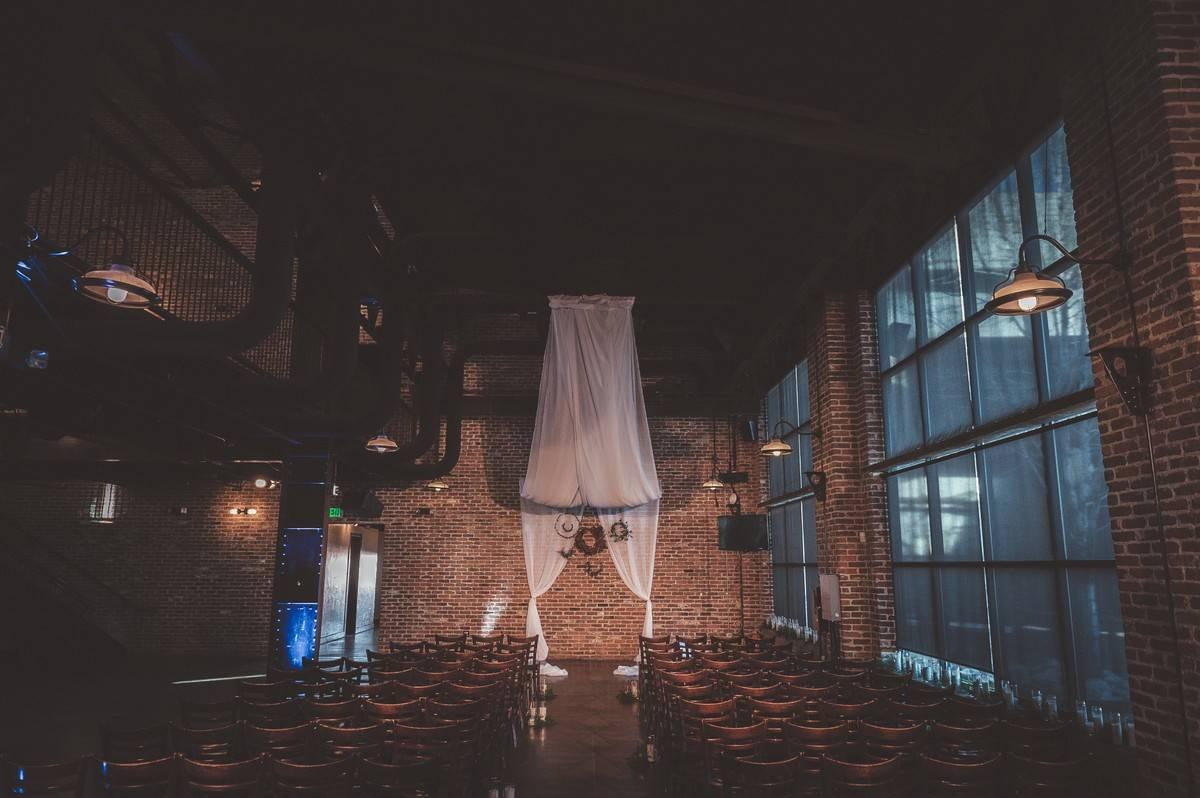 For the History-Loving Couple: Mile High Station
Originally built in 1897 as the Midwest Steel and Ironworks building, Mile High Station has been lovingly restored to highlight the turn-of-the-century details (think a steel "I-beam" structure and warm wood floors) while also offering an expansive and versatile setting for modern couples' weddings. With space to seat 550 guests across the main floor and mezzanine, this Denver wedding venue has more than enough room for your loved ones - as well as plenty of space to create a unique and cozy arrangement for a more intimate group. No matter the size of your guest list, this single-event venue is all yours, all day.
Learn more about Mile High Station »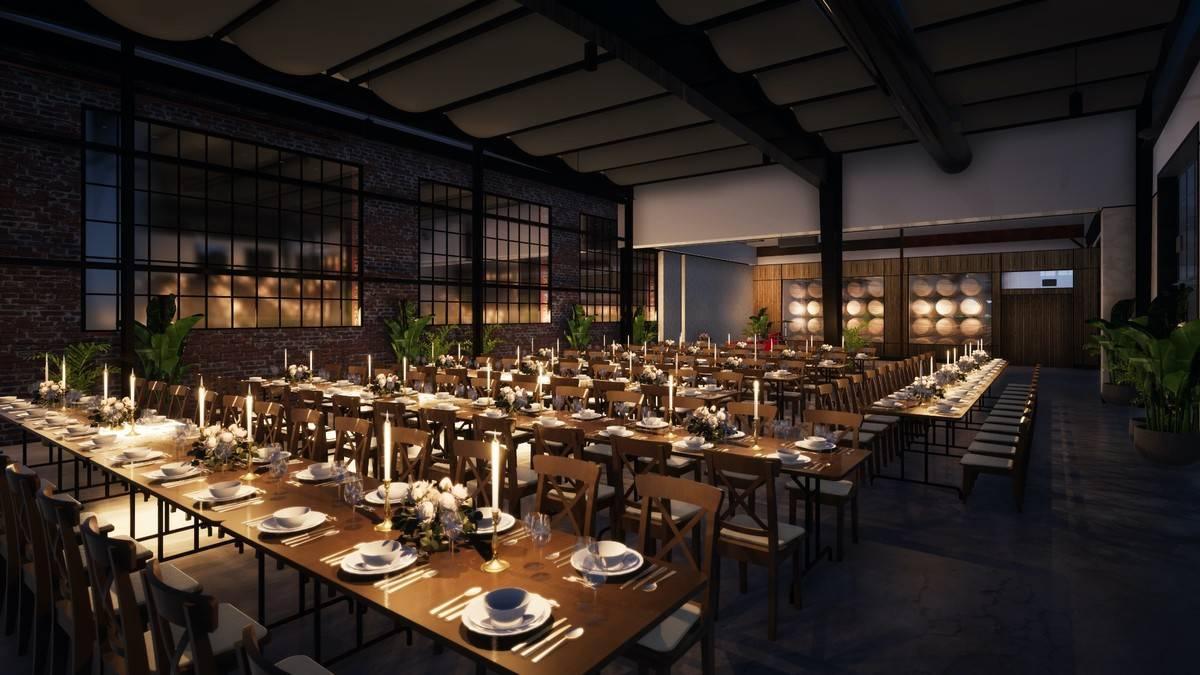 For the Wino Couple: RiNo Point Winery
This brand-new venue is guaranteed to become a fast favorite Denver wedding venue. A fully-functioning winery serves as the backdrop for industrial-chic celebrations for up to 250 guests. Head into the barrel room for a cozy ceremony, or set up on the winery's sprawling patio. Indulge in a family-style dinner, expertly paired with RiNo Point wines, of course.
Learn more about RiNo Point Winery »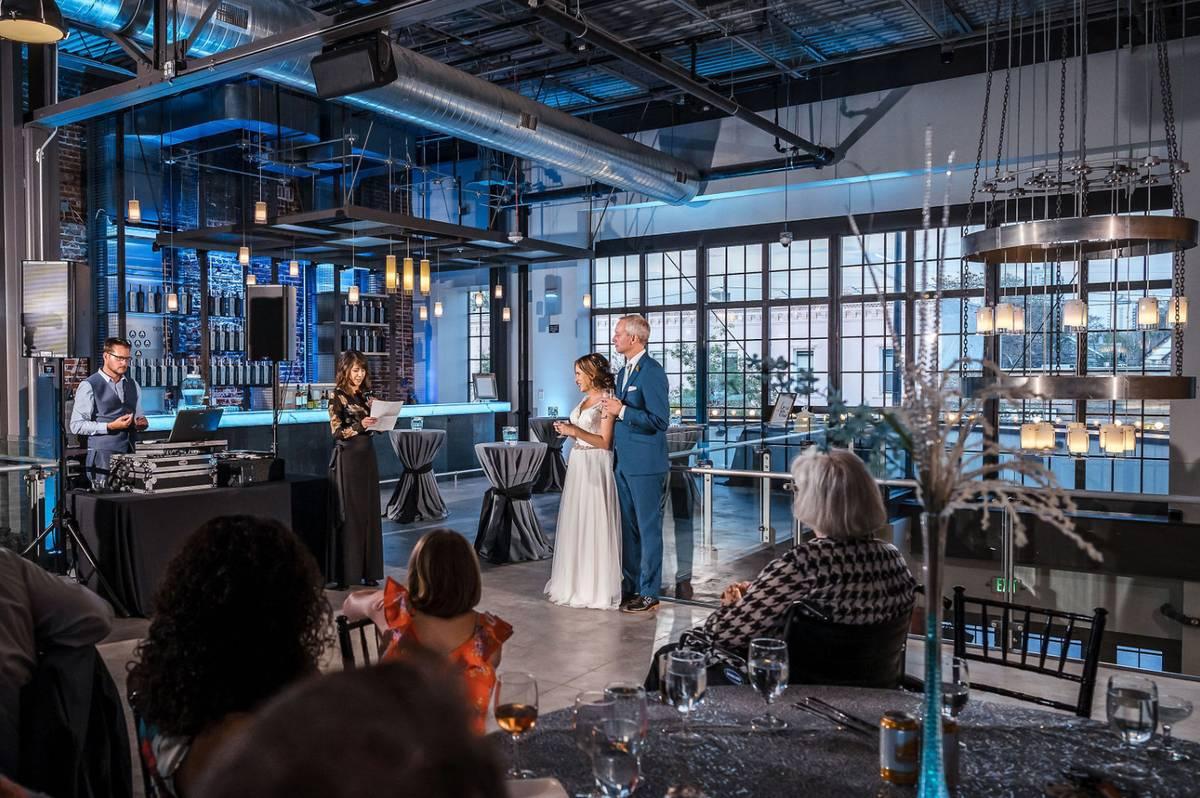 For the Cocktail Connoisseurs: Archetype Distilling
Housed in one of the first movie theaters in Denver, Archetype Distilling combines the city's history with a passion for quality spirits and crafted cocktails. What more could you want for your wedding day? The distillery's award-winning vodka and gin are top-notch, and their house-made distillates feature creative flavors that make their cocktail program shine. Raise a glass in the beautifully renovated theater, where exposed brick and shining copper stills add an industrial flare. Want to make it easy? Book one of the venue's pop-up weddings, a series all-inclusive four hour weddings (including a unity cocktail to share during your ceremony) on the first weekend in November.
Learn more about Archetype Distilling »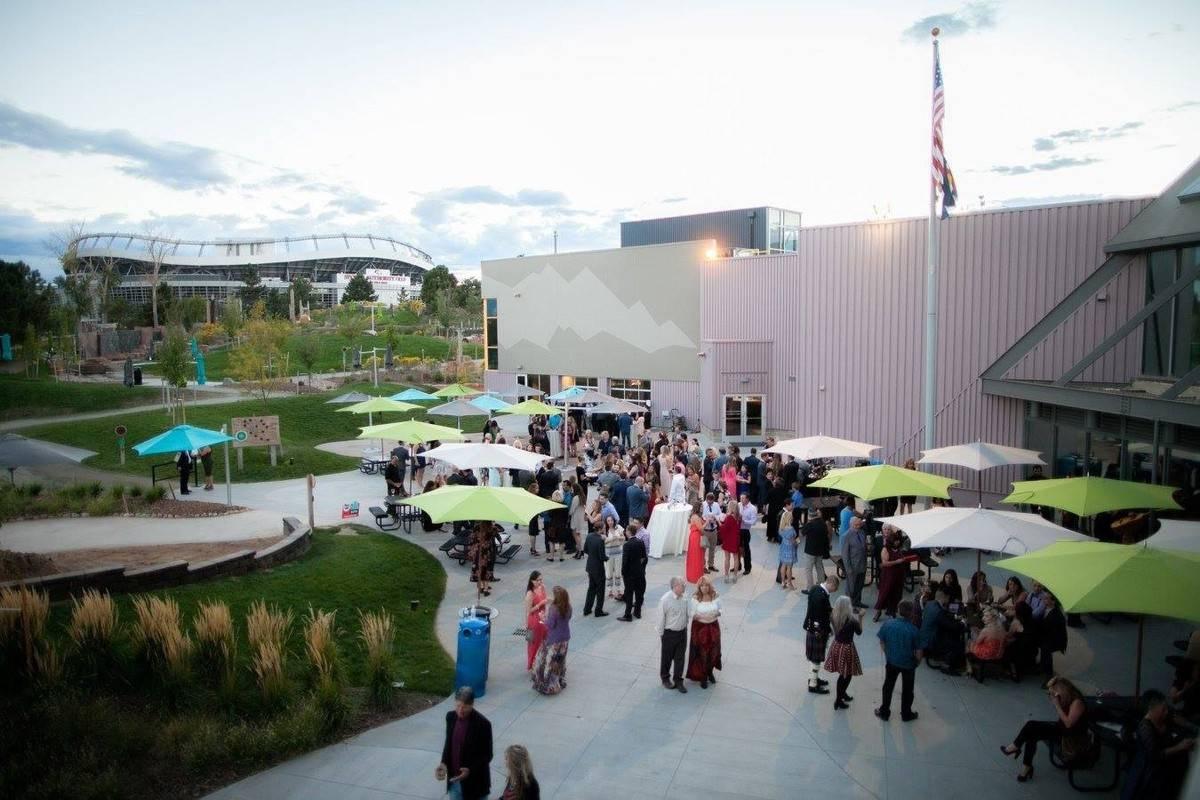 For the Kids at Heart: Children's Museum of Denver at Marsico Campus
Add a touch of whimsy to your wedding day at a Denver wedding venue that's all about the kids. The Children's Museum of Denver is full of color and fun, and your wedding day will be, too. Exchange vows in the Joy Park, then celebrate amongst the museum's playful exhibits (think cocktails in the Art Studio or late-night s'mores Adventure Forest. Whether you invite kids or keep it adults-only, your guests are guaranteed to have a blast at this Denver wedding venue!
Learn more about the Children's Museum of Denver at Marsico Campus »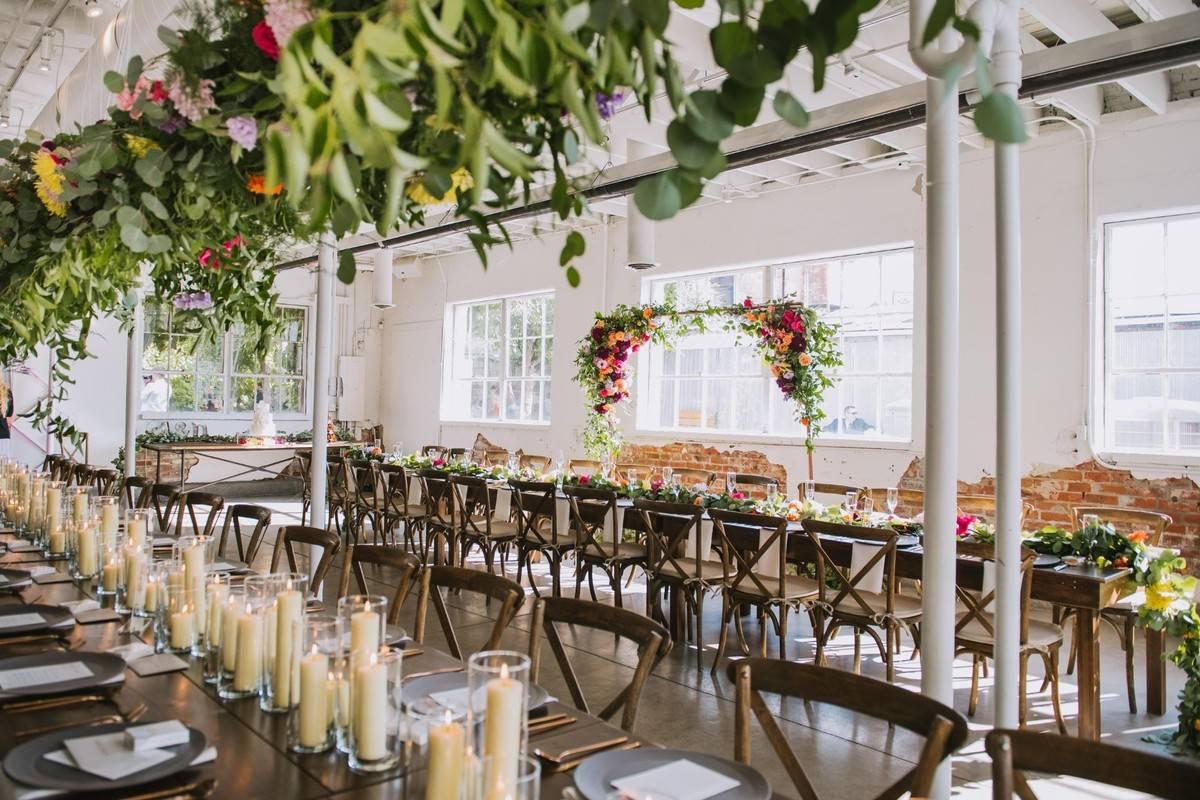 For the Couple with Backyard Dreams: blanc, the venue
City living doesn't usually include much outdoor space, but that doesn't mean your wedding has to be stuck indoors! Blanc, located in the heart of Denver, features a sprawling courtyard shaded by leafy trees and lit with string lights. The adjacent patio is the perfect place for guests to enjoy Colorado's 300+ days of sunshine, while the fireside patio is just the spot for late-night cocktails by a cozy outdoor fireplace. The rustic metal barn and modern gallery are urban-chic spaces that you can transform to fit your style, creating an exciting indoor-outdoor experience.
Learn more about blanc, the venue »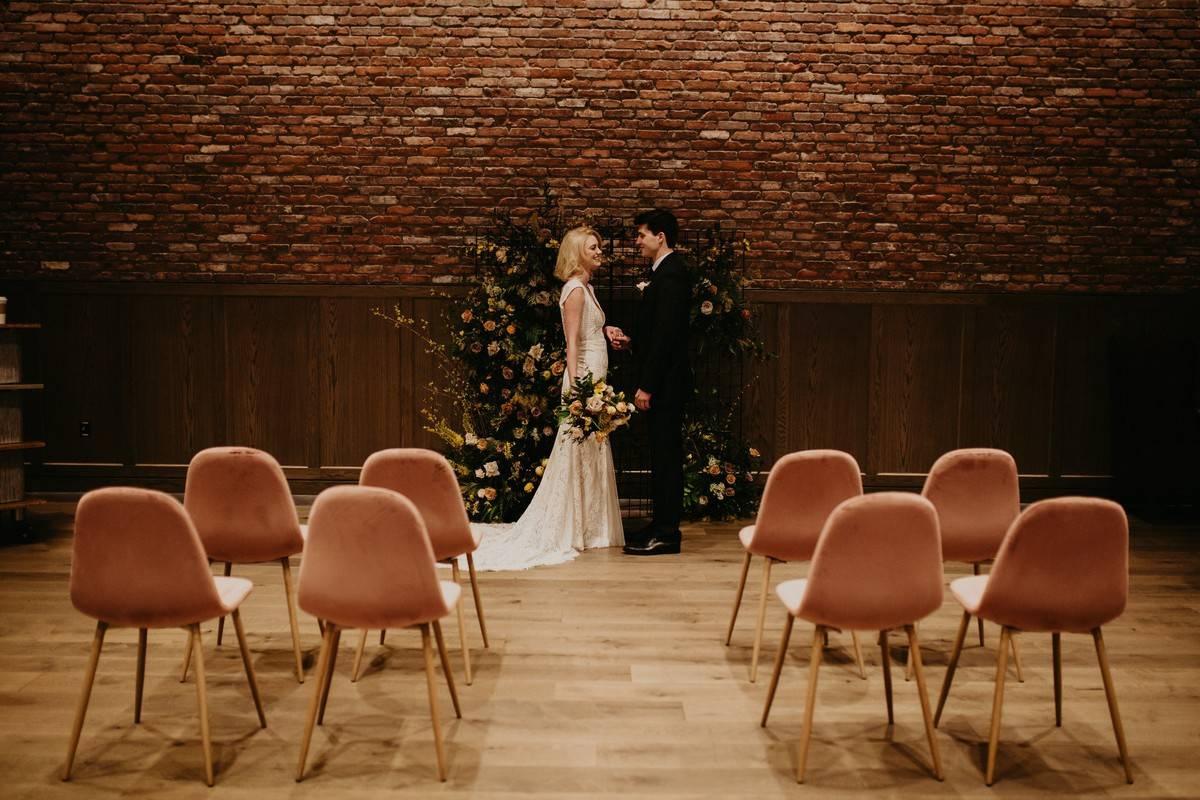 For the Design-Driven Couple: The Maven
Combine Denver's history with creative, modern design at The Maven, situated in Denver's Dairy Block neighborhood. The hotel boasts a number of spacious Denver wedding venues, from the modern sunken Windsor Ballroom to the urban Windsor Alley, the perfect place for an edgy reception. The hotel's creative on-site dining ranches from spicy Southwestern fare to mouthwatering craft cocktails made with hand-crafted sodas that nod to America's soda fountain past in a midcentury setting. From the lobby to the ballroom to guests' suites, The Maven boasts vibrant mid-century modern furnishing, eye-catching art, and creative details that will take your wedding day vibe to the next level.

For the Dinner Party Hosts: Realm Denver
If your wedding vision is a little more "cozy dinner party" than "blowout bash," take a peek at Realm Denver. This chic loft is a dream apartment, but rather than get a mortgage you can rent the stunning space for your big day. 18' ceilings, white walls, and massive windows make the space light and bright, and the stylish furnishings are included so you can make the space your own without bringing in extra rentals. There's seating for 50 (though Realm can accommodate 100 for dinner if you'd like to bring in more tables and chairs), and their list of some of Denver's best vendors makes choosing your creative partners effortless.
Learn more about Realm Denver »

For the Couple with a Vision: SKYLIGHT
Looking to create a wedding celebration that's all your own? SKYLIGHT is a Denver wedding venue that's a blank canvas, just waiting for your inspiration. The industrial chic space pairs white brick, exposed beams, and (of course) lots of skylights to give the space a bright, airy feel. Whether you add color with flowers and linens, enhance the rustic vibe with vintage furniture and bare farm tables, or go super modern with clean lines and a minimalist color palette, SKYLIGHT is ready to be dressed up - or pared down - however you might choose. Bonus: Each rental is for 24 hours and there is no curfew, so you can really plan your dream party!
\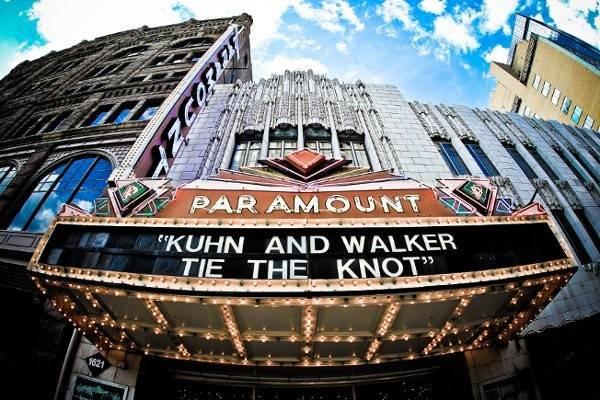 For the Theater Buffs: Paramount Theatre
The Paramount Theatre stage has seen it all, from Hollywood films to ballets to comedians to rock n' roll bands, and now the stage is yours for your wedding day! First opened in 1930, the art deco theater is filled with ornate details that have been expertly preserved, giving your wedding day a stylish, historical feel. Put your names in lights on the marquee, then take to the stage to exchange vows before guests join you for dancing between the velvet curtains.