9 Outdoor Wedding Venues in Charlotte, NC With Plenty of Southern Charm
Getting hitched in the South? Look no further than these outdoor wedding venues in Charlotte, NC to add a bit of charm to your special event.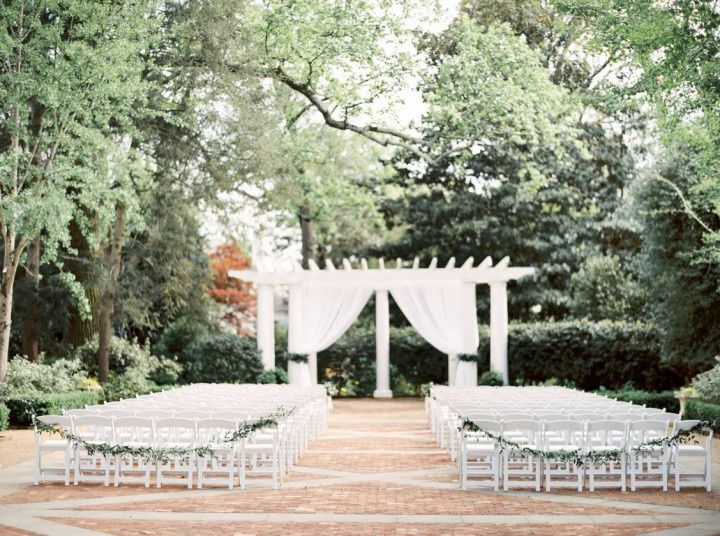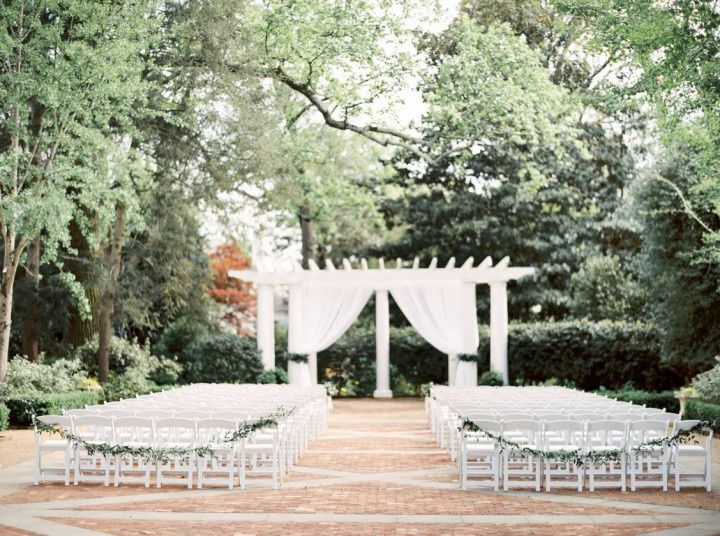 From historic manors to swanky country clubs and cozy B&Bs, there are plenty of outdoor wedding venues in Charlotte, NC to choose from. We've done the hard work for you and have created a list of the top Charlotte wedding venues that not only offer amazing amenities, wedding packages, and perks, but are filled with Southern charm to create an inviting setting for your big day. If you're planning a wedding in Charlotte, NC, start your venue search with these incredible options.
Here are the outdoor wedding venues in Charlotte, NC that we're loving right now.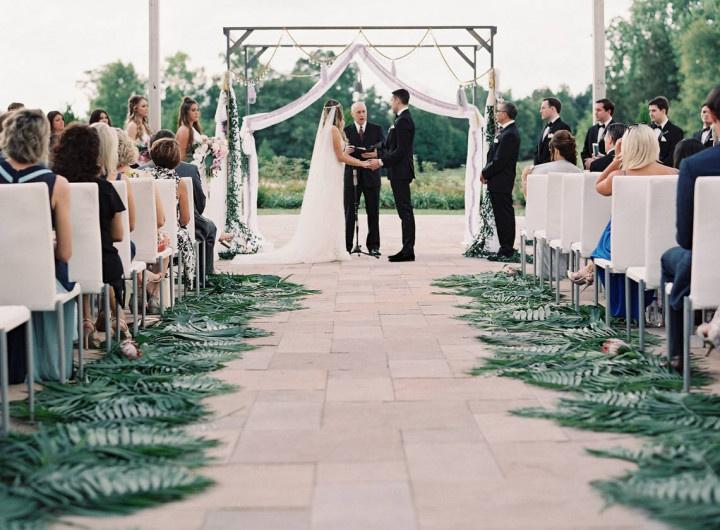 The Ballantyne
Classic Southern style meets modern flair at The Ballantyne, an elite resort located in south Charlotte. The venue has several indoor reception areas, including traditional ballrooms, but the outdoor spaces are equally luxurious. The Ballantyne's rose garden and terrace, seen here, both provide sophisticated settings for your outdoor nuptials. If you prefer an indoor-outdoor space, opt for the atrium, which has floor-to-ceiling windows and a gorgeous view of the hotel's golf course. Wedding packages at The Ballantyne include event management, day-of coordination, catering, chair rentals, table linens, discounted guest rooms, and a complimentary wedding night stay.
Learn more about The Ballantyne »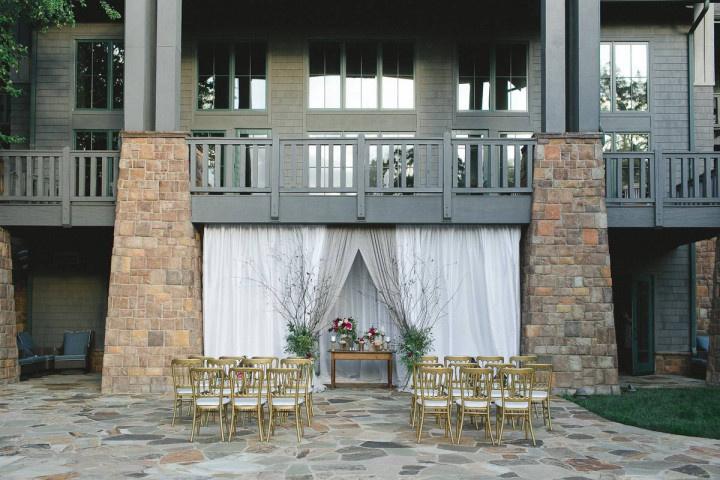 The Lodge at Ballantyne
Looking for outdoor wedding venues in Charlotte, NC that are classy yet relaxed? Check out The Lodge at Ballantyne, sister venue to The Ballantyne resort. A stone patio, pictured above, sets the tone for a laid-back ceremony, cocktail hour, or reception. With 35 guest rooms, a fitness center, pool tables, and fire pits at the lodge, this venue is also a perfect option for hosting a wedding weekend. The lodge is inspired by a mountain hunting retreat and features rustic furnishings, including a great room with a cozy fireplace — an ideal gathering spot for you and your guests during downtime. Complete your big day at The Lodge at Ballantyne with several wedding packages that include catering, chair and table rentals, and event coordination.
Learn more about The Lodge at Ballantyne »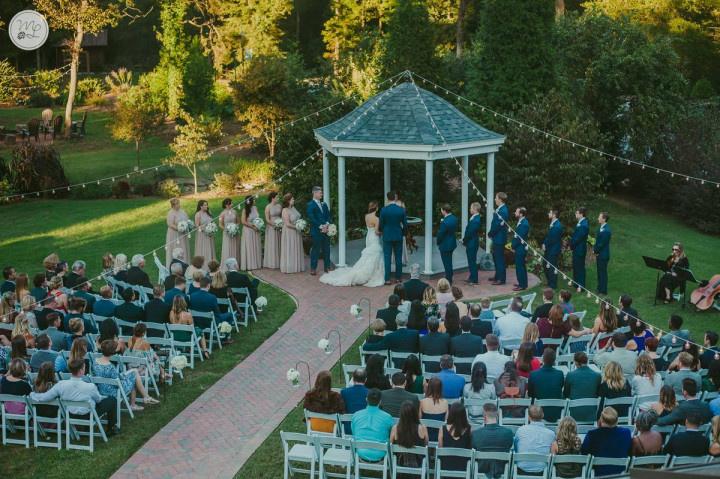 Alexander Homestead Weddings
For a truly romantic setting, we recommend Alexander Homestead Weddings in east Charlotte. This Victorian estate has been recently restored but still maintains its historic charm, and it's an excellent venue for vintage-style weddings. The venue's garden gazebo is surrounded by mature oak trees, which provide privacy for an outdoor ceremony, while strands of bistro lights add a bit of whimsy to the space. A barn at the homestead can be used for your reception or as a backup venue in the event of inclement weather on your wedding day. Alexander Homestead offers wedding packages for a variety of price points starting around $60 per person, making it a relatively affordable outdoor wedding venue in Charlotte, NC.
Learn more about Alexander Homestead Weddings »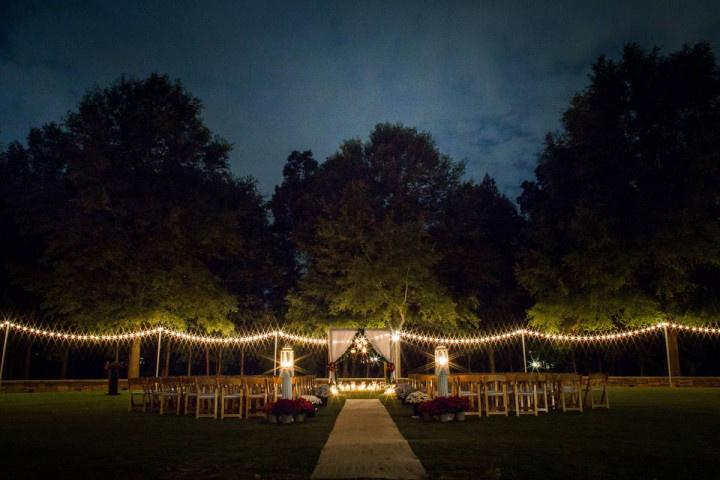 Ballantyne Country Club
Ballantyne Country Club is a must-see if you're looking for formal outdoor wedding venues in Charlotte, NC. This upscale venue prides itself on exceptional service — and has dozens of rave reviews to prove it! The event lawn, pictured above, is a fabulous outdoor setting both day and night. After you exchange "I dos", the venue's championship golf course, accented with water features, ponds, and decorative bridges, is perfect for your wedding photos or a private newlywed stroll. For your reception, there's an elegant clubhouse featuring a stone fireplace, beamed ceilings, and Tuscan-style chandeliers. Ballantyne Country Club will provide the catering, wedding cake, and basic rentals (linens, flatware, chairs, etc.) for your big day.
Learn more about Ballantyne Country Club »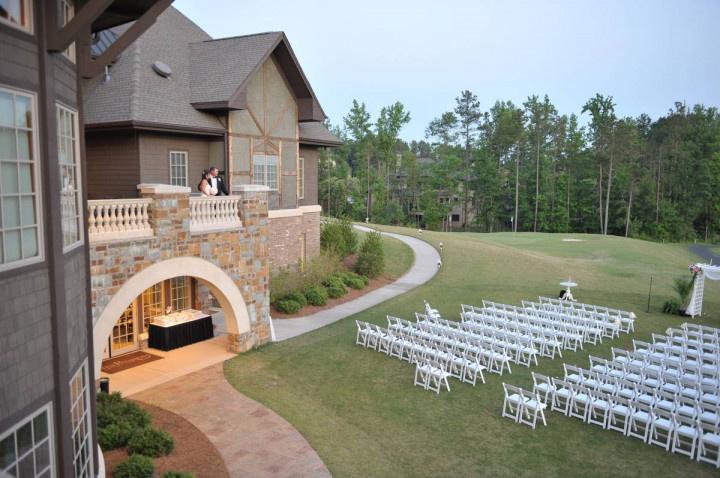 The Palisades Country Club
Another elegant venue that we love is The Palisades Country Club, located about 30 minutes south of Charlotte. Exchange your vows on the event lawn just outside of the stately clubhouse, with the venue's golf course and lush trees as your backdrop (they're especially beautiful in the fall when the leaves are changing!). The Palisades Country Club is one of the best outdoor wedding venues in Charlotte, NC for all-inclusive events, with wedding packages that include all of the essentials — and more — for your big day. Choose from a budget-friendly package that covers just the basics, or customize your wedding with luxurious upgrades and add-ons.
Learn more about The Palisades Country Club »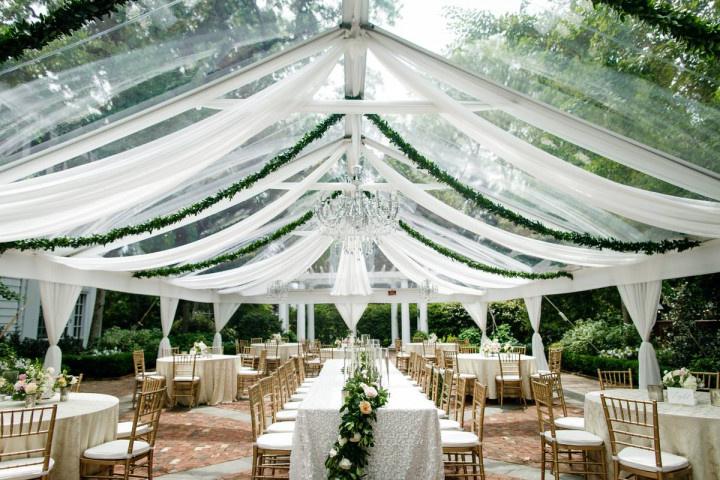 The Duke Mansion
Southern hospitality and timeless style are the main vibes at The Duke Mansion, which is located just two miles from downtown Charlotte. This historic bed and breakfast offers two outdoor wedding spaces for your big day, including a stone terrace, pictured above, and a secluded garden. Along with in-house catering and beverages, The Duke Mansion provides tables, Chiavari chairs, linens, and other decor items with your venue rental fee. One of our favorite things about The Duke Mansion are the beautiful guest rooms and suites, which are perfect for getting ready on the big day or retiring for the night after a fun-filled reception.
Learn more about The Duke Mansion »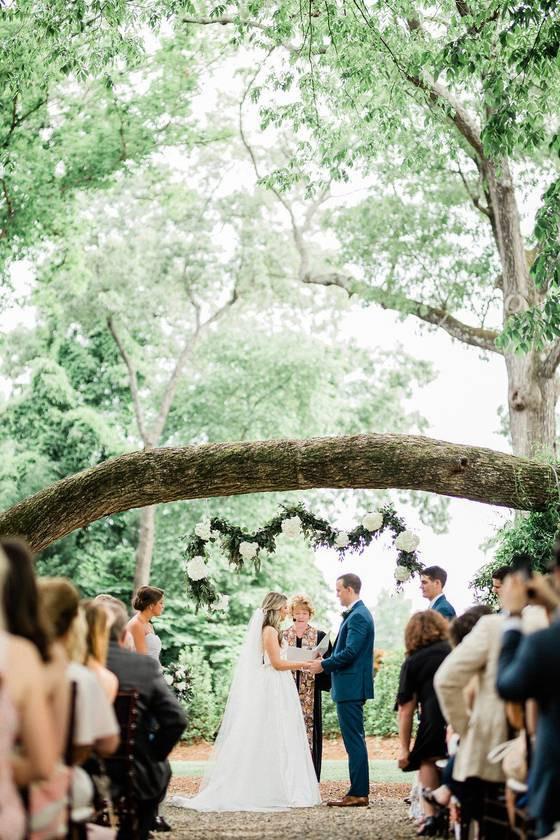 Whitehead Manor
Whitehead Manor is located just 15 minutes from downtown Charlotte, but the three-acre property is so secluded that it feels like a world away. This is one of our favorite outdoor wedding venues in Charlotte, NC if you're looking for several different spaces in one location. For your ceremony, a shaded clearing just off the garden is venue's most romantic setting, while a stone courtyard at the manor house is perfect for dining outside and dancing the night away. Linens, tables, and chairs are all provided by the venue, and there are two professional-grade kitchens onsite for your wedding caterer.
Learn more about Whitehead Manor »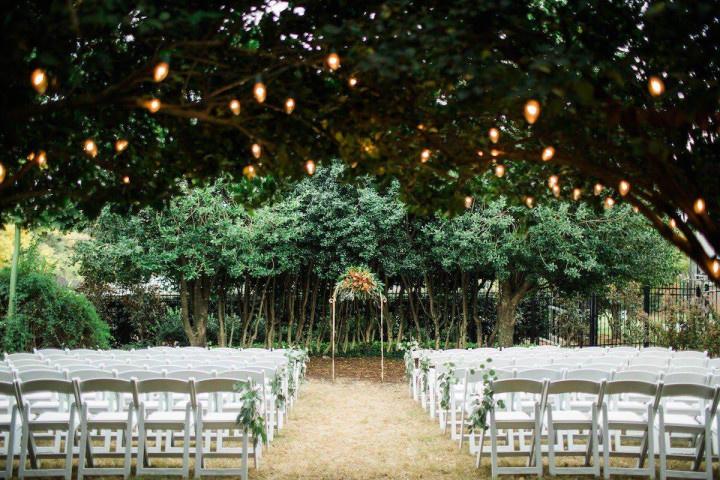 The McGill Rose Garden
If you love roses and flowers as much as we do, we've got your dream venue right here. Not only is this venue considered one of the city's best hidden gems, The McGill Rose Garden is one of our favorite outdoor wedding venues in Charlotte, NC for smaller groups. The landscaped garden can accommodate 70 people, and you'll exchange your vows surrounded by rose bushes, trees, and other plants. Talk about romantic! The McGill Rose Garden offers two different wedding packages — one for ceremonies only and one for a 12-hour rental, making it easy to customize for your needs. If you choose to host your reception at the venue, event coordination, chairs, tables, various decor, and floral design are all included.
Learn more about The McGill Rose Garden »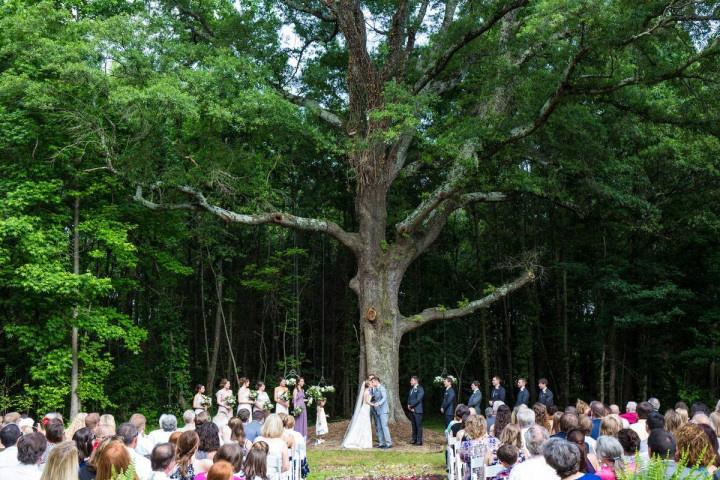 The Brawley Estate
Situated on 22 acres, The Brawley Estate is one of the most spacious outdoor wedding venues in Charlotte, NC. It's less than an hour drive from downtown Charlotte and is an ideal destination if you're looking to escape the city on the big day without having to travel too far. Get married beneath a stunning oak tree before heading to the venue's event pavilion, which is decorated with barn doors, iron chandeliers, and vaulted ceilings that create a rustic chic aesthetic. The Brawley Estate offers in-house catering, custom wedding packages, and can host events with up to 250 people.