What's a Bridal Boudoir Session—and Why Should You Consider Doing One?
Scheduling this intimate photo shoot before your special day is a sexy surprise for your partner, but it's also an incredible confidence boost.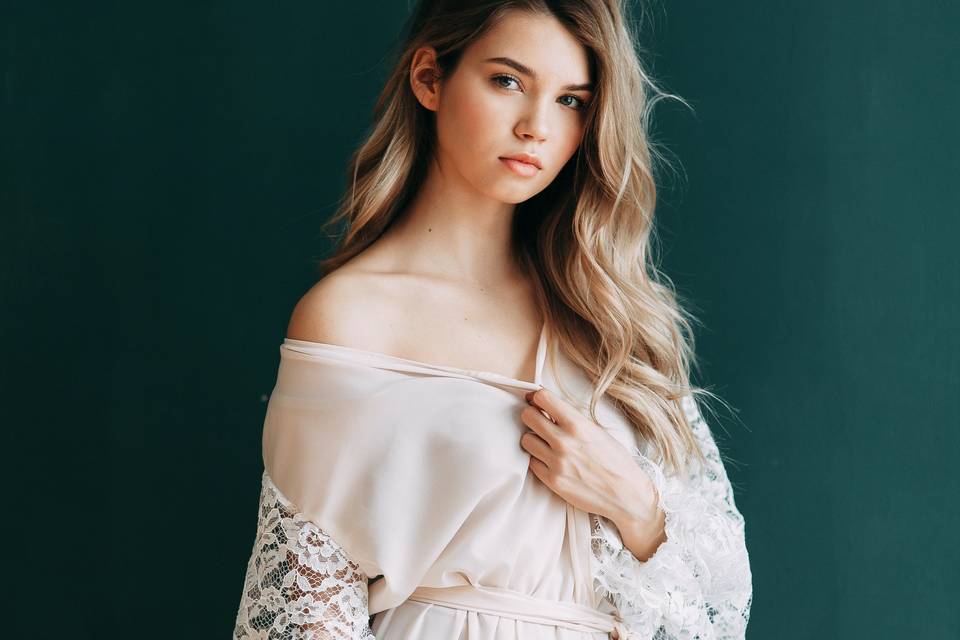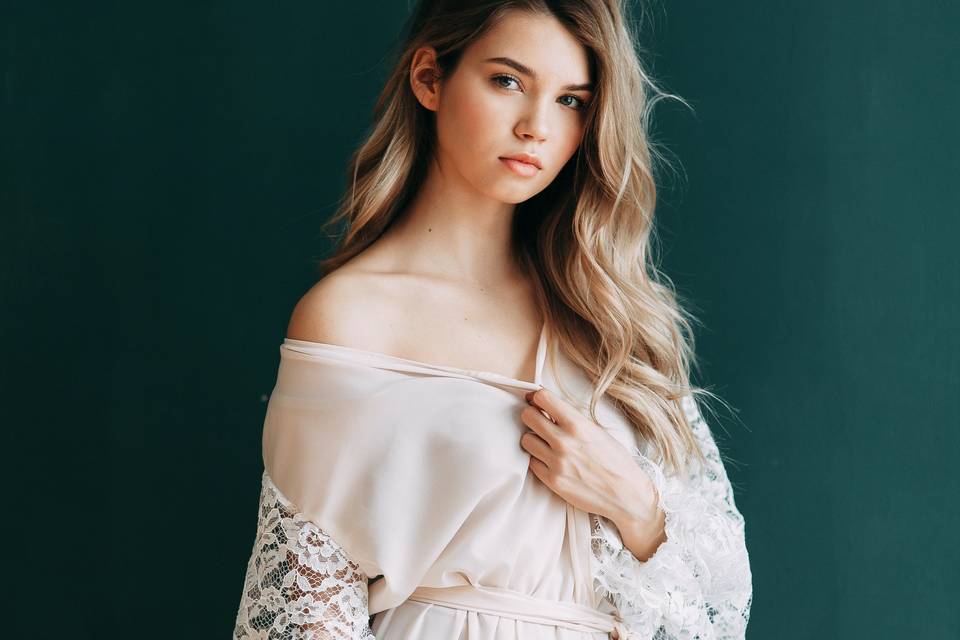 Unless you're a professional model, there aren't many times in life when you have a reason to put on sexy lingerie and step in front of the camera for your very own photo shoot—in fact, the idea of doing so might actually scare you. But bridal boudoir photography is a pre-wedding trend that's on the rise, and we are totally here for it. Boudoir photography will give you one-of-a-kind portraits that you can share with your future spouse, but it's also an act of pampering and self-empowerment (because let's be honest, when is the last time you spent an entire day looking bomb and focusing completely on yourself?). Even if you're nervous about being in front of the camera, an experienced boudoir photographer will help you feel like your best, most confident self. If you're thinking about doing a boudoir session, here's what you need to know.
What is bridal boudoir photography?
Bridal boudoir photography is a type of solo photo shoot that focuses on sensual, sexual, or flirtatious poses. Because the photos are meant to evoke an intimate, physical feeling, wearing lingerie (or going completely naked, if you're comfortable with it) is common during a boudoir photo shoot. The session typically takes place a few weeks or months before your wedding day. Boudoir shoots are popular among brides-to-be as a surprise for their spouse, but many wedding photographers and boudoir photographers also offer sessions for grooms, non-binary partners, and couples.
Depending on what's most comfortable for you, the photo shoot can take place in your own home (your bedroom, for example), a professional boudoir photography studio, a hotel room, or any other appropriate location that reflects your personality. Themed bridal boudoir photography is another popular option—for example, if you love retro style, consider doing a photo shoot inspired by 1940s pin-up girls.
Your wedding boudoir photography poses can be as spicy or as PG-rated as you want. The important thing is to find a professional photographer who has boudoir experience (if your wedding photographer doesn't offer it as part of their services) and to choose someone you "click" with on a personal level in order to help you feel comfortable in your own skin during the session.
Why should you do a bridal boudoir photo shoot?
The most common reason for a bride-to-be to schedule a boudoir photo shoot is to use the final portraits as a wedding gift for her partner on the big day. The photos can be presented in the form of individual prints, a hardcover album, or a sexy calendar—we think your S.O. would be thrilled with any of the above! Along with being the perfect gift for your future spouse, a wedding boudoir shoot can be extremely empowering and a huge boost for your confidence, especially if you've never done anything like it before. It will also help you get comfortable with having your photo taken leading up to the wedding day by giving you an opportunity to embrace your sensuality and practice relaxing in front of the camera, without any pressure. This is especially important if your boudoir photographer is also taking your wedding photos—you'll have the chance to bond with them one-on-one, and that connection will shine through in all of your finished portraits.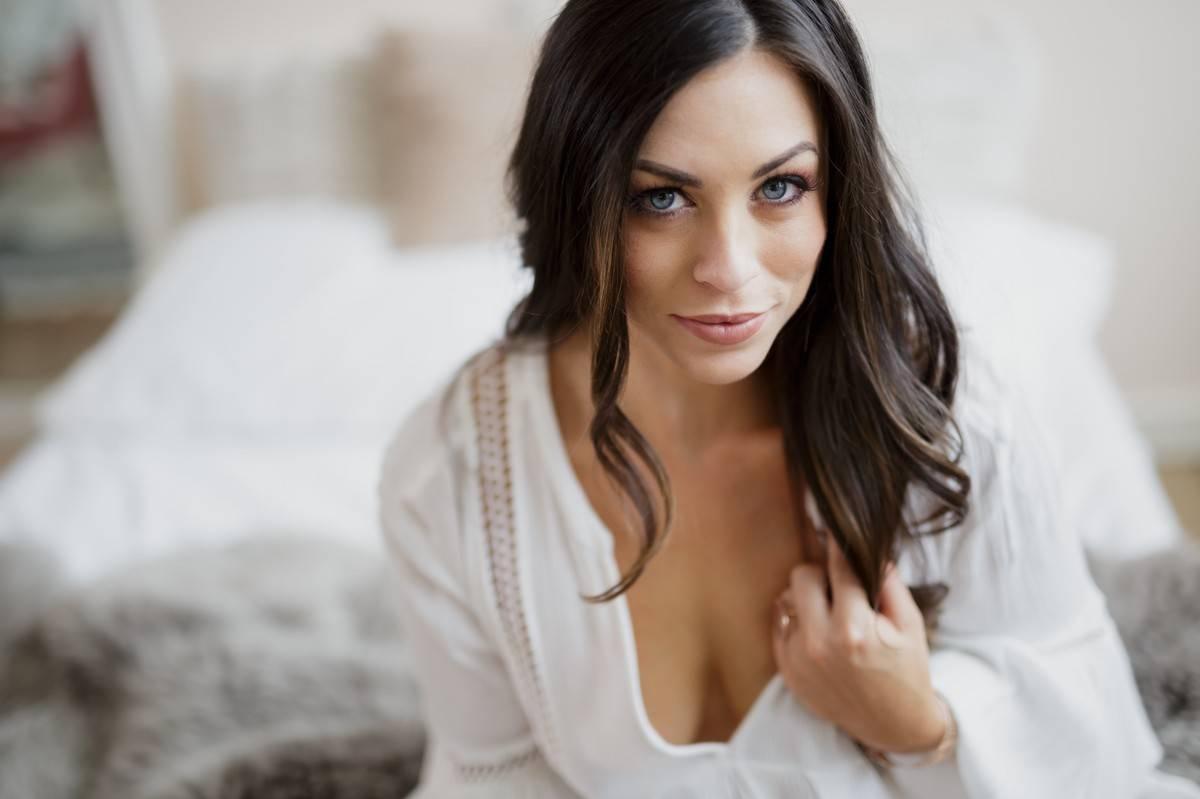 When should you schedule your bridal boudoir session?
Your boudoir session can be scheduled anytime before your wedding day, but we'd recommend taking the portraits about one or two months out. This is the sweet spot when most of your wedding planning details have been finalized, which means you hopefully won't be too stressed by your remaining to-do list, and you'll still have plenty of time to focus on last-minute tasks leading up to the big day. It also leaves enough time for your boudoir photographer to order prints or create an album to give your partner as the perfect wedding gift. If you're really on top of things, consider scheduling the boudoir session for the same day as your wedding hair and makeup trial (about five or six months before the big day) so that you're already looking and feeling fabulous.
What do you wear for a bridal boudoir photo session?
The short answer? Whatever you want! Your bridal boudoir photography outfit(s) will depend on your comfort zone—don't force yourself to wear sexy lingerie if it feels too unnatural, or if you're only doing so because you think you should. Trust us when we say that your partner will love these special portraits no matter what. On the other hand, if you feel okay with turning up the heat a little bit, your boudoir session is a perfect opportunity to try something new, whether that means going totally nude, rocking a sheer lace bodysuit that you can re-wear on the wedding night, or posing in a bikini. It's also fun to include accessories in your boudoir photo shoot, like traditional bridal garters and veils, playful heeled slippers, or a silk robe.
Bridal Boudoir Photography Ideas
There are so many different poses and backdrops you can use when it comes to your boudoir photo shoot, and your photographer will direct you throughout the entire session. It's also helpful to come prepared with a few of your own ideas and a sense of what you're comfortable with, so we've rounded up some bridal boudoir inspiration to get you started.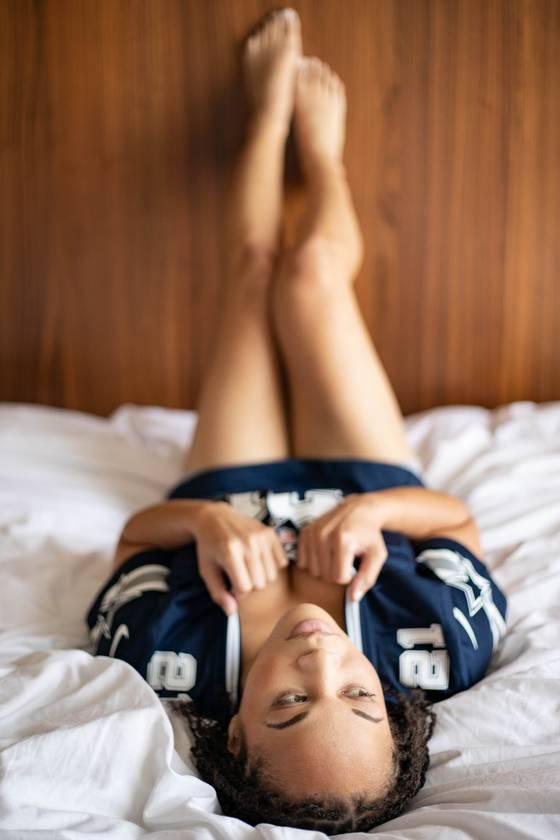 Bridal boudoir photo with football jersey
Sneak in an extra surprise for your S.O. by rocking a jersey from their favorite sports team in your boudoir photo shoot. Not a sports fan? You can also recreate the same idea with a band t-shirt or other costume instead.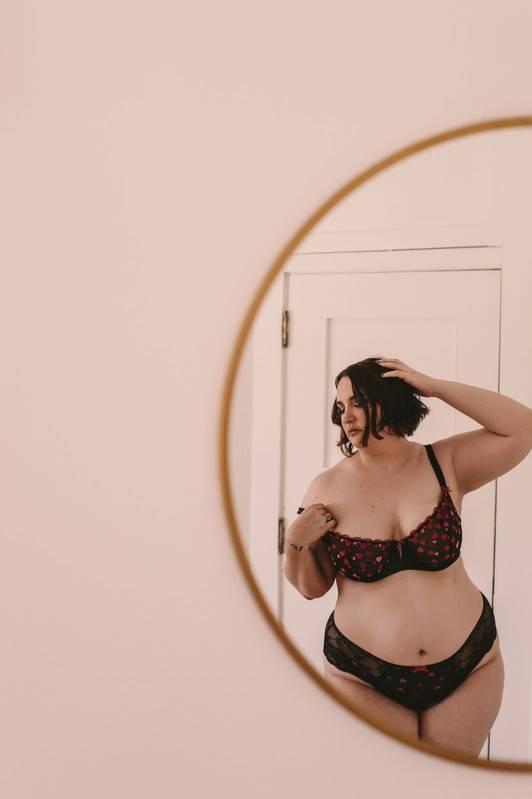 Mirror reflection boudoir photo
Like a mirror selfie, but way better. This artsy bridal boudoir photo idea is a good option if you don't feel comfortable having the camera super close-up but still want to show off your shape (and a cute bra).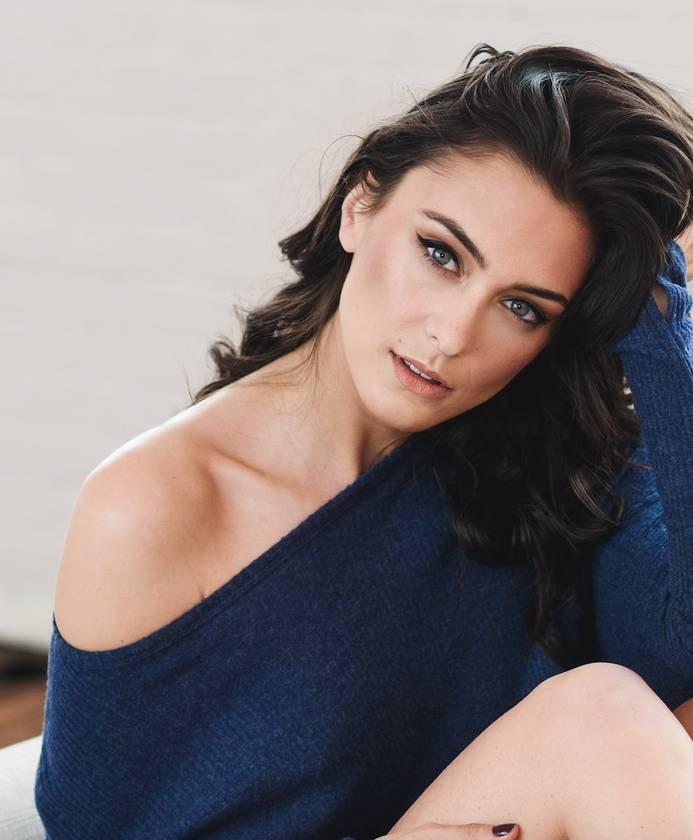 Bridal boudoir photo with clothes on
This portrait is proof that you can take gorgeous boudoir photos without wearing lingerie. A low-cut top or one-shoulder neckline will show just enough skin to make the photo feel sexy without revealing too much.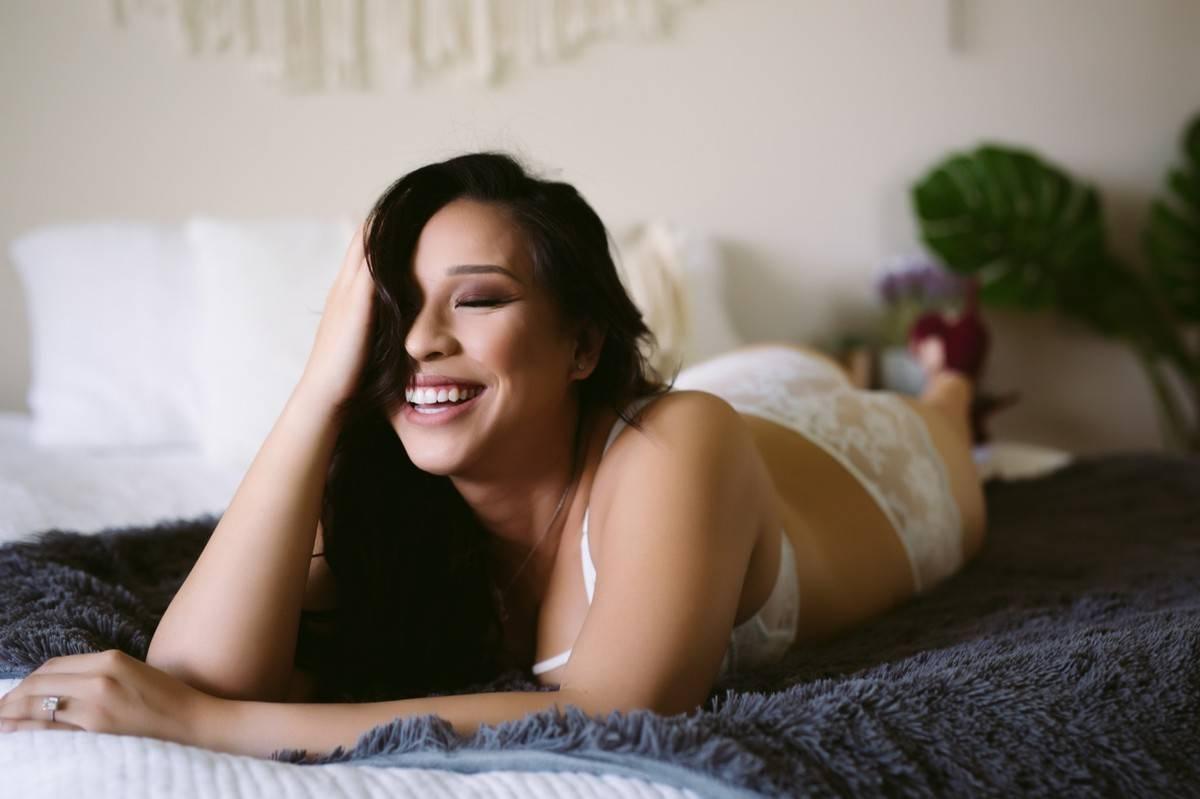 Smiling wedding boudoir photo
Don't forget to have fun during your boudoir photo shoot! Your partner will love seeing your natural smile come through in the final portraits.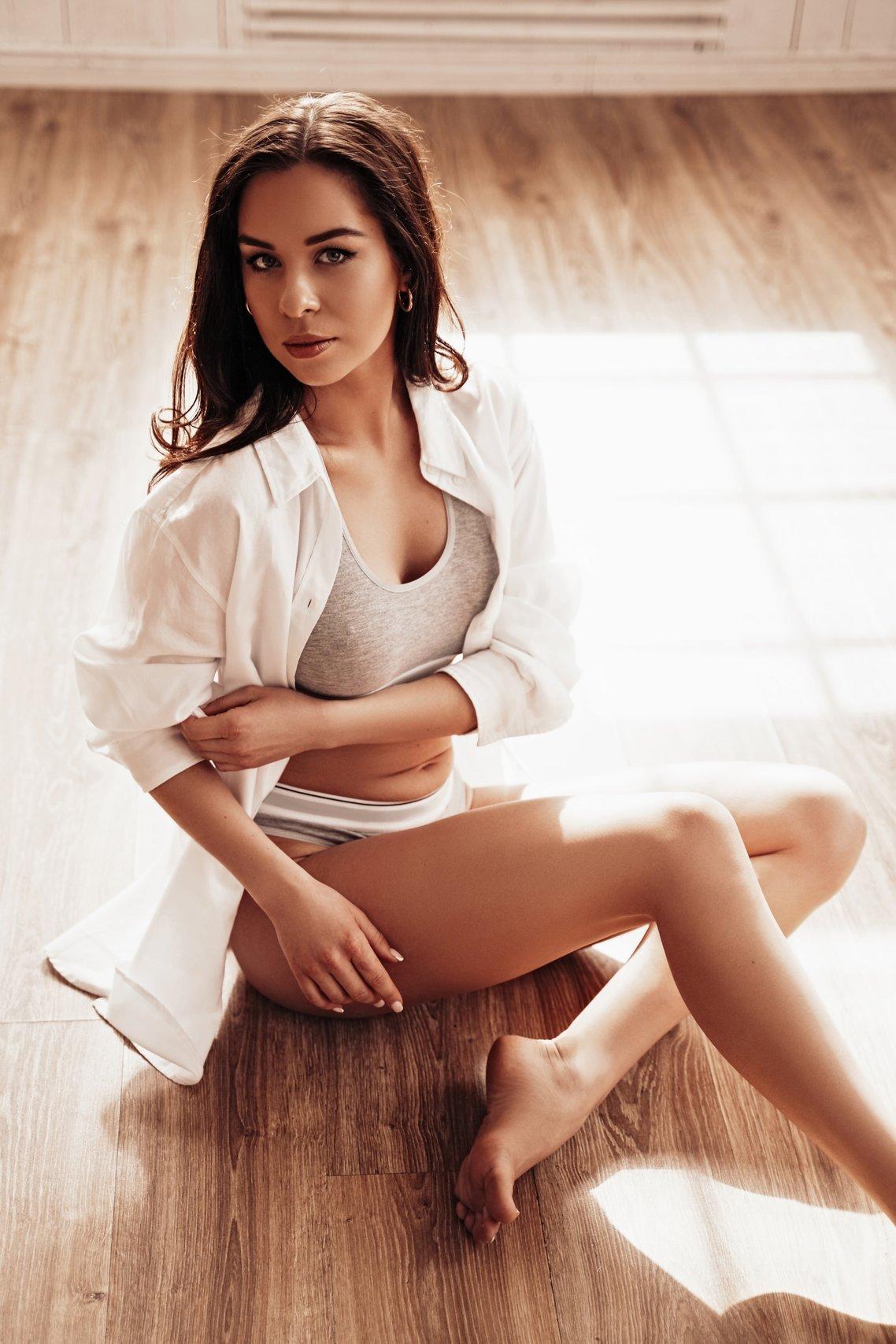 Casual bridal boudoir photo
If you're not into lacy lingerie, a comfortable sports bra or bralette and matching panties looks just as cute, especially when you pair the set with an oversized button-down.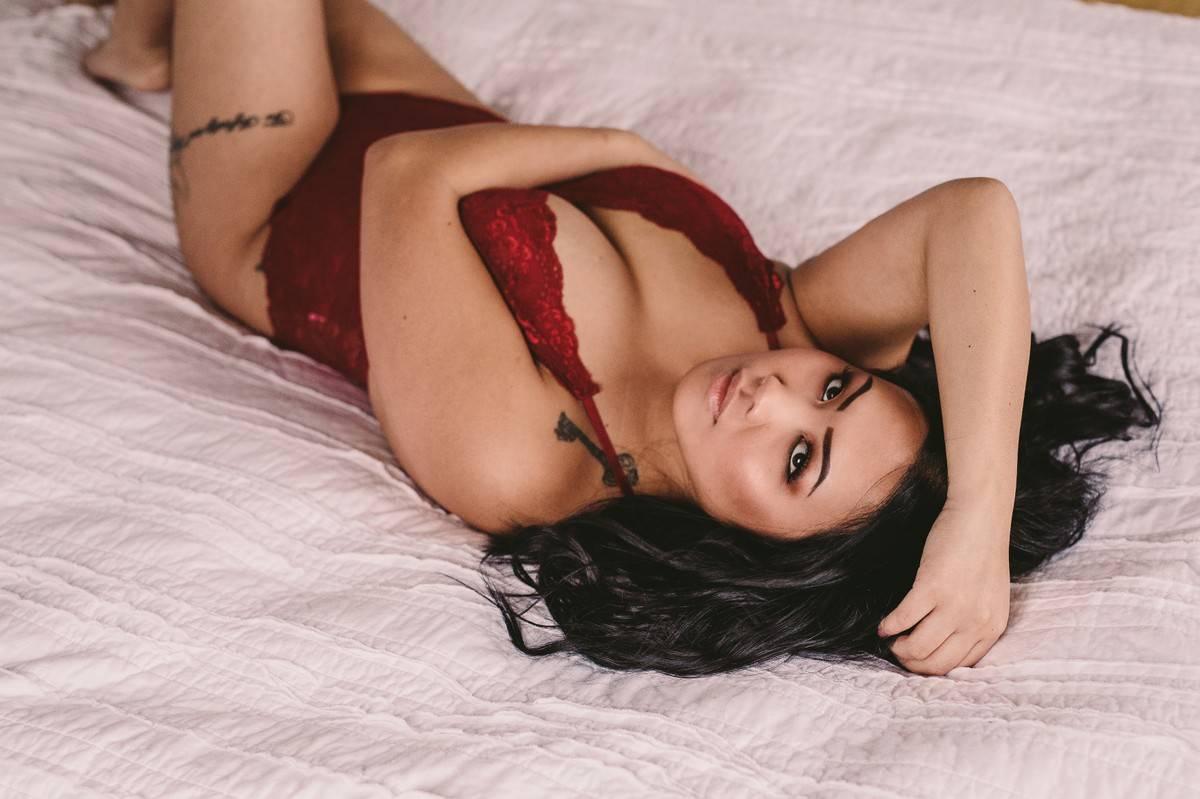 Boudoir photo with lace bodysuit
Turn up the heat by wearing a lacy red bodysuit that shows off your cleavage and décolletage.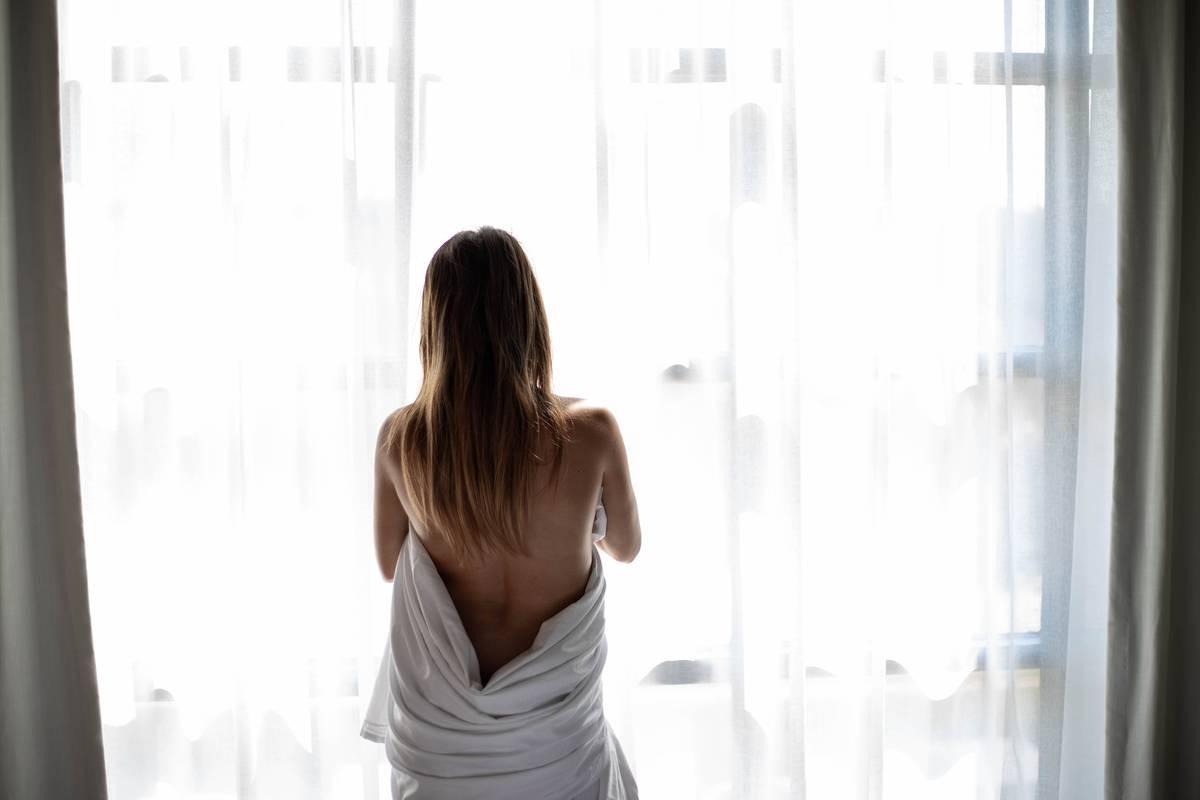 Bridal boudoir photo without face
Your bridal boudoir photos don't all need to be close-ups or show your body from the front. Leave a little bit to the imagination by turning your back to the camera to highlight your shoulders and waist.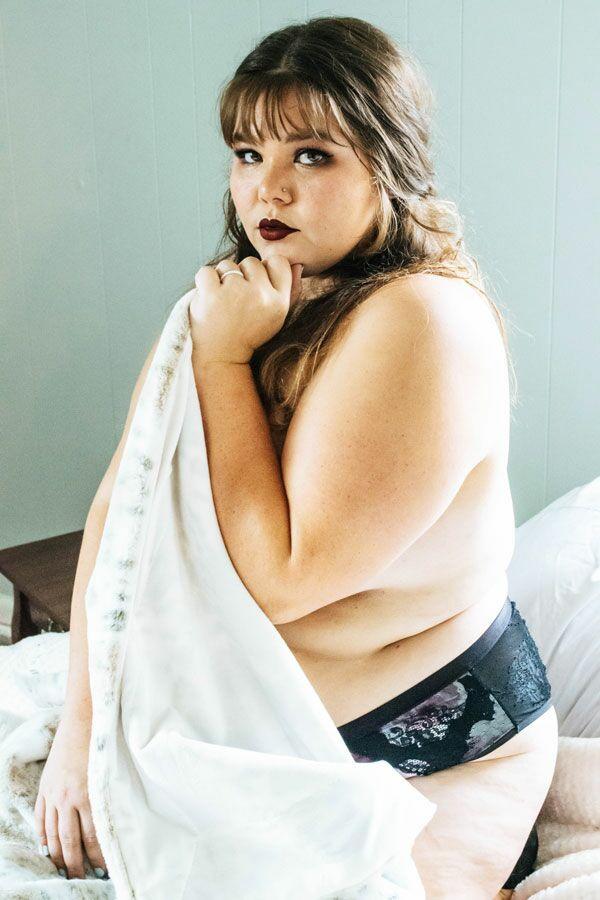 Sensual boudoir photo
Use a blanket or sheet to cover up just enough in a topless photo.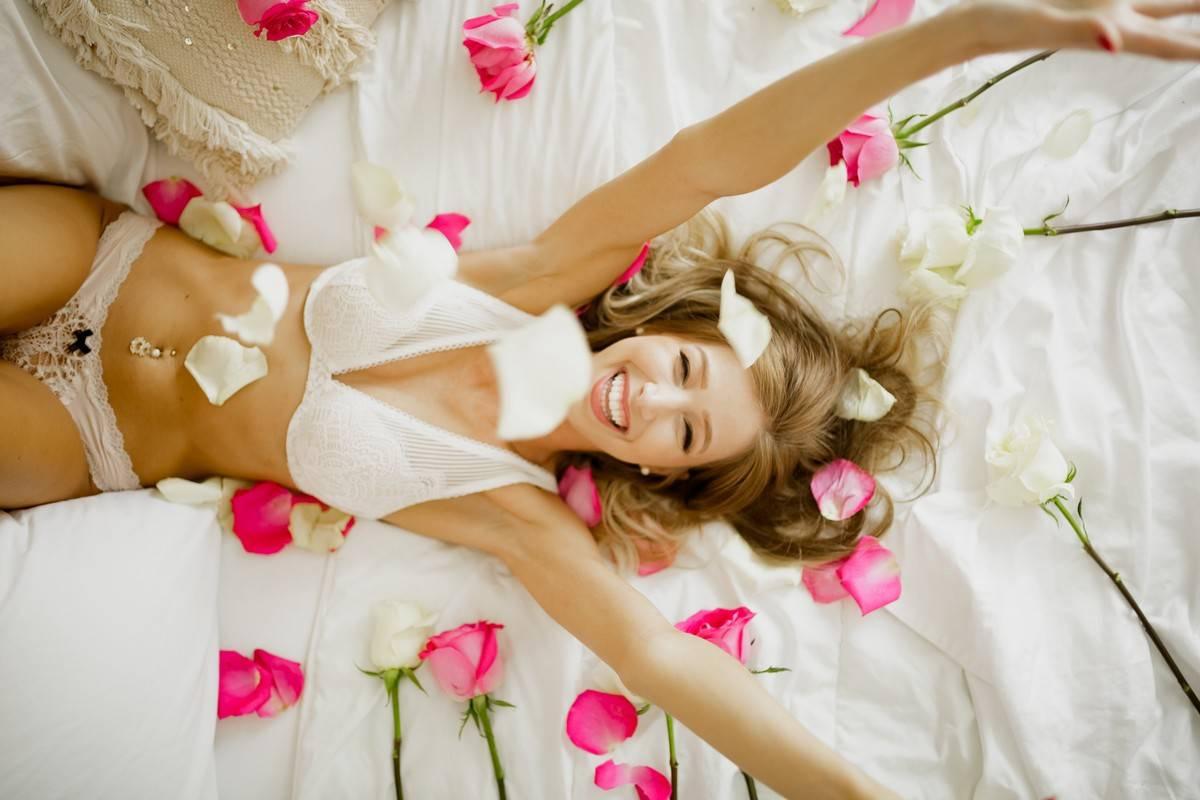 Wedding boudoir photo idea with flowers
Props, like flowers or pillows, can help break the ice if you're feeling nervous about your boudoir photo shoot.