5 Signs Your Wedding Party is Too Big
"The more, the merrier" might not be the best motto if you've got a big wedding party. Here's how to figure out the number of bridesmaids, groomsmen, bridesmen, groomswomen, etc. that's best for your special day.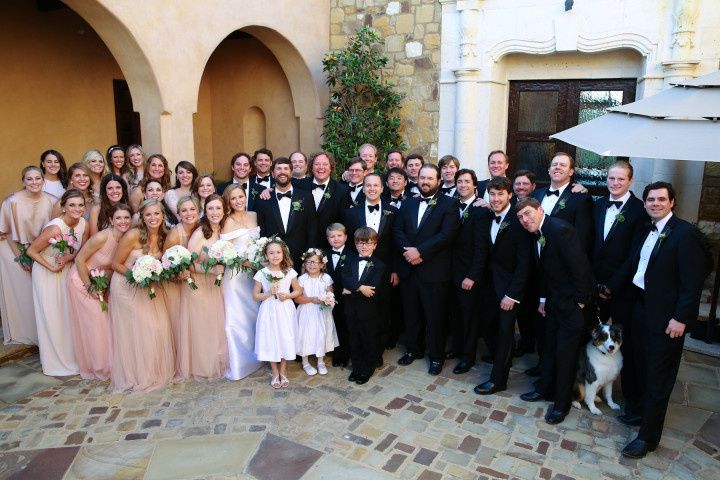 Deciding on who—and how many—people to include in your wedding party is no easy feat. In addition to considering who you want to be a part of your wedding party, you also want to consider the size in general. While there are several perks of having a big wedding party, there are some drawbacks too. The smaller the wedding party, the more intimate it is and the easier it tends to be to plan and coordinate certain things.
Most experts agree that the smartest way to decide how big your wedding party should be is to base it on guest count so that it's proportional. This way, the wedding party does not overwhelm the guests. "When there are a great number of wedding attendants and a small number of guests, those that are not included in the wedding party may feel left out," explains Alexis Eliopoulos O'Mara of Unique Weddings by Alexis in Boston, Massachusetts. "
If, however, you're having a large, 300-person wedding in a spacious venue, then a large wedding party won't seem so out of place. But bigger is not necessarily better when it comes to the size of a wedding party, notes Leah Weinberg of Color Pop Events in Long Island City, New York, who doesn't personally believe that any size wedding party could be too small. "There are some really practical benefits to not opening yourself up to any unexpected drama, like if some of the members of the wedding party don't get along or some start complaining about all the money they are spending on the wedding," she says. "You also don't have to worry about offending anyone when you don't ask them to join the wedding party or when you select just a few friends or family members over another to hold a particular title (like maid of honor, man of honor, best man, or best person)."
To help identify whether or not your desired wedding party is too big, we asked experts to share some key signs that may indicate that's the case—and how to help dwindle down your list.
You're feeling overwhelmed by the number.
If you're a more introverted person, having a bigger wedding party can lead to more stress than happiness, explains Weinberg. "If you're looking at the list of people you want to ask to be a member of the party and feeling stressed out by it, I'd think about whittling down the list." At the end of the day the last thing you need is more stress and pressure on your wedding day and the months and weeks leading up to it.
You're not close with every member of the wedding party.
Anyone you ask to be a part of your wedding party should be a close family member or friend—the keyword here being "close." If you're asking people out of obligation, you may want to reconsider your list. "Sometimes there's pressure to have a big wedding party because we see a lot of photos like this on social media and other times couples feel obligated to include someone because they were once in the other person's wedding," says Taryn Blake of Taryn Blake Events in York, Pennsylvania. "If you're the last one in your friend group to get married—that can be a lot of obligations! "
You start to forget who you asked.
If you can't easily rattle off all the names of those you want to invite to be a part of your wedding party, you should probably consider cutting down your list. Blake recommends writing everyone's name down a few times in a row so that you don't accidentally forget someone when ordering attire, doing your seating chart or buying gifts. "You might think you've got it down, but when put on the spot by another vendor, you could easily forget to mention someone," she says.
You're having trouble factoring in budget.
Budgeting for a wedding is tricky business—but don't forget to factor in the costs associated with each bridesmaid or groomsman. "A bigger wedding party means spending more on flowers, wedding party gifts, rehearsal dinners, and any other treats you want to give to your wedding party," says Weinberg. "If you're starting to feel overwhelmed by those costs, consider cutting the party size down. Every little bit adds up."
You can't fit everyone in your venue space.
"If your party won't fit in the ceremony space, limo, or getting ready rooms, you will have to find alternate arrangements for the day-of," Blake points out. She suggests factoring in space when you go to your final venue tour—and ideally doing this ahead of popping the question to potential wedding party members! "If needed, reserve a hotel suite, have the guys arrive at the venue dressed and ready, or upgrade to a party bus to get your party around!" she adds.