4 Signs Your Wedding Party is Too Small
We all know that a wedding party can be too big, but can a wedding party be too small? Here's how to figure it out.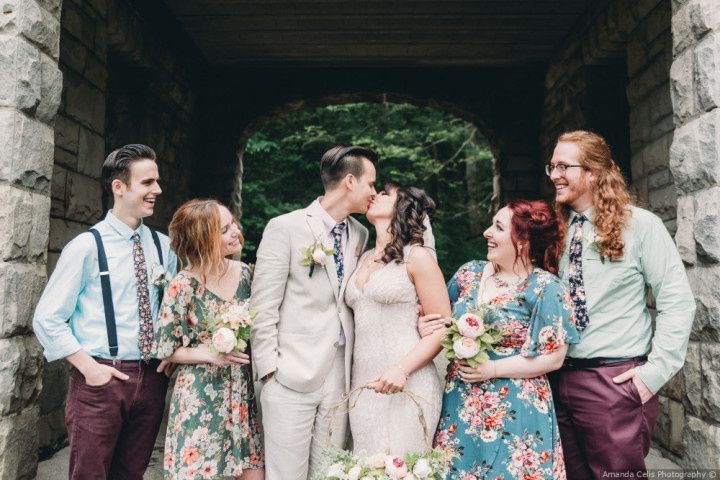 If you're leaning towards a smaller wedding party, most people will give you a thumbs up, from your opinionated cousin and grandma to your wedding planner and best friend. In fact, that's the advice most brides get when considering how many to include in their wedding party. "Keep it small," they say.
This is for good reason. There are hidden costs in having a large wedding party that are often overlooked until it is too late, notes Patti Hasting of P.Hasting Design and Event Planning in Columbus, Georgia. "You have to factor in gifts, hair and makeup services, flowers, the rehearsal dinner, transportation to the wedding and potential plus ones," she explains. You also have to consider your venue size to be sure that there's enough room up there during the ceremony for a whole crowd of bridespeople and groomspeople.
It's important however, not to feel too pressured to downsize your wedding party. The optimal amount of wedding party members for you may be different than the next couple, but it's important to choose what feels right for you. For example, if you're considering having your siblings and your spouse's sibling along with a friend or two—keeping it to four people total—and you feel good about that decision, go with it!
If you're feeling uncomfortable with the size of your crew, here are some potential signs that signal your wedding party is too small.
You're feeling like you need more help.
One of the main reasons to have several people as part of your wedding party is so that you have help during the planning process and on the day of. So one sign that your wedding party might be too small is if you're feeling a bit lonely during the wedding planning process, explains Leah Weinberg, Leah Weinberg of Color Pop Events in Long Island City, New York. "You obviously have your partner there with you in the wedding planning journey, but if you feel like you don't have anyone else to share your ups and downs with, you might want to add to your wedding party," she says. "Your wedding party is your built-in support system, there to love you no matter how stressed out you get, so give people the chance to be there for you!"
You opted for no wedding party at all.
While this is certainly an individual decision, it's one that you might regret if you do have close friends and family members that you would like to spend the day with. If your friends have not been given a title, they may assume you don't need them on your big day, so they may not make themselves available throughout as they would if they were part of your wedding party. This happened to one of Weinberg's clients who opted for no wedding party. "After the fact she regretted it a bit because she found that the getting-ready portion of her wedding day didn't quite have the energy and buzz that she had envisioned it having since she wasn't surrounded by her nearest and dearest that morning," she explains. "That's not to say that if you opt to skip the wedding party you can't invite all of your friends to get ready with you, but since she didn't have bridesmaids, it wasn't as obvious who to invite to join her for that part of the day."
You had a wedding party but didn't include important friends and family.
A wedding party can be too small if there are important people in your life that you didn't include." Of course not everyone needs to be in your wedding party, but if you feel like someone monumental in your life wasn't included because you wanted to keep your wedding party small, it might be worth expanding the size a bit," says Weinberg.
You want the aesthetic of a big wedding party in photos.
Though this is more of a superficial concern, Weinberg considers it another reason to opt for a larger wedding party. "If you have a vision for multiple folks in outfits in different colors or different shades of one color, you may need more than two or three people in your party," she says "In fact, one of my brides had six bridesmaids in various shades of blue that we lined up for the ceremony in order to create an ombre effect with their dresses."
At the end of the day, it's your wedding and you should decide on whatever size wedding party feels right for you. It is however important to consider all of the aspects that will be impacted by a larger and a smaller wedding party so that you feel supported and lifted up by those you love as much as possible as you say "I do."