For some couples a traditional wedding location just won't do. Fortunately, there are so many unique wedding venues in Atlanta, Georgia to choose from. Whether you're looking for a cool rustic space or a modern gallery, even an incredible aquarium, some of the best wedding venues in Atlanta are also the most out-of-the-box. These amazing spaces will set the stage for the wedding of your dreams—and totally wow your family and friends in the process.
Check out some of our favorite unique wedding venues in Atlanta.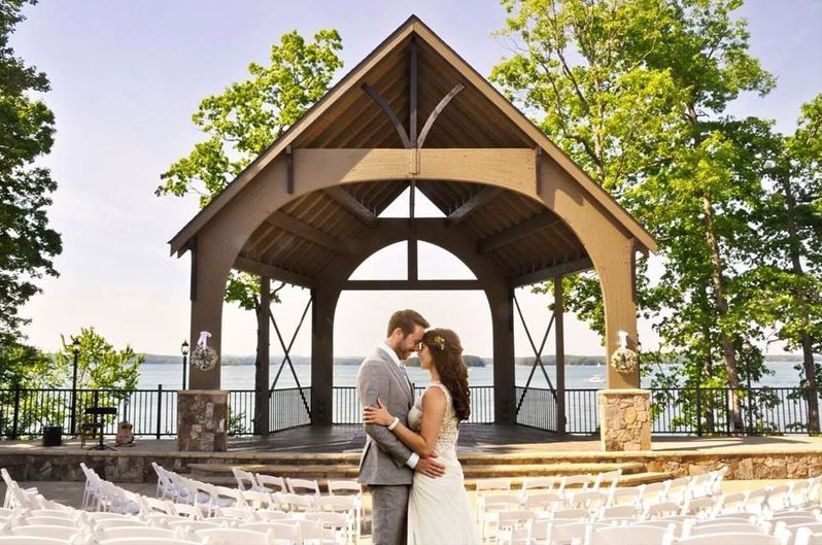 Lanier Islands
If you're looking for an Atlanta wedding venue with a destination feel, look no further than this lakeside events facility in Buford, which offers 14 different spaces to choose from. There are six (yes, six!) outdoor wedding ceremony spaces overlooking the lake, including the gorgeous Venetian Pier and Peachtree Pointe, with its amazing open-air pavilion. You can even marry on one of the venues two yachts, with a four-hour cruise around the lake. There are a variety of indoor reception spaces as well. And since this is an all-inclusive venue, you'll be able to plan your special day with ease. Laner Islands can host weddings and receptions of all sizes, with space for up to 500 guests.
Learn more about Lanier Islands »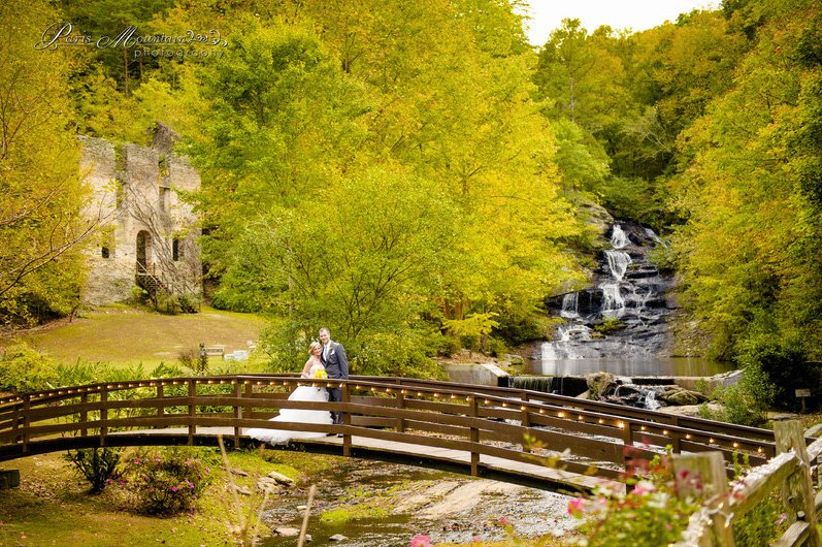 Hightower Falls
What could be more amazing than getting married with a real waterfall as your backdrop? This rustic venue in Cedartown is about 90 minutes from midtown Atlanta, and combines a natural setting with the ultimate in Southern Charm. With so many incredible photo ops (particularly the gorgeous wooden bridge), your photographer will be thrilled with the space. Ceremonies are held on the Gristmill Lawn at the base of the waterfall or the Back Porch Patio. You'll also love the indoor reception venues—the Back Porch with its outdoor patio area, and the barn-style Coosa Hall. If you're hoping to turn your wedding day into a wedding weekend, you can rent out the 11 camping cabins on the property so that you and your guests can stay on the property. Hightower Falls can accommodate up to 300 guests for your big day.
Learn more about Hightower Falls »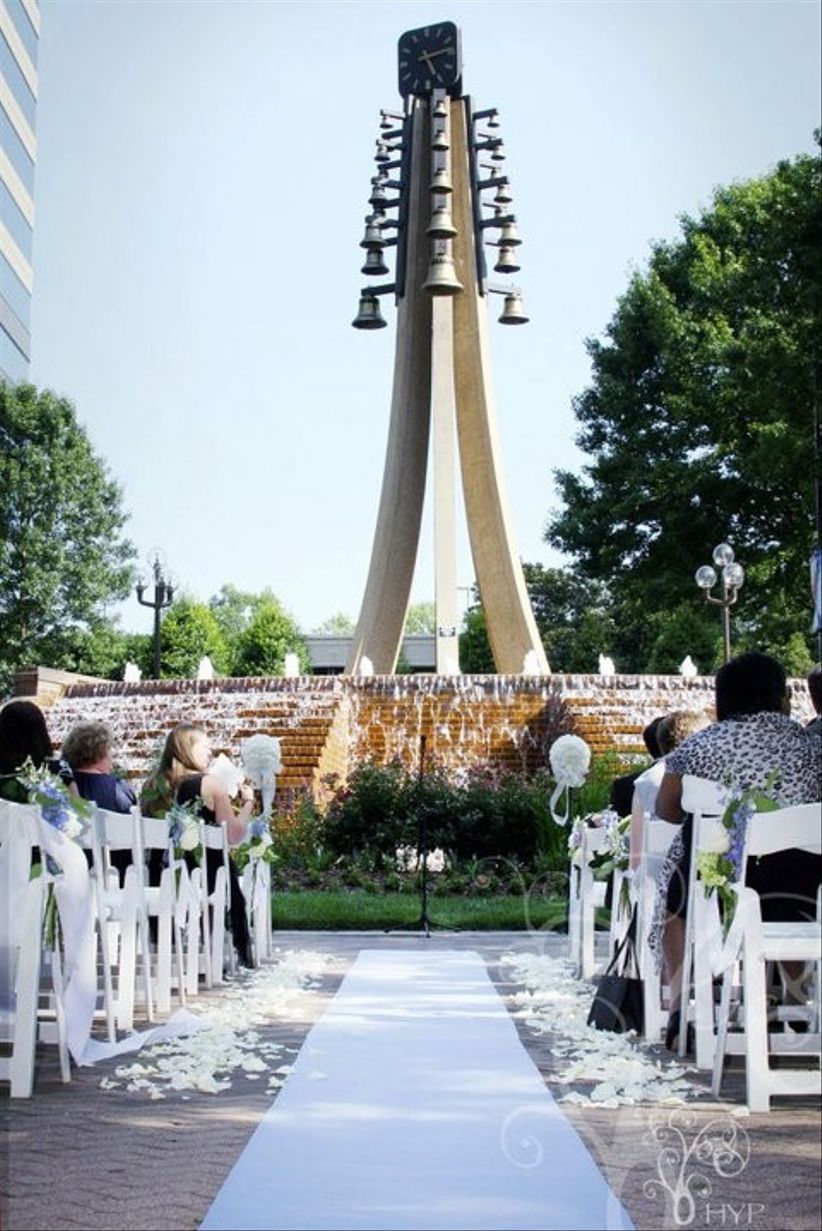 The Georgian Club
This club is one of the most unique wedding venues in Atlanta for several reasons. It combines natural outdoor space with a sleek city feel—and the views from the floor-to-ceiling windows in the 17th floor reception space are absolutely breathtaking. The Galleria Garden ceremony space features an incredible bell tower as a backdrop, along with an actual waterfall. You'll love the convenience of this all-inclusive venue, plus the fact that they can host other special events, like rehearsal dinners and showers. This is among the more intimate Atlanta wedding venues, with a capacity of 150 guests.
Learn more about The Georgian Club »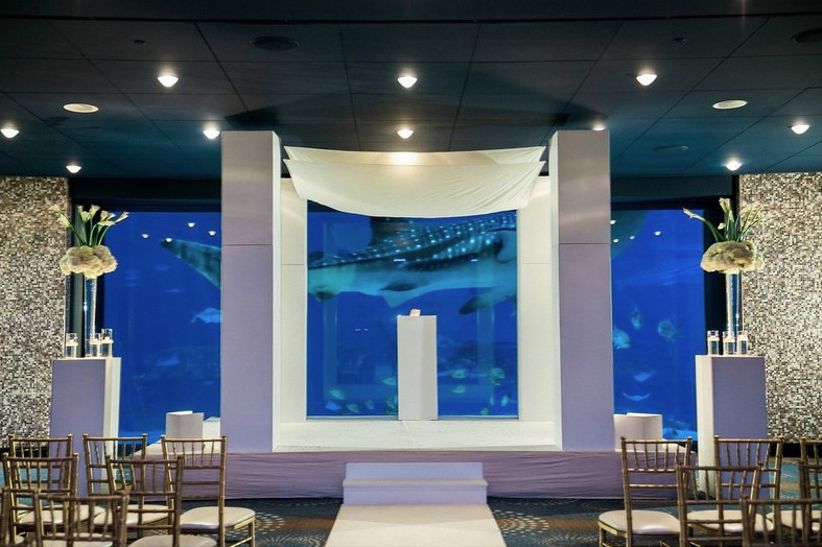 Georgia Aquarium
Your guests will be absolutely wowed at this unique wedding venue in Atlanta. Yes, you can actually get married as manatees swim behind you and watch sharks as you enjoy your wedding meal. This is among the larger venues in the Atlanta area, with a capacity of 1,000 guests. Couples rave about the food here, which is catered by famed chef Wolfgang Puck. And you'll love the convenient location less than 30 minutes away from Atlanta Airport, and near Centennial Olympic Park.
Learn more about the Georgia Aquarium »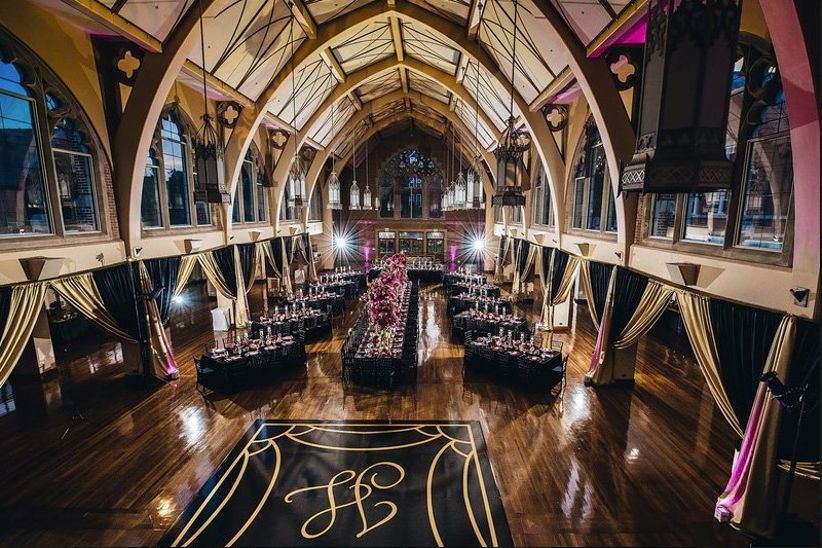 Agnes Scott College
The gothic architecture of this Couples' Choice Award-winning wedding venue is completely stunning—it's one of the best wedding venues in Atlanta. The Julia Thompson Smith Chapel was designed by famed architect Frank Lloyd Wright and offers an intimate setting for a ceremony. Ceremonies may also be held in the Alumnae Garden. For larger events of up to 400 guests, the Letitia Pate Evans Hall features incredible ceilings, Brazilian cherry hardwood floors, and a majestic staircase for the ultimate grand entrance. There's also an outdoor courtyard for you and your guests to enjoy.
Learn more about Agnes Scott College »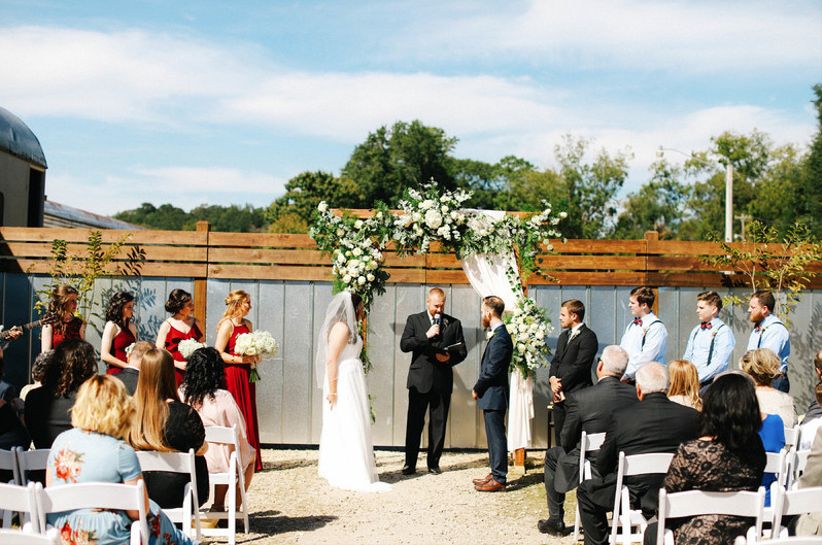 The Depot at Main Street Market
Who would've thought that train depots would become the hot venues of the moment. This 110-year-old train depot in Hogansville includes an incredible outdoor ceremony courtyard (with a vintage train as your backdrop!), industrial-chic indoor reception space, tables, chairs, and a facility director. You can also add access to a full vintage pub on premises, game loft, and much more. This is definitely the site for a laid-back, relaxed wedding with lots of historic character—and the onsite vintage trains make for amazing photo ops!
Learn more about The Depot at Main Street Market »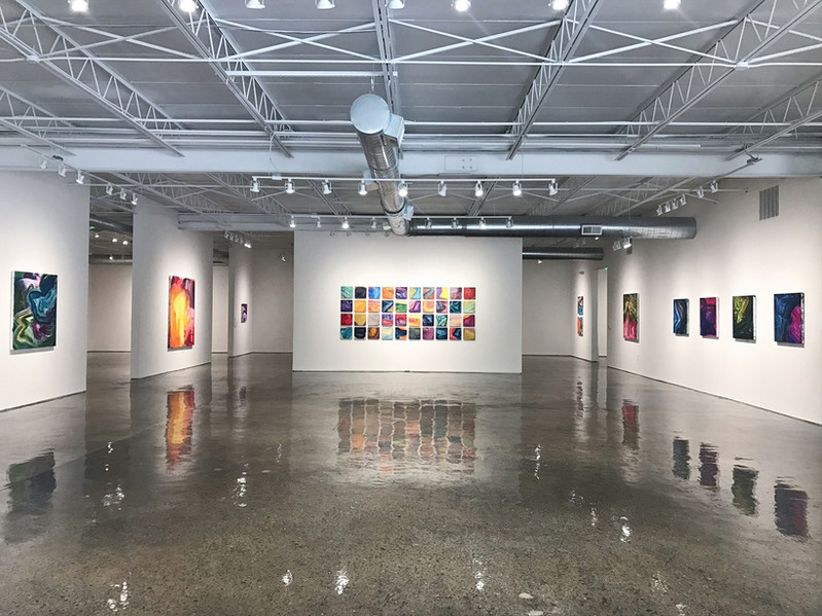 Hathaway Gallery
Couples who want a wedding that combines contemporary style with awe-inspiring creativity should definitely check out this West Atlanta wedding venue. With a variety of artwork on display, this gallery is a modern space for weddings, and can accommodate up to 200 guests. The Hathaway Gallery can also host other events, including rehearsal dinners, engagement parties, elopements, and showers.
Learn more about the Hathaway Gallery »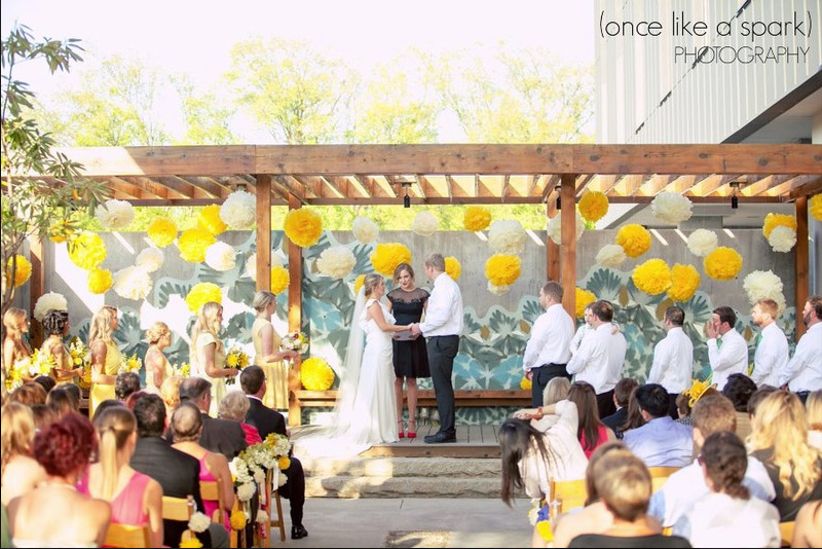 Hotel Indigo Athens
Located about 90 minutes away from downtown Atlanta, Athens is a popular spot for weddings in its own right­—particularly for couples looking for something a bit unique. We adore the Hotel Indigo in Athens with its modern feel. The outdoor courtyard is a contemporary-cool location for ceremonies (we love that mural backdrop!), and the Rialto Room wins praise for receptions. Couples rave about the staff and the food. This hotel is also popular as accommodations for out-of-town guests, as it's conveniently located near UGA, and can host rehearsal dinners and post-wedding brunches as well.
Learn more about the Hotel Indigo Athens »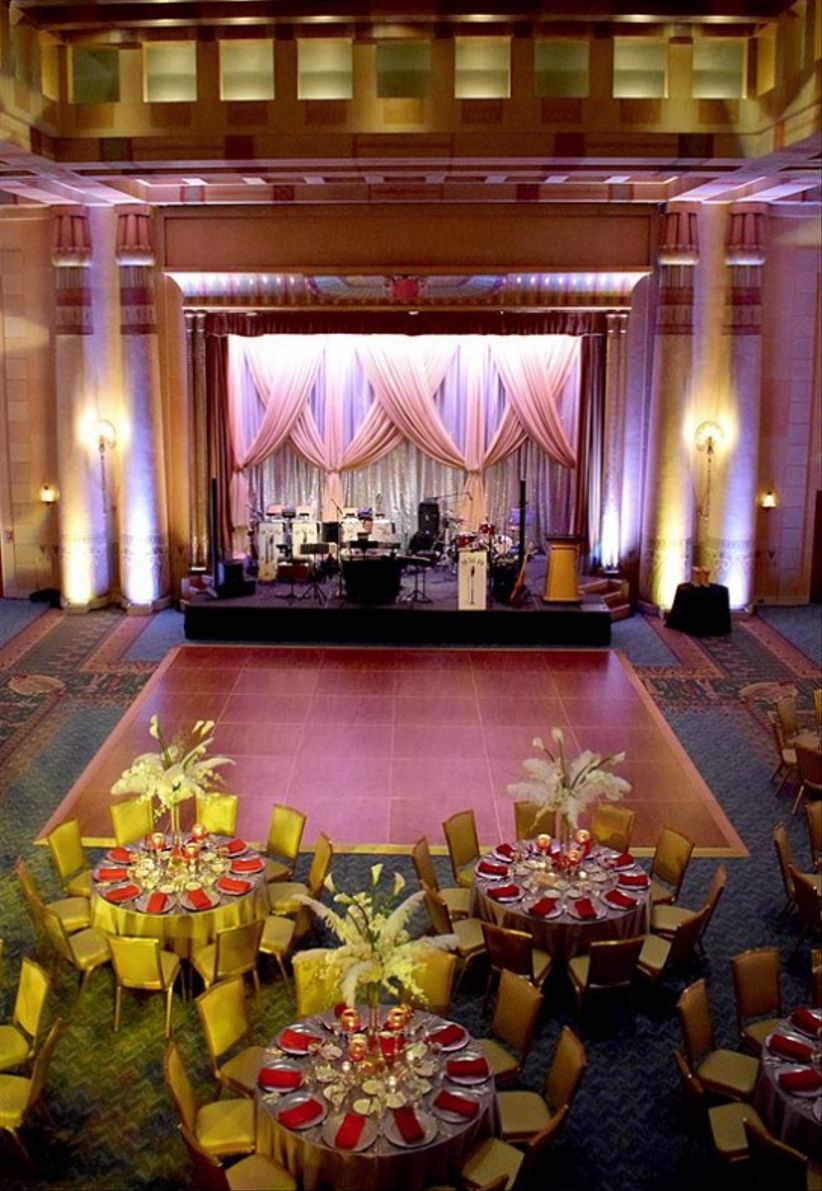 The Fox Theatre
If your dream wedding features a healthy dose of drama, look no further this unique wedding venue in Midtown Atlanta. The Fox Theatre, located at the corner of Peachtree and Ponce, is famous for its incredible marquee and amazing architecture—not to mention the fact that it's hosted some of the most amazing theater and music acts in the world. You can host your wedding in one of two ballrooms, the famous Egyptian Ballroom with its luxurious décor, or the more intimate Grand Salon, with its Moroccan tiles and stained glass. This venue can host weddings over of 1,000 guests and—bonus!—you can even have your and your spouse's names displayed on the renowned marquee!
Learn more about The Fox Theatre »
DeKalb History Center
Located in the Historic DeKalb Courthouse in Decatur, this venue features historic architecture and an elegant feel. There are several spaces where weddings can be held, including the Courtroom, which is the 2,600 square foot main event space, can host up to 150 guests and features white marble walls and stunning arched windows. Smaller events may be held in the adjoining Harrison Room. Couples rave about the breathtaking space and helpful staff.
Learn more about the DeKalb History Center »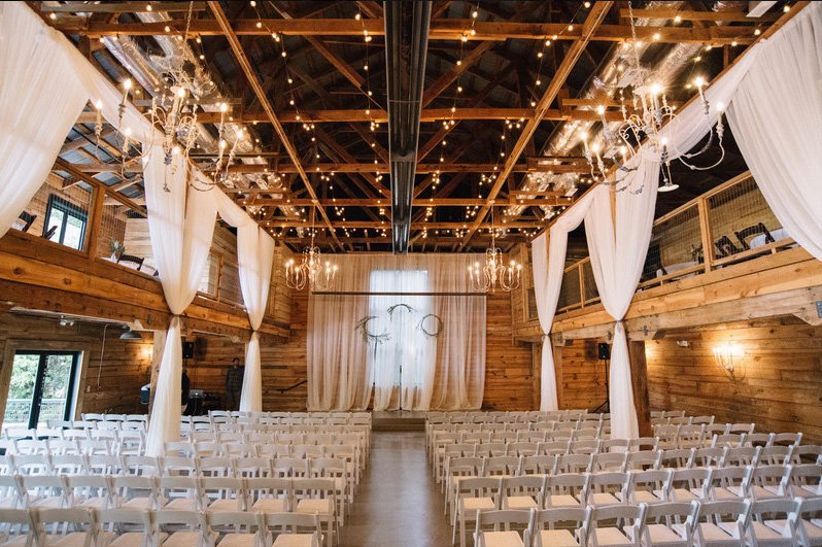 The Variety Works
We love the industrial-rustic feel of this Madison barn-style space, one of the most unique wedding venues in the Atlanta area. Originally built in the 1870s, you'll love how this old manufacturing facility has been transformed into a totally cool venue with wooden walls, concrete floors, and glittering chandeliers. This venue overlooks the gardens at Round Bowl Spring—an ideal spot for lovely photo ops, and there's additional outdoor space you can use during your wedding. This venue can host up to 320 guests.
Learn more about The Variety Works »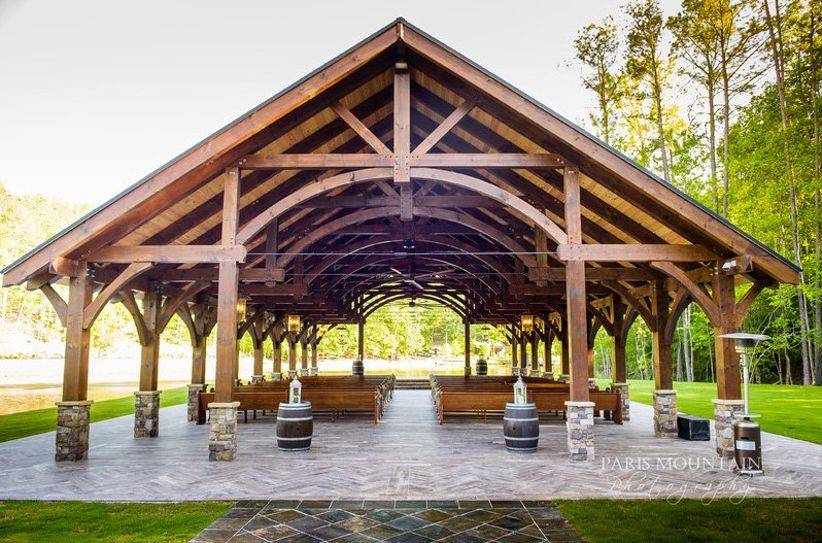 In the Woods
If you're torn between hosting your wedding in a traditional chapel and getting married outdoors, this unique wedding venue near Atlanta offers the best of both worlds. Located in Rockmart, this event venue features an outdoor, 3,200 square foot chapel-like pavilion complete with pews. The rustic indoor reception hall has a barn-like feel and plenty of space for up to 250 guests. You'll also love exploring the 250 acres of grounds, plus getting ready in the well-appointed bridal suite. You can even spend your wedding night in the onsite Honeymoon Suite cabin. This venue also has an in-house DJ, florist, transportation, rentals, and a coordinator to make your wedding planning an absolute breeze!
Learn more about In the Woods »