7 Ways to Find Out If a Wedding Vendor Is on Your Side
Here's how to make sure the pros you're hiring for your wedding are supportive and aligned with your values.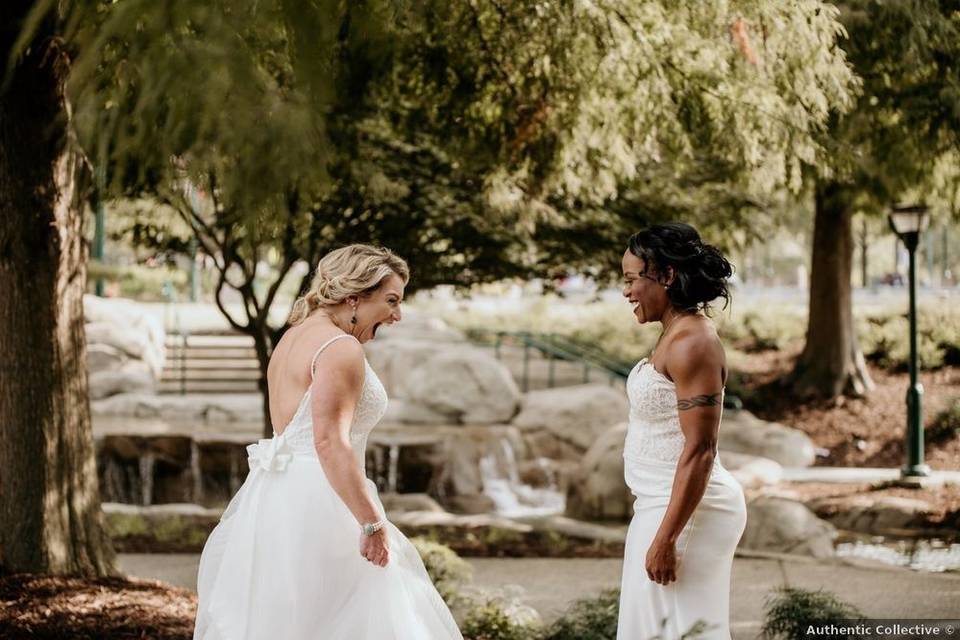 Building your wedding vendor team isn't only about finding pros who are talented, creative, available, and within budget. It's also about creating a community of professionals who appreciate and support you, your future spouse, and your union. "For some couples, support may be as simple as just feeling that the wedding pros they've hired are in their corner and are celebrating with them, whereas some couples, who may feel more marginalized in the wedding industry, may seek the support of a 'champion' for them, who embraces a deeper intuition and knowledge of what they need and want," says Kathryn Hamm, former publisher of GayWeddings and a WeddingPro Educator. If you've started your vendor search, there are a few ways to find pros who are aligned with your values—both things to look for in their marketing materials and questions to ask directly. Here's how to get started.
Look for inclusiveness in imagery and vocabulary on marketing materials.
As you browse wedding vendors' websites and other marketing materials, do you feel represented in the imagery and language? If the answer is yes, you'll know that the vendor has worked with couples like you before, and is likely to be supportive. "One of the easiest indicators is seeing couples that love like them within that vendor's marketing or website," says Jessica Hunt of Jessica Hunt Photography in Columbia, South Carolina. "Visibility is really important and usually confirms that that wedding vendor is proudly serving and affirming [their] community."
If you don't see yourself reflected in a vendor's imagery, it shouldn't necessarily be a deal-breaker, but worth noting and following up on, should you choose to interview the pro in question. "If you don't see representation of yourself included then take it a step further to inquire with the pro if they have worked with a client with your specific needs or race/gender/culture/sexual orientation," says Alexandria Hammond of GetPlated in Washington, DC.
Hire pros from underrepresented communities.
Many couples feel it's important to hire an inclusive and diverse vendor team, and WeddingWire's new Diversity filters help couples do just that. Wedding pros can now identify their businesses within WeddingWire Vendor Directory as Asian-owned, Black-owned, Hispanic or Latinx-owned, LGBTQ+-owned, Native American-owned, Veteran-owned, and Woman-owned so couples can easily search and book pros from underrepresented communities.
Take a deep dive into a vendor's social media.
Social media gives you an inside look into a wedding pro's life, both professionally and, often, personally. Many pros not only post images of their past work, but also use their platform to speak out about issues and causes that are important to them. "I recommend spending some time on social media to listen to the voice and engagement of the wedding pro," says Hamm. "Take note of who is following them and who they are following. This is a great way to listen in on conversations they are having with other professionals, with their personal networks and with their current and prospective clients."
Furthermore, if a vendor posts about diversity and inclusion on their social media, does their network reflect that? If it doesn't, it's worth asking about. "We are the company we keep," says Hammond.
Read reviews from past couples.
Checking out a vendor's reviews on a site like WeddingWire can also help you determine whether or not a pro is supportive. "Before picking up the phone or sending a message to schedule a meeting, take a deeper look at the company's reviews," says Hamm. "Do the profile images tell you anything about the diversity of their clientele? Do the reviews speak to a breadth of wedding offerings or feel relatively homogenous? In the case of the latter, is that skill set one you seek and value or would you be asking the wedding pro or company to move outside of their experience and comfort zone?"
Listen for inclusive language in verbal discussions.
Once you've narrowed down your list of wedding pros to a few you'd like to reach out to, pay attention during your initial conversations. "During your phone consultation or in-person meeting with this vendor, do they use inclusive and affirming language?" asks Hunt. "Do they seem to approach wedding days in the traditional Western sense or with an open mind to all clients and the different ways that they may want to celebrate?"
Be upfront about your needs and ask (lots of) questions.
When you're talking to a vendor, don't be afraid to ask all the questions you need answered in order to feel comfortable hiring that person. You can ask specifically about a pro's stance on an issue if it's not abundantly clear from their marketing materials and social media platforms. Sometimes, asking more open-ended questions can be effective as well. "Questions like, 'what do you love about your couples?' 'Why do you feel it's important to showcase diversity on your website (or maybe, why don't you have a very diverse portfolio)?'" suggests Bree Ryback of Capitol Romance Wedding Coordination in Washington, DC. "You can only fake being an ally for so long, especially if the questions you're answering are more open-ended, not a yes or no, and are more about the reason behind the lack or showing of diversity and inclusion on their platforms."
Decide if you're comfortable with a vendor's learning curve.
If a vendor doesn't seem to be supportive, uses inappropriate language, or you have other concerns, you can certainly move on and look for another pro who you're better aligned with. However, if you're interviewing a vendor that shows support but hasn't yet worked with a diverse spectrum of couples, you don't have to discount them. "There are wonderful wedding pros who may not have experience with clients of various traditions, race, ethnicity, religion, orientation, identity, physical ability, and more, but that doesn't mean that they can't be able partners in the planning process," says Hamm. "It generally does mean, though, that there will be a learning curve and each couple in this situation must ask themselves if the wedding pro realizes the extent of the learning curve (if they don't, it'll likely be a disaster), and if the couple is comfortable doing a lot of the education along the way."