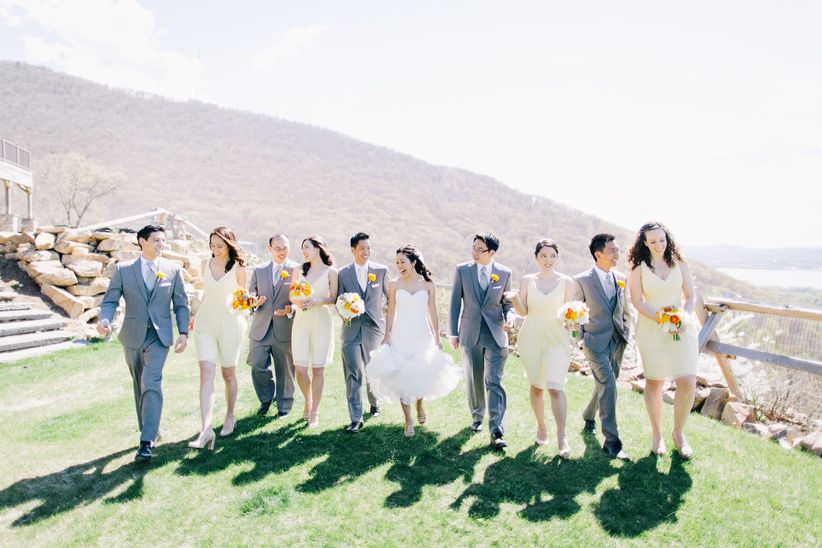 Photo: Joseph Lin Photography
Your wedding planner can be a major lifesaver in the months, weeks and days leading up to your big day. After all, he or she does this for a living, and their goal is to make your life easier. Who can argue with that?


We were curious to know the things that engaged couples should consider as they're hiring or working with a wedding planner, so we reached out to the pros and asked them to share their best tips. See what they had to say below:
Your personalities should click
"It sounds simple, but when a couple is choosing a wedding planner (or any wedding vendor), they should make sure their personalities click. They'll be working very closely with their planner on the wedding day and throughout the planning process, so they should feel comfortable and trust him or her. Couples will also want to choose a planner who understands their vision and is just as excited about the wedding as they are." —Jaclyn Fisher of
Two Little Birds Planning
in Haddonfield, New Jersey
Compatibility is key
"Make sure that you connect with your potential planner on multiple levels. Check out their websites, blogs, and social media to get a true sense of their aesthetics. Make sure their style complements yours! Your conversations should be comfortable and should leave you feeling confident. By taking the extra steps to make sure it will be a compatible vendor relationship, you will be setting yourself up for the best event possible." —Linnie Hughes of
L&L Events
in Centreville, Virginia
Prioritize your budget
"Hire the best vendors you can afford in your budget. The old adage is true: You get what you pay for. Spend a bit more on the categories that are most important to you and save a bit more on ones that are less important, but always be sure you can live with the quality of work /workmanship you are hiring." —Raquel Shutt of
Wedding Savvy, Inc.
in Charlotte, North Carolina
They're on your side
"So many couples think that if they hire a wedding planner, they won't have any control over their wedding. We aren't here to take away your vision at all — we are here to help you achieve your vision with the help of responsible, professional vendors in your allocated budget. A lot of people think they can't afford to hire a planner. I say you can't afford not to! Between our experience and knowledge of the local market, we can save you headaches, time, and most of all, money!" —Kristi DePew of
Eclipse Event Co.
in Austin, Texas
They want the best for you
"We are your advocate. Throughout the planning process, we are always here to stand up for you and make sure everything is exactly as you would want it. We want to make sure you are being quoted reasonable prices for vendors and other wedding-related items and that the product will exceed your expectations. Sometimes it can be hard for clients to know what exactly they are getting when they chose a certain vendor, so we are here to make sure it's a perfect fit for your style and budget." —Brooke Altman of
Orchard Avenue Events
in Sonoma, California
They plan so you don't have to
"A lot of couples don't realize how much time and labor goes into the production of their wedding. We start production 3-4 days before their wedding day, and we have a team of 8-10 people helping us out! We take care of all the behind-the-scenes activities so that the bride and groom can sit back and enjoy their big day without having to worry about every last detail." —Lindsay Merhege of
Fox Events
in Mount Pleasant, South Carolina
Double-check your attire
"Brides have lots of backup plans for their dress. But things happen with the groom's attire, too. Always check your suit or tux after it's been dry cleaned and/or rented to be sure all is in working order. Bring an extra shirt, and make sure you have that extra button or two for the groom's tuxedo or suit. I've sewn on more than one backup button the morning of the wedding!" —Rebecca Shenkman of
Pink Bowtie Events
in New York, New York
Relax and have fun
"I think it is important for couples to consider the benefit of a planner/coordinator in their own stress and labor for their wedding. We take full charge, especially on the day of their wedding, and handle everything down the tiniest details, so that the couple and their family and friends are able to relax, enjoy, have fun, and soak up the memories! Planning a wedding can be a stressful and overwhelming endeavor for some couples, and we are here to truly take the weight off their shoulders and make the experience fun!" —Melanie Jannicelli of
Kimberly Rose Events
in Englewood, Colorado