Who Pays for Guests at a Destination Wedding?
If you're wondering who pays for guests at a destination wedding, this handy guide will help you figure it out.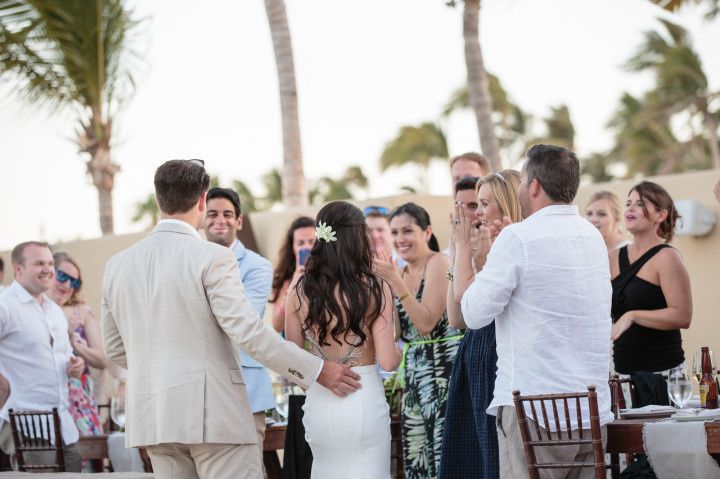 The only issue with taking the happiest day of your life away from your hometown is one very small — yet major — detail: finances. When considering the perks and downfalls of hosting a destination wedding, many couples factor in the high cost of travel for not only themselves, but who pays for guests at a destination wedding. Though sure, it's ideal if you want to extend a gesture to someone you don't really want to attend, for the cousins you're close to the grandma who has been there, asking them to fork over the change is a bummer. So, should you just pick up the bill on their behalf? It's up to you, but just like with any special event, there are etiquette rules to follow concerning who pays for every aspect of your destination wedding.
Wedding planner John Tobey of John Tobey Event Design in Denver, Colorado says even if you don't follow this decorum, you should be crystal clear about what guests should expect when attending your getaway nuptials. "It's really about establishing open and honest communication about what things cost and knowing everyone's comfort when establishing the budget," he says.
Here, the guide to who pays for guests at a destination wedding.
Flights
The tricky part about a 'destination wedding' is how it's defined. If your partner is from Sweden and you're from Virginia — and you choose to wed in either of those spots, half of your guests will need to travel. Or, if you and your partner are both from Chicago but you settled roots in San Francisco, it won't feel like a destination wedding for you, but it will for many people who attend. By true definition, a destination wedding is somewhere that has special meaning to the bride and groom, or their respective families, but isn't a place of residence for anyone.
No matter which way you slice-or-dice it though, there's one thing that will probably be required for the majority of attendees: a flight. When it comes to who pays for guests at a destination wedding, the couple is not responsible to pick up the tab for airfare. "Planning a wedding includes enough details that it would be impractical, inconvenient, and next to impossible to have a couple research and coordinate air travel for each individual guest," he shares. However, it is important to send out your save-the-dates earlier than you normally would so you give them ample time to budget and plan their attendance.
Leah Weinberg of Color Pop Events in Long Island City, New York, says there are some special exceptions where the couple could offer to book a flight for a loved one. Say, a grandparent who can't afford to jet set, but really would love to attend. Or your best friends who just had a baby and are nervous about spending extra money. If you and your partner have the means to contribute, it's a kind gesture that could go a long way. Just make sure you're candid, honest and respectful in the process. "This is a unique consideration and something to think about carefully: the guest may feel some embarrassment about the offer, and other guests may feel annoyed or put out if they discovered this fact," she warns.
Hotels and Accommodations
Or rather, hotels. If you have more than 50 guests at your wedding — as most duos do — it will be difficult to host everyone under the same roof. Some of your attendees may prefer Airbnb, while others need to stay at a budget-friendly hotel or with friends in the area to cut back on cost. This means it's generally expected that guests will pay for their lodging costs, since it gives them more flexibility to control spending.
In some special cases, a resort will dictate otherwise as a requirement for booking the destination wedding. "A private island club or curated estate experience requires a single host for the rental of their facilities, in which case the couple would pay for guest accommodations. Typically when it is a family-only affair, we find that guests are not expected to pay," he explains.
On the other side of this token, booking your wedding at a resort could also save your friends and family money since many will set aside room blocks and book them at a discount. "This offers guests some savings on their lodging and without being a financial burden to the couple," she explains. And if you want to go above and beyond, she says some couples will pay for the lodging for their wedding party or immediate family as a gift to those special people in their lives.
Car Service and Taxis
Think about all of the ways you commute when you're traveling: to and from the airport. Around town to see the sights. To the welcome party, the reception and the wedding itself. Depending on the type of celebration you're having and more importantly, what spot on the globe you've selected, cabs and Ubers start to add up. This doesn't mean you should give every guest a spending budget, according to John, but you can go the extra mile to make attending the wedding more fun.
What does he mean? No one should have to worry about driving after a night of sipping champagne at your wedding. Whether you provide a transfer to and from the venue, or only from it, a bus, trolley or caravan will give everyone the peace of mind they need to sit back, cheers and enjoy.
Food
While you already know that you'll definitely cover the cost of your food at your reception — a destination wedding offers some gray areas for other meals. Though technically not necessary, Leah strongly recommends inviting all guests to any welcome activities, rehearsal dinners, and send-off brunches when you're hosting a getaway celebration. While traditionally, only the wedding party and immediate family are invited to some of the before-and-after events, when you're asking folks to travel near-and-far, this gesture goes a long way in making everyone feel welcome and appreciated. "These group events, all with food involved, will not only allow the couple more bonding time with their guests but it will feed everyone and off-set the guests food costs," she shares.
But when thinking about who pays for guests at a destination wedding, don't offer to cover the room service tab at a resort or give anyone a dining allowance. Guests should anticipate covering any and all food and beverages beyond the wedding festivities. "Any incidental purchases and charges — your groomsmen raid the honor bars, your Uncle Lou orders lobster and a bottle Dom off the room service menu — those charges should be passed along to your guests," she notes.
Gifts
Another part of destination weddings that may leave guests and engaged duos confused are gifts. Most of the time, a registry is an expected part of the budget that attendees must consider when saying 'yes' to the big day. And even if they decline or can't attend, many feel obligated to send a token of 'congrats' in the form of a mixer, dining set, or spatula. However, Leah says most of the time, a gift isn't required or expected for a destination wedding. "The time and monetary investment of attending a destination wedding is typically fairly generous and I do not think gifts are necessary," she notes. However, if you are invited and you are not able to attend a destination wedding, you may want to consider giving the cost of what your airfare would have been as a gift.
Disclosure: This post contains affiliate links, some of which may be sponsored by paying vendors.