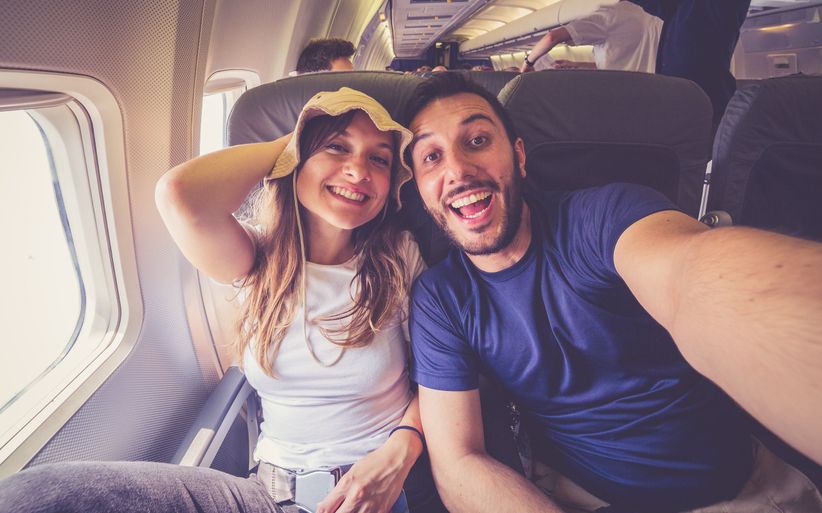 Of all of the adventures you'll take in your lifetime, the one you embark on with your one-and-only is arguably the most exciting. And scary. And challenging. And most fulfilling. So why not toast to the start of your marriage with an exciting trip that takes you far away from your home zip code? Many honeymooners decide to travel internationally for the first time to seek adventure, interesting cultural dynamics and culinary palettes that tease their taste buds.
But if you have never left the country (it's okay!), it can be intimidating to hop on a flight or a cruise and go for it. Even so, the fear shouldn't stop you — after all, you did just walk down the aisle and promise forever-and-ever to another person! Just like you are brave enough to fall in love and declare your commitment, don't be afraid of throwing yourself out of your traveling comfort zone. With your lifelong travel buddy by your side, it'll be a trip you'll tell your grandchildren about one day.
To ensure a smooth experience, follow these strategies on traveling internationally for the first time on your honeymoon.
Get your paperwork sorted out.
Sure, it's not exactly sexy to talk paperwork — but it does make traveling internationally for the first time easier. First things first, you will need a passport to leave the country, and from application to approval, you should allow at least two months. Travel expert and senior vice president of Supplier Relations Tom Spagnola says this document is the most important part of your packing, and should always be handled with care. Depending on what country you're venturing to, you may also need an additional visa to be granted entry. Make sure to do your research before you book so you can understand costs associated and the estimated waiting period. While some countries are easy-peasy, others have a lengthy waiting list.
Though it's rare that your passport will be stolen if you travel with caution, it's important to have back-up documentation just in case. Spagnola recommends making a few copies of your passport: one to have on you, one saved on your phone and one with a relative or friend you trust back home. It's also a good idea to print off other info, just in case you need it in a bind and don't have cell phone service. These include hotel reservations, flight info, tour bookings and beyond.
Figure out your budget.
These days, most couples pay for their own weddings, making finances an even bigger part of the equation. If you just shelled out several thousand for your big day, a discussion around your honeymoon budget is essential. After all, you should never go into debt to jet set, and rather, be mindful of how much you're shelling out. Not only does this set you up for a comfortable future together, but it will help to set expectations, too. Spagnola recommends figuring out how much you would like to spend on accommodations, shopping and dining, and coming to a joint agreement before you fly abroad. "If too much money is being spent without an understanding prior to the honeymoon it will be hard for the person to bring up the issue during the honeymoon trying to avoid any disagreement and causing friction between the couple," he continues. "There should be a 'general' understanding of what the other person is thinking about their expectations of discretionary spending is prior to leaving."
Dennis also says it's not a bad idea to have an emergency fund, too. After all, you can't predict the unpredictable and having money to spare will get you out of a sticky situation. "It's rare that honeymoon plans go totally awry, but it does happen, and it's crucial that you're prepared. This can be as simple as setting aside some money in the event of a cancelled flight or hotel reservation where you may not necessarily see that refund right then and there," he continues. "It's not completely uncommon to have lost or misplaced luggage, so you'll want to be able to spring for the necessities on the off chance that you're missing any toiletries or clothing for part of your trip."
Schedule some activities — but not everything.
Though you may have pals who fly by the seat of their pants, for honeymooners traveling internationally for the first time, it's better to book most of your basics in advance. As wedding expert Kevin Dennis explains, it's better to ensure you have your flights, hotels, transportation to and from the airport, and certain tickets reserved. Especially if you're heading to a super-touristy spot — Rome, Paris, and so on — you will need to reserve entrances to attractions far in advance to ensure you experience them. It's also smart to have a basic outline of the places you'd like to see, so you can plan your time efficiently. "You can alleviate quite a lot of stress by taking care of any train or bus passes ahead of time, and you'll be able to create a quick map of your intended route based on your itinerary," Dennis adds.
However, the keyword here should be 'tentative' though — since you want to leave a little room for spontaneity and surprise. As Spagnola stresses, free time to explore, sleep in late, stay in bed all day or get lost in a city are special ways to connect on your romantic getaway. "There could be times during the honeymoon when you don't want to have to keep your schedule and decide to do something else that you find more interesting once you've spent a day or two at your destination," he continues.
Do your research.
Once you have settled on a destination (yay!) — take the time to dig deep into what you'll need to bring along for the journey. As Dennis explains, everything from travel adapters so you can charge your devices on the go to international phone plans and current exchange can be confusing for first-time international travelers. Though it's old fashioned, consider making a to-do list and a packing list that outlines each and every thing you'll need for the adventure. Don't forget to look into the weather and pack accordingly, and to prepare a bag for the flight that meets TSA requirements, too. "It's better to be too thorough as opposed to leaving for vacation and realizing you left something important behind," he adds.
Consider a travel agent.
Believe it or not, travel agents have been making a major comeback. While previous generations relied heavily on these gurus, independent travelers took matters into their own hands. Once you've booked a few trips and taken a handful of flights, you can plan everything on your own. But if you're traveling internationally for the first time and want some extra help, Jen Avey of DestinationWeddings.com says an agent isn't a bad idea. "An expert romance travel agent will help narrow down what options may be best for you share your non-negotiables with them. They'll consider your style and budget and be able to recommend the best fit They'll also be in your corner through the whole process, should any last-minute issues come up during travel or while on property," she explains. "A honeymoon travel specialist is there to take the stress out of your planning process, so you can focus on the fun things."
As a bonus, these travel agents usually have solid connections, which will save you money and headache, and perhaps even win you perks during your trip of a lifetime.