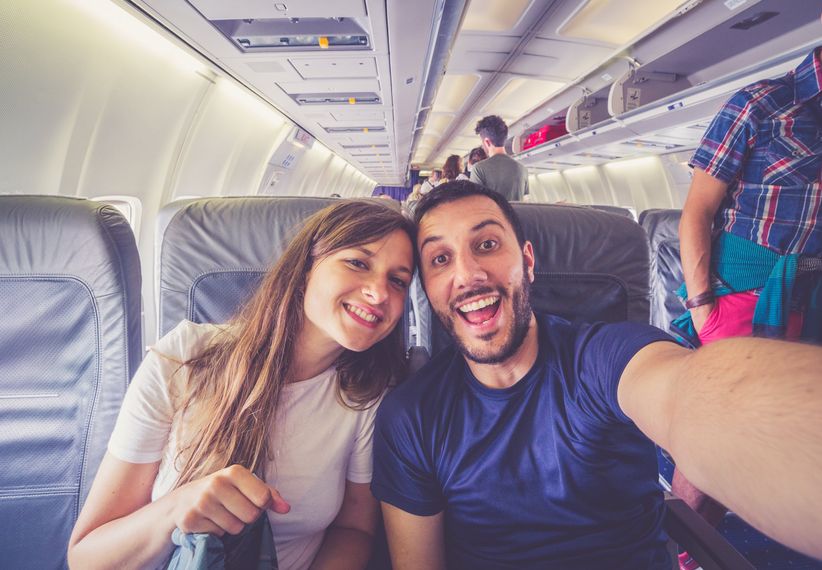 If you're jetting off to someplace new, exotic and far away from home for your honeymoon, you're likely feeling two emotions above the rest: excited and perhaps wondering how to prepare for the long flight. Especially if the plane ride is over 10 hours, you might be wondering if you'll be able to sleep, sit still for that long and keep yourself entertained the entire way. Also, how will you feel when you finally land?
As the saying goes, "the best things in life are worth waiting for," and Kate Johnson, leisure travel planner and honeymoon specialist, says the same goes for long flights. "The most unique, unusual and life-altering places in the world are over six hours away—and are 100 percent worth the wait," she says. Although "fun" might not be the first word to describe a long flight (or a flight of any duration for that matter), there's no reason why it has to be dreadful.
If you're wondering how to prepare for a long flight to make it an even more enjoyable honeymoon, we asked top travel experts to share their best-kept tips for making the trip more relaxing and comfortable.
Amp up your self-care.
In thinking about how to prepare for a long flight, Jennifer Jacob, CEO and founder of Explorateur Travel, LLC., suggests fueling your body with everything it craves—water, sleep, exercise and nutrients! "The ironic thing is that on vacation, we tend to do the opposite—we sleep too little, eat terribly, over-imbibe on refreshing cocktails and stay up late making memories," she says. "I suggest packing early so you can rest easy the night prior to departure, and, on the morning of your flight, take vitamins, moisturize your body, and hydrate, hydrate, hydrate!"
Apply for TSA PreCheck to save time.
To save yourselves a time (and a little stress) while making it through security at the airport, consider applying for TSA Pre✓. The online application takes just a few minutes, and it covers you for five years for just $85 and allows you to speed your way through the security line without having to remove your shoes, laptops, liquids, belts or light jackets of any kind.
Check your booking 24 hours prior to the flight.
Nowadays, most airlines allow you to check in within 24 hours of your flight through their app or website—and it takes just seconds. Doing so will only save you time once you arrive at the airport and let you know of any flight changes sooner.
Get to the airport three hours in advance.
Arriving early to the airport is key. "Traveling is stressful enough without having to make a mad rush to the airport hoping that you can make the flight," says Teresa Belcher, travel agent and founder of Honeymoon Islands, Inc. "If flying long-haul get to the airport three hours before departure and try to stay calm and relaxed." She also recommends factoring in the time it will take you to get to and from the airport.
Peruse your food options.
When preparing for a long flight, Teresa suggests checking out the food menu well in advance of takeoff so you're sure you'll be happy with the offerings—or, if not, that you have brought something that will satisfy your hunger for the flight duration. "If you have any dietary restrictions or food allergies, make sure you notify the airline in your booking," she says. "Best yet is to enter this information at the time of seat selection or advise your travel agent, since airlines will only have a special meal if you request it at least 72 hours in advance."
Know where you're seated ahead of time.
One thing that Jennifer always encourages when considering how to prepare for a long flight and in order to ensure maximum comfort, is to consistently review their seating assignments. "A little known fact is that airlines are in control of all seating, and your assignment can change for any reason—so it is best to keep an eye on your booking as your trip approaches," she says. "Booking your flights early can mean getting the bulkhead, which allows for the most leg room." If you're lucky enough to secure these spots she recommends packing compression socks and propping your feet on a backpack for maximum circulation.
Bring sleep essentials.
Teresa suggests packing a device that'll help encourage you to snooze on your long flight, like the First-Class Sleeper, which provides neck and lumbar support and can help to make a long flight more comfortable. She's also a fan of the Travel Rest Pillow, which attaches to the seat back of a plane and provides comfort and support for your head and neck. Unless you're the type who can snooze through anything, she also recommends packing noise-cancelling headphones or earplugs such as Bose Noise-Masking Sleepbuds.
Enjoy your time together.
The flight itself is still part of your honeymoon, so there's no reason why you shouldn't toast to the beginning of a wonderful trip and start making the most of your time off the bat. Shannon LeBlanc, chief romance officer of Sandals Resorts and destination wedding and honeymoon expert, suggests picking out romantic movies to download and watch on the plane together (remember to bring extra power pack) and making a playlist for each other to listen to on the flight. "Bring along a deck of cards to play a friendly game of poker and be creative with this time that you have to get to know each other even better as you jet off to your happily ever after!" she adds.