6 Questions to Ask Before Booking Your Honeymoon
For many couples, the honeymoon is a once-in-a-lifetime trip, so it's important to select a location that fits your needs, budget, and style.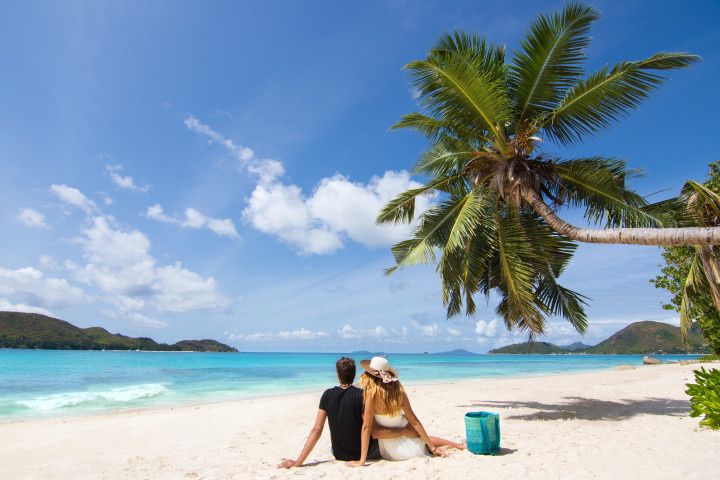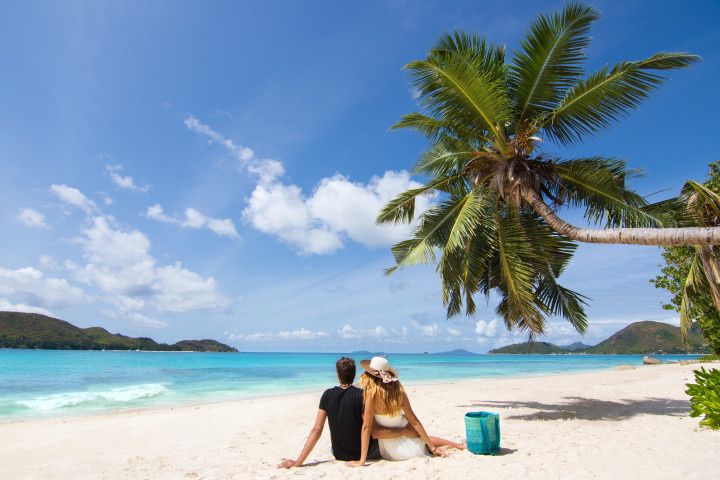 When it comes to booking a honeymoon, every couple has their own unique agenda. While some crave a stress-free experience with endless sun and sand, others opt for an adrenaline-filled excursion across the world, while others prefer a low-key getaway close to home. With endless possibilities at your fingertips, it's easy to feel overwhelmed by the options, but you don't have to let decision fatigue get the best of you. In fact, we've outlined eight key points of consideration to help you determine the best honeymoon for your travel style as a couple.
Take the time to intentionally discuss these questions with your soon-to-be and you can rest assured you'll be booking a honeymoon with total confidence.
Do we want our honeymoon to be an escape or an adventure?
First and foremost, consider the agenda of your post-wedding trip. Are you looking for a once-in-a-lifetime travel adventure or are you more interested in lounging on the beach without a care in the world? Do you want to experience new cultures, sites, and cuisine, or would you rather solely spend time with your other half? Do you prefer a planned itinerary or unstructured time? No matter what you decide, make sure you and your future spouse are on the same page or work to find a compromise you can both enjoy—before booking your honeymoon.
Who is paying and what's the overall budget?
Money talks are never easy, but it's important to discuss the numbers before you begin making plans. While it will look different for every couple, be intentional to understand exactly who is contributing to the honeymoon fund and identifying your bottom line budget before booking a honeymoon. For example, are you funding the trip by yourselves, or are relatives chipping in? Will you use monetary wedding gifts to cover costs, or are you planning a honeymoon fund in lieu of a traditional registry? Answer these questions to help establish a solid budget and to avoid any additional financial stress.
What type of transportation will be necessary throughout the trip?
Another important factor to consider before booking your honeymoon is how far, and by what means, you'd like to travel. Are both you and your partner prepared for a long international flight or is a stateside road trip more your style? Also, once you arrive at your destination will you need to use public transportation or a car rental to get around or can you simply take a cab ride to your resort? Don't forget to factor transportation preferences and costs into your travel decision before booking.
Do we prefer a hotel/resort or a vacation rental?
Before rushing to lock down your accommodations, consider what type of experience you both prefer. If lounging poolside with a drink in your hand sounds appealing, a resort (make sure to check out the all-inclusive options) might be exactly what you're looking for. If you both enjoy the charm of a quaint bed and breakfast or perhaps want an entire house or apartment to yourself, there are plenty of options through sites like Airbnb or VBRO to explore. When considering accommodations, it's also important to consider whether you'll stay in one spot for the entire trip or travel around to several locations.
Are we traveling immediately post-wedding or further down the line?
If you still feel stuck deciding what type of trip you want to take, think about whether you'll be traveling right after the wedding or not. Couples planning to depart for a a honeymoon the day or two after their nuptials often prefer to completely unplug and relax in a destination where stress is the furthest thing from their mind. However, if your honeymoon isn't taking place until months after "I do," you might feel up to a more travel-intensive experience with your new spouse.
Is this destination somewhere we'll both enjoy?
At the end of the day, the most important question to answer is whether this honeymoon is a trip you'll both truly love. Choosing a destination that's new to you both can be a special opportunity to make new memories while returning to a meaningful location you've previously visited can equally exciting. Remember, there are no right or wrongs when booking a honeymoon except planning some unforgettable time with the one you love.