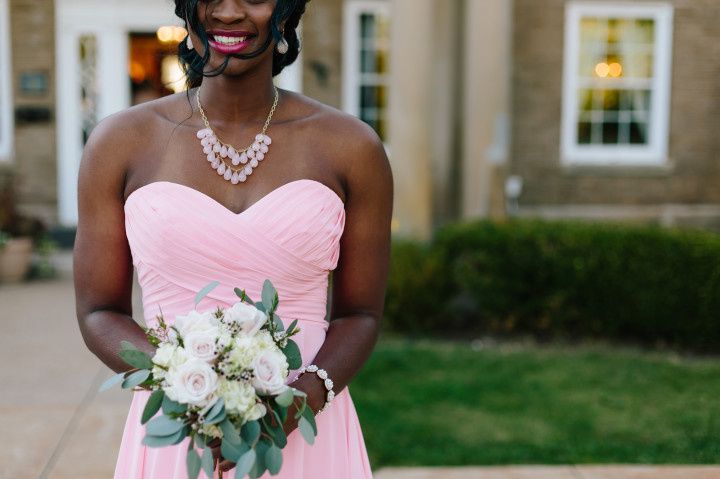 Photo: Studio Phrené
Once you've found your own wedding dress, the next step is figuring out what type of bridesmaid dress your leading ladies will wear. Wondering what bridesmaid dress shopping is really like? We've rounded up ten tips that you can use when you take your gals bridesmaid dress shopping.
Here are some things that no one tells you about bridesmaid dress shopping.
1. Scheduling Can Be a Nightmare, So Do It in Advance
There's a good chance that some of your leading ladies have busy schedules, depending on their significant others, jobs, and extracurricular activities. Send out an email asking what dates for dress shopping work best for them. It may be a lot of back and forth, but that way everyone is included and can hopefully attend.
2. Do Your Research BEFORE You Start Shopping
Browse through the latest bridesmaid dress collections for the upcoming season to get inspiration. Ask: What color, fabric, length, and silhouette do I want?
3. Don't Let Your Bridesmaids Come Empty-Handed
Your bridesmaids should bring any appropriate shapewear and shoes similar to those they might wear on your wedding day. It's also important to know that the bridal salon may not have dresses in everyone's size - most salons only carry sample sizes of 2, 4, 8, and 10. But don't worry, clips can help!
4. Modesty is Your Responsibility
Many stores only have a few fitting rooms, so with a group of girls, it can be like a race to get in and out of the fitting rooms. Ask your 'maids to bring along a robe or slip to wear during the appointment. That way it won't feel like fitting room musical chairs and everyone will be comfortable waiting.
5. Let Your MOH Stand Out
If you want your maid of honor to know just how special she is to you, opt to have her wear a dress that is different from the rest of your crew. This will let her stand out and also lets you have fun picking and choosing different dresses for her to try on.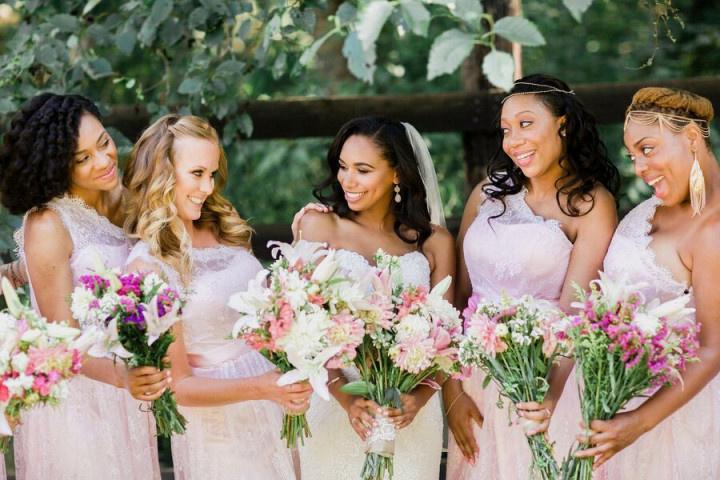 Photo: Samantha McFarlen
6. Try on Multiple Options and Request a Fashion Show!
Even if you already know the style of bridesmaid dress you want your 'maids to wear, don't just have them try on one style. Have your bridesmaids try on multiple options so you can get a good comparison of the different styles.
7. Discuss Hairstyles as Dresses are Selected
Make sure to talk about hairstyles shortly after your 'maids pick their dresses, and figure out which styles will make sense with which dresses. If one was wearing a one-shoulder bridesmaid dress, it could be up. If one was wearing a strapless bridesmaid dress, it could be down. Necklines can easily be complemented with the right hairstyle.

8. Don't Be Shy - Ask About Discounts
Make sure you are aware of the price tag, tax, and any shipping or alteration costs. These can easily add up and can make your bridesmaids dresses go over budget. Be direct when asking about discounts and if the dresses do end up over budget you can always opt pay the difference. This makes a great bridesmaid gift too!
9. Avoid Last-Minute Disasters and Pick Backup Options Now
Your sales consultant might encourage your crew to pick backup options on the off chance that one of your dresses are unavailable or on backorder. Even if this isn't the case, it's a good idea to have backup options in mind. That way you can be prepared if something does go astray.
10. Eat Afterwards, Not Before
Going out to a big meal, such as a bottomless brunch is probably not the best idea pre-shopping. Perhaps go for a light snack beforehand so no one is "hangry," but save the big meal for later - consider it an after-party