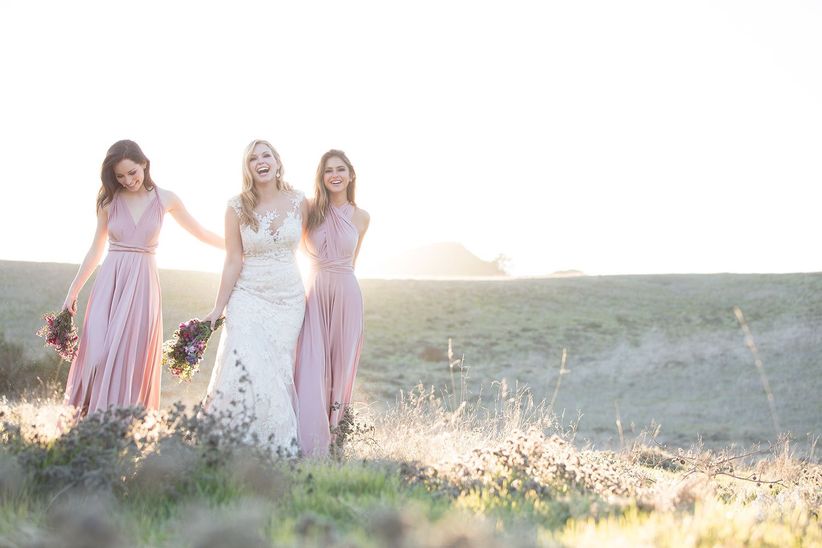 As a bride-to-be, finding your wedding dress is definitely high up on the list of exciting wedding planning tasks. Because, honestly, who doesn't get hella excited by just the thought of putting on their dream gown? From the joy of popping a bottle of bubbly with your squad to kick-start the appointment to the tears that come down your mom or future mother-in-law's face when you put on "the one," finding your wedding dress literally gives you all the feels. No matter what stage of wedding dress shopping you're in, we've teamed up with Allure Bridals to showcase all of those familiar moments.
Every bride can relate to these hilarious stages of finding a wedding dress.
Stage 1: You show up to the bridal salon looking fierce with your squad.
You'll want to invite only a select group of either close friends or family members to come to your appointment. This means anyone whose fashion sense or input that matters to you the most, so you can be sure your wedding-day look is fire.
Stage 2: You pop some bubbly to cheers this freakin' exciting time.
You can easily calm your dress shopping jitters by sipping a glass of champs with your shopping entourage. After a quick toast, you'll be ready to start modeling some gowns. Cheers!
Stage 3: You earn some bragging rights for how well you know the difference between a sheath and a ball gown.
Hopefully, before your dress shopping appointment, you've brushed up on all of the different wedding dress silhouettes, necklines, fabrics, and styles.
Stage 4: You FINALLY start trying on gowns (insert heart-eyed emoji here).
After you've went through which styles you do and don't like, your bridal consultant will whisk you away to start trying on gowns — Yay!
Stage 5: You have a slight panic attack because you realize wedding dress sizes are not the same as regular sizes.
Don't freak out! Your bridal consultant has plenty of fitting clamps to help you get an idea of what each dress will look like in the right size.
Stage 6: You notice that your mom's poker face is, well, god awful.
Whether your mom hates a dress that you love, or vice versa, don't let it kill your vibe. The perfect dress is still out there and will have everyone on the same page.
Stage 7: You see another bride in a gown that you absolutely MUST try on.
Yep, dress envy is a real thing — especially when you see other brides at their dress shopping appointment.
Stage 8: You try on the same gown and become a bit heartbroken because you don't think it looks as good on you.
Deep breaths! Just because the eye-catching gown didn't give you Kim Kardashian vibes doesn't mean you should ugly cry. Your dream wedding dress is still out there!
Stage 9: You're quickly becoming besties with your bridal consultant because she pulls another gown that's #weddingdressgoals.
It's totally okay to vent to your bridal consultant while trying on gowns — even if it's about how one of your 'maids is being a little too blunt about what they think you should wear.
Stage 10: You try on a wedding dress that your bridal consultant has been talking up and you suddenly get goosebumps.
Remember, your bridal consultant has your back and will try everything in their power to find a gown that will make everyone go "OMG! You HAVE to wear that!"
Stage 11: You walk out of the fitting room kinda nervous because you're hoping everyone else has the same reaction.
When a gown is giving you all the feels, you'll be surprised how badly you'll want everyone else to feel the same way.
Stage 12: You look to your bestie with the best fashion sense and ask them for their honest opinion.
It never hurts to bring along your fashion-obsessed bridesmaid when you're shopping, am I right?
Stage 13: You notice your mom is giving you a "my baby is getting married look" and it's not bugging you this time.
Aw, let your mom have this moment. Getting married is a big deal!
Stage 14: Tissues are being passed around as everyone is complimenting how gorgeous you look and you secretly wish this moment would never end.
Pro tip: It's a good idea to bring an extra pack of tissues when you're finding your wedding dress because you're bound to have some criers.
Stage 15: You're surprised that you're starting to feel a rush of emotions, too.
And don't think you won't get teary-eyed either!
Stage 16. Your bridal consultant adds a veil and some accessories and you start thinking that you could pursue a career in modeling.
Bella Hadid doesn't have anything on you when you're finding your wedding dress.
Stage 17: Your consultant asks if this wedding dress is "The One".
Thank goodness salons have a floor-to-ceiling-mirrors for you to check yourself out from all angles.
Stage 18: You look to your bridal squad and they're all nodding with you as you give your answer.
If everyone has the same look in their eyes, then we think you're in luck!
Stage 19: You officially say "Yes!" to the dress and everyone loses it.
We can expect most of your entourage will be just as much an emotional mess as you are.
Stage 20: You place your order and quickly get changed for your "She Said Yes To The Dress" photo with your squad. You did it!
You have to keep your Insta game strong as a bride-to-be, so be sure to snap a picture after your shopping excursion to document the special occasion.