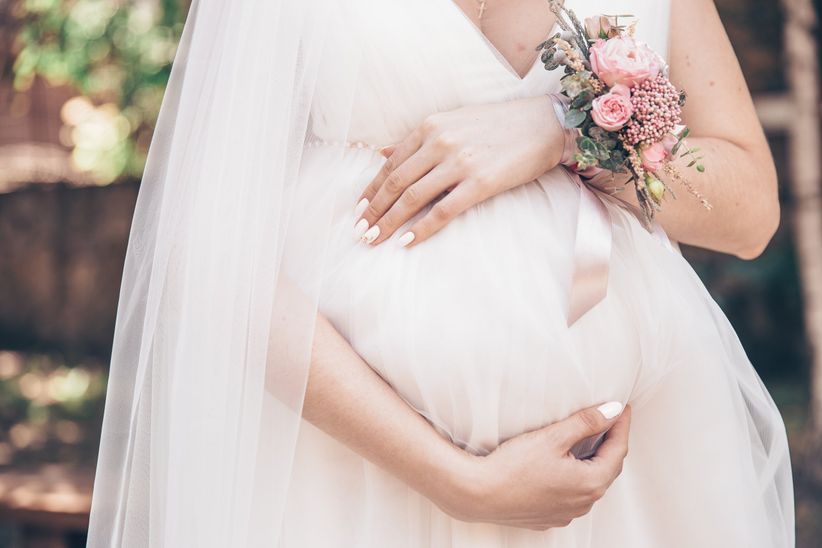 Trying to find a flattering gown when you're expecting may sound like a nightmare to pregnant brides-to-be, but it doesn't have to be! Maternity wedding dresses can be just as fun to try on as regular gowns — just as long as you're well-prepared before you start the shopping process. So, for all those who're hoping to flaunt their bump while walking down the aisle, we're here to make sure you find the perfect wedding dress. From which silhouettes you should try to fabrics you'll definitely want to avoid, here's everything you need to know so you can nail your bridal baby bump look.
These tips for shopping for maternity wedding dresses will help any pregnant bride find their dream gown.
Research different silhouettes
Every bride, whether they're expecting or not, should research various silhouettes, necklines, and dress styles, before they book a dress shopping appointment. That way you can know ahead of your appointment what you do and don't like. Your body goes through some major changes when you're pregnant, which means it's a good idea to explore a wide variety of silhouettes that you may not normally wear. Browse through different styles online and try to learn the the difference between figure-hugging styles — like mermaid or trumpet — as well as more loose styles like empire waist or sheath — before you walk into the bridal salon. Not only will you have a good idea of what you should try on, but your bridal consultant can also start pulling different maternity wedding dresses and other looks beforehand.
Call the salon ahead of time to see if they carry maternity wedding dress lines
Unfortunately, not every bridal salon carries maternity lines or an array of dress sizes. So, before you lose your cool, double check with each salon you visit and ask them about their inventory and dress selections. Most likely you'll easily find a shop that will have a few styles that fit your bump you'll be dying to try on.
Figure out if you're flaunting or covering the bump
Once you've found a salon that carries maternity wedding dresses and you've brushed up on your silhouette styles, you'll want to decide on the flaunt or cover question. While we love seeing pregnant brides rock their baby bump, we understand some brides would prefer to conceal a growing tummy. Just as you would with deciding which silhouette you'd prefer, talk over what you do and don't want to show on the big day with your bridal consultant. Being honest with your consultant about what you want to highlight and what you'd rather leave to the imagination will help them pull a gown you'll love.
Stick to comfortable fabrics
After deciding on how you want to sport your little bundle of joy on the day of your wedding, you'll want to think about fabric choices. It's wise for pregnant brides to find a maternity wedding dress that not only has a flattering silhouette and cut, but also comes in a comfortable fabric, too. A gown that's fabric is soft and stretchy, like charmeuse or chiffon, is much more forgiving than a dress made of stiffer fabrics, like satin or lace. Trust us, you're going to be moving around a lot on your big day, so you'll want something that you can easily get around in — especially if your wedding date is closer to your third trimester.
Ask for a size chart
When you've finally found the maternity wedding dress of your dreams, ask your consultant if you can see a size chart from the designer. It can take up to six months to get your wedding dress after you've placed your order, which means your bump is going to get bigger. So, keep in mind, it's much easier to take a dress in than it is to let a gown out. We suggest reviewing your dress designer's size chart and sizing up for when you place your order. That way when your big day finally approaches, your maternity wedding dress will fit in all the right places.