A wedding dress that highlights your assets instead of covering them up is a definite must when it comes to finding your dream gown—after all, you want to feel confident on your big day! So, what better way to look and feel your best than to find a gown that showcases your favorite features? Whether you're curvy and fabulous or short and sweet, we teamed up with Christina Wu Love in order to find the perfect wedding dress for any bride.
Flaunt your favorite feature in one of these gorgeous wedding dresses.
If you're busty and bold...
Opt for a deep V illusion lace neckline
For bustier brides who want to show off their cleavage, don't hesitate to wear something low cut on your wedding day like this Christina Wu Love wedding dress. Our biggest rule of thumb is to make sure to wear the right support when you take the plunge. That way you won't feel like you're popping out of your dress during your ceremony or out on the dance floor. Instead, opt for a sexy, (but safe!) version of a deep v cut with the help of an illusion lace neckline. You'll still get that sexy J-Lo inspired neckline, but the mesh lining will help keep everything secure and in place on your wedding day.
If you have rockin' shoulders...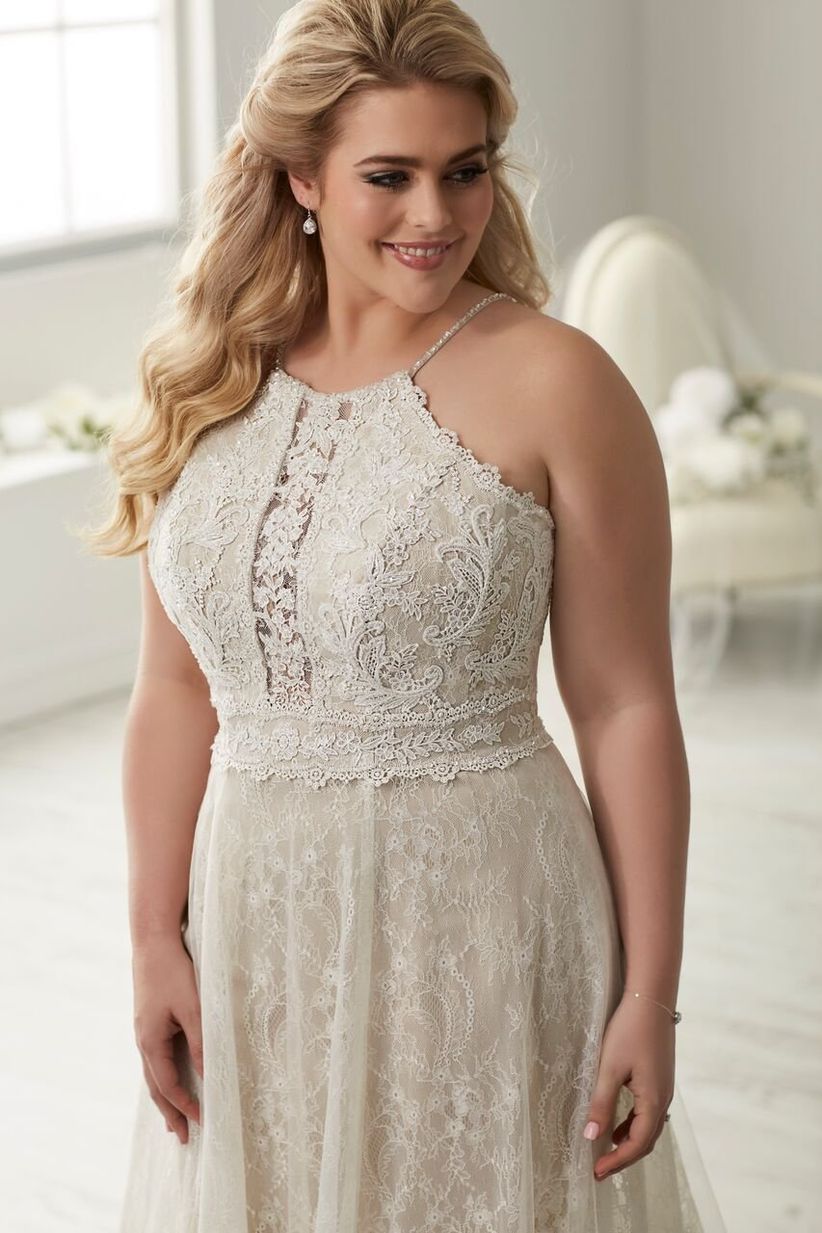 Opt for a high-neck
A high-neck option is a great way to flaunt your shoulders on the big day. The alluring neckline draws the eyes upward, but instead of focusing on the bust it showcases your collarbone and shoulders. You could even try a fitted high-neck, which not only flatters your chest but is a slimming way to highlight your bodice. We suggest trying this gorgeous lace high-neck wedding dress by Christina Wu Love to really accentuate your top half.
If you want to show off your best, er, asset…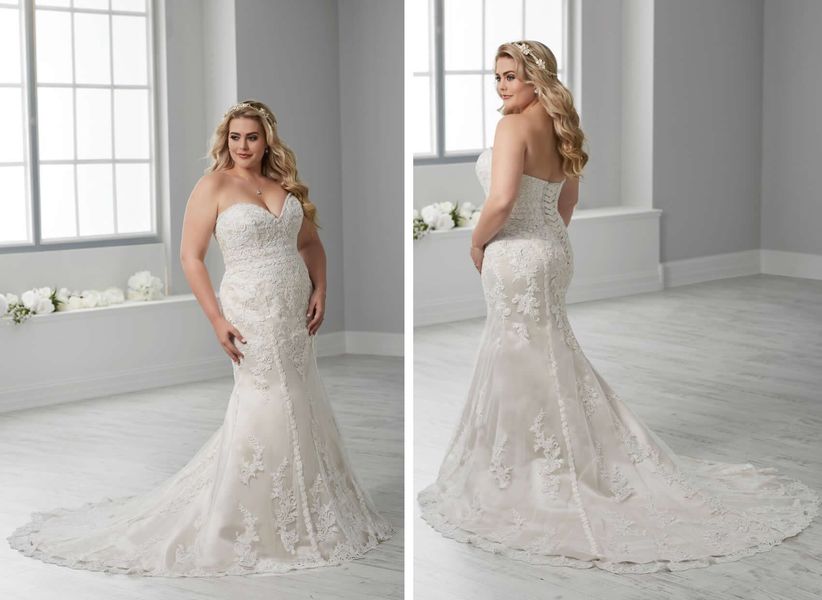 Opt for a fit-n-flare silhouette
A fit-n-flare silhouette is the easiest way to showcase your curves in a sexy, but flattering way. (Think Kim Kardashian or Beyonce's fashion style). The silhouette is form-fitting throughout the torso and hips and then flares out at the legs for some extra drama. So, if you're looking for a wedding dress that will sculpt and define your curves, we think this feminine slim-flared Christina Wu Love dress is a fabulous choice. The flared skirt is also easy to move around in, which means you can totally hit up the dance floor on your wedding day.
If you have legs for days…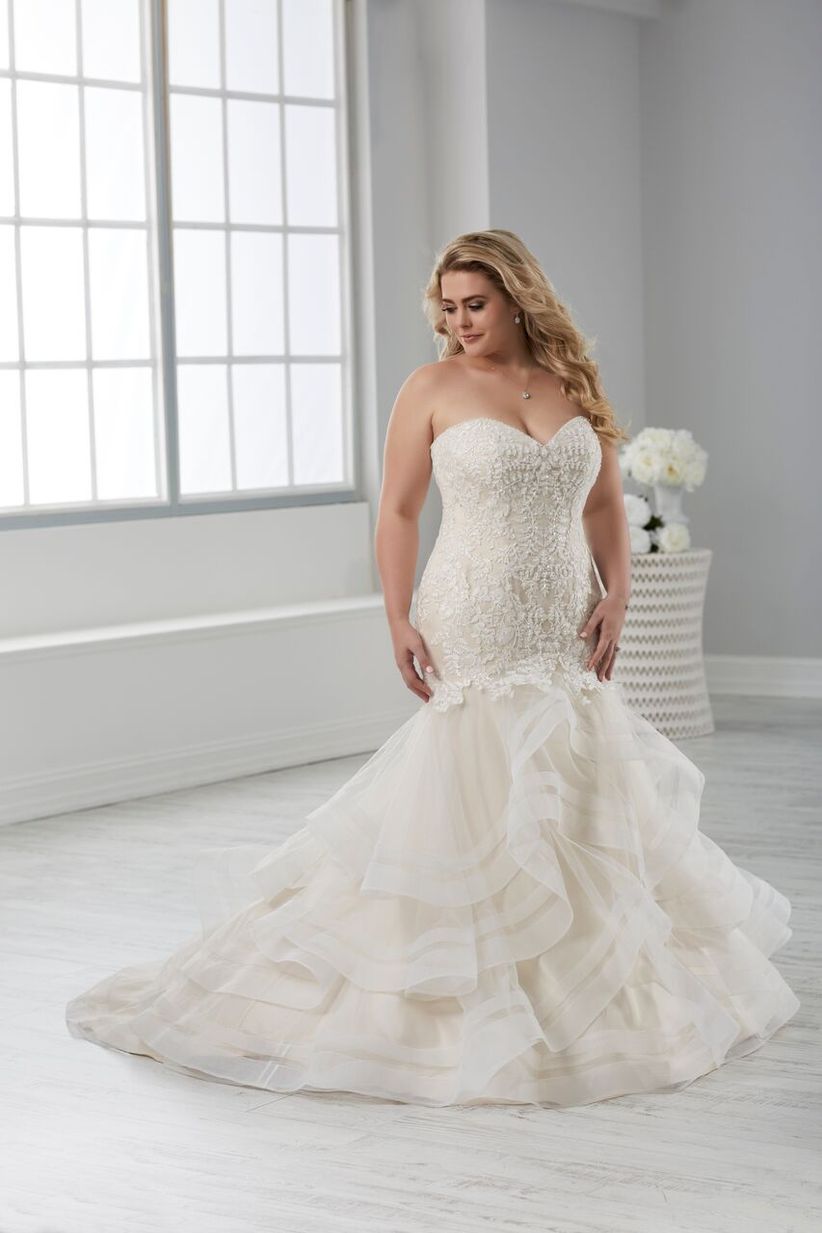 Opt for a ruffled mermaid skirt
Taller brides should definitely show off their killer legs with the help of a ruffled skirt. Wearing a gown that features a voluptuous skirt will highlight a bride's height, but not in an overwhelming way. Instead, a layered or voluminous mermaid-skirt (like this Christina Wu Love gown) will draw attention to your two most prized assets and help balance out your longer body proportions.
If you're short and sweet...
Opt for an A-line
You really can't go wrong with an A-line silhouette no matter your body shape or size may be. However, if you're shorter than most and trying to find a dress style that flatters your figure, then definitely opt for an A-line gown. This silhouette style accentuates the top half of your body while gradually widening towards the hem, which will also help you feel taller. An A-line silhouette, like this clean and modern Christina Wu Love gown is the perfect choice for shorter brides who still want to make a grand entrance on their wedding day.