26 Songs for Your Wedding Morning Playlist
If you need help getting started, check out our wedding morning playlist, including both old-school to new favorites.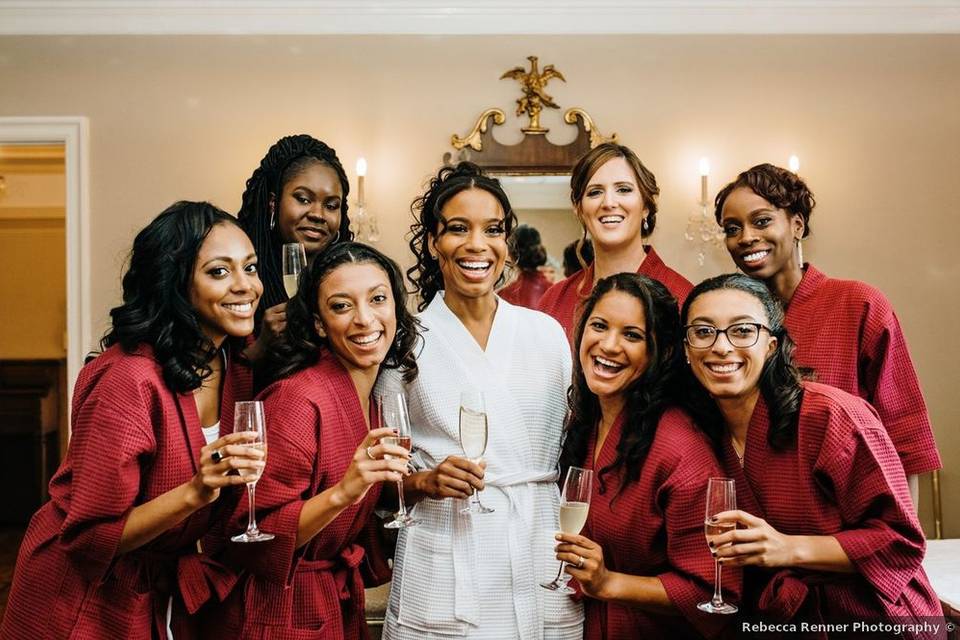 Prepping for your big day should be a fun and joyful experience—and playing the right wedding morning playlist while primping can lighten the mood and relieve any last-minute stress you may have. We recommend playing your favorite upbeat songs that your getting-ready crew can sing along (and even dance!) to while getting hair and makeup done, as well as putting on their ensembles.
Check out our wedding morning playlist, featuring both old favorites and new hits to set a joyful mood before you head down the aisle.
"Dress You Up" by Madonna
Start getting ready with this bouncy love song with the reminder that it doesn't matter what you wear as long as your dress it up with love. A favorite for any wedding morning playlist!


"Uptown Funk" by Bruno Mars
Unless you're getting your hair and makeup done, you should totally be dancing along to this fantastic Bruno Mars jam.


"Shake It Off" by Taylor Swift
If you feel yourself getting some pre-wedding jitters, just listen to this addition to our wedding morning playlist and shake them off.


"Fancy" by Iggy Azalea ft. Charli XCX
Whether you rap the words or belt the chorus, this song will definitely get you pumped up to walk down the aisle.


"Wouldn't It Be Nice" by The Beach Boys
No one harmonizes quite like The Beach Boys. Take the time will listening to this song to center yourself and find some calm before the wedding day begins.


"Chapel Of Love" by The Dixie Cups
This old-school favorite will have everyone singing along. If you're getting ready with your mom and/or Grandma, they'll appreciate this song from their youth. Fans of the movie Father of the Bride will remember this tune from the soundtrack.


"Down" by Jay Sean ft. Lil Wayne
Get the dance party started again with this fun wedding morning playlist favorite. You and your crew may need to take a break from the hair and makeup chair to bop to this one!


"Firework" by Katy Perry
Need a confidence boost on your big day? Katy Perry is here to help!


"Man! I Feel Like A Woman" by Shania Twain
Country music fan or not, Shania Twain is awesome. This song is sexy, fun, and one of our favorites on this wedding morning playlist. Just say "let's go girls," and have your crew join you as you sing along!
"Happy" by Pharrell Williams
We dare you to listen to this whole song without a smile on your face… it's basically impossible.
"Rather Be" by Clean Bandit ft. Jess Glynne
Clean Bandit and Jess Glynne really get how it feels to be with the person you love most. We're loving the lyrics, "When I'm with you there's no place I'd rather be".


"...Baby One More Time" by Britney Spears
Does this wedding morning playlist song need any explanation? We think not.
"Everybody (Backstreet's Back)" by Backstreet Boys
You and your besties totally know every word to this 1996 hit, so jam out and rock your body right! As an added fun wedding morning activity, see if you and your crew can recreate the dance moves from the music video!
"Candy" by Mandy Moore
Nothing says nostalgia like Mandy Moore singing. This song is 100 percent 90s pop.
"Girls Just Wanna Have Fun" by Cyndi Lauper
If you're looking for a wedding morning playlist song song where everyone can sing along, this 80s favorite is it!
"Signed, Sealed, Delivered (I'm Yours)" by Stevie Wonder
You don't need us to explain why this song should be on any wedding morning playlist.
"September" by Earth, Wind & Fire
Get down with this funky tune. It's another favorite that appeals to people of all ages.
"I Gotta Feeling" by The Black Eyed Peas
This song is a must-include to any modern-day party playlist. We love the tune's celebratory vibe.
"You're The One That I Want" by John Travolta and Olivia Newton-John
Sing and dance along with Sandy and Danny on this hit from Grease.
"I Say A Little Prayer" by Aretha Franklin
We're loving these perfect wedding day lyrics, "Forever and ever, you'll stay in my heart/ and I will love you/ forever and ever, we never will part/ oh, how I love you."
"How Sweet It Is" by Michael Buble
It wouldn't be a playlist of love songs without Michael Buble. "But you brighten up for me all my days/ with a love so sweet in so many ways/ I wanna stop/ and thank you baby."
"I'll Be There for You" by the Rembrandts
Yes, your wedding day is all about celebrating your and your future spouse's relationship, but your wedding morning? That's all about celebrating your friendship with your nearest and dearest. What song could be more appropriate for this special time than the Friends theme?
"Lady Marmalade" by Christina Aguilera, Lil' Kim, Mya, and Pink
Talk about a group of powerful women! This song is all about feeling sexy, sultry, and strutting your stuff!
"Dancing Queen" by ABBA
Practice your reception dance floor moves by rockin' out to this wedding morning playlist favorite.
"Truth Hurts" by Lizzo
Feeling a little unsure of yourself on your wedding morning? Lizzo, with her boundless energy and confidence, is the person you'll want to emulate as you sashay down the aisle.
"Formation" by Beyonce
Okay ladies, now let's get in formation. Channel Queen Bey as you gear up for one of the most important days of your life.