Cute Alternatives to 'Bridesmaid' and 'Groomsman'
Check out these suggestions for when traditional wedding party titles don't really fit your upcoming nuptials.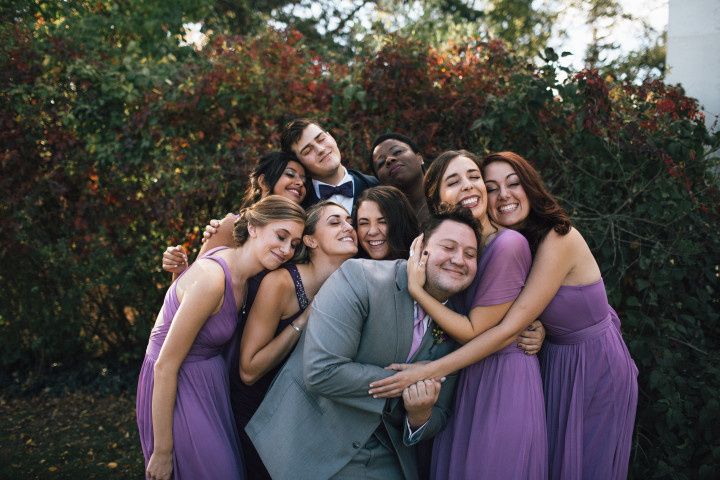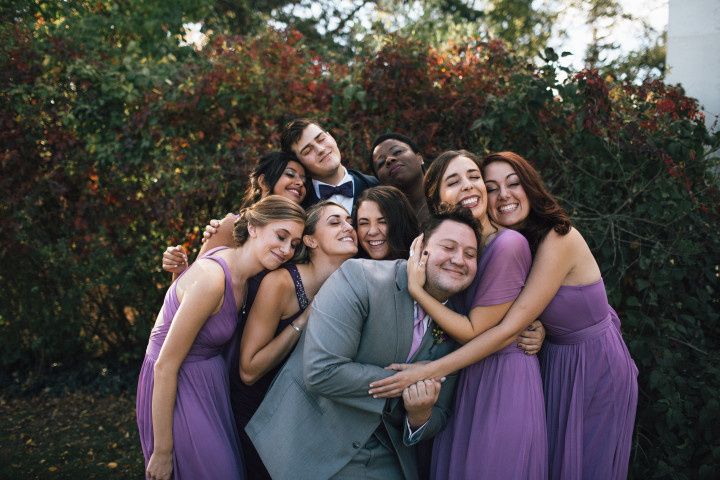 Photo: River West Photography
There's something for the time-tested traditions of weddings and their pre-ceremony activities. Then there's also something else for doing things a bit differently. Take the non-traditional bridal party, which some couples have wholeheartedly embraced. Whether you identify as LGBTQ and gendered titles like "bridesmaid" and "groomsman" aren't working for you and your friends, or you just want to break the mold a little, these ideas for a non-traditional bridal party or wedding party will be welcome inspiration.
Try these non-traditional bridal party and groomsmen alternative titles on for size!
Wedding Council
This crew can also be referred to as a bridal council or groom's council, but the idea of this non-traditional bridal party is to give each person a specific role. As opposed to traditional bridal parties and groomsmen that include one or two head honcho MOHs or a Best Man and a gaggle of non-ranking members, a wedding council asserts specific titles for each member. For example, you could designate your non-people-pleaser friend the "Bye Felicia-in-Chief," with the explicit power to veto ridiculous suggestions and preserve your relationships with well-meaning friends. Your always-lit friend might become the "Turn Up Queen" and be responsible for getting and keeping the party going at the engagement party, bach and reception. And so on — you get the idea.

Bridesmen, Groomsladies, Men of Honor & Best Women
Couples of all orientations are loving the freedom to mix up their wedding attendants by gender, so the idea of having a crew of "bridesmaids" or "groomsmen" doesn't always fit. If you're including just one or two folks of a different gender in your wedding party, here are some titles to try:

- Bridesman (men): A male attendant to a bride.
- Man of honor: A bride's closest male attendant.
- Groomslady (ladies): A female attendant to a groom.
- Best woman: A groom's closest female attendant.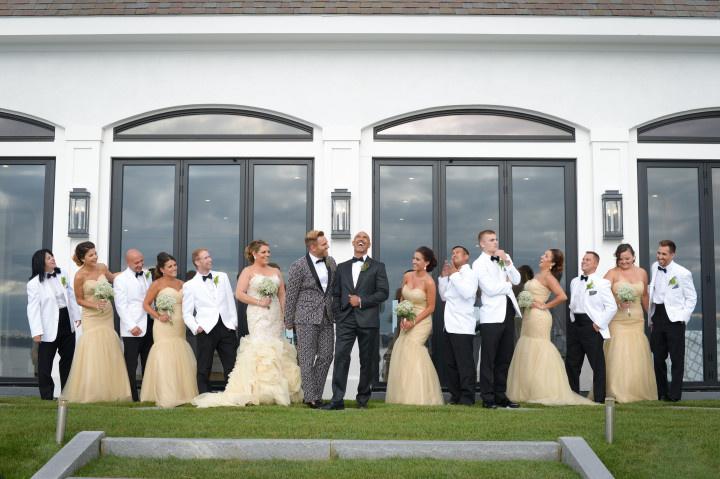 Photo: dani. fine photography & image studio
Crew, Posse or Gang
For some gender nonconforming, genderqueer or just plain sick of gender folks out there, the idea of labeling things "bride," "bridal" or "groom" is anxiety-inducing. Picking a generic name for a group of close friends like "crew" or "gang" is a great option for leaving binary titles out of the equation. Dress up the titles as you wish, like "Kevin's Crew" or "Mariah's Posse," or even add a "Girl Gang," if that's your jam, but they all convey to your wedding party that they're special to you, even if you don't identify as a bride or groom.

Groomsfriend or Friend of Honor
Let's say you are totally cool with being a bride or groom, but one of your besties identifies as genderqueer. Try substituting "friend" for bride, groom, maid or man as a non-traditional bridal party title. So, instead of "Maid of Honor," they become "Friend of Honor." A "groomsman" would become a "groomsfriend," and so forth. Friend could also be swapped for bestie, as in "bridesbestie" or "Best Bestie." This way, your future wedding attendant won't be saddled with a title that misgenders them. Of course, other wedding attendants or friends may slip up, so be prepared to gently correct on your friend's behalf.

Insert Attendant's Name Here
While some couples love getting cutesy with non-traditional bridal party or wedding party names, others are not about that life. If the idea of coining a new word gives you hives, there's always the option to call your attendants, well, what they call themselves. Like, Alex, or Ray, or Victoria, or whatever. While honorifics like Best Man or bridesmaid are popular, in the end, these are just your closest folks standing next to you at your ceremony (along with some other fun tasks). So, if navigating titles gets to be too much, their preferred names work just as well as anything else.