Should I 'Come Out' to My Wedding Vendors as LGBTQ?
Is it necessary to let your future wedding vendors know your gender identity or sexual orientation? We'll help you decide.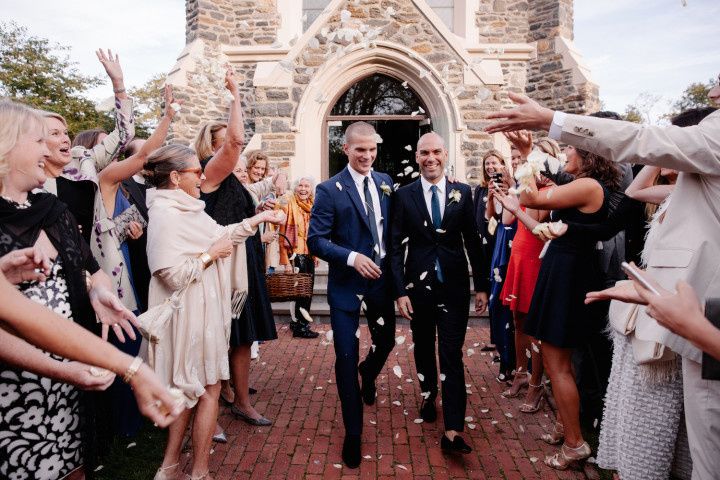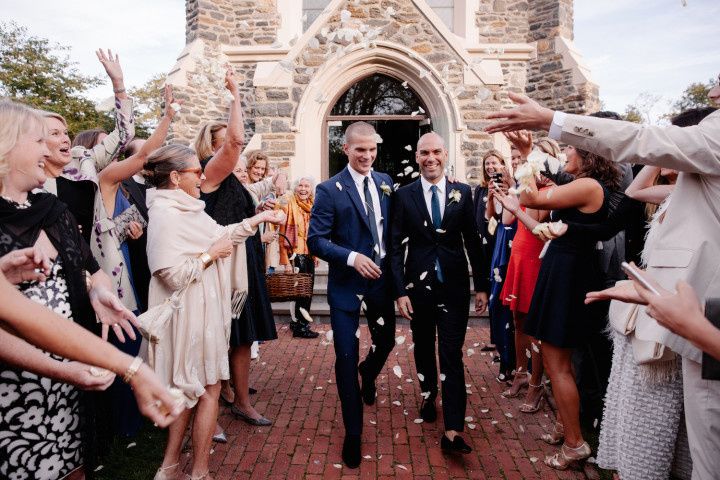 Photo: Kane and Social
For same-sex couples, couples with a genderqueer person and trans couples, planning beautiful wedding ceremonies and receptions is much easier today than ever before. With nationwide marriage equality, couples will find the task of locating LGBTQ-friendly wedding vendors more manageable, but reaching out to hire vendors can still be a stressful process. Many queer couples are afraid of flat-out rejection or of booking vendors who might not be a good fit for their community. While there may still be wedding vendors who aren't supportive of your gender identity or sexual orientation, most may just need a little guidance from you and your partner. In other cases, it might be a good option to "come out" by letting your vendors know before the first appointment that you are a queer couple.

Here are some instances where it might be beneficial to "come out" to your wedding vendors.
When gender is a big part of the service offering, like an officiant, photographer or wedding planner
Most wedding officiants will have lots of experience crafting wedding ceremonies for straight couples, while photographers may be very accustomed to posing male-female couples and wedding planners who work with straight couples might not be ready for the family dynamics in an LGBTQ relationship. For wedding vendors who will likely have to change up their offerings to accommodate an LGBTQ wedding, it is wise to let them know your expectations before your initial meeting. This doesn't have to be a dramatic situation. It can be as simple as adding a line to the end of your initial email briefly stating what you'd like them to know. Something like, "My partner and I are a lesbian couple and we're only considering vendors who are open to serving the LGBTQ community" is enough to allow them the opportunity to prepare for your first meeting. If they've served queer couples in the past, they can talk through their experience. If not, they'll likely let you know the ways in which their service offerings wouldn't change and the ways when it may need to be tweaked.

When you have specific wording for you, your partner or your relationship
The word "bride" is used a lot when you're planning a wedding. Genderqueer folks who present as women, not to mention gay couples who will be married without a bride in sight, might need to assert to their wedding vendors how they'd like to be referred. For example, a group of friends you've chosen to be by your side for your groom-groom wedding isn't a bridal party, but rather a wedding party, or maybe some other name that you're using to refer to your gang. Not to mention trans folks who might be at risk for misgendering. As you've probably figured out, wedding vendors are a very courteous bunch and if they're misgendering you or your partner, or using language that isn't accurate for your gender, it will probably be as simple as letting them know your preferences to clear things up. It's up to you how detailed you'd like to be, but a simple note via email or at your face-to-face meeting will likely do the trick. This can apply to your pronouns, your wedding moniker (i.e. do you want to be called a "bride," "groom," "fiance" or something else?) or other gendered words.


When you'll need special venue considerations, like a gender-neutral restroom
While venues are typically pretty gender-neutral, there can be a few instances when you'll need to alert them that your LGBTQ wedding will require some different accommodations. This could come into play when you are discussing where you and your partner will get ready for the wedding, as some places will have a large bridal suite and a smaller suite for grooms. Many groom-groom couples prefer to get ready together, while bride-bride couples may want two bridal suites, both of which need to be large enough for their attendants and glam squad. Then there are restrooms, which are gendered in most places. If you'd prefer gender-neutral restrooms for your wedding party and guests, your venue will probably not have a problem accommodating you, but they'll need a heads up. Up until this point, your gender identity or sexual orientation probably didn't factor into meeting or booking this wedding vendor, but this is an instance where "coming out" as queer, genderqueer or trans might make things smoother. If you are working with a wedding planner, it might be less awkward to ask them to have the conversation with the venue. If not, consider shooting off a short email to your venue representative telling them what you'd like and a short explanation. It can be as simple as saying, "We're wondering if you can make a gender-neutral restroom available for our reception as we and many of our guests identify as genderqueer," or something to that effect.