You Booked Your Wedding Venue. Now What?
You've found the venue of your dreams, signed your contract, and officially set the date for your wedding—but there are a few more things that you'll need to finalize.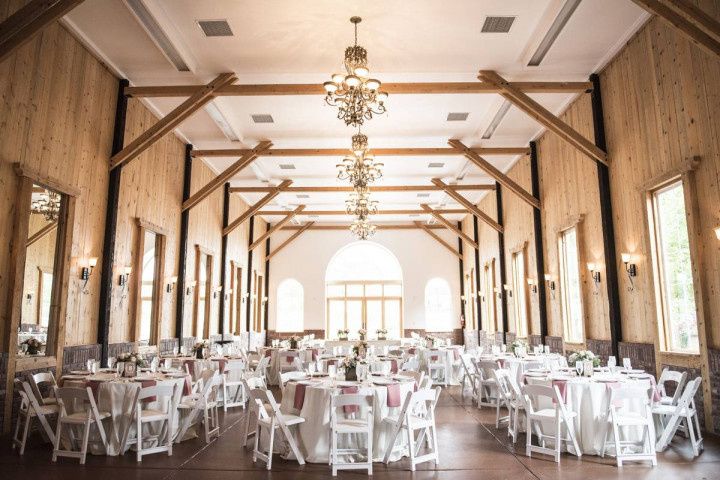 Once you've found your wedding venue, you can breathe a sigh of relief. By signing on the dotted line and officially booking your wedding venue, you've officially set a date for your event—and that's a huge accomplishment! While you should definitely celebrate taking this big step, don't push the snooze button on wedding planning just yet. There are a few more tasks that you'll need to finalize with your venue before your big event. Be sure to maintain an open line of communication with your venue to ensure these items get checked off your list.
We asked venue pros to give us the scoop on the important tasks you'll need to handle after booking your wedding venue.
Find vendors—with your venue's help.
"Shortly after booking a venue, the vendor selection process should begin," says Douglas Armstrong of Whitehall Estate & Winery in Bluemont, Virginia. While some venues have approved vendor lists of pros that are permitted to work at their space, others allow you to work with any vendors you choose. Be sure to talk to your venue to find out what their policy is, and ask for recommendations—your venue can be a great resource to help you find the best pros! Of course, check out WeddingWire to read vendor reviews as well! Let your venue know who your vendors are as you book them.
Set up a planning meeting.
"A month or two after booking your wedding venue, the couple should revisit the site and begin the planning process," says Armstrong. "This is a great way to refocus in on the property and lay out a timeline of to-do items leading up to the wedding." You'll want to discuss where the various wedding events will take place, start thinking about the rentals and décor you'll need, and more.
Confirm deadlines.
"Shortly after signing your contract, be sure to confirm any deadlines that the venue has for wedding details and payments," says Carrie Biddle of The Richard Nixon Library in Yorba Linda, California. Be sure to ask any questions up front so there's no confusion later on.
Connect your wedding planner with your venue.
If you have hired a wedding planner, make sure you introduce him or her to your venue's coordinator—if they don't already know each other. "It's always best to connect your coordinator with the venue as soon as possible so everyone is on the same page," says Biddle.
If your venue offers catering, plan your menu tasting.
A menu tasting is an essential step in planning your wedding day's meal. "Once you've booked your wedding venue, your next step is to attend a tasting if your venue provides one," says Kate Vondenhuevel of Nationwide Hotel and Conference Center in Lewis Center, Ohio. "You'll want to do this roughly four to six months prior to the big day. Don't worry about making any decisions at the tasting, just have fun! Try to have a general idea of how you plan to structure your event so you have that in mind as you sample different things. (Are you considering plated or buffet? Same entrée for everyone or do they get a choice?)."
"Your menu is the next most critical factor," says Andrew Harris of the Mayflower Park Hotel in Seattle, Washington. "A preliminary menu should be in place within one month of signing, although it's common to continually tweak said menu up to 30 days out."
Set up a final walk-through.
"After the tasting, you'll have a detail meeting with your venue," says Vondenhuevel. "You'll want to come prepared because at this meeting you'll be finalizing both the food menu as well as bar selections, the timeline for the wedding day, and the set-up/layout of the space. This meeting generally takes place one to two months before the wedding." There are several questions you should be sure to ask at this meeting, including regarding arrival times, set up, the event's flow, and more.