This is Why Your Guests Aren't Buying Gifts From Your Wedding Registry
It can be frustrating when no one is buying gifts off your wedding registry. Here are the four reasons why this happens, and how you can encourage your guests to check your registry.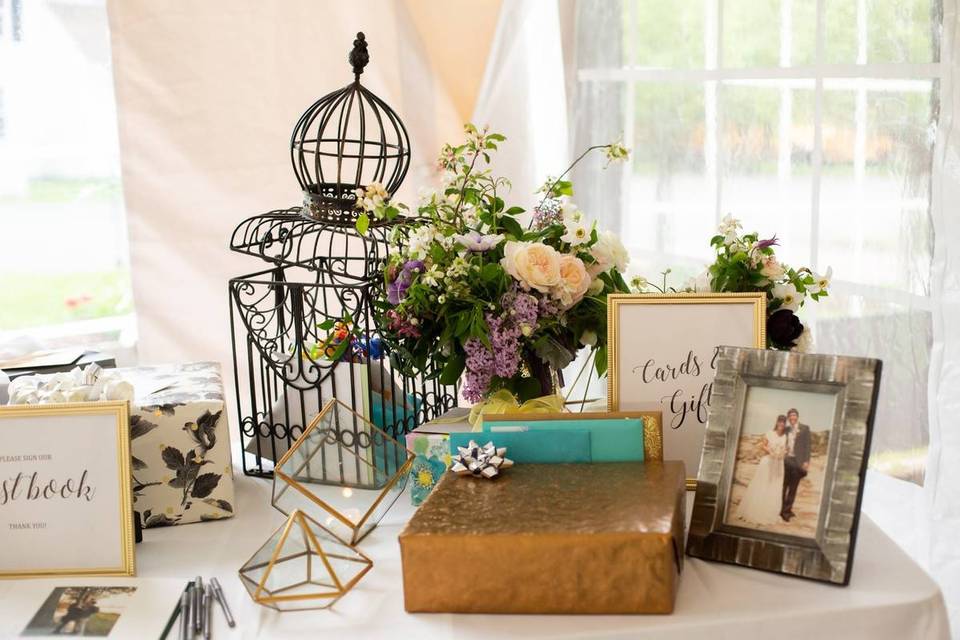 We all know why setting up a wedding registry is a good idea—you get to pick the gifts you actually want, guests don't have to do the legwork to figure out what to buy you, and the gifts get shipped directly to your door. Sounds pretty straightforward, right? Well, not for everyone. It turns out that about 14 percent of your guests will buy you a gift that's not from your registry, according to a recent WeddingWire study. You might find this a little annoying—sure, you're grateful to receive any gift, but you've gone through all the trouble to set up your wedding registry, only to have people ignore it? Well, turns out they have their reasons. While some of your guests won't buy a gift from your registry no matter what you do, some of them may need a little extra help from you to do so.
Here's why your guests aren't buying gifts off your wedding registry, and what you can do to encourage them to do so.
It feels more personal.
According to the study, 43 percent of guests who didn't buy a gift off the registry did so because it felt more personal to select their own present. For whatever reason, many guests feel that buying a set of flatware or a few bath towels isn't "personal"—that you won't think of them every time you look at that particular item. For these guests, try to add some gifts to your registry that have a "keepsake" feel, such as picture frames, vases, candlesticks, and more.
It's easier for some.
You might find buying a wedding gift from a couple's online registry to be a piece of cake, but for some guests, particularly older ones, it's a bit more complicated. These guests might not look at your wedding website to find out where you're registered and prefer to go into a brick-and-mortar store to pick something out for you. The WeddingWire study showed that a quarter of guests found it easier to buy something that wasn't listed on the registry. To help these guests, you might enlist your parents and/or other close relatives to spread the word about where you're registered, particularly to those loved ones who aren't Internet savvy.
Controversial as it may be, this may also apply to guests who are regifting. Yes, it's much easier to give a couple a gift you already have rather than buy something new from their registry. So if you receive a gift that's not from your registry but similar to an item you registered for, it may be regifted. Not much you can do it about it, but it may explain why some guests aren't buying gifts off your registry.
They want to give you something handmade.
If your guests are crafty, they might eschew your registry to give you handmade wedding gift. In fact, the WeddingWire study showed that 17 percent of guests who didn't give a registry gift preferred to make something especially for the couple. This can be more cost-effective for certain guests, and might feel more personal. Handmade gifts can be awesome (a gorgeous hand-painted vase from your artist cousin or a recipe book featuring your favorite family recipes from your aunt) or awful (a hand-knitted toilet seat cover), but you should appreciate the effort your loved ones put into making them (and send a thank-you note, of course!), even if they're, er, not your favorites.
There aren't enough gifts to choose from.
Your procrastinating guests who wait until a few days before your wedding to buy your present may find that there aren't enough gifts left that they want to buy or that are in their price point. At this point, they could give you a gift card, a cash or check gift—or they could buy you something that wasn't on your registry to begin with. Be sure to check your registry frequently, particularly in the days leading up to your wedding, to ensure enough gifts are listed at a variety of price points. Don't be afraid to add more gifts if your registry's running low—your guests are more likely to buy you something from your registry if there are options.