How to Get Married in New Jersey
The Garden State is an ideal destination for a wedding. Here's everything you need to know when it comes to how to get married in NJ.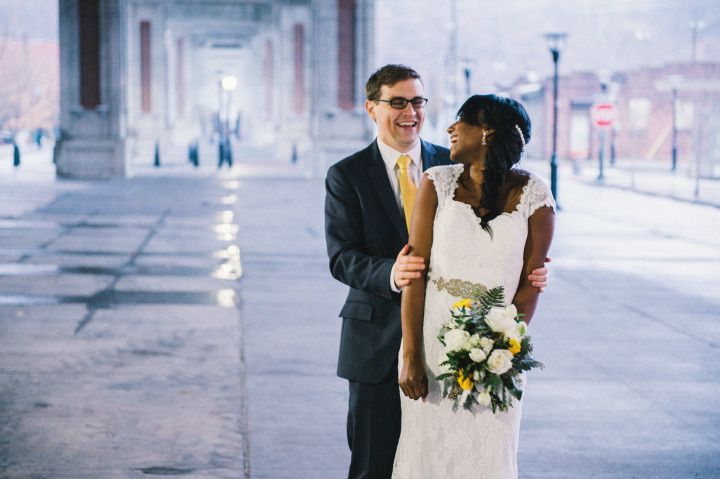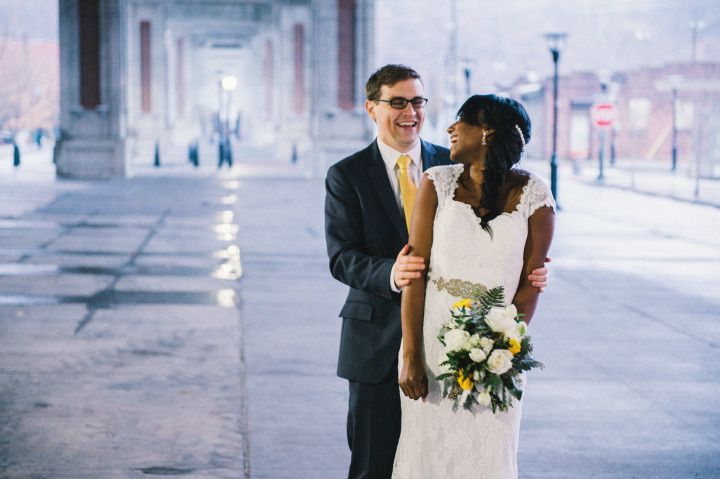 Whether you're originally from the Garden State, have adopted it as your home state, or are looking for a convenient destination that's near the city, but not in the city, New Jersey is a great place for weddings. If you're wondering how to get married in NJ, you're not alone. Our recommendation? Start by browsing the many wedding venues in NJ—you'll find that there's a wide variety of outdoor settings, from gardens to beaches, all within relatively close proximity to the major cities of New York and Philadelphia. Once you've booked your venue, you'll want to find the vendor team that will make your New Jersey wedding dreams a reality.
Here's the full scoop on how to get married in NJ, from start to finish.
The Basics
When considering how to get married in New Jersey, it's important to know how much a wedding in the Garden State typically costs—and it does differ depending on whether you're getting married in Northern or Southern New Jersey. In Southern New Jersey, the average couple spends $32,000, while in Northern New Jersey, the average cost is quite a bit higher, at $48,000. Fall is the most popular season for New Jersey weddings, but in Northern New Jersey, October is the most popular month, while in Southern New Jersey, it's September.
Though New Jersey is one of the smallest states by land area in the U.S., there are vast differences between marrying in its different counties and regions. There are bustling cities, and more suburban and ­rural areas. Depending on where and when you're marrying, you'll want to check the calendar to make sure that major events won't snarl traffic and book up hotels. Examples include the Miss America Pageant, which takes place in Atlantic City in September, and St. Patrick's Day, which is a busy time in Hoboken. It may go without saying, but summers tend to be extremely busy on the Jersey Shore, as well.
Getting There and Getting Around
If you're hosting many out-of-town guests at your New Jersey wedding, there are lots of ways to travel into the state. Newark Liberty International Airport is the major airport for the state, though your guests can also fly either of the New York City airports (LaGuardia or John F. Kennedy) if you're marrying in Northern New Jersey, or Philadelphia International Airport if your wedding will take place in South Jersey. For those traveling from the Northeast, Amtrak trains stop at various stations within the state, as well.
Once your guests have arrived in New Jersey, it's likely that they'll have to rent a car to get around, unless you're marrying in Hoboken or Jersey City, which have decent bus systems. Most residents of New Jersey drive, rather than take public transportation so unless your guests are staying in hotels within walking distance to your wedding venue, you'll either want to provide shuttle transportation or encourage your guests to rent cars.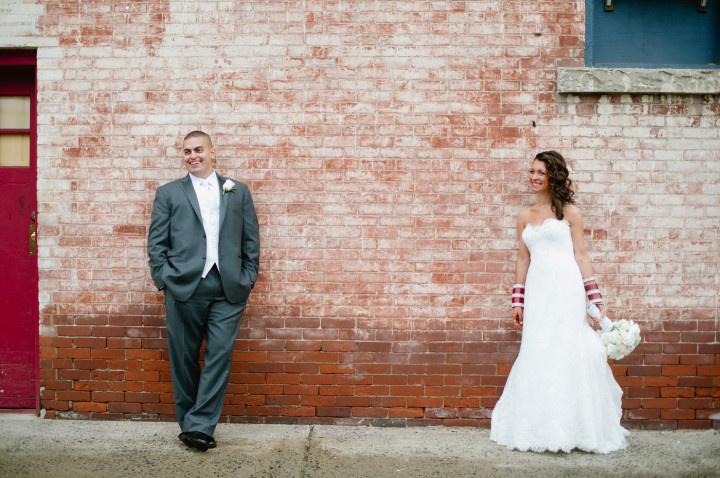 Weather
When figuring out how to get married in NJ and the time of year when you should wed, it's essential to know something about the weather patterns in the area. You can predict hot and sticky summers, cold, snowy winters, and milder summers and falls. The hottest month is July, with an average temperature of 86 degrees, and the coldest is January, with an average temperature of 39 degrees. July is also the rainiest month, with 4.72 inches of precipitation during that month.
Wedding Venues
As mentioned, one of the first steps of learning how to get married in NJ is to choose a wedding venue. Fortunately, there are lots of wedding venues to choose from in the area, whether you're looking for a glamorous space or something more low key. Here are a few of the most popular types of wedding venues in NJ.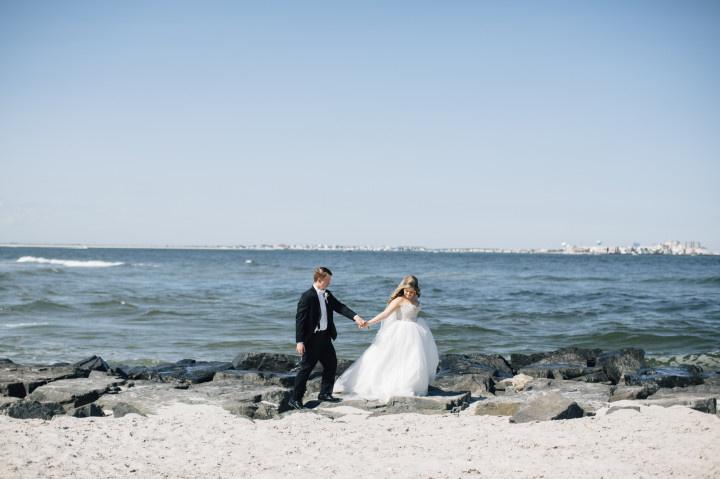 Marriage Requirements
When considering how to get married in NJ, it's essential to learn the legal requirements to obtain a New Jersey marriage license. You'll first want to fill out a New Jersey marriage license application, which is available online. Then, head to the marriage license office in the town where you or your partner resides, or the municipality where the marriage will take place. You'll need to bring your filled-out application, social security number, form of identification (driver's license, passport, or state or federal ID card), proof of residency if you're applying for a license in the New Jersey municipality where you live, and a $28 application fee. Once you've applied for a license, there is a 72-hour waiting period before you can actually have your marriage ceremony, and the application is valid for six months from the date you received it. You'll want to make sure that your officiant is licensed by the state of New Jersey, and will file the proper paperwork so your license is issued soon after your big day.
Wedding Accommodations
When booking room blocks for your wedding guests, it's important to note the distance between your chosen hotels and your venue. New Jersey towns can be quite spread out, and it can be easy to book hotels that seem close to your venue, but are actually quite far away. Unless you're hosting your wedding at a hotel where your guests can stay, you'll probably want to consider booking shuttle transportation for your out-of-town guests between the hotels and your venue for both convenience and safety.
Things to Do in New Jersey
While for some, the main attraction to staying in New Jersey is its proximity to New York and Philadelphia, the Garden State has plenty of attractions in its own right. Here are a few of our favorites:
Liberty State Park
Located in Jersey City, Liberty State Park is ideal for outdoor enthusiasts, or simply those who want to take some pretty stunning Instagram photos with the Manhattan skyline and Statue of Liberty as their backdrop. The Liberty Science Center is located in the park, and there's a ferry to the Statue of Liberty and Ellis Island from the park.
Atlantic City
Known for its boardwalk and casinos, Atlantic City has a plethora of activities for visitors from gambling to shows, shopping to sunning on the beach.
Jersey Shore
The Jersey Shore extends from Northern to Southern New Jersey and offers scenic beaches and ample activities for guests of all ages.
New Jersey Wedding Inspiration
One of the best ways to gain inspiration when figuring out how to get married in NJ is to view photos from other weddings that took place in the area. Here are a few of our favorites:
Bayann and Adam's glamorous manor wedding in Aberdeen »
Clarissa and Richard's elegant club wedding in Florham Park »
Caitlin and David's nautical wedding in Sea Bright »
Jacquelyn and Marshall's unique Jersey City wedding »
Disclosure: This post contains affiliate links, some of which may be sponsored by paying vendors.