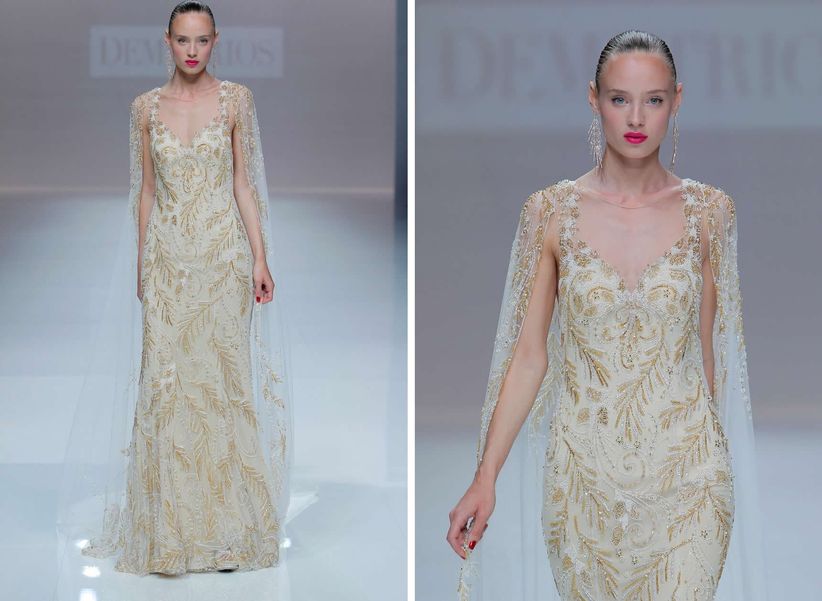 The 2019 mother-of-the-bride trends are often hard to spot, since a lot of moms think they have to stick to typical or even outdated dress styles, but not anymore! We've decided to roundup the most popular 2019 mother-of-the-bride trends so moms, too, can look fabulous on the big day. From off-the-shoulder necklines to metallic embellishments, these trends for 2019 weddings are guaranteed to make any mom feel confident and chic at their child's upcoming wedding.
Here are the top 2019 mother-of-the-bride trends for hip MOB/MOG attire.

Dress: Sareh Nouri
Capes
If you love all things vintage and are trying to shop for a dress for your child's wedding day, definitely check out this 2019 mother-of-the-bride trend. Capes are a surefire way to evoke a timeless look that's also wow-worthy. They come in a variety of different lengths, too. From short caplets, to long, flowy floor-length styles, accessorizing your MOB attire with a fashionable cape will absolutely give you red carpet goals.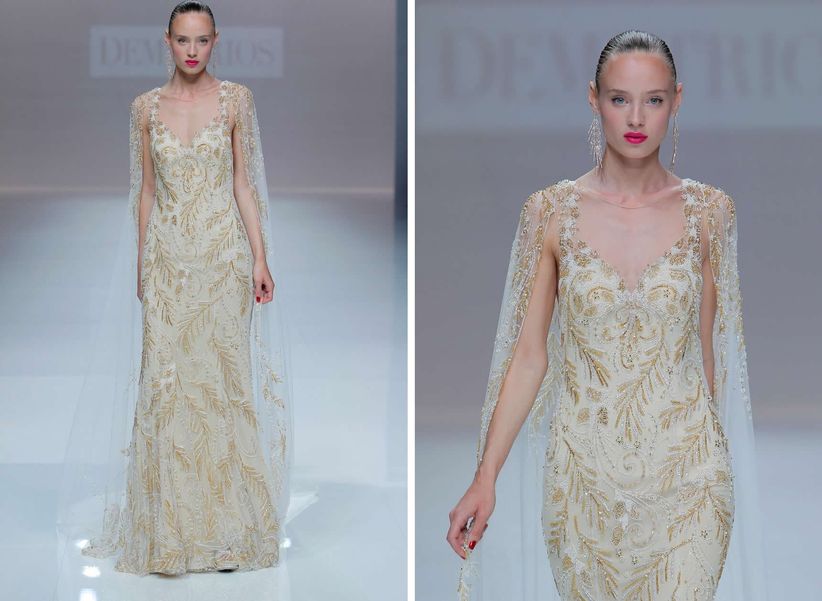 Dress: Demetrios
Metallic Embellishments
Metallics are an excellent choice for mothers of the bride hoping to wear a dress that's modern — and even a bit youthful — while still remaining age-appropriate. A dress with copper, gold or (our favorite!) champagne-colored detailing will give your dress a regal and glamorous look, which is perfect for a formal affair. Whether it be silver sequin embellishments or gold encrusted beadwork, this 2019 mother-of-the-bride trend easily allows MOBs or MOGs to jazz up their attire in a fashion-forward way.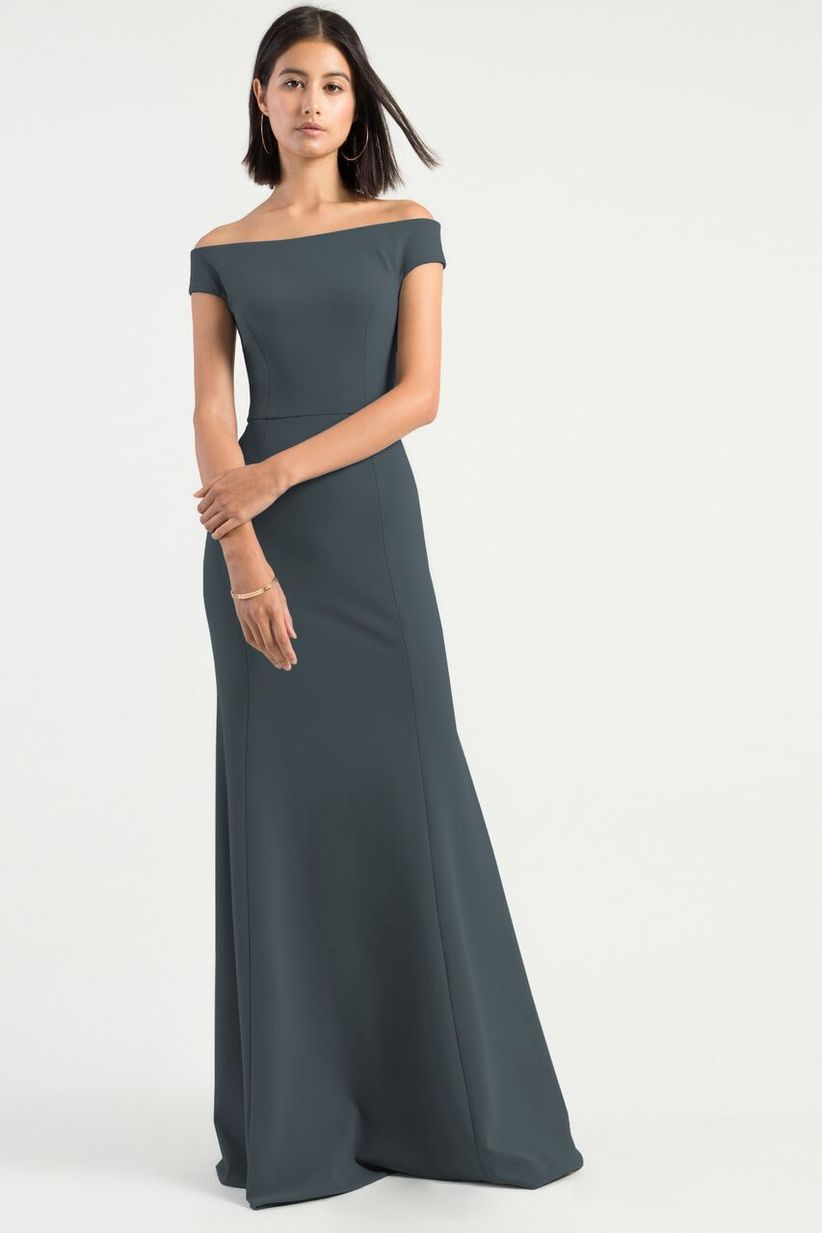 Dress: Jenny Yoo
Off-The-Shoulder Necklines
An off-the-shoulder neckline is an easy way to achieve an elegant and sophisticated mother-of-the-bride or groom look that feels fresh and new. While we saw this 2019 mother-of-the-bride trend pop up first in bridal a few years ago, it's now making its way into MOB and MOG dresses and other attire — yippee! The neckline, which falls a bit lower than a Meghan Markle bateau, let's mothers expose their collarbones while still having their chest and bust line covered. So, go ahead moms and accentuate your shoulders in a classy or modest way with a trendy off-the-shoulder neckline.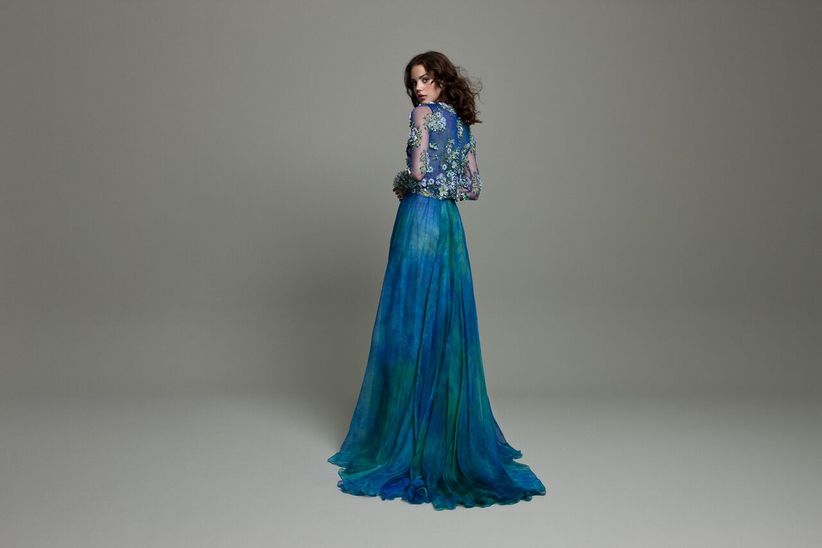 Dress: Daalarna
Deep & Rich Hues
If you're hoping to rock a pop of color for your MOB attire and have been searching 2019 mother-of-the-bride trends, we've got you covered. Deep and rich hues, like sapphire blue or merlot purple, not only add a bit of drama to 2019 mother-of-the-bride dresses, but also are very slimming! Just make sure to coordinate as best as you can with the bridesmaid dress colors, so your darker shaded outfit can compliment the rest of the wedding party.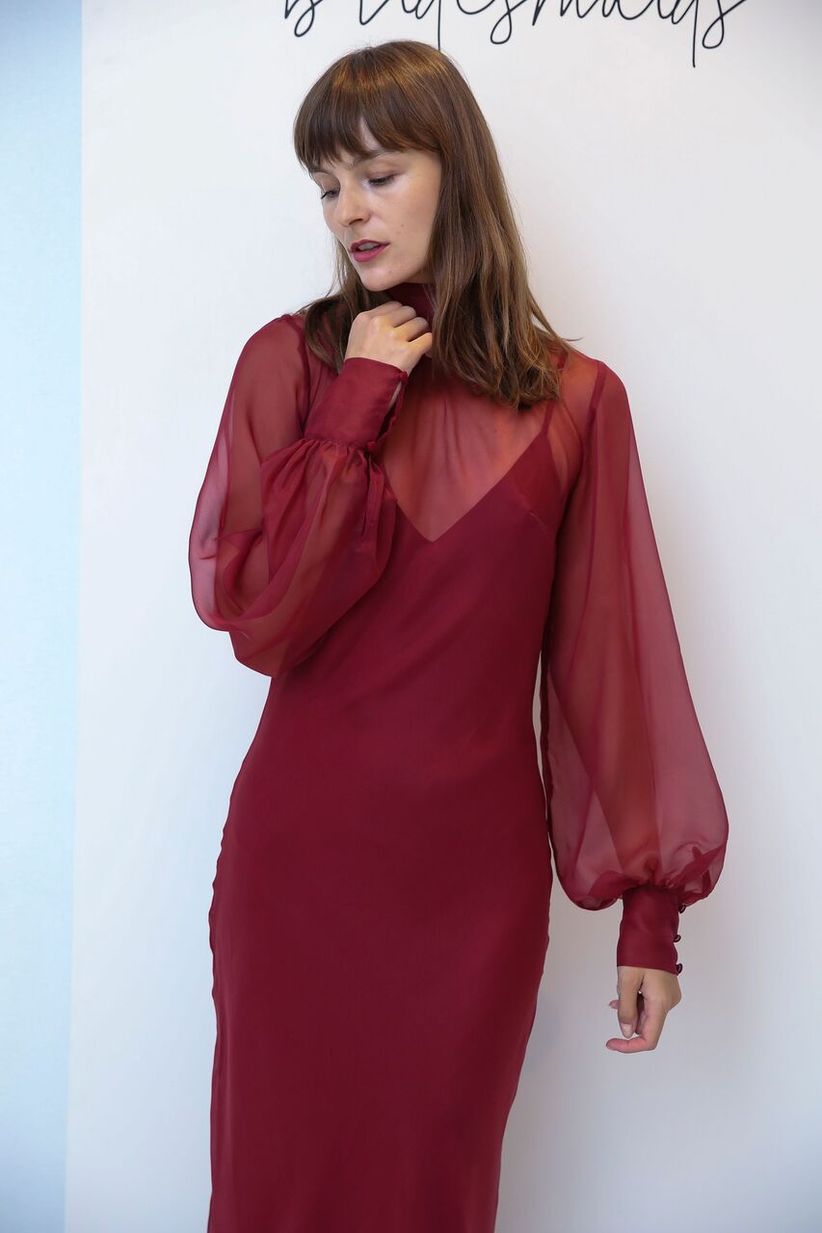 Dress: Rewritten
Statement Sleeves
From Stevie Nicks-inspired bell sleeves to swoon-worthy butterfly sleeves, 2019 mother-of-the-bride trends are all about sleeves. These statement sleeves give MOB and MOG dresses an elevated look from standard sleeved gowns and is our number one pick for a fall or wintertime wedding.
Dress: Lazaro
Illusion Lace
For moms wanting a bit more coverage, but still want a MOB dress that's not outdated, try a gown with illusion lace detailing. Illusion lace is an excellent work around when it comes to showing just the right amount of skin. The strategically placed lace can be found on necklines, sleeves, and backs, and let's moms confidently rock a more modern and a bit revealing gown.
Dress: Ines Di Santo
Embroidered Jackets
Embroidered jackets are definitely one of our favorite 2019 mother-of-the-bride trends — especially if you're a cool mom! A jacket can be paired with almost any type of dress, jumpsuit, or pantsuit — you name it — and easily gives your MOB or MOG attire a 2019 upgrade. You also don't have to wear the piece the whole night. Opt to wear the jacket during the ceremony and then take it off during the reception to mix up your look from day to night. This quick outfit change is guaranteed to get a lot of compliments on your trendy style throughout the celebration.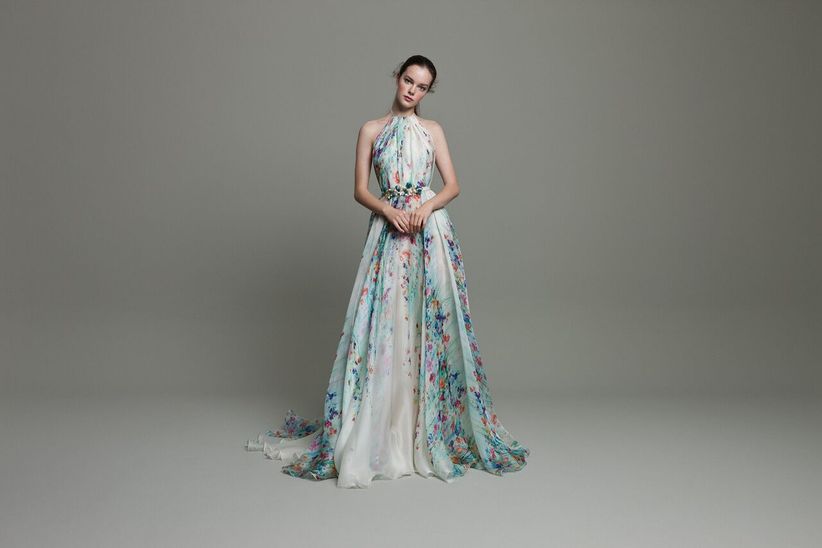 Dress: Daalarna
Floral Prints
Is your daughter or son getting married outside or in a warmer month? If so, then we totally think this 2019 mother-of-the-bride trend is up your alley. Floral prints let moms have a playful MOB style that isn't too over-the-top. A dress covered in colorful blooms or another soft print is a subtle way to evoke a unique and romantic look that is oh-so gorgeous.
Dress: Lazaro
High-Low Hemlines
Remember, not all mother-of-the-bride dresses have to be floor-length! Opting for a gown that exposes some leg, like a popular high-low hemline, will make you feel stylish on your daughter or son' big day. So, if you're hoping to show off your legs (or better yet, your shoes!) while making your way down the aisle, then we think this 2019 mother-of-the-bride trend is a fabulous choice.