These Meghan Markle-Inspired Wedding Dresses Will Make You Feel like a Queen
Hoping to feel like royalty on the big day? Check out these Meghan Markle-inspired wedding dresses.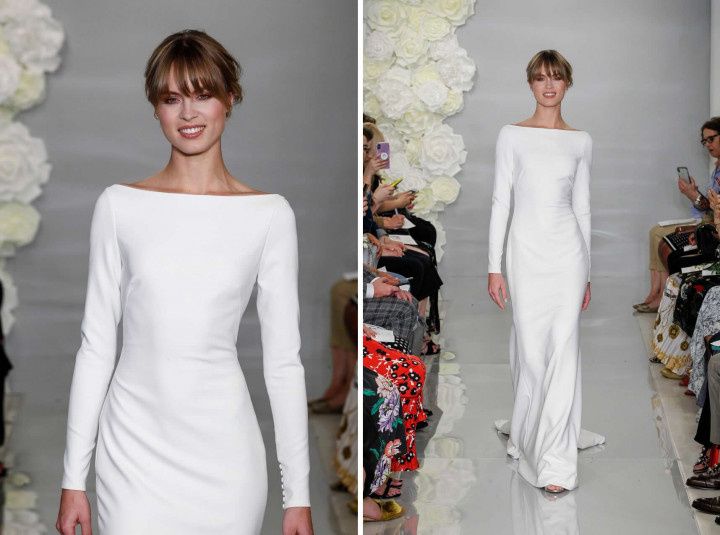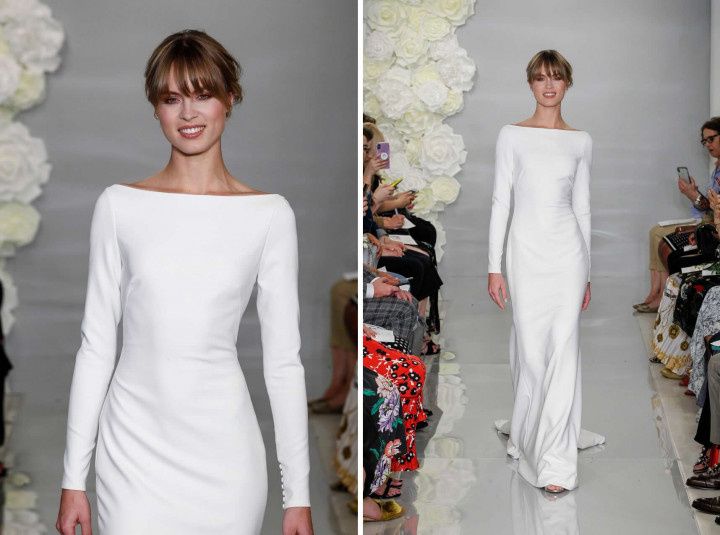 Ever since the royal wedding, it seems like every bride is dying to copy the California chic duchess by opting for a Meghan Markle-inspired wedding dress. The look, which is quite different than Kate Middleton's lace masterpiece, consists of clean lines and slim sleeves paired with a modest bateau neckline and figure-hugging silhouette. It's the epitome of minimalist style and perfect for brides hoping to wear a gown that's understated, but still elegant and sophisticated. If you're as obsessed with Meghan Markle's wedding-day look as we and, well, everyone else are, then we think you'll love these subdued and modern gowns. Whether you're hoping to match Markle's unadorned look or simply looking for a gown that highlights your figure, these Meghan Markle-inspired wedding dresses are a must-see.
These Meghan Markle-inspired wedding dresses are made for the minimalist bride.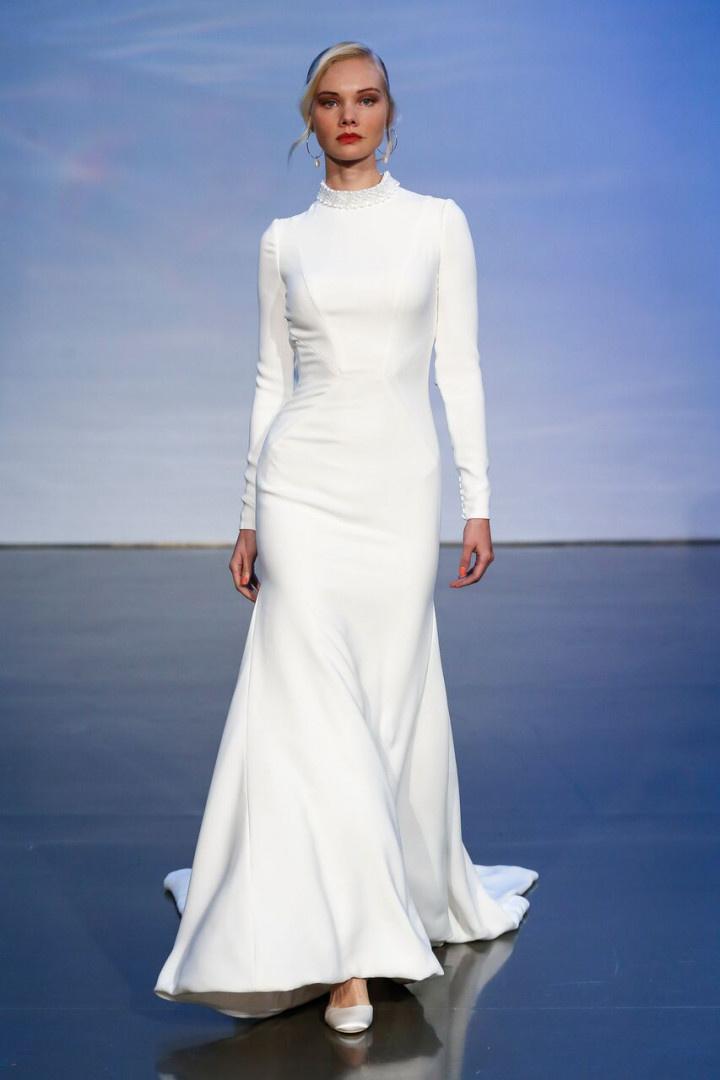 Dress: Justin Alexander Signature
Featuring a higher neckline than the Duchess wore, but still mimicking the overall clean look, this Meghan Markle-inspired wedding dress is fit for any posh bride-to-be.
Dress: Sébastien Luke
Sébastien Luke nailed Markle's royal wedding-day look. We especially love the pearl embellishments along the bateau neckline to give the look just a touch of glam.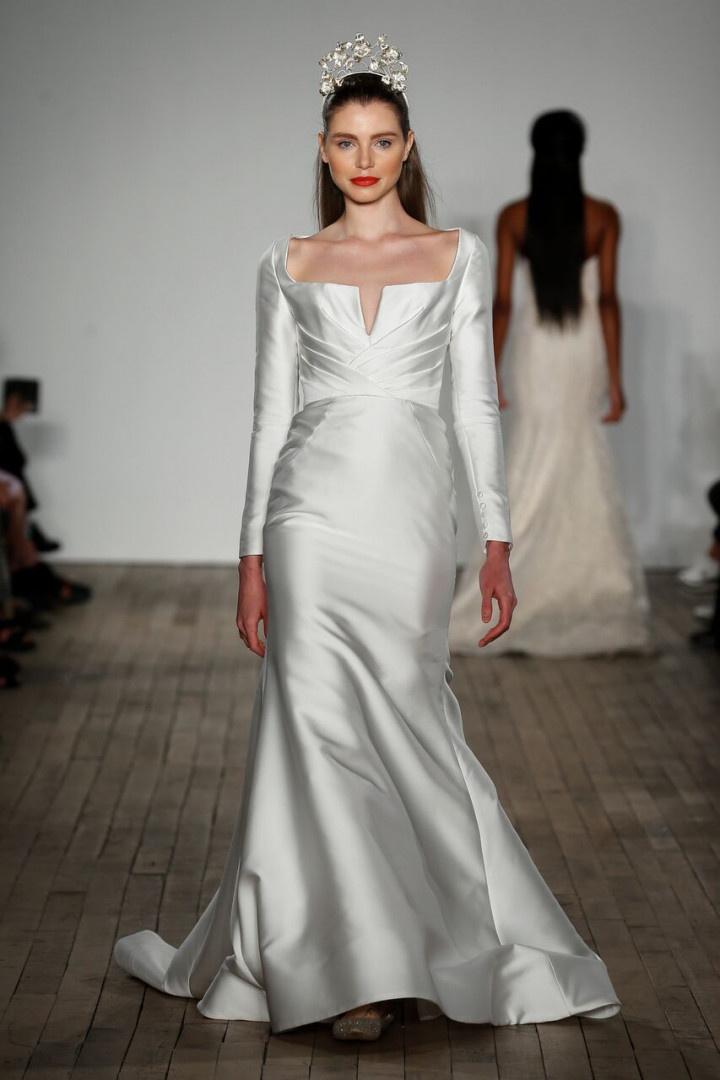 Dress: Anne Barge
Anne Barge's Meghan Markle-inspired wedding dress is a great choice if you're looking for a more revealing neckline. The clean lines and long sleeves offset the deep V neckline which gives the whole look a modern feel that minimalists will love.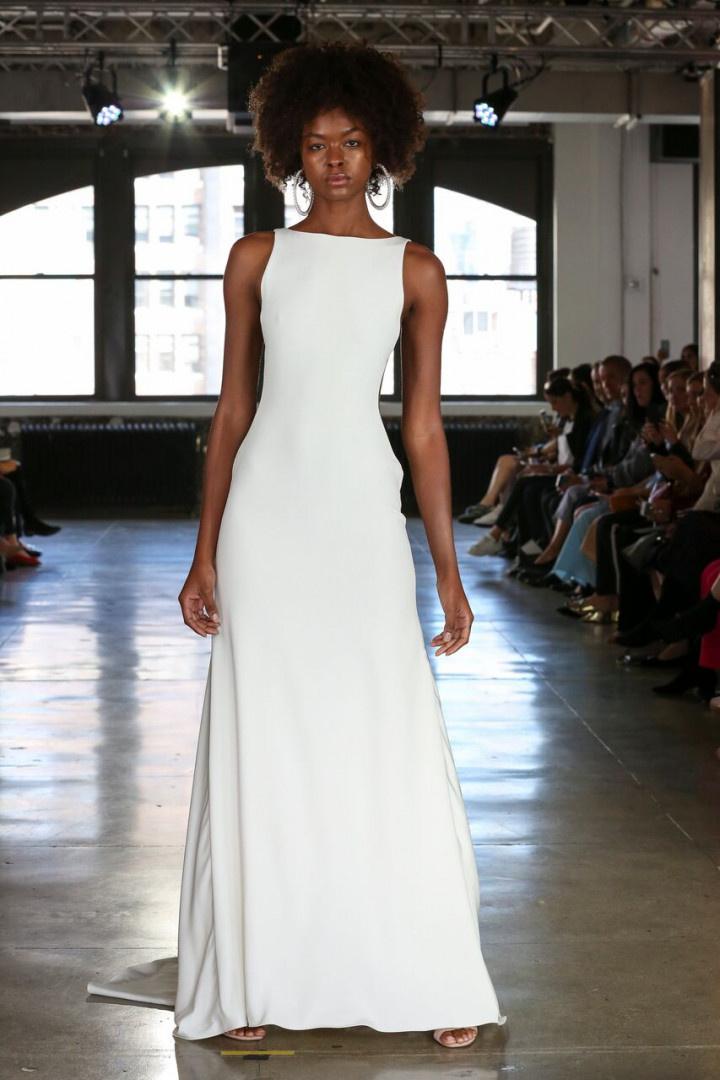 Dress: Watters
Want to show off your arms on the big day, but still looking for a Meghan Markle-inspired wedding dress? Watters' sleeveless, clean crepe fabric gown accessorized with a boat neckline is a must for brides hoping to have their arms exposed.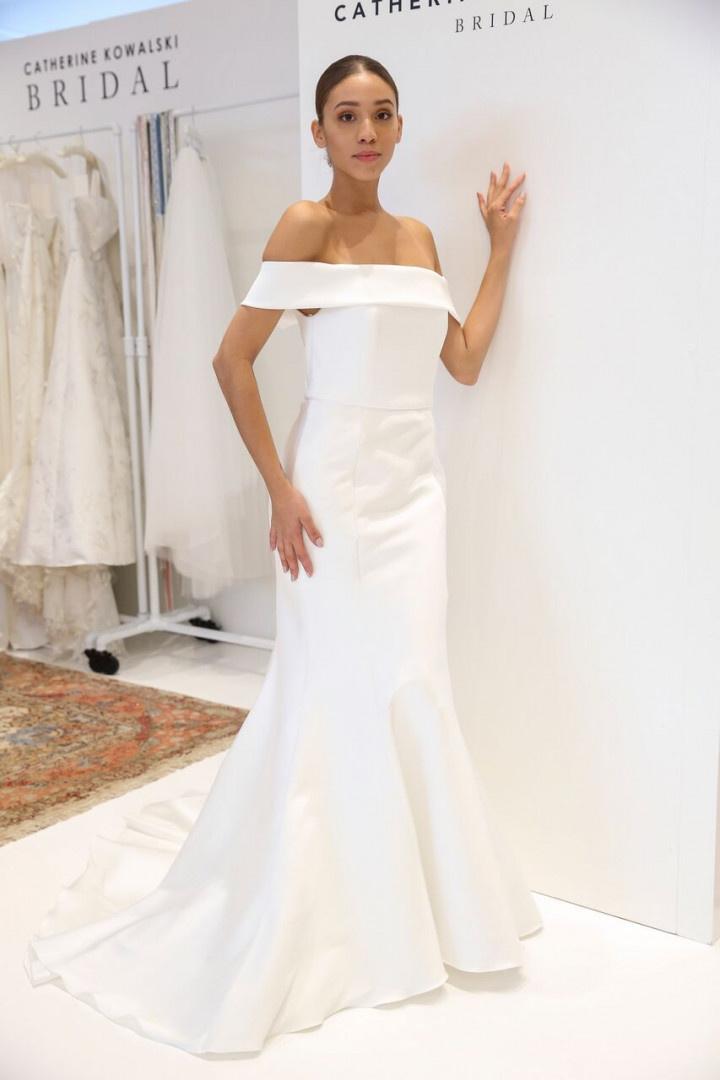 Dress: Catherine Kowalski Bridal
Brides can totally rock their shoulders in this Meghan Markle look-alike. With a similar fit-n-flare silhouette and zero embellishments, you'll definitely feel like royalty in this gown.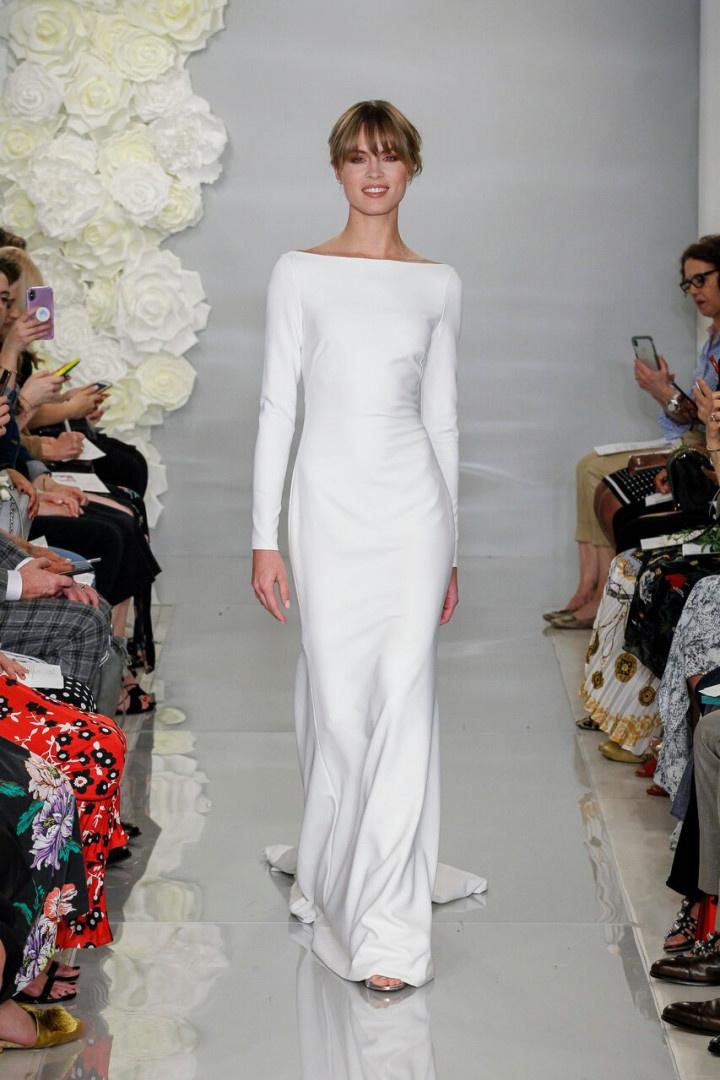 Dress: Theia
Dress designer Theia totally gets it right with this Meghan Markle-inspired wedding dress. It's perfection.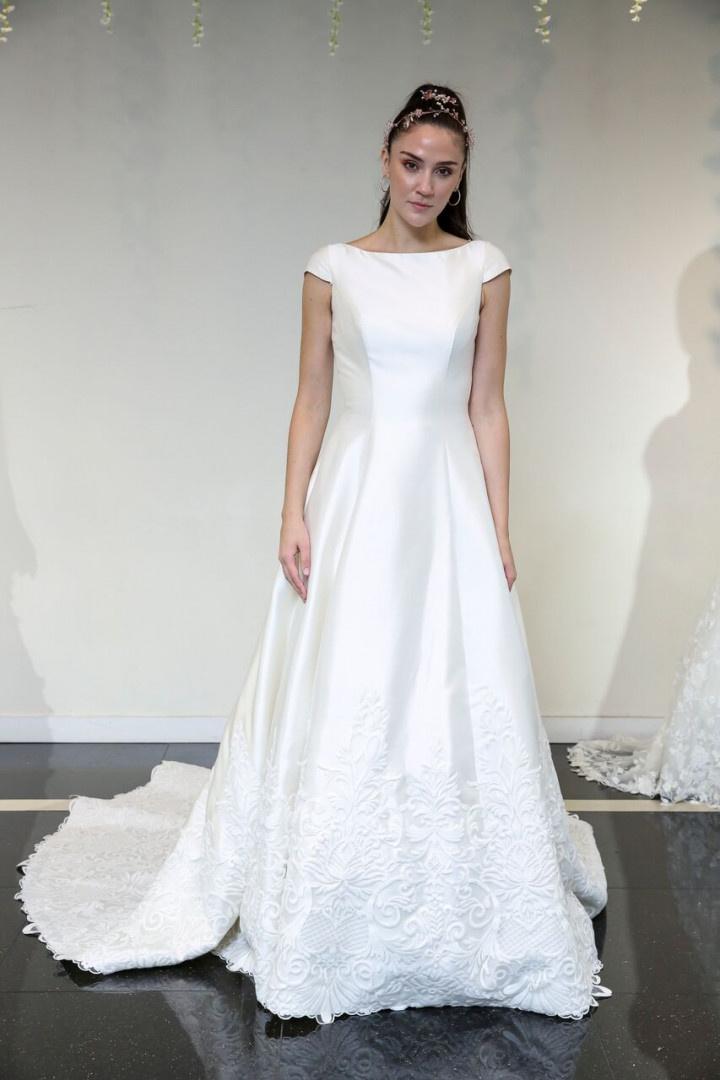 Dress: Yumi Katsura
For brides who are a sucker for embroidery on their gown but still want to stick to Markle's clean look, check out Yumi Katsura's take on the royal wedding dress.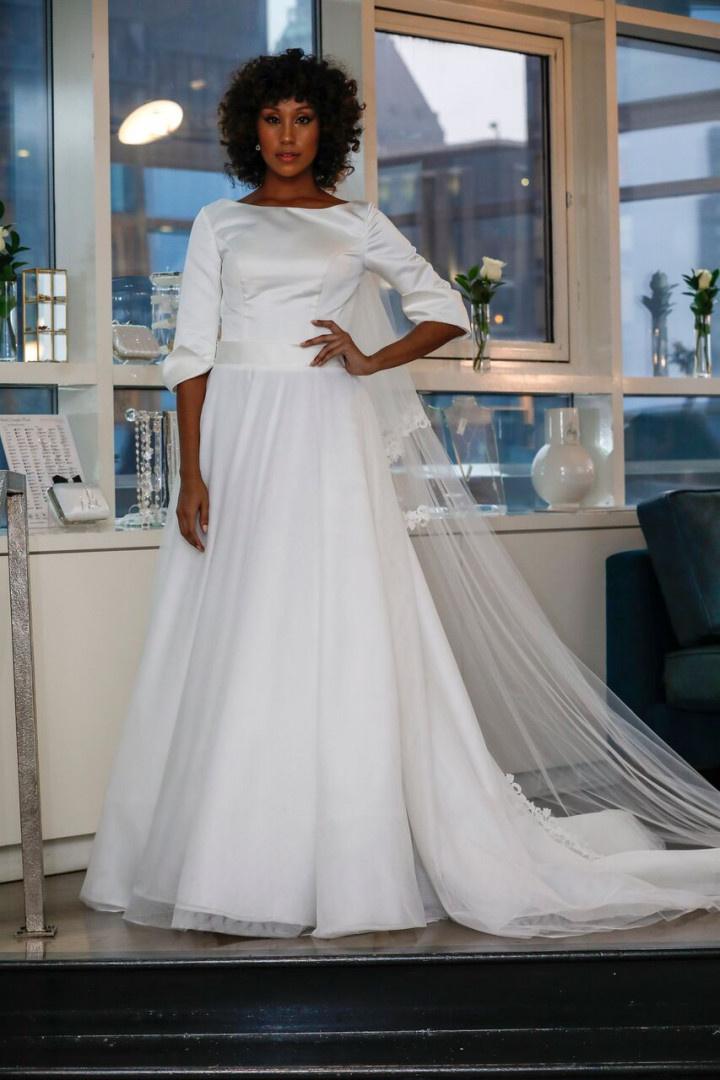 Dress: Olia Zavozina
Love Markle's gown but want a more voluminous skirt? Why not try this elegant long-sleeved, fitted top accessorized with a soft tulle skirt?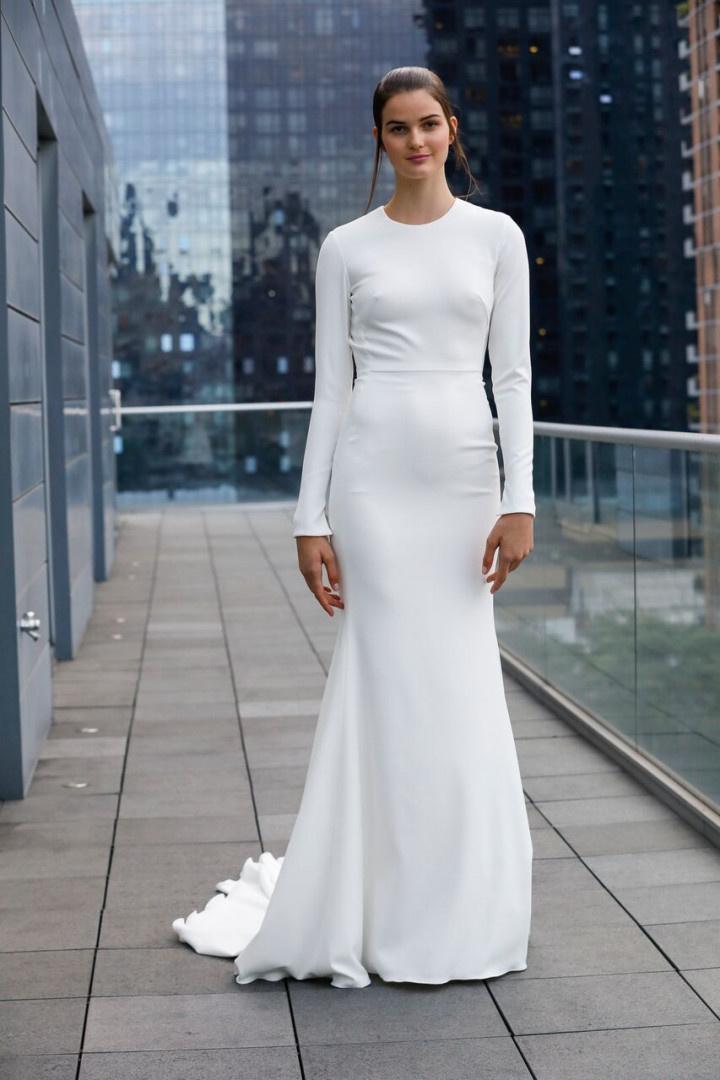 Dress: Isabelle Armstrong
Modest neckline, check. Clean fabric, check. Long sleeves, check. Isabelle Armstrong's gown one hundred percent channels Markle's sophisticated style.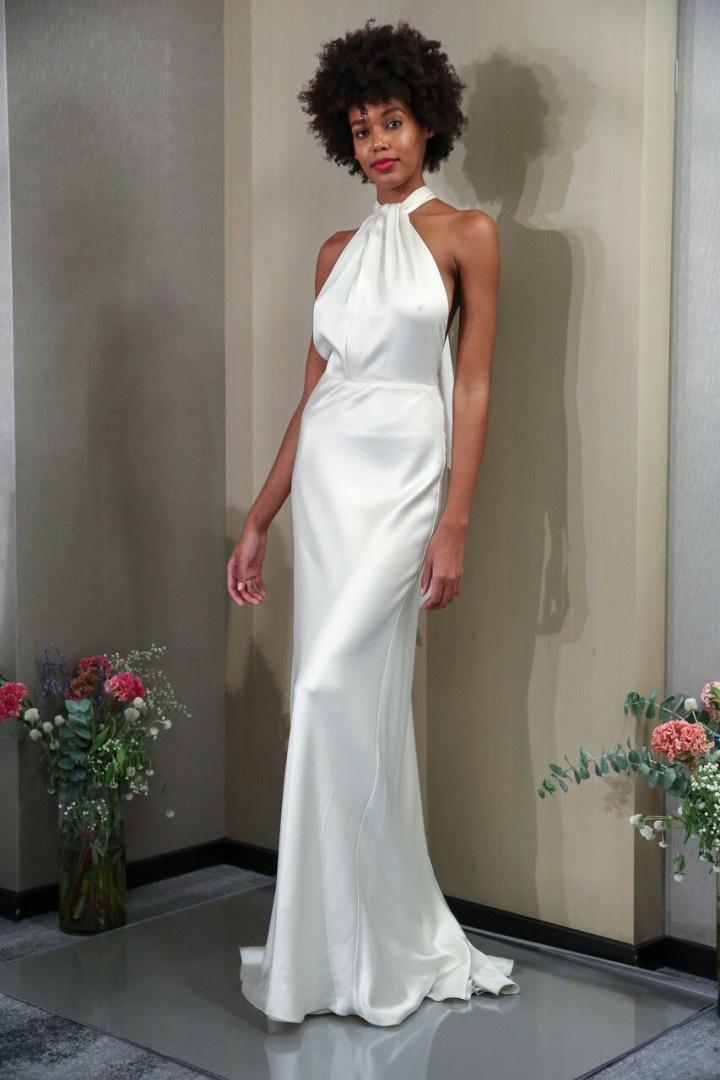 Dress: Halfpenny London
For those who were more obsessed with Markle's reception dress than ceremony look, we think Halfpenny London's mocked neckline and fit-n-flare silhouette is a killer choice.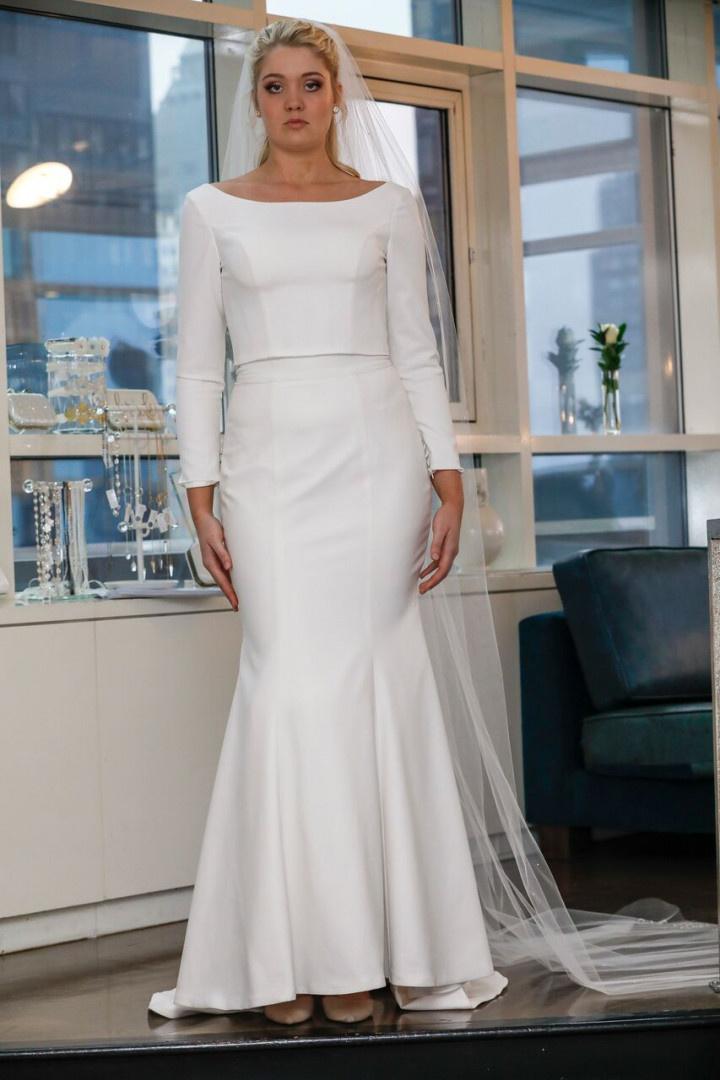 Dress: Olia Zavozina
This clean gown is fab for brides looking to show off their bod in a flattering and chic way. Olia Zavozina recreated Markle's look with the help of a crepe, fit-n-flare skirt, long sleeves, and boat neckline.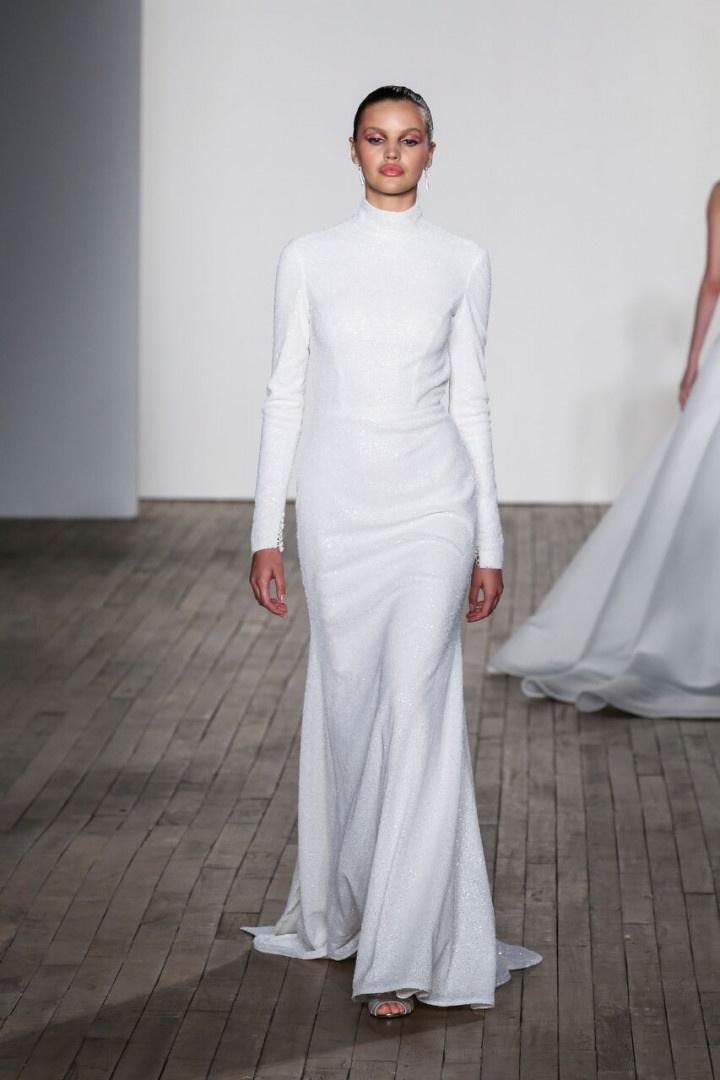 Dress: Allison Webb
Allison Webb's sequined Meghan Markle-inspired wedding dress will definitely allow minimalist brides to shine on the big day.