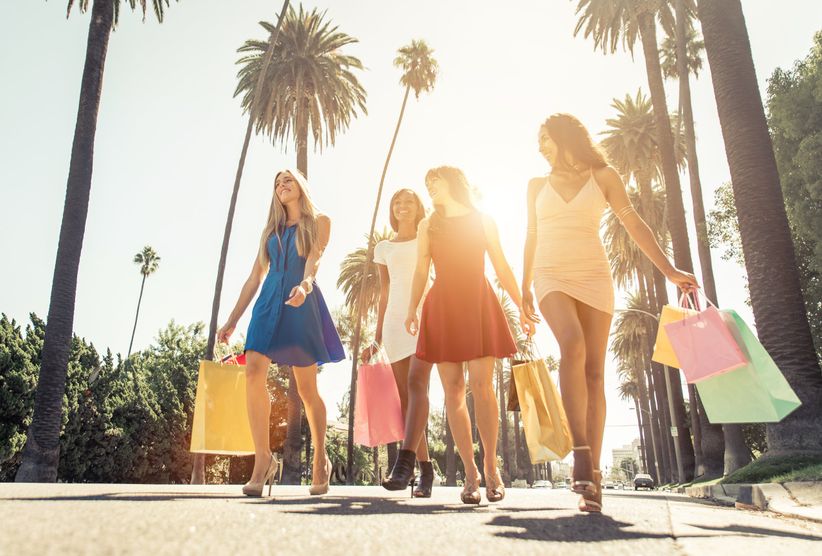 There are few places better suited for a bachelorette party than the City of Angels. In Los Angeles and the surrounding areas, there's truly something for everyone at a Los Angeles bachelorette party, whether you and your girls are looking for early morning hikes to catch a glimpse of the Hollywood sign or late-nights partying with A-listers — or a little bit of both. Known for its star power, incredible sights, top-notch dining and nearly wonderful year-round beautiful weather, here's everything you need to do a Los Angeles bachelorette party the right (read: fun) way.
Get your sunglasses ready and prepare for the celebrity treatment during your Los Angeles bachelorette party at these Hollywood-approved restaurants, bars, hotels—and more.
What to Do
First timers, don't be afraid to check out all of the city's most famous sites during your Los Angeles bachelorette party including LACMA, the Hollywood Sign, and even the Hollywood Walk of Fame. Once you've checked off the touristy stuff venture to Santa Monica, Venice or Manhattan Beach. Venice Beach, in particular, is packed with personality including bodybuilders at Muscle Beach Gym, colorful murals on Abbot Kinney Boulevard, and skateboards whizzing through the boardwalk. Just a 10 minute walk from the boardwalk, you'll get a taste of Europe at the Venice Canals, a historic district composed of man-made canals. Top tip: Google may lead you astray so instead, follow the boardwalk south until you reach 25th street to see the canals.
And now, let's get to what you came here for: Wine, and lots of it. Malibu Wine Safaris has become one of the most popular, social media-friendly spots in recent years. Here, you get the best of both worlds by sampling wines from the 1000-acre vineyard and befriending zebras, camels, and Stanley the Giraffe. Looking for something more low key? Take a drive down the Pacific Coast Highway to Rosenthal, a tasting room directly across from Malibu water. Even better, there's also food trucks and live music on Saturday and Sunday. If you'd like a healthier alternative that gets your heart rate up and you want to see the iconic sites of the city, book a tour with Bikes and Hikes, which as the name suggests, allows you to trek around, via your feet or two wheels.
No bachelorette party is complete without a night out on the town. For a true Magic Mike experience, check out The Hollywood Men, the only upscale, fully-choreographed male strip show in the area. Set your eyes on the Hollywood skyline — much different than chiseled abs, no? — at Perch, a rooftop patio in DTLA. Posh nightclubs like Poppy and Warwick will turn your G.N.O. into a lavish night of luxury and bottle service. In fact, Poppy will take you into a fantasy storybook setting with mermaids, peacocks, and gypsies. If you're the type of crowd who wants to have a nice dinner that's a bit edgy, and then head out to hop around the most famous gay bars (think The Abbey), consider having dinner at STK Hollywood. Here, they can make a specialized menu for your group that caters to dietary needs—and comes complete with neon lights and funky decor. Make sure to ask for the cotton candy dessert at the end that's a show itself!
If you don't want to change out of your bikini (we get it), stop by The Bungalow in Santa Monica, comprised of a main bar, outdoor patio area, game room, and state room — for a casual night of boozin' with your ladies.
Where to Eat
Let's get this out of the way: Not everyone survives on green juice in Los Angeles. Quite the opposite, brunch is basically everyone's love language. Sqirl, which has a classic menu (avocado toast!) and minimalist vibe, is one of the trendiest places to get your brunch on. If there's a vegan in your friend group or you just enjoy plant-based food, hit up Cafe Gratitude in Beverly Hills, Venice, or their two downtown locations. Word to the wise: People rave about their avocado-based Key Lime Pie if you're looking to start your day with something sweet.
Of course, we can't forget about hangover food. Nurse yourself back to health with a massive egg sandwich at Eggslut. (You're welcome.)
Since you're close to the water, you have to indulge in a seafood dinner. Catch, a celebrity hotspot in West Hollywood, offers some of the freshest fish in the city and picture-perfect atmosphere, complete with sprawling greenery and twinkle lights. Even more glamorous, the Polo Lounge at The Beverly Hills Hotel is sprawling with Hollywood history and candy-striped ceilings. Up your chances for a celebrity sighting by sitting on the Polo's patio, which is well-decorated and well endowed with some of your favorite movie stars.
You're only getting married once—and sometimes that means having the brunch of your dreams. Though it isn't where Pretty Woman was filmed, you'll feel as if you stepped into the lap of luxury when you dine at The Peninsula Hotel's restaurant, The Belvedere during your Los Angeles bachelorette party. With endless light flowing in (perfect for Instagram selfies), white table cloths and fancy champagne that free-flows, you'll savor every second. Make sure to try the lobster waffles and the caesar salad—two unlikely standouts from their brunch buffet.
Before that hangry feeling sets in, make a pit stop at DK's Donuts for a massive donut that you can all share. Their Santa Monica location is open 24/7, which means you can cap off your night of drinking with an apple fritter or two. For a healthier option, go to Amazebowls for a build-your-own acai bowl. On Melrose Avenue, swing by Caffera Cafe for a latte with seriously impressive latte art. You tell 'em what you want and they'll make it, anything from Drake to Ryan Gosling's profile.
Where to Stay
Whether your decide to stay in the center of the action or tucked away on the shore, there's plenty of stunning hotels that are ideal for a Los Angeles bachelorette party. At some hotels, like Dream Hotels in Hollywood, you don't even have leave the premises to experience the best in dining in nightlife. In addition to The Highlight Room, the hotel's 11,000 square foot lounge, it is worth the splurge to dine at Beauty & Essex. While the decadent cocktails are flowing, you can nibble your way through a mouthwatering menu, complete with tomato soup dumplings and a side of mini grilled cheese that can't be beat.
Lean on the city's charm at The Garland in North Hollywood, which gets its name from actress Beverly Garland who built the hotel with her husband in 1970. It still carries the same retro vibe with mod prints, bright colors, and an old-school trolley that'll take you to Universal Studios and CityWalk. You know what that means: No Uber necessary. And psst: Their on site restaurant, The Front Yard hosts a brightly-lit brunch with all-you-can-booze mimosas is a fun way to conquer your hangover or get the day started.
If you're on a budget and you'd like some space, consider staying at Le Parc Suites in West Hollywood. It's a bit off the main road, making it more affordable, and features a kitchen—ideal for quick bites or pre-gaming. You can easily Uber to most of the must-see areas, and if you happen to visit during the off-season in January, that fireplace will come in handy.
Treat yourself to an unforgettable stay at Fairmont Miramar Hotel in Santa Monica. The luxury hotel offers stunning views of the Pacific Ocean and is close to the area's top attractions including Third Street Promenade and the Santa Monica Pier. If you're staying with a large group, book one of the hotel's bungalows for the ultimate home away from home.