8 Alternatives to the Classic First Look Photos
Are traditional first look photos not your cup of tea? Make the moment all your own with these unique alternatives.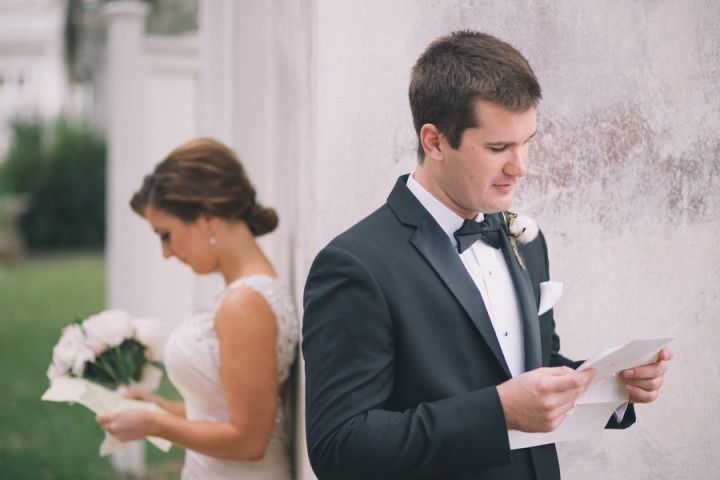 Deciding whether or not to have a first look used to be all about how traditional you wanted your wedding day to be. But today, taking first look photos has become so ubiquitous that it's a modern wedding tradition all its own. Couples will always love the classic first look, where you approach your partner from behind and tap them on the shoulder to invite them to turn around, but some couples want to do things a bit differently.
We've rounded up eight alternatives to first look photos that would be oh-so-special on your wedding day.
Spend the morning together.
"When my husband and I got married, we set aside some time early in the morning to exchange gifts, talk about the day, and pray together," says Leah Banick of Leah Banick Photography in Dayton, Ohio. "It was the perfect nerve-calmer for me: Just us in our PJs, with no cameras around. While I'm all about documenting the day, there was something so nice about having a private moment to focus on what we were about to do. And seeing one another in the morning didn't take away from that moment during the ceremony at all!"
Ditch the dress.
"You can still take traditional first look photos with a personal tweak," says Lisa Kahn of Lisa Kahn Events in Encino, California. "A recent bride of mine didn't want her groom to see her dress until she walked down the aisle, so the two of them did their first look in the hotel's luxe robes and slippers!" They were all ready for the ceremony—minus the dress and tux—and got to see one another while still maintaining that element of surprise. No hotel robes? No problem. Add monogrammed robes to your registry and wear those instead!
Keep it private.
Who says the first look has to be a photo op? "I've seen couples make their first look completely private. No cameras, no wedding party, just the two of them all decked out for the ceremony," says Banick. This is a great way to really absorb everything that's about to happen, as well as get a break from being the center of attention for a few minutes! Use this time to exchange gifts, share love letters, or just stare sappily into one another's eyes.
Exchange your vows before the ceremony.
If you're nervous about exchanging personal vows in front of a crowd, this idea is for you! "As a compromise between taking first look photos and that ceremony moment, a few of my couples have chosen to exchange their personal vows in private (with myself and the videographer present), then use traditional vows during the actual ceremony," Banick describes. You could also write love letters to one another and either exchange them or read them aloud.
Include the whole gang.
"If you're close to your wedding party, invite them all to join in the first look photo session," Kahn suggests. "Have your bridesmaids and groomsmen line up face-to-face, creating a human wall between you and your partner. Then, when you're both perfectly set for the grand reveal, they can walk in opposite directions so you can see one another." This is also a great way to get your wedding party more comfortable with the person they'll be walking down the aisle with, as they'll have a few minutes to chat while your train is being fluffed.
Invite your family.
Fabric blindfolds are cute, but parents are even cuter! "A bride of mine was incredibly close with her father, so after she showed him her dress, he covered her eyes and guided her toward her groom—who had his eyes covered by his mom," says Kahn. "When everyone was in place, Mom and Dad removed their hands so the bride and groom could see one another. It was a sweet way to bring the future in-laws together and involve the entire family."
Arrange a drive-by.
I love the idea of the couple whizzing by as a sneak peek before the ceremony," says Kahn. "You could hop into a convertible and ride past the groom as he's doing photos with his groomsmen, or hop on a motorcycle and drive past her and her bridesmaids. It wouldn't be a full first look with photos so there would still be that element of surprise at the ceremony, but it would be a fun way to build suspense and excitement!
Reverse the timeline.
"Rather than start with a first look and end with the reception, flip-flop your day with a brunch or lunchtime wedding," says Banick. "Some of my friends did this, partying through the afternoon before leaving in the early evening for a romantic dinner as newlyweds." You could have a rad dance party at 3 p.m., then head to your favorite restaurant around 6 p.m. as a "last look," spending the evening reminiscing together over champagne in private.