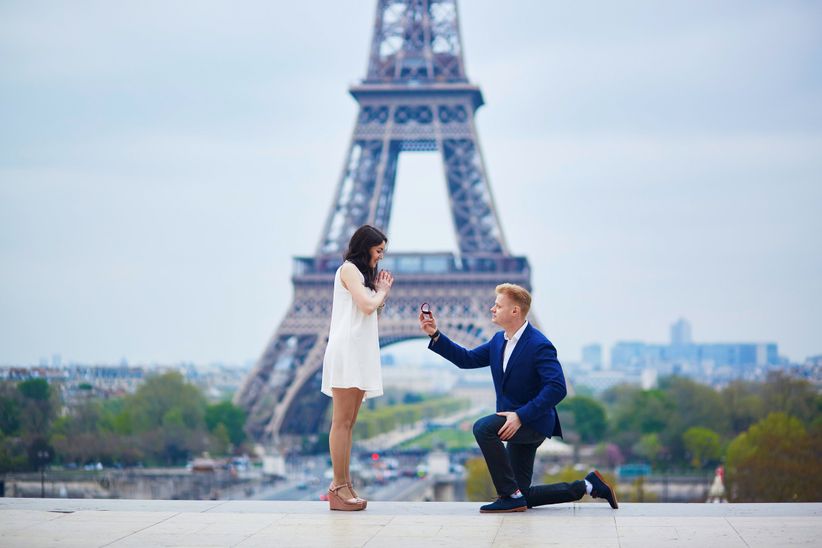 Planning to pop the big question is an incredibly exciting time in your life, but it's important to keep in mind that proposals aren't one-size-fits-all. While a simple proposal might seem appealing to one couple, it may feel dull to another, which is why considering you and your partner's unique personalities and preferences is always the best place to start.
While there's no set formula for creating that perfect moment, we're walking through the pros and cons of both extravagant and simple proposals so you can find the scenario that's just right for you.
The Extravagant Proposal: The Pros
If you've been dreaming of a movie-esque proposal from the time you were little, a well-planned "will you marry me?" is going to be right up your alley. Lucky for you, this once-in-a-lifetime moment will feel incredibly special and make for a story you'll want to tell again and again. Extroverted personality types might even enjoy involving friends and family in on the fun so you can be surrounded by a whole crew of loved ones ready to celebrate the occasion.
If you're considering going for an extravagant proposal, this is the opportunity to tangibly show how much you care with an amazing grand gesture. It will also be the ultimate photo opportunity if you're planning to have a photographer or videographer on hand to capture. While an extravagant proposal might require more planning and logistics behind the scenes, it's guaranteed to go down as one of the most romantic moments of your life.
The Extravagant Proposal: The Cons
There's no getting around it—getting engaged is going to come with a lot of expenses. From purchasing the ring to planning the wedding, you'll have a lot to save up for and pulling off an extravagant proposal might turn out to be a splurge you can't afford. If your proposal plans involve flights, hotel nights, a photographer, flowers, and more, take time to consider an ideal budget that doesn't get your wedding budget off to a stressful start.
Another element to consider is whether you and your partner actually enjoy being in the limelight. Do you big crowds or spontaneous adventures give you energy or leave you drained? Does being the center of attention feel incredibly special or totally stress you out? If you're a couple who prefers a cozy evening in over a big night on the town, don't be afraid to acknowledge that an extravagant proposal might feel too over-the-top for you.
The Low-Key Proposal: The Pros
If you're looking to surprise the love of your life with a proposal that feels authentic, intimate, and entirely personal, a more low-key gesture will be your best fit. In fact, a simple proposal set at home doesn't have to be any less meaningful than one in front of the Eiffel Tower. All it takes is remembering to speak from the heart and making your partner feel truly special.
A great option for more introverted personality types, a simple proposal puts less pressure on the situation and helps you avoid getting flustered or feeling like you're stuck in an awkward performance. Many couples opt for a simple proposal to avoid the stress and expense of planning a grand gesture so they're able to simply be at ease and live in the moment. The best part? A simple proposal will give you plenty of time to soak up the excitement just to two of you and announce the news whenever you feel ready.
The Low-Key Proposal: The Cons
If you or your partner were expecting an epic story or an unforgettable moment, a simple proposal might leave you feeling slightly underwhelmed. While a proposal without the fanfare can be perfect for some, asking the big question while cuddled on the couch could also end in regret with no photos or video to document the occasion.
Also be sure to consider whether you and your soon-to-be will want friends and family involved in the big event. In some circles, getting engaged without your loved ones around could lead to hurt feelings or disappointment if your partner was anticipating a large-scale celebration.
The Bottom Line
Whether your proposal is amazingly extravagant or sweet and simple, it will be deeply meaningful because it was personal to you. Most importantly, really consider the one you're proposing too and you'll know exactly what to do.