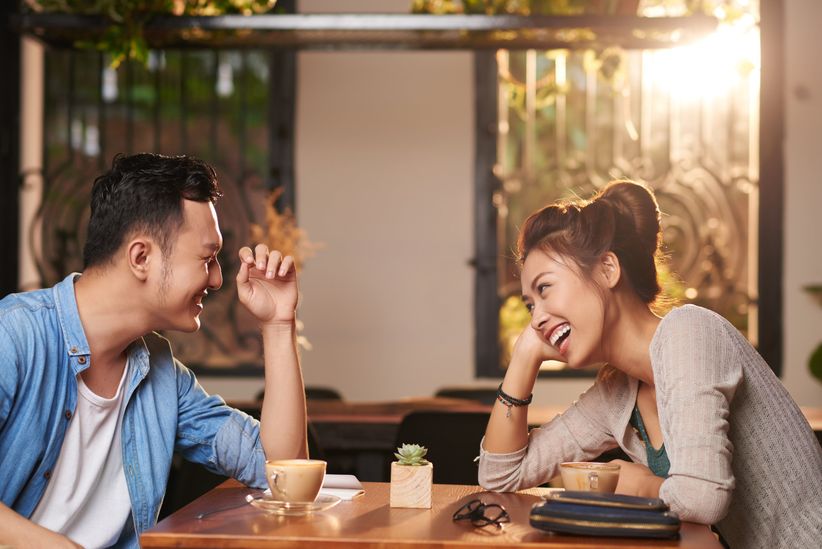 If you met someone you really like, whether planned or unexpected, you might be asking yourself the long-awaited question: "Am I ready for a serious relationship?" Maybe you just got out of one or have been single for quite some time, but neither situation is a clear-cut signal that you're ready or not ready to embark on something new with someone new. "When we talk about being 'ready' for a 'real' relationship, we're talking about being 'ready' for a healthy, romantic partnership—a union where there is physical attraction, mutual respect and commitment to a vision that is jointly designed," explains Dinorah Nieves, Ph.D., aka "Dr. D," behavioral scientist, personal development coach and consultant for OWN's Iyanla Fix My Life. "You don't just wake up one morning prepared to participate in that… no matter how many mornings you wake up wanting that." While the specific requirements might differ from person to person, there are is a universal set of requirements that help determine whether you are ready for a "real" relationship.
If the question "am I ready for serious relationship?" is at top of mind, these love and sex experts share the quid pro quos they run by all their relationship-seeking clients.
You are the type of person you're trying to attract.
As the saying goes, you truly have to fall in love with yourself before you can fall in love with someone else. Annoying to hear when you're desperately single? You bet. But you can be certain that it's worthy advice. "So many people are out there in the world looking for people to love them, care for them, who are stable and kind, but what about you—do you love you?" asks Dr. D. "Do you fit all the criteria that you have set for your prospective partner, or are you looking to get more than what you bring?" If not, she recommends taking a deep look within and working on yourself before you work on finding a significant other.
You've made peace with your past.
"Often, people jump into a new romantic relationship without exploring and addressing the impact of past relationships, carrying in wounds from childhood, heartbreaks from their first loves and an accumulation of trauma and expectations (both good and bad) that built with each interaction," explains Dr. D. "Sure, the past is a part of who you are, but the key to making peace with your past is to learn from what you've been through while still creating opportunities for things to be different, so that you don't replicate the pain." In other words, if you're wondering "am I ready for a serious relationship?", mend your heart before attempting to share it with someone else.
You're seeking a partner, not chasing a fantasy.
Many of us have this fantasy of what our true love will be like—how he'll look or how she'll act. Often times, the person who's truly right for us isn't the exact vision of Prince or Princess Charming—and there's nothing wrong with that! "The problem is that when we allow ourselves to be ruled by this narrative, we can't see people for who they are or respect the choices that they make, because we aren't open to finding a partner…we're just casting the other lead role in our fantasy love story," says Dr. D.
You can be happy without it.
Of course you want to start a relationship and potentially a life with someone, but you shouldn't be unhappy without having found him or her. As Dr. D explains, healthy romantic relationships enhance your happiness, however, they cannot be your only source of joy. "Even the greatest of romantic partnerships will buckle under that level of pressure," she warns. "There will be good days and tough days and you need to able to bring 100 percent of the best version of who are to the table the majority of the time." In order to do this, she explains that you have to be happy with who you are and the life you've made for yourself without your partner before you can truly be happy and ready to include him or her in it.
You are willing to take a hard look at past relationships.
If you're considering the question "am I ready for a serious relationship?," you might have to look toward the past, as well as the future. "Sometimes we avoid real relationships because we are afraid of rejection and/or afraid of failure," explains Jenni Skyler, Ph.D., L.M.F.T., AASECT certified sex therapist and sexologist with AdamEve.com. "If you've felt like so many relationships have failed you, it's essential to look at the common denominator, you." It might sound harsh, but it can be incredibly helpful, especially as you consider moving on to a new relationship. "If you are ready to address past ineffective patterns and behaviors, and make changes to operate differently, you are ready to take on the next relationship and make it 'real,'" she adds.
You're so over dating.
Most singles agree that dating can be a drag, but if you don't seem to mind it, you might not be ready to settle down just yet, according to Dr. Skyler. "Being sick and tired of dating is a sign that you are ready for something bigger than just yourself and want to share something meaningful with another person," she says.