A Guest's Guide to Engagement Party Gift Etiquette
Attending a pre-wedding event soon? Take note of these engagement party gift etiquette rules to ensure you stay on the soon-to-be-wed couple's good side.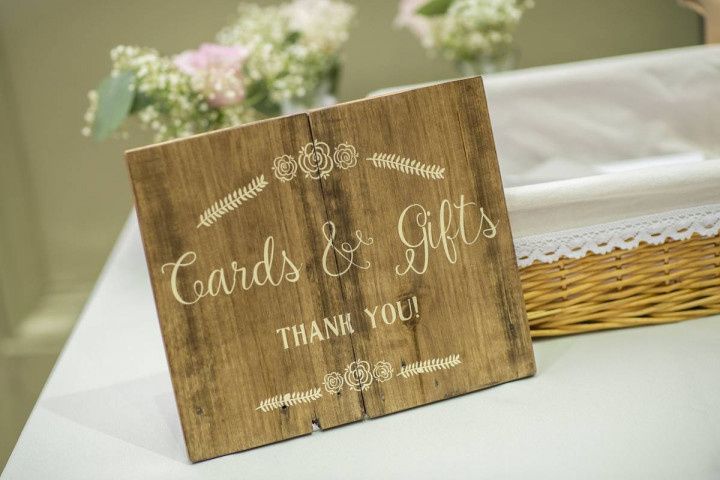 You and your friends have been predicting when it would happen for well, months now. And finally, it happened: your favorite couple is getting hitched. To celebrate this exciting time in their relationship, they're hosting an engagement party, and you've been invited. Now you're considering engagement party gift etiquette—while showing up empty-handed feels strange, so does bringing a massive wrapped box with a bow. Not to mention, you know the rest of the wedding festivities are on the horizon — the shower, bachelorette party, the big day itself — and you want to be mindful of your budget. How do you know if it's appropriate to skip a gift or not? Engagement party gift etiquette largely depends on the nature of the gathering, and there are some clues that could indicate the right etiquette to follow.
Here, a few dos and don'ts of engagement party gift etiquette to consider:
Do: Think sentimentally — and write a note.
Even if your pals aren't exactly the type to update Instagram every month with an anniversary celebration, hopefully, this is the only time they'll be engaged. This means they could appreciate those seemingly small, yet impactful, gestures will go a long way in tugging at the heart strings of the happy duo. Sabrina Zelie of Weddings by Sabrina in Los Angeles, explains while couples typically ask for more practical gifts for the wedding — think: household goods, honeymoon donations and so on — an engagement party is a perfect opportunity to get sentimental. This may be a personalized notebook for wedding planning, a cute plaque that outlines the important dates in their relationship or even a bottle of wine that's meant to be opened in a year.
No matter what tear-jerker route you take, make sure to include a card they can read later and savor: "People often give the couple a thoughtfully written card with their wedding gift, but they have so much going on after the wedding that it can get overlooked. Instead, spend the time on a sentimental note for their engagement party," Zeile explains. "This way, the couple will have time to appreciate it and feel your love and support leading up to the wedding.
Don't: Be shy.
Though you may not think twice about picking up a small birthday gift for your best friend, if there was an event you were both attending, wouldn't you pick their brain on etiquette practices when you weren't sure? Here's the deal: even though your buddy is getting married, they're still your friend and likely won't care if you, well, ask. Leah Weinberg of Color Pop Events in Long Island City, New York explains, there's no harm in asking the couple or even the person who's hosting about appropriate engagement party gift etiquette. "If you're feeling uncomfortable about not having an obvious answer about the gift status, reach out for clarification if it makes your life easier," she urges.
Do: Respect the couple's wishes.
Blame it on the way you were raised or your ongoing pursuit to be the best-est friend out there, but arriving to any event without something feels, well strange. It may be difficult to resist, but if the couple specifically asks you not to bring a gift…don't bring one, Zeile says. Though it may come across as harmless from your perspective, you do risk the chance of embarrassing them or other guests (not to mention going against their engagement party gift etiquette rules), should there be an underlying reason why they went gift-less. If you simply have to do something, Zeile recommends bringing a card and giving it to them privately.
Don't: Go over the top.
Generally speaking, an engagement party isn't the time to be flashy or to show off your ability to give an over-the-top gift. Kevin Dennis of Fantasy Sound Event Services in Livermore, California says when the couple does welcome tokens of celebration for their upcoming wedding, it's better to go on the softer, simpler side than the extravagant. After all, the purpose of the gathering isn't to show off but to pay tribute to the start of this journey. "An engagement party is more for the sole purpose of celebrating this new journey toward a big milestone in the couple's lives, so it's completely okay to just bring yourself," he explains.
Do: Bring something to add to the party.
What's something nearly all engagement parties have, no matter where they are held? Food. And in most cases, lots of champagne. Since the purpose is to amplify everyone's excitement over the happy period, Dennis says bringing something everyone can appreciate and enjoy is a smart way to handle the etiquette dilemma. "This can be as simple as a bottle of champagne or nice wine, and it's something that you can share together during the celebration," he continues. "This is a nice gesture for someone that may be stumped on engagement gift ideas."
Don't: Forget that you're probably going to the wedding, too.
Though there are exceptions to every rule, the Audrey Craig of GB Design House in Austin, Texas says etiquette dictates that anyone invited to the engagement party will also be encouraged to attend the wedding, too. In terms of budget, this is a way to think about how much you want to contribute to one gift versus another. Since wedding experts agree gifts—if any—can be small for the 'we're engaged!' shindig, consider this your reminder to save appropriately. After all, you want to really show up for the big day, since it's more important than an afternoon BBQ or happy hour for their engagement.
Do: Think creatively about the period of their life.
First comes dating, then love. Next, the engagement. And finally, the wedding and marriage. But in between those last two stages? Lots and lots of stressful planning. If one half of the couple is a best friend of yours, you are about to get an earful for months, as they navigate vendors, venues and endless decisions. Weinberg says an experience gift could be a meaningful way to illustrate your support. "Whether it's a gift card to your favorite tapas bar, a couples spa day or a cooking class, these experience gifts will create new memories for the newly engaged couple," she explains. This also gives them something to look forward that isn't wedding planning-related, but merely about their love for one another.