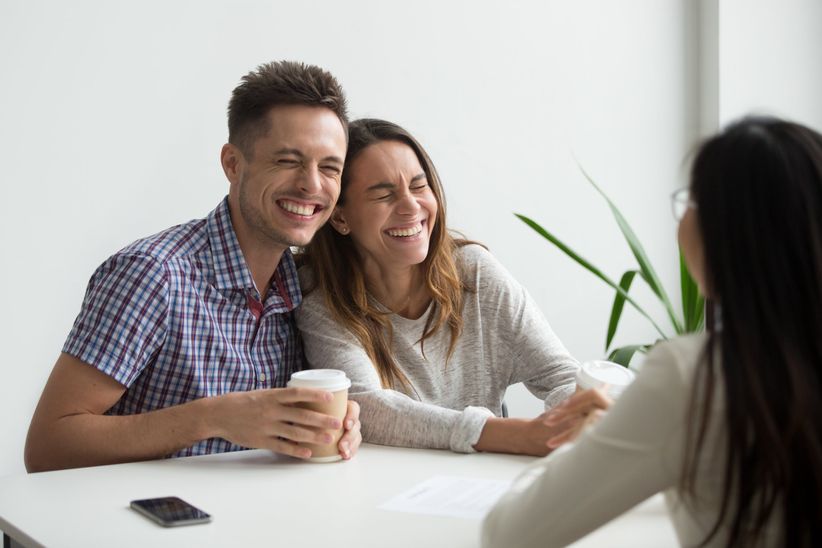 You probably have a long list of questions to ask your wedding vendors during those initial meetings. However, there may be some questions that you're feeling a little, er, hesitant to bring up. In truth, your wedding vendors have likely seen it all and just want to make your big day as successful as possible, so there's no shame in discussing any issues that might affect your wedding—even if you're a little embarrassed to ask. So don't be shy, ask away!
Here's a list of sorta awkward questions to ask your wedding vendors.
"I love your work but your packages are over my budget. Is there a way we can make some adjustments to fit my desired price range?"
Every couple has a budget, and it can be a major bummer if a wedding vendor you truly love is out of your price range. Some couples might feel uncomfortable negotiating with vendors, and that's totally understandable—but it can lead to overspending. Instead, we recommend having a polite but honest conversation with a potential vendor about your budget to see if he or she can find a creative solution. The worst he or she can say is no, at which point you can try to find an alternative vendor whose pricing is more suitable to your needs. Yes, it might feel awkward to talk about your budget, but it's super-important—and you'll be glad you did.
"Can I see the bathrooms?"
When you're touring wedding venues, your highest priority will likely be viewing the ceremony and reception spaces. But don't forget about a part of the venue that probably you and your guests will likely visit at least once during your wedding day—the bathrooms. When checking out the restrooms, ask yourself the following questions: Are the bathrooms clean and well-maintained? Are they accessible to those with special needs? Are the facilities big enough to accommodate your guests? Is there a changing table for your youngest guests? Checking out a wedding venue's restrooms can actually tell you a lot about the facility as a whole.
"My mom and my aunt hate each other. How should we handle the seating chart?"
If you're working with a wedding planner, it's essential that you let he or she know, tactfully, about any family drama. Perhaps your parents are divorced and your mom isn't a fan of your new stepmother. Or maybe your father-in-law has longstanding beef with his brother, but your future spouse wants to invite them both anyway. It can feel a bit awkward to inform your planner of these family issues, but having a (private) conversation with him or her is really important. Knowing this, your planner can assist you with your seating chart and keep his or her eye out for any issues on the big day. These questions to ask your wedding vendors are necessary to get a sense of how your planner will handle any wedding-day problems.
"What kind of underwear should I wear with this dress?"
You never thought you'd be discussing your skivvies with someone you just met, did you? It's all part of the fun of wedding dress shopping! Once you've said yes to the dress, you'll want to ask your salon consultant about the type of undergarments and shapewear recommended for your gown's silhouette. You'll need to purchase your undergarments before your first dress fitting, so it's essential to ask about suggested underpinnings ASAP—weird as that may seem.
"I have a weird food aversion. Can we avoid it on the menu?"
If you or your partner have allergies or other dietary restrictions, you're probably used to being upfront about them. But if there's a food that you just hate, you might feel a little weird bringing it up to your caterer. Our advice: Don't sweat it—this is an important question to ask your wedding vendor. Your caterer wants to ensure that you're happy with your wedding menu, and if that means skipping the cilantro (or broccoli or bananas or…) they'll be glad to make that adjustment.
"I'm worried about my sister's boyfriend getting wasted. Can we make sure he doesn't give a speech?"
We've all got 'em: Relatives or friends that we love dearly, but who have a tendency to bring drama wherever they go. If you have such a loved one, be sure to let your wedding planner, venue coordinator, bandleader, or DJ about anyone who might try to give an unauthorized speech. Wedding professionals are great at tactfully withholding the microphone from anyone who isn't a planned speech-giver.
"I hate (music artist). Can we be sure not to play any of his/her songs?"
Your bandleader or DJ doesn't only need to know the songs you love, he or she also needs to know the songs or artists you don't love. If hearing a song by a particular artist is going to cause you to vacate the dance floor, your DJ or bandleader needs to know. Like the rest of your wedding vendors, your music pros want to ensure that your reception is a success, so don't be shy about informing them about your music likes and dislikes.