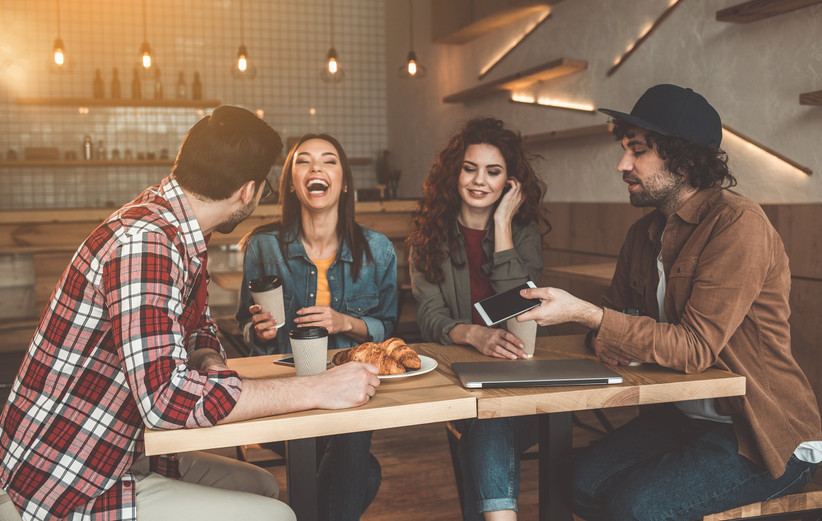 If you're newly engaged, you're probably feeling thrilled, excited…and maybe a bit overwhelmed. You probably have a ton of wedding-planning questions swirling through your brain, and just need someone to guide you through those first, perhaps daunting, steps of planning your big day. Turns out that your friends and family members who recently celebrated their own nuptials are probably your best resources to help you get started. They can provide you with an unfiltered, real-life perspective on wedding planning so you can feel confident and prepared, instead of confused and stressed.
So invite your newlywed pals to your place for dinner or out for coffee, and ask them these wedding-planning questions.
What were your favorite parts of wedding planning?
Even if you're feeling a bit intimidated by this whole wedding planning thing, turns out the majority of it is actually really fun. By asking this question early in your conversation, your recently-married friends can tell you all of the amazing experiences they shared as they approached their wedding day. Their answer will surely get you pumped for what's to come.
What was the most difficult part of wedding planning? How did you handle it?
Okay, now for the tough stuff. Your newlywed friends can give you the inside scoop on the difficult parts of wedding planning—and don't forget to follow up by asking how they pushed through. Their answers might surprise you, and their advice will help you prepare in advance for the less-than-fun parts of wedding planning.
How did you know your venue was "the one"?
Choosing a venue is one of the first tasks you'll take on, so it's essential to ask your pals this wedding-planning question. Even if you don't want to get married in the same spot as your friends (totally understandable), learning a bit about their venue selection process will help as you begin your own. You might follow up by asking a few additional venue-related questions: What were their venue must-haves? Did they have any deal-breakers? How many venues did they visit in person?
If you could change one thing about your wedding, what would it be?
Even if you thought your friends' wedding was picture-perfect, there are likely aspects of their big day that they wish were different. Asking this wedding-planning question and hearing about your pals' wedding regrets will ensure you don't make the same mistakes.
Can you recommend your vendors?
If you're hosting your wedding in the same city or town as your friends, you certainly should ask for their vendor recommendations—particularly if you thought their wedding was awesome. It's a good idea to cross-reference your friends' vendor recs with online reviews from a reputable site (yup, like WeddingWire).
Which of your vendors went above and beyond the call of duty?
It's one thing to ask your friends for vendor recommendations. It's an even better idea to ask them about the pros that really delivered. Most couples are more than happy to share stories of their amazing vendors, and these more-detailed references can help you find the very best pros for your big day.
Do you have any money-saving tips you could share?
It's a bit taboo to ask how much your friends spent on their wedding (though if it's a super-close pal or relative and you feel comfortable asking specific budget details, by all means, go ahead!). However, it may be easier to ask for their best money-saving advice—perhaps there are affordable vendors they can recommend, or aspects of their wedding that they skipped to cut expenses. Their tips and tricks will be essential as you plan your big day without going broke.
Which wedding-planning tools and resources would you recommend?
There are lots of online wedding planning tools out there, from checklists to budget trackers, guest lists to wedding websites, and more. Ask your newlywed friends to share their top picks to help you narrow down the myriad options. Bonus points if they recommend a one-stop wedding-planning site (like WeddingWire!) that houses all of the tools listed above—and more!
What is one thing you wish someone had told you about wedding planning?
We like how this wedding-planning question is phrased—it's all about your newly-married friends paying it forward, and sharing their wisdom with you. Sure, their advice might seem somewhat clichéd now, but it will likely have much more meaning as you approach your big day.
How did you maintain your relationship while wedding planning?
All too often, engaged couples focus solely on their wedding, neglecting what's truly important: their relationship and future marriage. And truly, wedding planning can be tough of a couple's relationship. As much as you adore your future spouse, the two of you might not agree on everything and may find yourselves arguing more than ever. Don't be shy about asking your friends for relationship advice—without getting too personal, of course!