Is Strapless Dead? These Are 6 Other Styles You Need to Know
At New York Bridal Fashion Week, we were surprised to see sleeves and straps coming down the runways. Move over, strapless dresses—these new styles are taking over.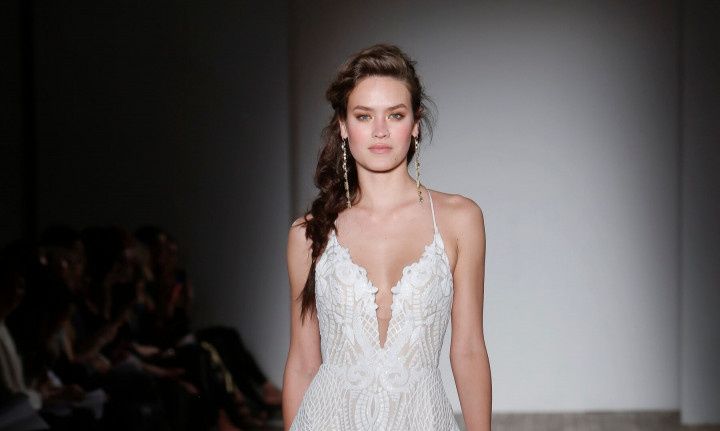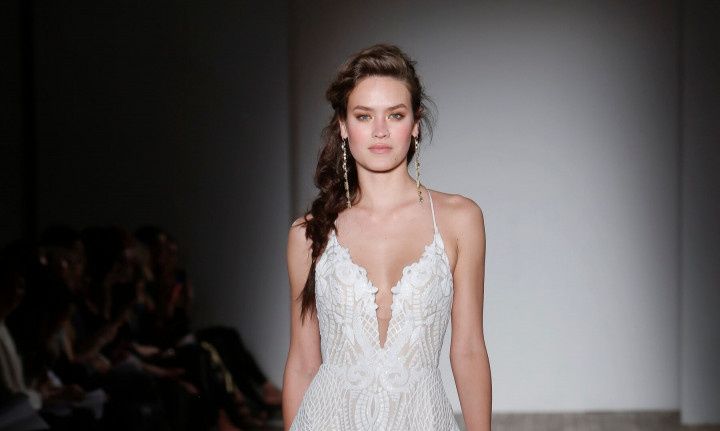 We recently returned from New York Bridal Fashion Week, where hundreds of designers showed off their newest bridal creations for spring 2018. After looking at more than 1,000 dresses, we were shocked (and dare we say excited?) to see sleeves and straps—everywhere. This leads us to believe that, yes, the rumors are true: strapless dresses are no longer the golden child of the bridal fashion world. We know, we know...it's crazy talk. But hear us out! First, let's rewind a bit.
In the late 90s-early 2000s, strapless and sleeveless wedding dresses became the thing. Weddings were shying away from strict traditions, including church ceremonies, and brides had the freedom to embrace more streamlined and sexy looks. Not to mention that everyone was eager to transition (ahem, run) away from those puffy balloon sleeves and frilly lace collars of wedding dresses past. In 1996, Carolyn Bessette surprised everyone in a spaghetti strap gown for her top-secret wedding to John F. Kennedy Jr. The simple sheath style was a sharp contrast to the heavily embellished, princess-y looks that were popular at the time. The trend snowballed from there. Designers couldn't ditch sleeves fast enough. In the early 2000s, celebrities—Victoria Beckham, Jessica Simpson, Madonna, Sarah Michelle Gellar, Alicia Silverstone, etc.—started wearing strapless dresses for their weddings, and for the next umpteen years, brides went into salon appointments armed with magazine cutouts of shoulder-baring styles.
And then in 2011, the Royal Wedding happened. When Kate Middleton emerged in her Sarah Burton for Alexander McQueen gown, jaws around the world hit the floor. It. Had. Sleeves! Long, lacy ones, to be exact. Instead of being hideous and matronly, the sleeves were beautiful and elegant. Suddenly, brides everywhere wanted to steal her look. Even designers hopped on the royal wedding bandwagon, and it seemed like everyone was creating their own version of Kate's amazing dress. Despite all of this, strapless styles still stood their ground—until now.
At NYBFW last spring, we kept wondering if we were missing something. Could it be true? Are strapless dresses really dunzo? The majority of the dresses we saw had some type of sleeve or strap, whether it was an off-the-shoulder design, an illusion detail, or even a halter neckline. We never expected it to come to this, but after more than 10 years of strapless dresses reigning supreme, it seems like the bridal fashion world is moving on.
Here are six non-strapless styles we're loving right now.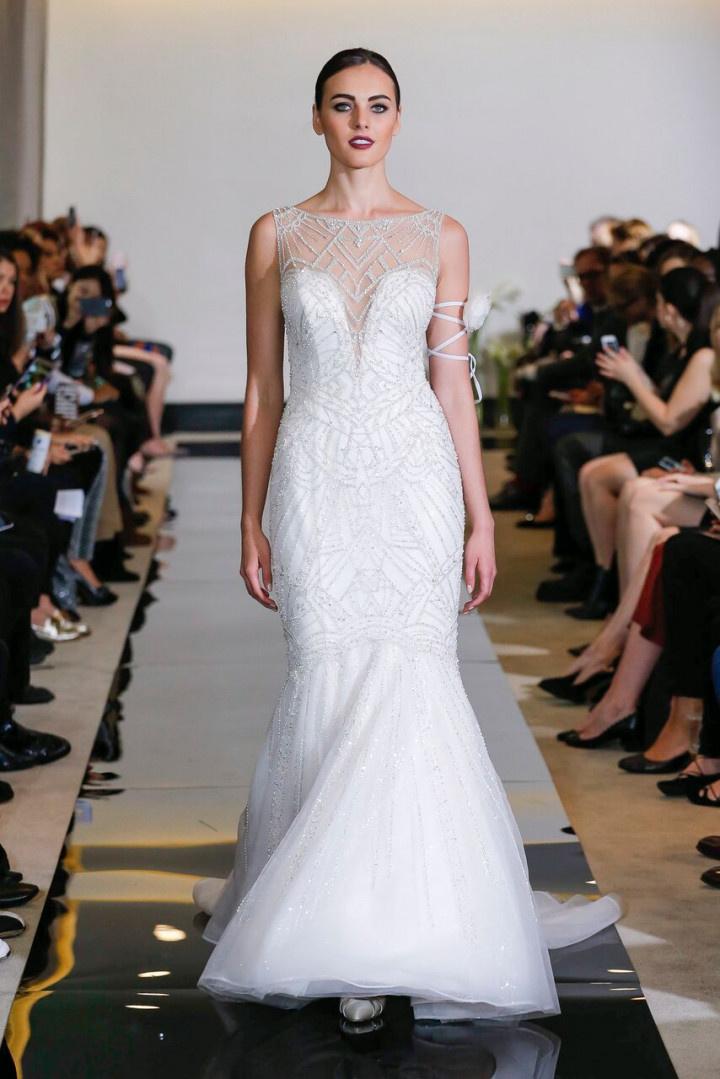 Illusion
Imagine the look of a strapless dress without having to actually wear one. That's the beauty of an illusion neckline, bodice or sleeves. Instead of worrying that your dress will fall down or that you might accidentally flash too much cleavage on the dance floor, you're free to move around as much as you want while still revealing a little skin. And thanks to illusion sleeves, those of us who don't necessarily want to show off our arms or shoulders can breathe a little sigh of relief. This season, Liancarlo and Justin Alexander had several stunning illusion neckline options.
Gown by Justin Alexander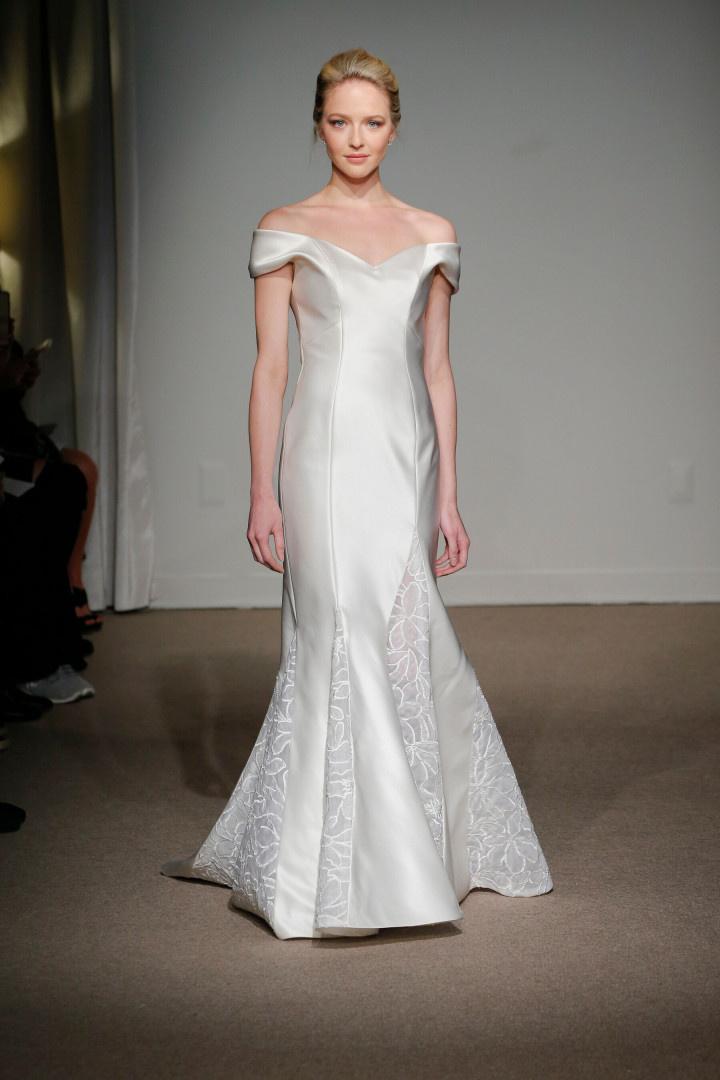 Off-the-Shoulder
Brides who want to flaunt their décolleté can opt for an off-the-shoulder style. This retro-inspired look is timeless and romantic, especially if you choose a dress with a curve-hugging silhouette. Amal Clooney looked gorgeous in an off-the-shoulder gown for her Italian wedding in 2014, and we saw plenty of lovely designs for spring 2018 as well. Off-the-shoulder dresses at Allure Bridals, Lazaro and Anna Maier were just a few of our favorites this season.
Gown by Anna Maier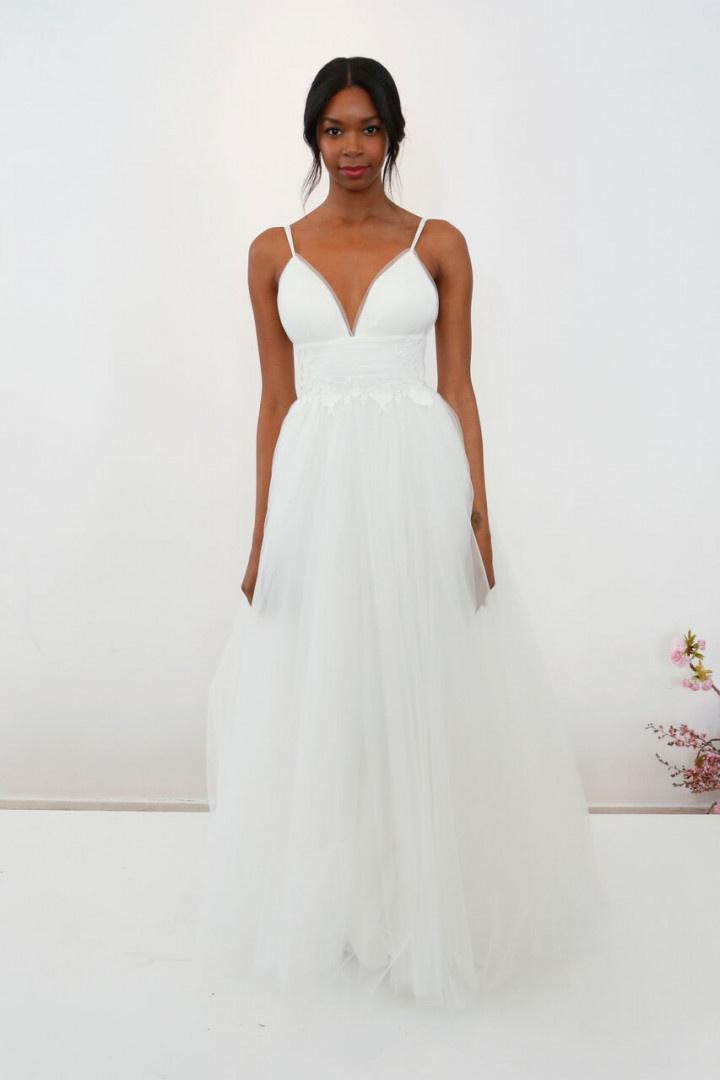 Spaghetti Straps
If spaghetti straps bring up painful #TBT memories of early aughts fashion, we feel you. But we promise that the modern-day styles are totally chic, and even a bit flirty. Since almost every collection we saw at NYBFW had at least one dress with spaghetti straps, we named this look as one of our top wedding dress trends for spring 2018. From A-line dresses at BHLDN to a beaded design at Tara Keely, spaghetti straps are versatile and wearable for a variety of body types and styles.
Gown by BHLDN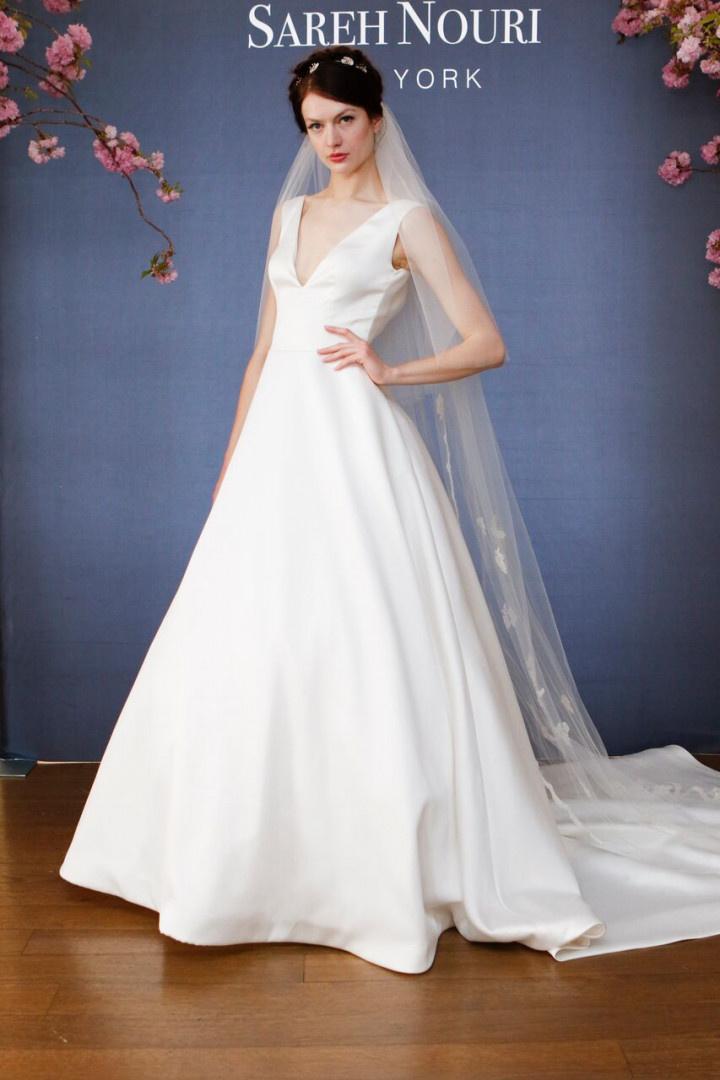 V-Neck
Deep v-necklines have been trending for the last few seasons, and we don't see them going away anytime soon. Whether your style is classic and demure or fashion-forward and sexy, you can pull this look off. Sareh Nouri showed us the best of both this season with a mix of modest v-necklines and more revealing styles.
Gown by Sareh Nouri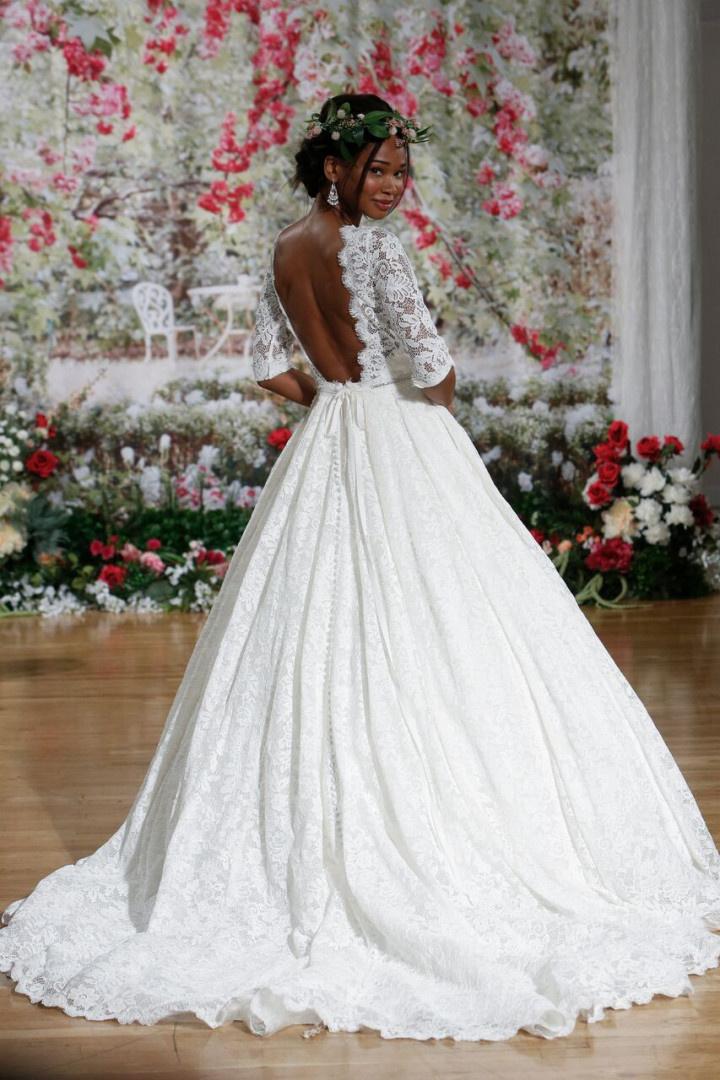 Open Back
Showing a little bit of skin from behind is a trend we've seen throughout the last few seasons. From completely backless gowns to more modest dresses with illusion lace panels (take a cue from Lauren Conrad's wedding dress), there's an option for pretty much every bride. This season, we loved the statement backs at Maggie Sottero, Blush by Hayley Paige and Wtoo.
Gown by Maggie Sottero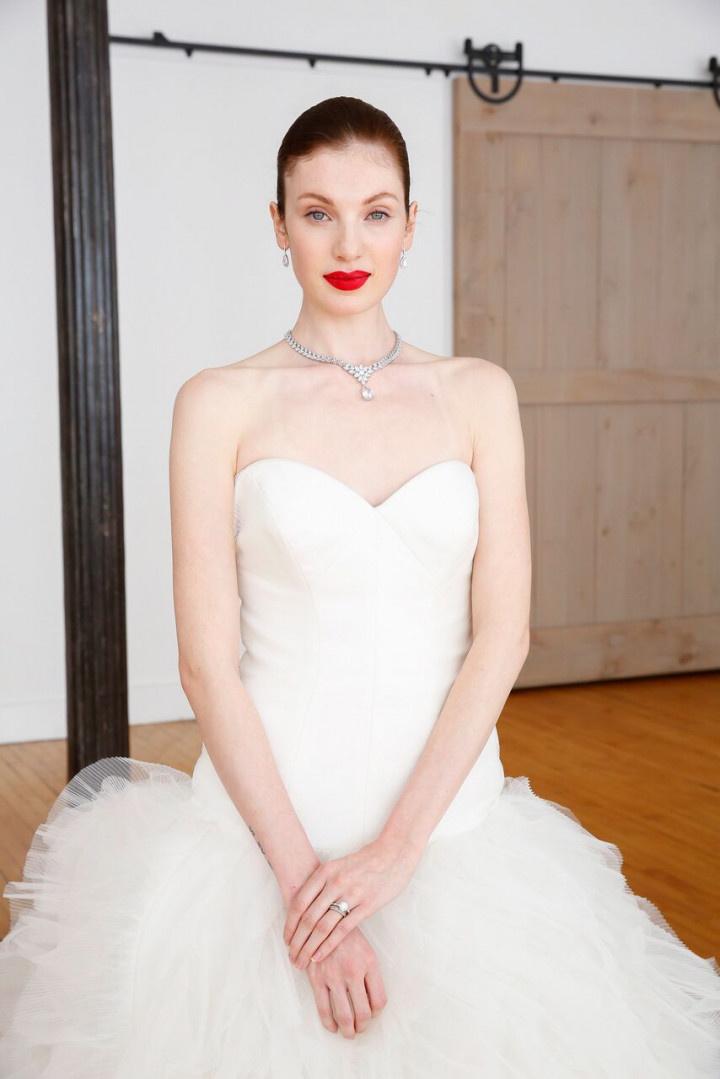 Sweetheart
We realize that some brides-to-be have been dreaming of their perfect strapless wedding dress, which is why we're letting sweetheart necklines slide. While this look is technically strapless, it's a much different style compared to the straight-across cut. Plus, the sweetheart neckline is like an instant boost for your figure. If you're small chested, it creates the illusion of curves, and if your bust is on the larger side, it adds some extra oomph (just be sure not to show too much). Sweetheart necklines were spotted in the spring 2018 collections at David's Bridal, Rebecca Ingram and Justin Alexander.
Gown by David's Bridal